Want to take your social marketing to the next level?
Want to drive traffic and leads from Pinterest and Instagram effectively with a minimal investment of time and money?
If yes, you need an all-in-one social media management tool i.e. Tailwind.
It provides great features for Pinterest, Instagram as well as Facebook management along with its all-new AI writer.
The Tailwind app has 1 million+ users and is used by top brands like Shopify, Article, and CB2.
More interestingly they offer a forever-free plan with no credit card required!
But, how could Tailwind help you in achieving growth?
Let's check out.
---
Affiliate Disclosure– Some of the links in this post are affiliate links. It means if you click on my link and purchase an item, I will receive a small commission at no extra cost to you.
---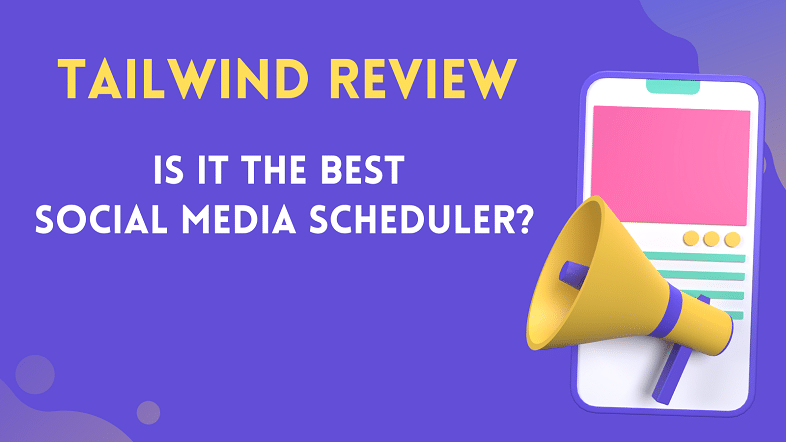 Tailwind is the best social media scheduling tool out there which saves a lot of your time by scheduling posts for different social platforms from one dashboard.
Along with it, its new AI tool can generate a wide range of content in a matter of seconds including social media posts, youtube descriptions, sales copies, and even full articles from small prompts.
In this review, I will focus on using Tailwind for your social media scheduling and saving your precious time by automating everything.
| Review Of | Tailwind Scheduler + AI Ghostwriter |
| --- | --- |
| Used For | Scheduling Social Media Posts |
| Pricing | Free Plan Available |
| Best For | Bloggers, Digital Marketers, Social Media Marketers |
| Additional Features | AI ghostwriter and Marketing Planner |
| Our Rating | 9.9/10 |
What is Tailwind?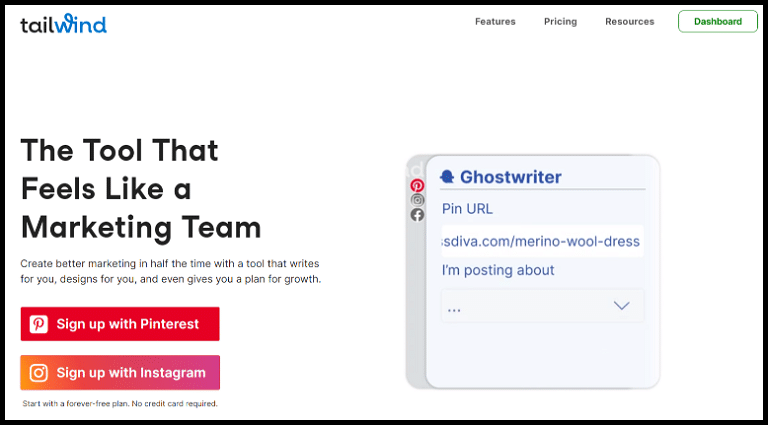 Tailwind is a social media scheduling application that helps content creators, bloggers, and marketers drive social media growth by posting content at the best times of the day on automation and saving plenty of your precious time.
You can use it for Pinterest, Instagram, and Facebook making it easy for you to organize your social media marketing campaigns, all in one place.
It personally saves me a lot of time.
It assists thousands of marketers in the most efficient manner possible, and it's perfect for small as well as large businesses.
And it is my best go-to tool for scheduling my Pinterest pins.
By using Tailwind, managing several social media accounts, remaining active on the social platforms, promoting your content in the Tailwind communities, and getting a good chunk of leads and sales becomes a really easy task.
Here are some of the great features of Tailwind which I think I can't live without:
Designing great images using Tailwind Create.
All new AI writing tool- Tailwind Ghostwriter for generating engaging content in seconds.
Smart scheduling posts for Pinterest, Facebook, and Instagram in advance in a few clicks.
Post your content automatically at the best engaging times be it midnight or early mornings.
Hashtag suggestions and in-built link in bio tool.
SmartLoop i.e Posting your evergreen content after set intervals.
Get more social media reach by sharing your posts in Tailwind Communities.
Tailwind Copilot helps build a personalized marketing plan for overall growth.
Is It Legit to Use Tailwind For Pinterest And Instagram?
You might probably be wondering if Pinterest, Instagram, or Facebook would mark you as spam if you use Tailwind.
To clear your mind, Tailwind is 100% legit and safe to use as it is an official Pinterest as well as Meta Business Partner.

Here's the partnership proof for Facebook and Instagram:

Is Tailwind Worth It In 2023?
You might be wondering if your website will benefit from it and whether you will be able to grow traffic from it in 2023?
Tailwind is definitely worth it in 2023 and beyond if you want to take your social media brand from a hobby to a professional money-making business.
You will get the highest growth as it gives you smart recommendations to make sure you're always working according to the best practices.
Moreover, Tailwind has been my favorite go-to tool for social media marketing.
Using it has boosted my Pinterest traffic and grown my account by almost 3 times the reach than when I was manually pinning.

The above image clearly shows my Pinterest account growth after I started using Tailwind a time ago.
Tailwind helped me increase my total audience by about 774% and account engagement by 141%.
You can also see the typical results for Tailwind members here.
So, Tailwind helped me in achieving my Pinterest goals and it could help you too!
How to Use Tailwind Effectively?
No doubt, Tailwind is the best tool for social media growth which helps in creating great designs, scheduling and posting pins at different times, and provides superb analytics to keep a check on your growth.
Since Tailwind is easy to use, there are some smart tips that could make it even more effective.
Firstly Create a Tailwind Account
First and foremost, you'll need to register a Tailwind account to get started.
Go to tailwindapp.com on your computer or laptop and sign up for an account using your Pinterest or Instagram account.

If you're using Pinterest, click Sign Up using Pinterest, and then it will ask you for access to your Pinterest account.
Once you've verified that you're connected to the Pinterest account you want to add to Tailwind, establish a new Tailwind account by providing an email address and password, and voila!
Your Tailwind account is created.
Scheduling Your Social Media Posts On Tailwind
Now you will need to set up your scheduling options after you've completed the sign-up process.
Tailwind helps to make your schedule for a whole week or whole month or more in only a few clicks which saves you a lot of time as you need not stick to your PC for posting your content manually.
If you want to schedule your posts from the Tailwind dashboard itself, you can follow these steps-
Go to the Tailwind dashboard and click on Drafts.
Now, head over to the "Upload or Create Post" option, and you can add an image from your computer or create a new design.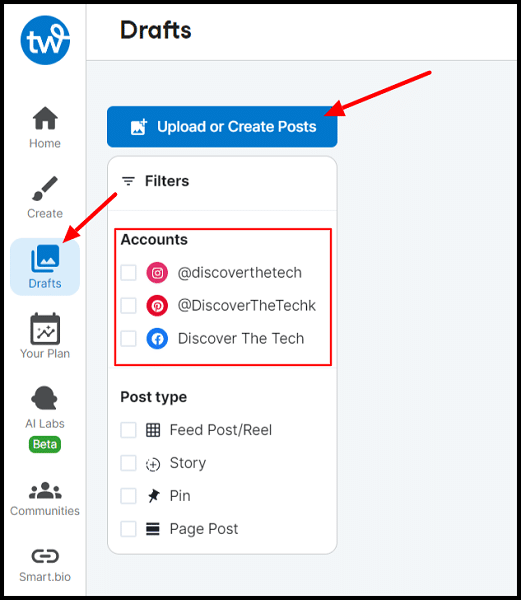 After choosing an image, you need to choose which account you want to post your pin i.e Pinterest, Instagram, or Facebook.
After that, if it's an Instagram post, you need to add captions and related hashtags and then schedule them for auto-post in the future. The tool will show hashtag suggestions with different colors with green as good and red as highly competitive and users can also ask the Ghostwriter to write captions for them.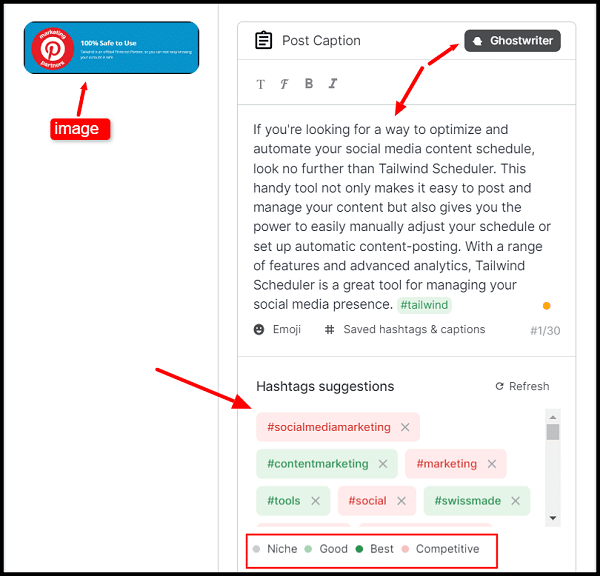 Then, you need to choose the time to auto-post on Instagram and your post will automatically publish at that time.
Now, for a Pinterest pin, you need to add a pin title, and pin description, add your URL, and pinning boards, and then choose pinning intervals for different Pinterest boards to auto-schedule pins for the future. You can also use Tailwind Ghostwriter to generate pin descriptions.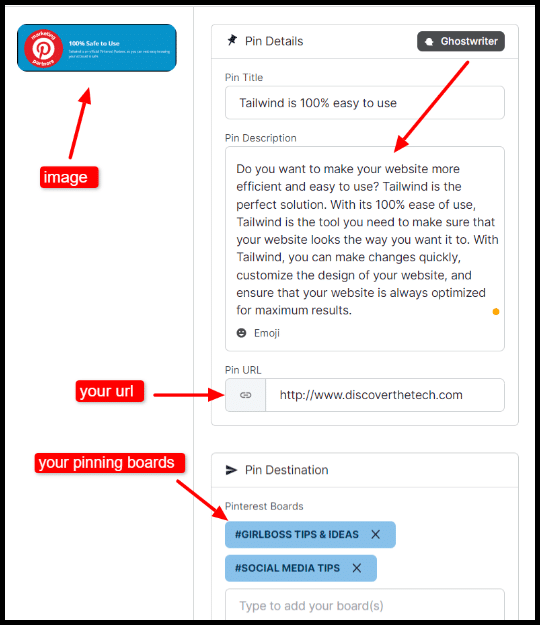 You can also schedule your posts using the Original Publisher tab on the Tailwind dashboard.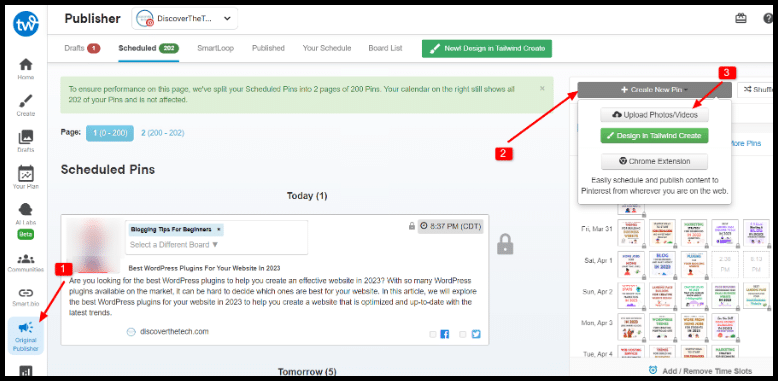 I personally use the original publisher tab to post my Pinterest pins as it's easier to use and also allows me to set custom pinning intervals of 3-4 days which is not available in the Drafts section.
But, you can't use Tailwind AI writer from there and can't do cross-posting to other social media.
Adding full scheduling customization options right in the drafts section is the thing that I think, the Tailwind team should work on.
For posting pins on "Original Publisher", click upload photos> add your image> fill in the required info> and click on Add to queue and it will be published automatically at a custom time as in the image below.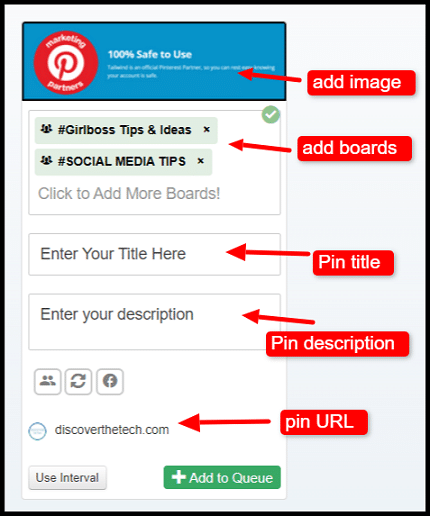 Now, that you got to know how to use Tailwind effectively for scheduling your social media posts, let's move on to its interesting features.
Amazing Tailwind Features
Surely, Tailwind is the best Pinterest marketing tool out there with more than 1 million happy users.
It is a perfectly built tool including every type of assistance you need in your marketing plan.
It provides plenty of features for Pinterest as well as Instagram scheduling which are as follows:
1. Tailwind In-built Smart Scheduler
Tailwind's Smart scheduling allows you to save time in your day while ensuring that your posts are published at the most optimal times on all social media platforms.
It provides a personalized smart schedule of the best times to post on Instagram as well as Pinterest when most of your audience is online.
Tailwind helps you to know your most productive times to post on these platforms based on its advanced analytics which definitely helps you in getting more monthly views.
Generating your own smart schedule for your Pinterest or Instagram posts is easier than you think.
Firstly head over to Dashboard> Select Instagram Or Pinterest> Original Publisher > Your Schedule and then click on Generate New Smart Schedule (recreate schedule).
Here's an example of creating a Pinterest pinning schedule-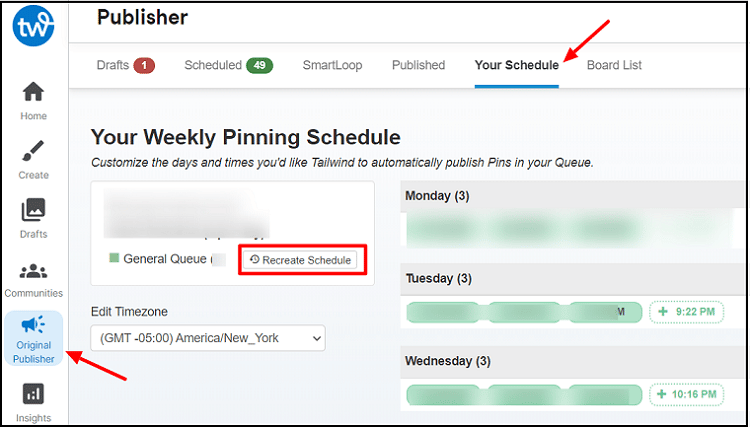 It will ask you for the number of times you want to pin or post per day and will create the best schedule for you accordingly.
We recommend clicking Generate New Smart Schedule once a month for the first few months so that you could find a posting schedule that will maximize the amount of engagement and reshares your content receives on Instagram and Pinterest.
To create a new Smart Schedule, you'll need to specify how many posts you'd like to publish per day.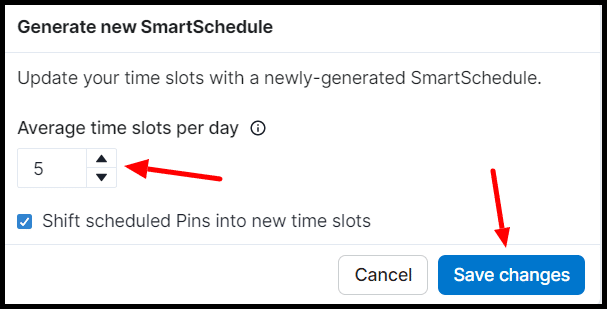 Then scheduler will create the list of best posting times for which you can queue your Instagram and Pinterest posts.
Once you add your posts or pins to the scheduling queue, it will automatically publish every content right on your Instagram or Pinterest profile at the predetermined time.
2. Tailwind Ghostwriter: An Advanced AI Writing Tool
Tailwind Ghostwriter helps to create ready-to-post copies in 1/2 the normal time taken to write the content by a copywriter.
The Ghostwriter helps eliminate writer's block by providing ideas and helps write great copies from small prompts in seconds.
I mostly use its AI writer for writing my Pinterest pin description as well as Instagram captions.
Earlier, writing my descriptions took me a lot of time as I needed to start writing from scratch and then add keywords for SEO.
But, now all I need to do is to share the post title along with my target keywords to the Ghostwriter and it will automatically create a great ready-to-use description for my post in a few seconds.
You can easily access the Ghostwriter feature in Create tab and share insights for your post i.e. content type, tile, keywords, and any call to action and it will generate an SEO-optimized copy as per best practices.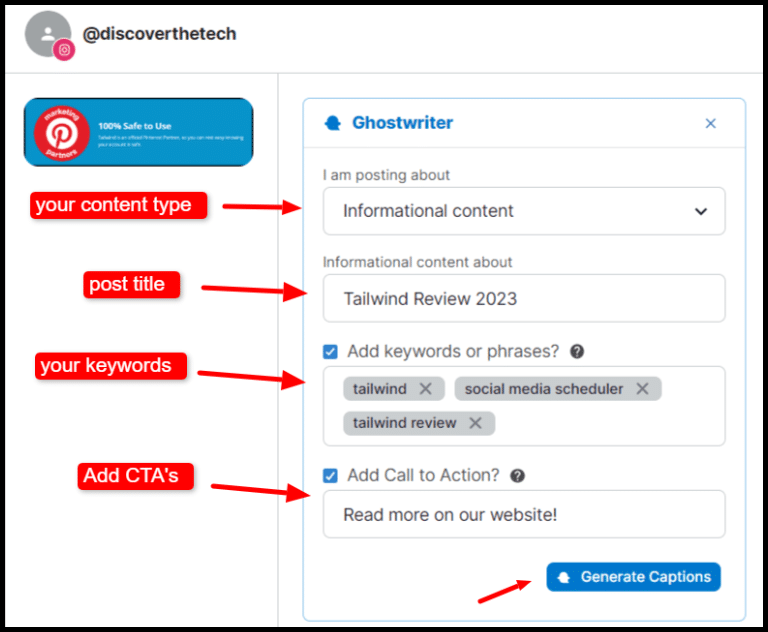 You can also give your unique touch by editing the writing done by the AI writing tool.
Along with social media descriptions, Tailwind Ghostwriter also offers more use templates like a Youtube video scripts generator, ideas to full blog posts, AI image generation, emails, sales copy, Ad generator, and more.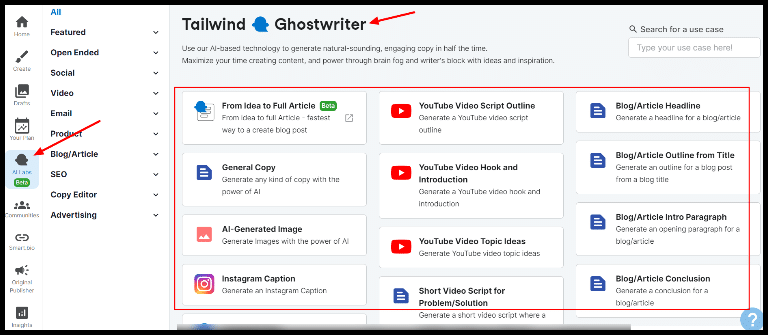 3. Tailwind Smart Guide
Tailwind also provides you with a smart instructor which will actively monitor your profile behavior and will provide the recommended best practices so that your growth is maximized.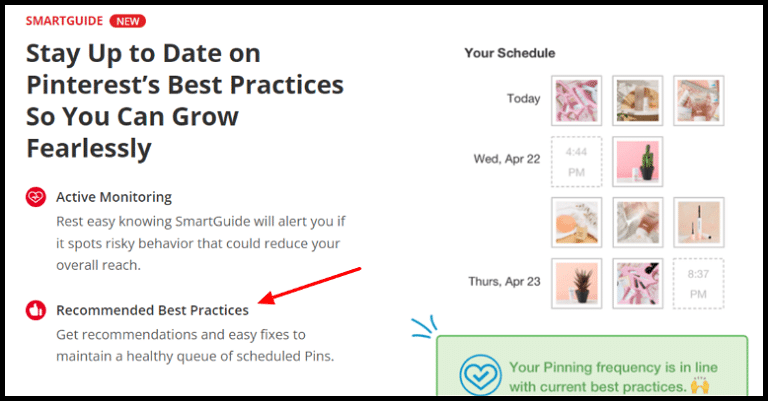 For example, for Instagram, it will tell you how many hashtags to use? their competition, and more.
For Pinterest, it will give recommendations on setting up pin intervals, repinning to multiple boards, and more.
See when I added more than 10 boards for my pin, it showed me a recommendation box showing that I should only choose relevant boards and not more than 10.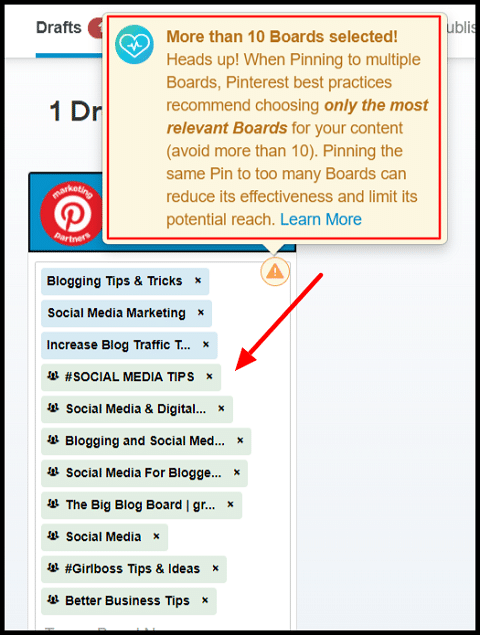 This helps me a long way in keeping my work as per best practices for maximum reach and engagement.
4. Tailwind For Pinterest Features
Tailwind provides a wide range of features, especially for Pinterest marketing.
Some of the features that I like the most are as follows:
Pinning To Multiple Boards In One-Click
According to Pinterest's best practices, you can save your pin in up to 10 Pinterest boards so that you get enough views and reach for your pins.
As an average tailwind user, you will do it as follows-
Save the pin as a draft, then go over there and enter all the boards you want to save it to, then click "Add to Queue".
And your pin will be successfully uploaded.
But, for pinning to multiple boards, Pinterest has a great feature "Board Lists" which enables you to categorize your Pinterest boards.
So that whenever you are scheduling pins related to that specific category, you can just click on that list and the pin will be scheduled to all Pinterest boards under that list.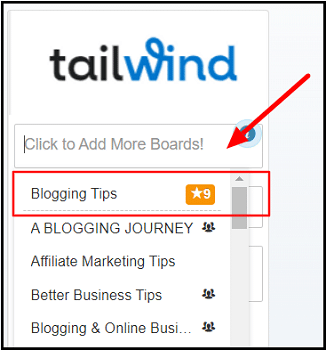 As in the above image, click on the list "Blogging Tips", and nine boards would be selected.
This feature saves me a lot of time.
For an instance, I have made many board lists for topics such as Social media, Affiliate Marketing, and more.
Whenever I post pins relating to these topics, it just becomes a work of one click for me.
Pinterest Smartloop
It is a great function made by the Tailwind team.
Suppose you post pins on topics that are evergreen or seasonal in nature like new year content or summer sale offers etc.
In that case, you may set up a Smartloop on Tailwind in just a few clicks and forget about posting it every time as your pins will automatically be posted to Pinterest after a time period as specified in the smart loop.
Choose Interval Time For Repinning
Choosing the interval time between posting a pin to different boards is the best Tailwind feature which makes it worth trying.
Using the interval option, you can re-pin your same pin to different boards after a set time interval.
(Pinterest recommends a minimum interval of at least 4 days for posting the same pin)
So, now there is no need to set up a reminder in your notes on when to pin to different boards.
5. Tailwind For Instagram Features
Here are some great features of Tailwind that will skyrocket your Instagram growth.
Hashtag Finder
Using the right hashtags with less competition is very important for your Instagram success.
And Tailwind provides a built-in feature for finding highly related low-competition hashtags.
As in the below screenshot, you can see the hashtags in red are highly competitive and hashtags which are dark green are best as per competition and traffic.
Finding great related hashtags for Captions becomes an easy task with this in-built tool.
Smart.bio: Instagram Bio Link Tool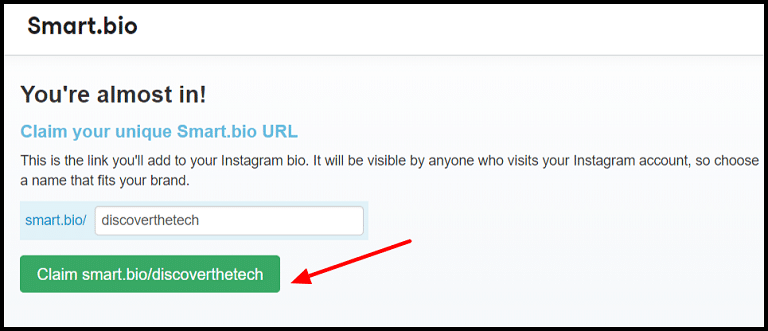 Tailwind helps you add a link in bio tool specially optimized for Instagram.
It allows you to add buttons and Instagram posts to your Smart bio page with outbound links so that you can get targeted traffic from Instagram.
Your Instagram smart bio page will look like this: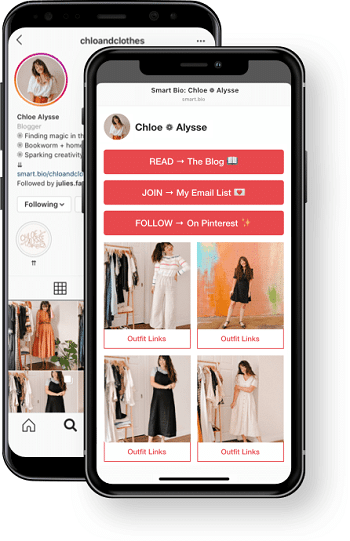 As Instagram does not allow adding links to posts, it is a great feature that helps in making your Instagram marketing more effective.
Once you enable your Smart.bio link on Tailwind, you will get an additional option to add a Smart bio link to your post right from the publisher as below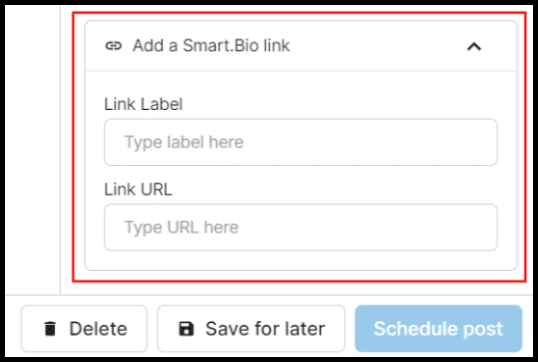 You can also customize your Smart.bio page by changing the button colors, post link button texts, and your page title.
Time-Saving Shortcuts
Tailwind also provides a lot of shortcuts for making your Instagram scheduling more easy and time-saving.
It has the option to save top-performing Instagram hashtag lists, tag relevant users and locations, and format your caption all in one place.
6. Use Tailwind Create To Save Time On Designing
Tailwind Create is an image designing tool that saves you a lot of time by automating your design process.
You need to only add an image in Tailwind Create and it will automatically create hundreds of ready-to-use image designs for your social media needs as per the recommended image sizes for Pinterest, Instagram, and Facebook.
For an instance, I used an image of the cycle and it automatically created different post designs for me.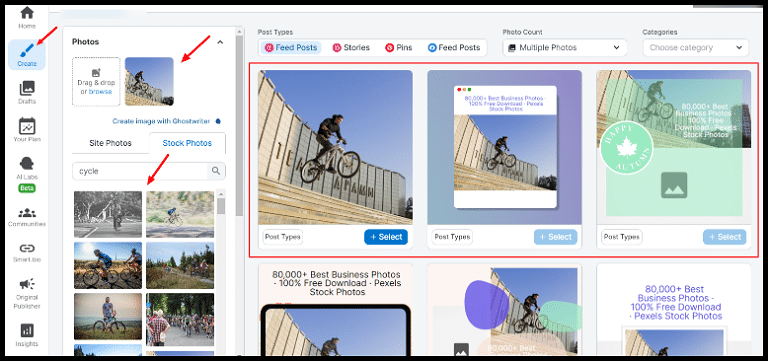 Then, simply choose the ones you want to schedule and go!
Here are some specifications for Tailwind Create-
It provides a wide range of stock photos to use in your designs.
You can also add your brandings like website name or logo to your designs right from Tailwind Create.
You can also choose specific colors to be used in your posts.
Want to know more about Tailwind Create, check out this amazing post by Neal.
7. Tailwind Communities: A Bonus For Social Media Reach
With Tailwind communities you can share your amazing posts with other marketers in your niche using the Tailwind Communities feature.
The tailwind communities work on the basis of shared benefits where you share other people's content and in return, they reshare your posts which helps in getting a wider reach.
Below are the statistics of the results I got from one Tailwind Community alone, and it determines the real power of communities.
I got a reach of about 235.5k! Isn't it great?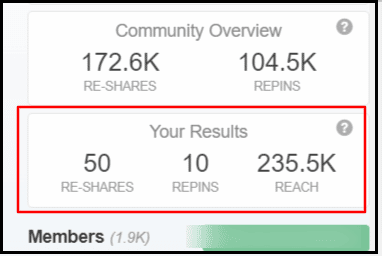 In order to find amazing Tailwind Communities, Click on Communities on your Dashboard> then 'Find a Community' and type a keyword relating to your industry category into the search box.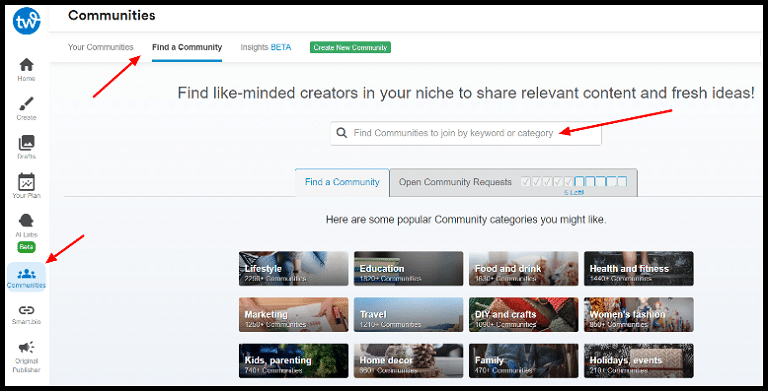 For example, if you are running a blog related to "home decor", then search for the word home decor and you will get a list of related communities that you can join as in this image-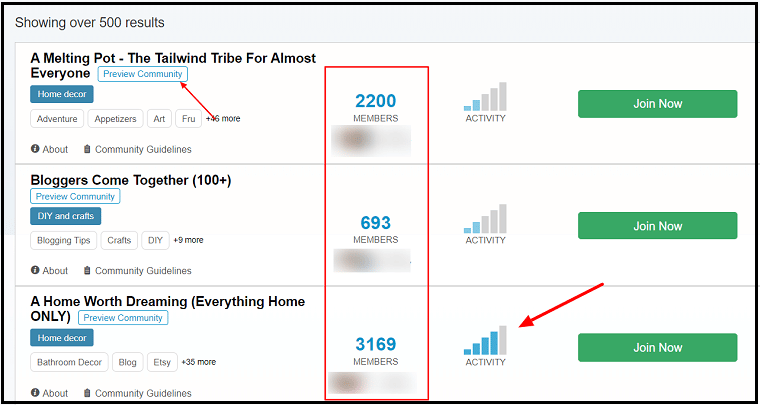 The amount of activity is shown by the blue bars next to the Community's name.
You must join the community with more green bars (representing high engagement) and a moderate number of members to get the highest shares and reach.
8. Analyze Your Growth With Tailwind Analytics
Monitoring the performance of your social media profiles using Tailwind Analytics is the best effective method to get the most out of your Tailwind investment.
Tailwind helps you to know exactly how your strategies and social marketing plans are working.
Tailwind's analytics provide more valuable information than built-in Pinterest or Instagram analytics.
The following is a summary of the best and most helpful analytics provided by Tailwind.
Profile Performance– This section provides the overall performance of the user's profile.
Individual Post Analytics For Instagram- This will show stats on impressions, reach and total followers gained from a single post.
Tailwind Board Insights for Pinterest– Board insights help you to know which boards are working well with your Pinterest strategies and which aren't.
Pinterest Pin Inspector– Everything you've ever pinned will be stored in this box. This shows the performance report for individual pins.
and more.
9. Tailwind Chrome Extension
Along with scheduling posts directly from your Tailwind scheduler, you can also save posts to your schedule directly from any website or from Instagram or Pinterest.
All you need to do is to add Tailwind Extension to your browser.
You can easily download it from Chrome Web Store.

After you set up, the tailwind extension on your PC, you will get an extra button for scheduling posts on Tailwind.
A new small logo of Tailwind will start showing on your browser.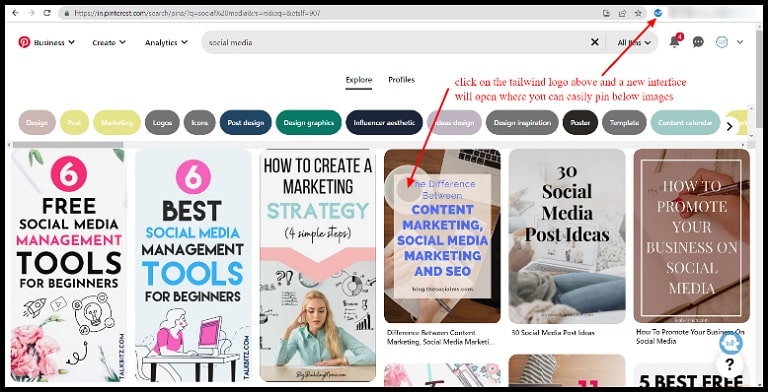 After you click on it, a new interface will open where you can easily schedule images on the page as in the Tailwind scheduler.
9. Tailwind Mobile Scheduling
Scheduling content is even easier with Tailwind's Mobile Scheduling App.
You can use the app to schedule your posts directly from the Tailwind mobile app.
So, someday if you are out and do not have a PC or laptop, you can easily carry on your social media strategy using your Tailwind Mobile app.
Tailwind App Pros And Cons
Pros
Tailwind is an absolute time saver for busy marketers as it automates many time-consuming parts of social media marketing.
It's beginner friendly with an easy-to-use dashboard.
Its AI Ghostwriter helps in writing marketing copies in seconds.
Manages all your social media accounts in one place.
Built-in hashtag tool as well as Smart.bio page for Instagram
Tailwind Create to generate 100's of images with a single click.
Cross-posting to different social media platforms
A lifetime free plan is available with a lot of pro features.
Cons
Customer support service is not too fast.
Tailwind Create is good but somewhat it does not build highly unique and engaging designs.
It does not have an option for Twitter management.
Monthly plans are costly.
Tailwind Pricing (Including New Forever Free Plan)
Tailwind comes at a very affordable cost and moreover, it also has a forever-free plan to schedule your social media posts.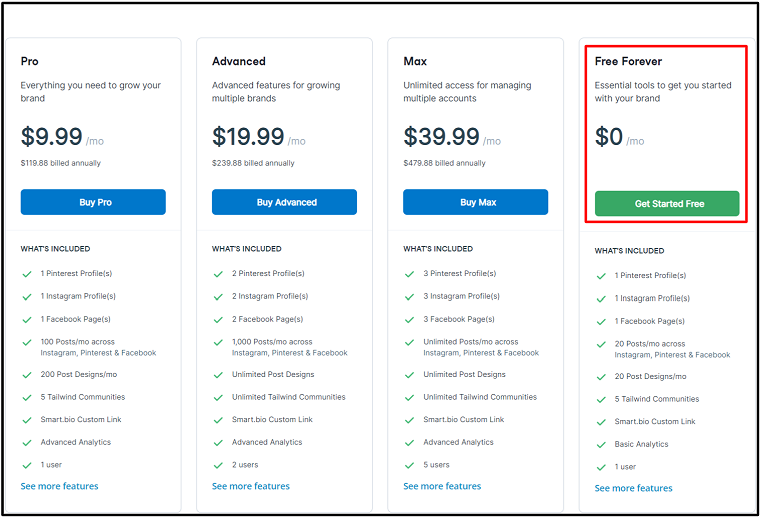 Before we get started on different Tailwind pricing plans, let's talk about the forever-free plan.
Forever Free Plan
You'll be instantly enrolled in the Free Forever plan when you sign up for Tailwind.
The Free Forever plan will include the following:
You can add one profile each for Facebook, Instagram, and Pinterest account.
20 posts/month across all social media platforms.
Join up to 5 Tailwind Communities and 20 designs/month.
Smart.bio custom links for your Instagram.
10 Ghostwriter credits/per month with one credit used for one AI writing.
Unlimited email contacts with access to send 20 emails/month.
Tailwind Pro
If you find its forever-free plan limited and not suitable for you, you can go for its Pro plan which starts at $9.99/per month if billed annually.
If billed monthly, it costs $19.99/per month. So, in my opinion, it is best to go for the annual plan with the following additional features:
Publish up to 100 posts/per month
Create 200 post designs/month using Tailwind Create.
Join up to 5 Tailwind Communities for sharing your content with 30 post submissions.
Advanced analytics
50 Ghostwriter credits/month.
200 email sends/month.
Tailwind Advanced
If you want more posts limit, you can buy an advanced plan for $19.99/per month with which you can publish up to 1000 posts/per month, with no limit on creating designs and unlimited Tailwind Communities and add 2 profiles for each social media platform.
Additional features include:
Unlimited Tailwind Communities
250 Ghostwriter credits/per month
500 email sends/per month
Tailwind Max
Further, the Max plan gives access to unlimited posts per month with 3 profiles for each social media which will cost you $39.99 per month billed manually.
It comes with 500 Ghostwriter credits/per month and 1000 email sends/per month.
Tailwind Alternatives
If for any reason, you don't want to use Tailwind as your social media manager, these are the best alternatives:
Buffer– It starts at a price of $5/per month for one social channel management (also includes Twitter and Linkedin). Its pricing is high as compared to Tailwind and lacks features like Smart.bio, interval pinning, etc.
Planoly– Starts at $11.25/per month with no free plan available and includes support for TikTok, Instagram, and Pinterest.
Hootsuite– Starts at $29/per month with a 30-day free trial and includes support for scheduling on Instagram, Pinterest, Facebook, Twitter, Linkedin, Youtube, and TikTok. Includes advanced features like social ads management and a good support system.
Tailwind App Review 2023: My Personal Opinion
Tailwind has not only made it easy to schedule social media posts at the best times, but it also offers social media statistics to assist me to make better decisions that will help to grow my online presence faster.
Tailwind has taken the pain out of posting regular content on different social media, and Tailwind Create has helped me in making new images, a really easy task.
So, in my opinion, Tailwind is the best social media management tool that could help you drive tons of traffic from Pinterest and Instagram and help reach your marketing goals.
So, what are you thinking about?
Get Tailwind and automate your social media growth today!
If you liked this post, don't forget to share this post with your friends.
Which Tailwind feature do you like the most? Are you going to use Tailwind for your social media automation?
Let me know your thoughts in the comments section.