Over the past few years, podcast hosting platforms have emerged as one of the hottest topics in the podcast space, and experts have also predicted that there will be over 160 million podcast listeners worldwide by 2023, meaning that the podcasting industry is gaining popularity day by day.
Moreover, podcasting has increasingly become a source of income and many are even earning six figures income from their podcasts with more and more businesses spending money towards podcast marketing.
But, to be successful, deep knowledge about the most reliable and hassle-free podcast hosting platform is crucial to set up a stepping stone for a successful podcast.
In this review, we will take a look at Libsyn's key features, pros, cons, and pricing, and compare it with other tools to see if it is the best podcast hosting platform for you.
Libsyn Review 2023: Overview Of The Podcast Hosting Tool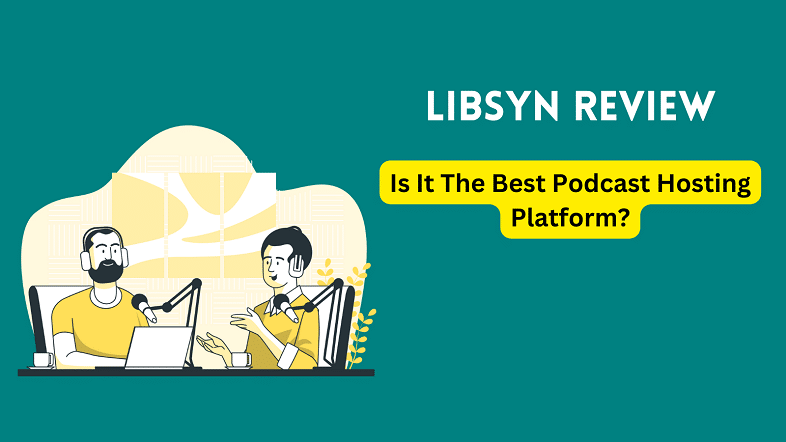 Libsyn helps companies and thought leaders grow their impact by providing podcast hosting services with 100% uptime, and content distribution systems, engaging communities worldwide, and helping them earn the highest income using their integrated monetization tools.
| Review Of | Libsyn Podcast Hosting |
| --- | --- |
| Used For | Powerful Podcast Hosting Tool |
| Pricing | Starts at $5 per month |
| Best For | Beginner podcasters |
| Best Feature | Built-in podcast creation tools, robust statistical tools |
| Rating | 4.4/5 |
What Is Libsyn Podcast Hosting?

Libsyn has been committed to providing podcasters with the ability to manage their podcasts like a pro while maintaining ownership over their work.
Libsyn caters to freelance podcasters as well as enterprise-level podcasters.
Their work focuses on giving podcasters the tools they need for production, distribution, and revenue in order to express their passion, tell their stories, and change the world.
If you are thinking about starting a podcast or are looking for a new podcast hosting platform, read on for our full review of Libsyn!
Who Is Libsyn For?
Libsyn is a useful podcast hosting platform that caters to a wide range of podcasters, including:
Beginner podcasters: Libsyn has a simple interface and excellent support. Its simple interface and features allow newcomers to upload, manage, and distribute their podcasts.
Experienced podcasters: Libsyn offers additional tools and analytics for extra control and insights. Libsyn helps experienced podcasters build their audiences with flexible website integration, comprehensive data, and monetization choices.
Due to its extensive features, dependability, and scalability, professional podcasters favor Libsyn. High-traffic podcasts with several episodes need limitless storage and bandwidth. Libsyn's monetization technologies and distribution capabilities also appeal to content monetizers.
Businesses and groups: Libsyn serves podcasting companies and organizations. Its branded website integration, analytics, and monetization solutions let organizations build brand awareness, measure performance, and monetize podcast content.
Libsyn Key Features
Libsyn offers a variety of features for podcasters, including:
1. Built-in Podcast Recording and Creation Tools
Libsyn has a built-in podcast recording studio that lets you quickly and easily record a podcast from intro to outro — and everything in between.
This algorithm walks you through writing your script, adding royalty-free music, creating a teaser, and publishing.
The simple drag-and-drop assembly and automatic audio enhancement require no recording or editing experience.
It is also available with every Libsyn hosting plan, it is the fastest and easiest way for podcasters to create and launch a podcast without any hassle.
2. Dynamic Podcast Ads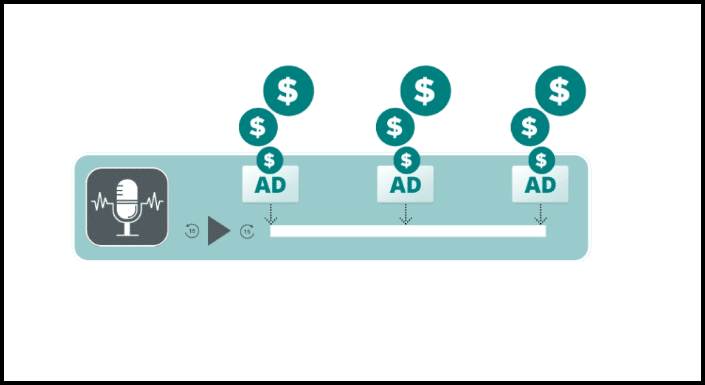 The automatic ads feature by Libsyn allows you to insert real-time ads in your podcast on demand.
The automatic ads feature helps in the easy monetization of your podcasts without any management by you.
You just need to select the time in the podcast where you want to display ads and Libsyn will automatically keep adding new ads to the allotted times for the highest earning while keeping the user experience to the best.
This way, you can even earn as much as six figures income per month while focusing on podcast content and leaving monetization work to Libsyn.
3. High-Quality And Remote Podcast Recording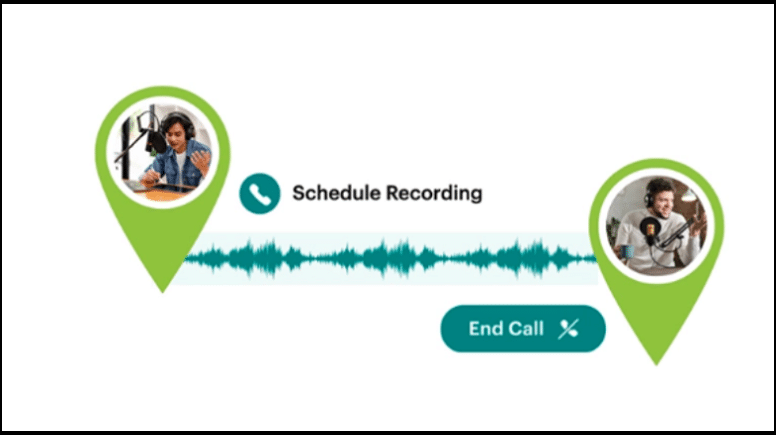 Before now, remote podcast recording has never been so easy!
With this unique feature by Libsyn, you can schedule, invite, and record your co-host or guests with Libsyn Connect.
Your guests can join you in a recording session in a couple of clicks from a customized invite link without needing to be physically available at the time of the podcast.
And once connected, you can record high-quality audio tracks ideal for post-production workflows.
4. Robust Podcasting Statistics & Audience Insights

Libsyn has one of one the best analytics tools which allows podcasters to have full knowledge and gain insights about their audience on the go.
This analytics is designed according to these industry standards:
Accurate IAB Tech Lab Verified Stats: Their certified podcast analytics is verified by the industry-standard "IAB" (Interactive Advertising Bureau) which guarantees zero plagiarism and prepares you for ads and sponsorship rights from the start.
Nothing Basic about Basic Stats: The stats provide reliable total and customizable 7, 30, and 90-day breakdowns of your last five episodes to help you understand your growth all in one place.
Advanced Stats and Insights: It empowers your data-driven content planning with an interactive global map, customizable date ranges, unique statistical codes, listeners' consumption metrics, app analytics, and demographic information.
Hence, these comprehensive podcast stats and analytic tools will help in optimizing your content strategy for your audience.
5. Free Podcast Player And Website With Every Plan
All Libsyn plans provide a podcast website with custom colors, Google fonts, easy share buttons, and a podcast player.
So, your podcast is ready to launch without any additional expenses needed for website hosting or podcast player.
6. Other Additional Features
Along with the above important features, here are other suitable pros that come with Libsyn hosting plans: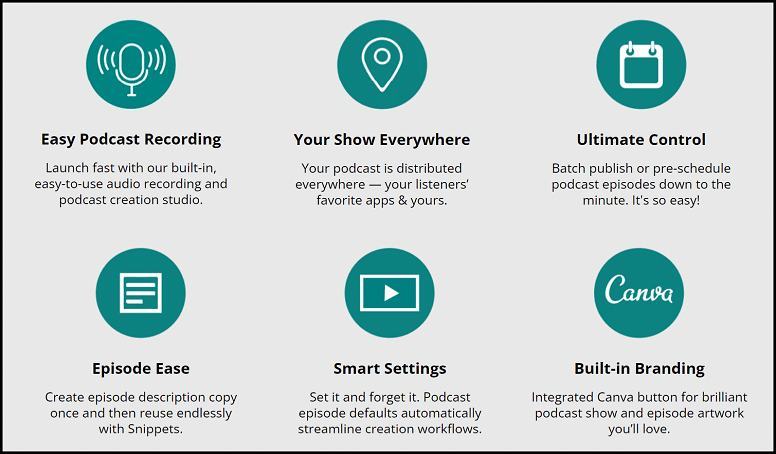 Built-in Branding: Libysn has an Integrated Canva button for brilliant podcast shows and episode artwork for your podcast display that resonates with your audience.
Podcast Marketing Tools To Grow Audience: The platform offers marketing features and strategies to help you promote and grow your podcast audience, including social sharing options and integrations with podcast directories.
Monetization Tools To Maximize Income: Along with automatic ads, Libsyn also provides subscription plan services to charge money from paying members
Team Management and Custom Options With Enterprise Plan: The enterprise plan offers additional features for team collaboration and customization options to suit the needs of larger podcasting teams or networks.
Free FTP uploads: The platform allows you to upload your podcast episodes using FTP (File Transfer Protocol) without any additional charges.
All these features give you absolute control over your podcast and the algorithm helps you reach your target audience while airing your podcasts everywhere you desire!
Libsyn Pros and Cons
Being one of the leading podcasting platforms doesn't mean it offers everything!
Here are some of the merits and demerits of why you should choose Libsyn or not.
Libsyn offers timeless and unlimited storage and bandwidth.
Provides access to a free website and show notes.
The platform is straightforward and easy to use.
The lowest plan starts at $5/month with 3 hrs of new uploads per month.
Tracking and data-driven podcast analytics help keep track of your progress.
There is a wide range of partnerships and distribution to major platforms like Google, Apple, and Spotify.
The Libsyn team is very much involved in helping their users monetize their podcasts with monetization tools.
Their customer support is active and always happy to help.
They are costly compared to other high-traffic podcasts for bigger plans
The remote podcast recording feature starts from a $20/month plan.
Some features are only available with higher-tier plans.
$2/month fee for hosting a custom domain.
It doesn't provide the complete demographics of the listening audience.
Libsyn Pricing And Plans
Libsyn allows flexibility in hosting as users can import pre-recorded podcasts with every plan available.
You can also cancel any of the plans anytime, as it is well structured to help you keep the focus on your journey to podcast success.
All the Libsyn plans provides distribution on all other popular platforms like Spotify, Apple Music, and more!
All these plans give you access to podcast revenue through podcast advertisements or podcast subscription creation.
Libsyn Audio Podcast Pricing And Plans
It offers 3 podcast hosting plans which are as follows: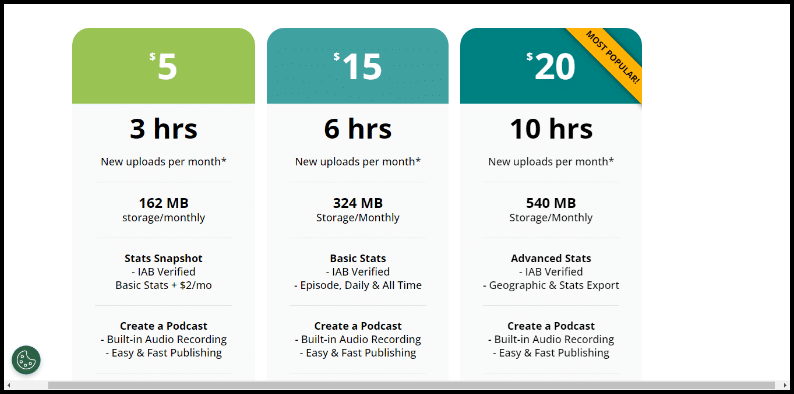 Plan 1– The first plan is priced at $5/month, and offers users a range of features such as up to 3 hours of new uploads per month, with a storage limit of 162 MB per month. For an additional $2/month, users can access a stats snapshot that is IAB verified. The plan also includes built-in audio recording, unlimited bandwidth, and an ad-free podcast website.
Plan 2– The second plan is priced at $15/month with 6 hrs of new uploads per month and storage of 324 MB/month along with Basic IAB verified stats without any cost.
Plan 3– The third plan, which is the most popular plan, starts at $20/month and provides users with 10 hours of new uploads per month and a storage capacity of 540MB/month. In addition, this plan also provides access to advanced stats, remote podcast recording, and social promotion scheduler. Overall, the third plan offers an extensive set of tools and capabilities to support the needs of podcasters and is the highly suggested plan by Libsyn itself.
Video Podcasting Pricing And Plans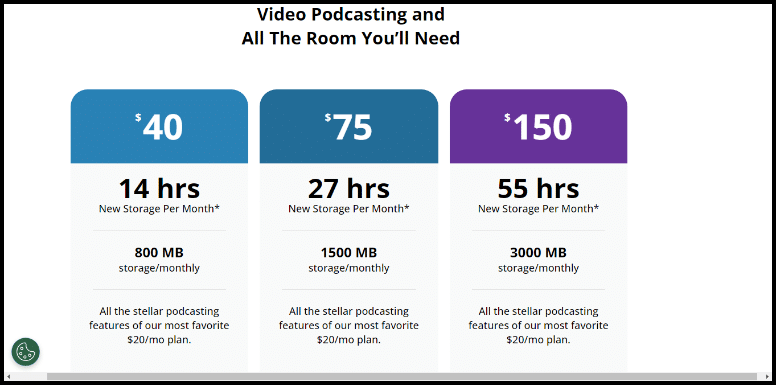 The first video podcasting plan starts at $40/month with 14 hrs of new storage per month, 800MB storage, and all the stellar podcasting features.
The second plan starts at $75/month with 27 hrs of new storage per month and 1500 MB of storage/per month.
The third plan is at $150/month for 55 hrs monthly with 3000MB storage.
Libsyn also offers Enterprise plans for companies and big brands and its pricing is based on quotes on the basis of the user requirements.
Libsyn Special Promo Code For DiscoverTheTech Readers
As you have come this far reading this article, it means that you are really interested in purchasing Libsyn.
And here's a special offer for you.
Use our exclusive promo code "DISCOVER" at checkout to delight in an incredible discount only available for DiscoverTheTech readers.
Start your podcasting dreams on the right note and let your voice be heard without breaking the bank.
Libsyn Refund Policy
You are allowed to cancel your paid plans from your account settings before the renewal at any time, but Paid Subscriptions are non-refundable.
It means if you have paid for the plan and want to cancel it, you can only cancel renewal for next month and any of the current month's charges would not be refunded.
How You Can Monetize Your Podcast on Libsyn
As soon as you are confident in creating content and you have decided to go entirely into it, it is very easy to make money off your podcast with integrated podcast monetization tools.
Here is how it works:
Step 1– Go to the Libsyn website and click on "Sign Up" to take the first step towards your six-figure podcast success.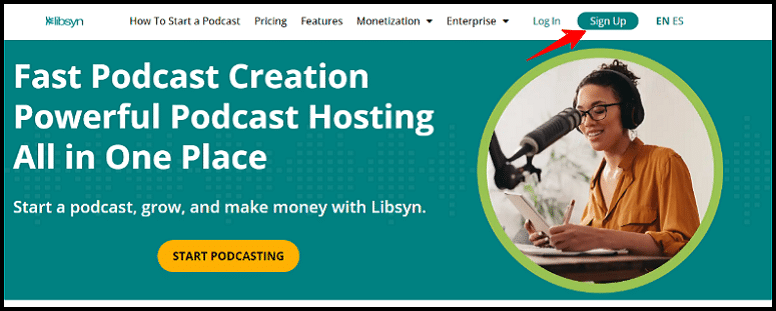 Step 2– Continue by filling in your details with your name, email, and password and create an account.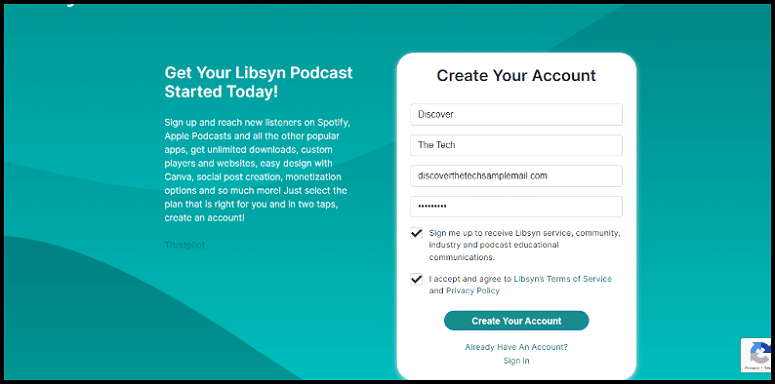 Step 3– Now, you're all set to choose a suitable plan for your podcast hosting.
If you're starting out with dedication, I recommend you to go with the $20/month plan as it provides all the important features as well as provides for 10 hours of new uploads per month.
It's also the most popular Libsyn plan.
Also, don't forget to apply our exclusive discount code "DISCOVER" only available to DiscoverTheTech readers to get an extra discount.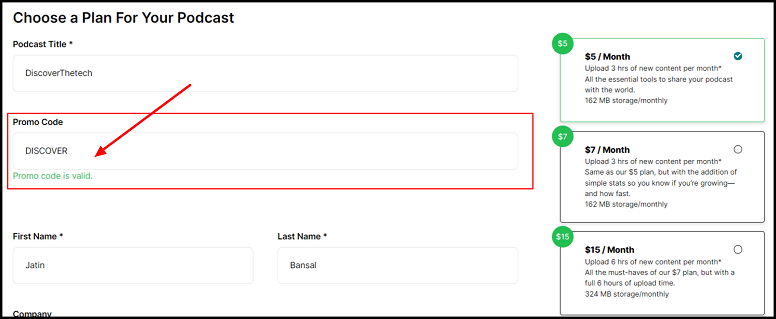 Step 4– After paying, you can start by creating audio content and then choose from several monetization options that Libsyn provides to start earning from your podcast.
You can start promoting your podcast on several social media platforms like Facebook, Instagram, TikTok, and Twitter and distribute content over platforms like Spotify, Apple Music, Google, and more.
Libsyn Customer Support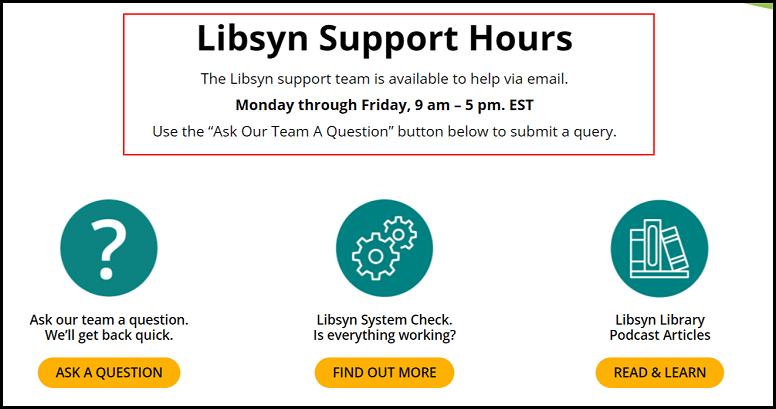 Libsyn is a proven and reliable podcasting companion, providing exceptional and dedicated customer support.
Users can also get answers to common problems through the Libsyn articles library.
Their dedicated team is available via email from Monday to Friday, 9 am to 5 pm. EST.
Their knowledgeable and helpful support staff is committed to addressing any concerns or challenges you may encounter on your podcasting journey.
Libsyn Reviews And Ratings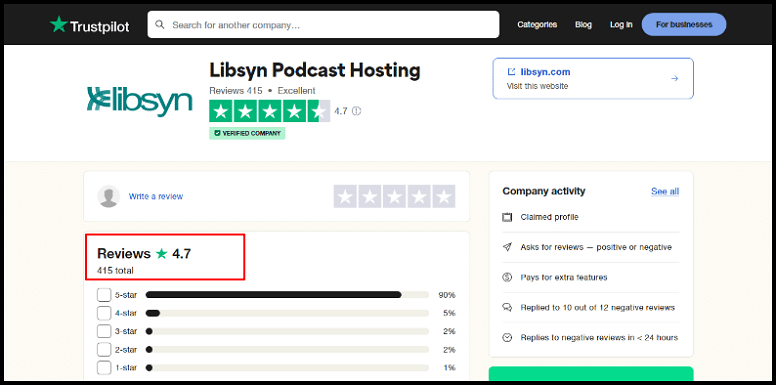 Libyan has a 4.7/5 rating on the Trust Pilot from 415 total reviews and an overall positive review about customer support and user experience.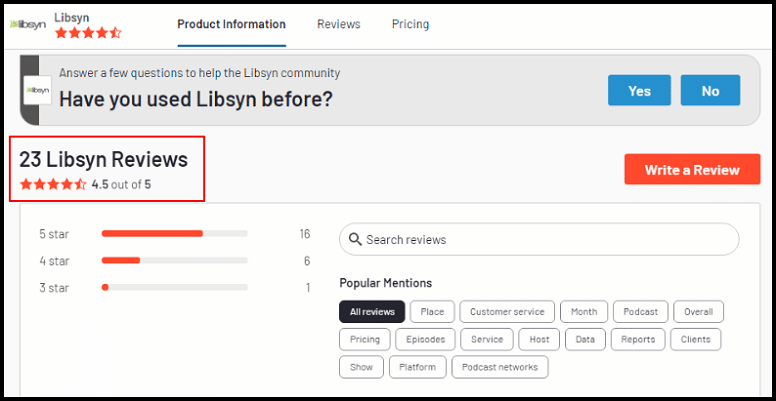 But overall, it has a good review; on G2, it has a review of 4.5 out of 5 from 23 users. And as on Trustpilot, most complaints are about the pricing.
Libsyn Hosting Alternatives
Libsyn, a popular podcast hosting platform, has several alternatives that cater to diverse podcasting needs.
These alternatives offer different features, pricing plans, and distribution capabilities.
From advanced analytics to affordable options, podcasters have a range of Libsyn alternatives to choose from in the competitive podcast hosting market.
Libsyn Vs Buzzsprout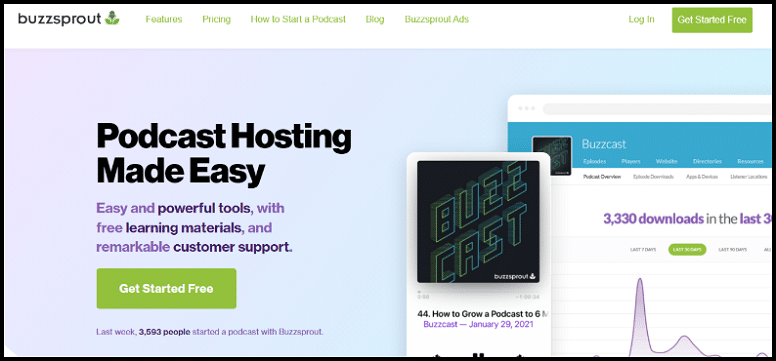 Buzzsprout is another well-known podcast presenter.
The platform isn't as well-known as others, but those who use it commend it for its dependability.
These podcast-hosting enterprises have similar cores. Both provide RSS feeds for episode distribution. They provide podcast websites, unlimited storage, and customizable rates.
Where Libsyn is Better Than Buzzsprout:
Libsyn has a long-established reputation in the podcasting industry for over 15 years, earning a reputation for reliability and stability.
Libsyn has more robust analytics and statistics for tracking podcast performance better than other podcast company
They have advanced customization options for podcast branding and website design
Libsyn offers great support for larger podcasting networks and multiple shows
They are leading in offering various pricing plans with different storage limits and features
Extensive experience in the podcast hosting industry, being one of the oldest platforms
Where Buzzsprout is better than Libsyn:
Buzzsprout has a more user-friendly interface and intuitive dashboard than Libsyn
Buzzsprout has direct and more transparent pricing based on the number of hours uploaded per month.
It is also beginner-friendly with step-by-step processes for uploading and publishing episodes more than Libsyn
Libsyn Vs Podbean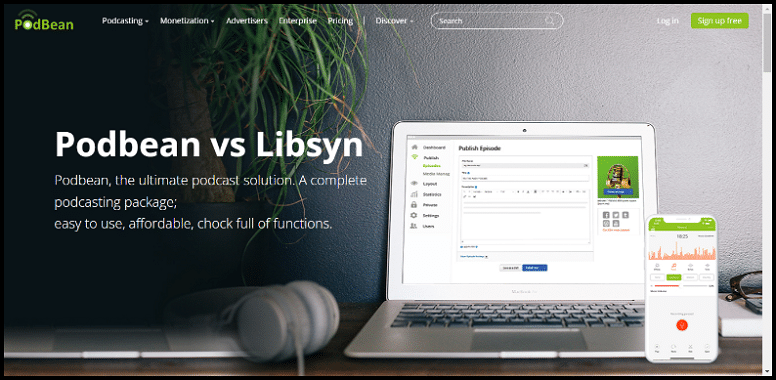 Podbean is a podcast hosting platform that provides users with an all-in-one solution for podcasting.
It offers features such as unlimited audio storage, built-in podcast monetization options, customizable podcast websites, and detailed analytics.
Podbean aims to make podcasting accessible and easy for both beginners and experienced podcasters.
Where Libsyn is better than Podbean:
Libsyn offers various pricing plans based on storage limits
Libsyn offers monetization options but with a stronger focus on hosting and distribution
This platform advanced customization options for podcast branding and website design
They provide comprehensive analytics to track podcast performance
It is a well-established platform with a long history in the podcast-hosting industry
Offers additional services like LibsynPro for larger podcasting networks and professional support
Where Podbean is better than Libsyn:
Competitive pricing plans with unlimited audio storage.
Detailed analytics on episode performance and audience engagement
Easy integration with social media platforms for promotion and sharing
Mobile app for convenient podcast management and listening experience
Libsyn Vs Simple Cast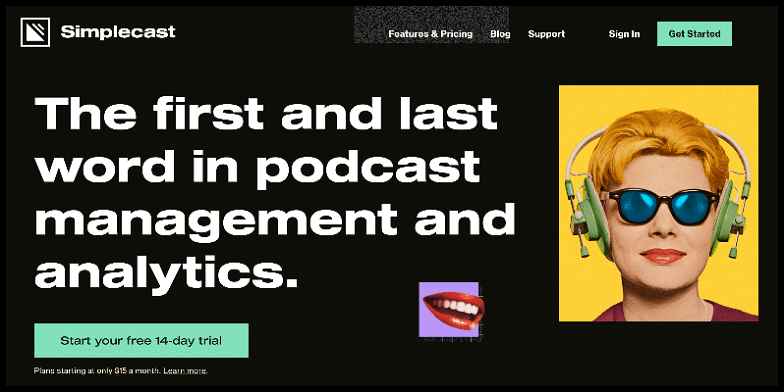 Simplecast is a fast-growing podcast hosting and analytics platform that aims to provide a streamlined experience for podcasters.
Simplecast provides podcast website hosting and customizable players, making it convenient for creators to establish a professional online presence for their shows.
Where Libsyn is better than Simplecast:
Libsyn offers various pricing plans based on storage limits giving flexible rates for their customers to choose from
Libsyn is a well-established platform with a long history and greater trustable services.
They have advanced customization options for podcast branding and website design.
Libsyn offers comprehensive analytics to track podcast performance by users
Offers additional services like LibsynPro for larger podcasting networks and professional support
They offer support for monetization options and podcast distribution to various platforms
Where Simplecast is better than Libsyn:
Simplecast offers a sleek and intuitive user interface
This platform offers robust analytics and insights on audience engagement and episode performance as compared to Libsyn
It has a seamless integration with popular podcast directories and platforms.
FAQs on Libsyn Review 2023
What is Libsyn?
Libsyn is a podcast hosting platform that helps upload, publish, and distribute podcast episodes to various platforms and directories.
How much does podcast hosting cost?
Libsyn audio and video podcasting pricing plans vary from $5 to $75/month based on storage needs and features. You can check their website for specific details as prices keep changing.
How to use Libsyn for podcasts?
To use Libsyn, create an account, select a plan, and upload episodes. Libsyn offers customization options for effective podcast management.
How does Libsyn work?
Libsyn hosts and stores podcast episodes generates an RSS feed and distributes content to directories like Apple Podcasts and Spotify for listeners to access.
Can I monetize my podcast using Libsyn in 2023?
Yes, Libsyn enables podcasters to monetize their content through dynamic ad insertion, sponsorships, premium subscriptions, and affiliate marketing integrations, offering diverse revenue generation opportunities aligned with their goals.
Is Libsyn suitable for both new and experienced podcasters?
Libsyn caters to podcasters of all levels with a user-friendly interface for beginners and advanced features for experienced podcasters. It accommodates both new and established podcasts.
What does an unlimited audience mean?
Libsyn's hosting plans are content-based, not download-based. No surprise charges or rate increases as your episode downloads and audience grows.
Conclusion on Libsyn Hosting Review 2023
Libsyn is a great podcast hosting platform for both beginners and experienced podcasters.
Despite the potential drawbacks, Libsyn's extensive feature set makes it a powerful tool for podcasters.
The ability to customize domains and show notes provides a professional touch, while the comprehensive podcast analytics offer valuable insights into listener behavior and engagement.
Libsyn's distribution capabilities also ensure that podcasts reach a wide audience across major platforms.
Hence, Libsyn's robust features and support make it a reliable choice for podcasters seeking a feature-rich hosting platform.
So, are you going to buy a Libsyn plan for starting your podcast career?
Let me know in the comments.