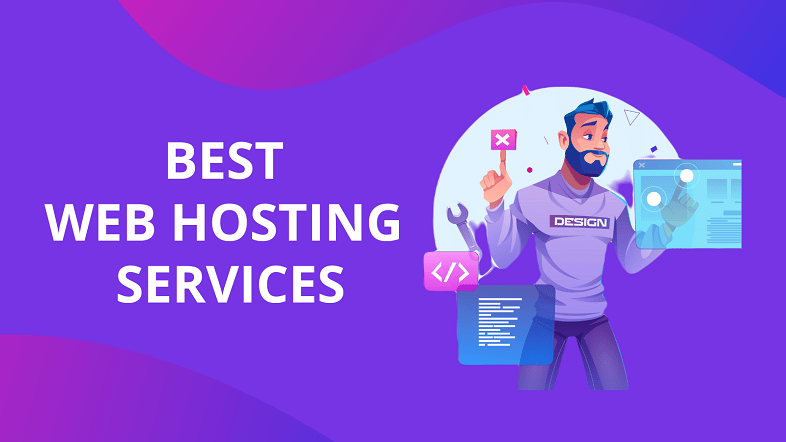 Are you planning to start your blog, an eCommerce store, or simply take your local business online?
But don't know which is the most reliable web hosting provider in India to go with?
Don't worry, this web hosting guide will help you to find the best hosting with the highest discount to save the most money.
Since a website is required to run and grow a successful business, web hosting is a crucial component of creating a high-quality website.
I have made this list of the best web hosting in India for 2024 based on my 5 years of expertise in the digital marketing field and comprehensive research and testing across numerous hosting providers.
Plus, I will also share the best discount offers available for web hosting saving you even up to 90%.
So, let's start it.
Top 9 Best Web Hosting Providers In India 2024
Web hosting companies need to be evaluated based on their uptime performance, features, speed, security, ease of use, and customer support availability.
If you are a local business owner targeting only an Indian audience, I recommend you prefer web hosting with a data center in India, so that you can provide the best website experience to your users.
My top 3 picks for 2024 are Nexcess, Bluehost, and Hostinger.
This is a brief list of all the hostings our team has evaluated-
1. Nexcess Review (Best for Managed WordPress and Ecommerce Sites)
Starts at ($15.83/month)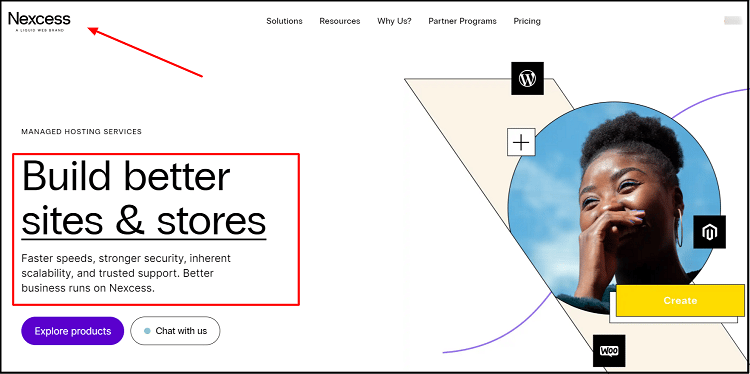 Nexcess powers over 500,000 websites with its fully managed web hosting for websites and stores, making it a highly trustworthy web hosting provider.
It is the most suitable option for managed WordPress and e-commerce stores as it is equipped with lots of great features like free SSL, automatic image compression, lazyloading, CDN, staging, professional email accounts, and a huge bandwidth of 2TB.
All these features are even available with the basic plan, making it a right fit for dynamic sites.
You don't have to bother about the backend and troubleshooting difficulties like setting up the server and installing WordPress as it's a one-click task.
Moreover, it also comes with a 30-day money-back guarantee.
So, you can cancel it anytime you wish without losing anything.
Performance

After examining its service, I concluded that the web hosting speed is great with highly useful features:
Advanced caching.
Daily Backups
Lazy image loading.
Email accounts are unlimited.
WordPress core updates and WordPress plugin updates are both available.
One-button staging site (clone of your live website).
A CDN with 22 places is built in to get high speed.
Unlimited Traffic.
Constant security surveillance.
Customer service is available 24/7/365.
30- Day money-back guarantee.
It also provides Language translation support to make your site accessible all over the world and get leads to your business.
The web hosting also gives you free access to premium plugins like iThemes Security Pro, TinyPNG, Visual Compare, Object Cache Pro, and Hubspot marketing tool, saving you thousands of dollars.
Being a truly managed hosting with high performance and plenty of features, it is the best e-commerce hosting in India for 2024.
Speed
I placed Nexcess at the top of the list because of its fast speed and performance.
It includes a Nexcess cloud accelerator, which speeds up the loading time of your website by incorporating a cloud stack layer.
More than that, it also offers CDN, image compression, lazy loading, and cache to make your site load like a rocket.
Its cloud auto-scaling features assist the site in adjusting server capacity when traffic rises, which means you don't have to be concerned about traffic fluctuations.
Security
It features an integrated firewall and always-on malware detection software that keeps your website secure by constantly monitoring it.
It also provides daily backups and the iThemes security plugin makes your site 100% secure.
Therefore, you don't need to be concerned about the Security of the website.
Customer Support
Nexcess provides you with 24/7/365 assistance, which means that if you have any technical issues, you can contact the support team immediately, and they will resolve it within a few minutes.
More than that, they also provide a free website migration facility by dedicated experts to make your site run in no time.
Pricing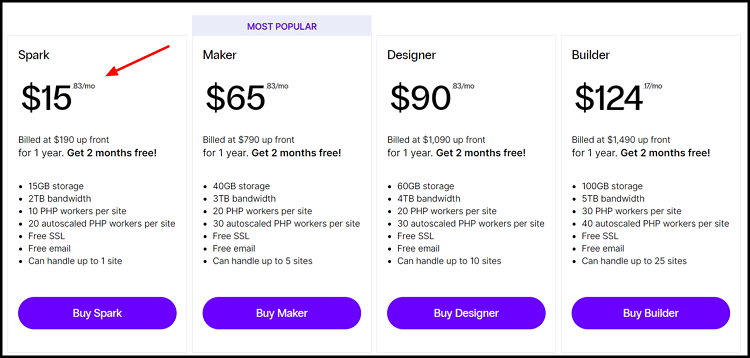 Nexcess offers seven pricing plans with the Spark plan starting at $15.83/per month in which you can host only one website with 15 GB of storage and 2TB of bandwidth.
The Maker plan provides additional space and costs $65.83 per month for up to 5 sites with 40GB storage and 3TB bandwidth.
Other plans are as follows (for huge traffic sites):
Designer – $90.83/month (up to 10 sites, 60 GB storage, 4 TB bandwidth)
Builder – $124.17/month (up to 25 sites, 100 GB storage, 5 TB bandwidth)
Producer – $249.17/month (up to 50 sites, 300 GB storage, 5 TB bandwidth)
Executive – $457.50/month (up to 100 sites, 500 GB storage, 10 TB bandwidth)
Enterprise – $832.50/month (up to 250 sites, 800 GB storage, 10 TB bandwidth)
If you're just getting started with your website, I recommend starting with the Spark plan, which is fully optimized for running one site.
What I Like/Dislike
Like:
A perfect dashboard that allows you to track resource utilization and plugin performance.
A high uptime rating of 99.998%
Its managed web hosting allows you to keep full focus on your eCommerce business and the hosting itself will take care of technical settings.
Quick assistance and support
Lightning-fast speed
Dislike:
Nexcess does not offer free domain registration.
Indian data centres are not unavailable, but a built-in CDN can solve your problem.
Best Offer
Simply hit this link to get the best discount on all pricing plans.
2. Bluehost Review (Best WordPress Hosting For Beginners)
Starts at (Rs 169/month)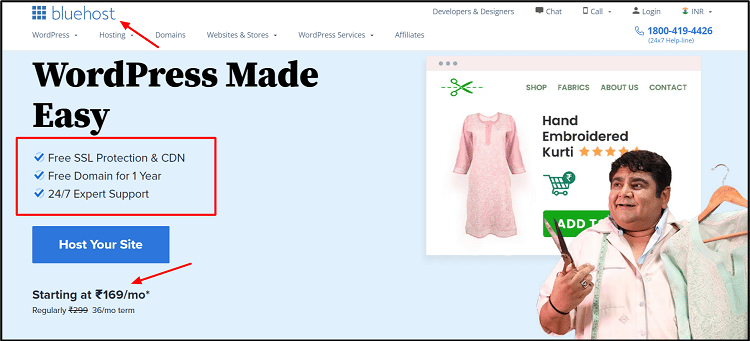 Bluehost is one of the top web hosting providers in India and is officially recommended by WordPress since 2005.
It is specially designed to make WordPress easier and powers over 2 Million websites around the world.
Hence, Bluehost is my top WordPress hosting recommendation with features like free SSL, free domain for 1st year, malware scanning, one-click WordPress installation, and 24/7 customer support.
So, if you are thinking of starting your blog in 2024, Bluehost is the way to go as it offers the best WordPress hosting in India at cheap prices.
Performance
Bluehost has a great uptime performance of 99.98%.
This means that your site will be running great without any problems for the whole time.
If in rare cases, there's some problem, it will be resolved in a few minutes.
I have used Bluehost for one of my websites and the web hosting speed is excellent.
I have never been involved with any problems running my site with Bluehost.
It offers the following key features:
50 GB SSD storage with the basic plan and unmetered bandwidth with all plans.
Free access to 100+ WP themes.
Bluehost offers integration with Cloudflare CDN.
Ability to load unlimited websites with Choice Plus plan starting at Rs 279/month.
Free SSL certificate.
Free domain name for the first year.
Free WordPress website migration.
Free one-click staging for testing purposes.
Free Yoast SEO integration starting from the Choice Plus plan.
The Bluehost interface is very easy to understand and it also provides a drag-and-drop editor to create your website, making it the best fit for beginners.
You can read my full review on Bluehost here.
Speed
You don't need to worry about your website speed with Bluehost as it offers speed-boosting CDN with all its plans (value Rs 4499/year) for free.
According to research, the average speed of a Bluehost-hosted website is only a half second.
Security
It includes a free SSL certificate, which is a required level of protection that every website needs.
Bluehost CDN integration prevents your site from DDoS attacks.
All plans include Automatic daily malware scans making it even more secure.
You can get a daily backup add-on for just Rs 119/month.
You can also receive access to their spam experts (which protects your website from spam traffic) and domain privacy add-on.
Customer Support
Bluehost provides their consumers with 24/7 technical help, and I like that they provide you with Indian phone assistance, so language will not be an issue for any user.
They also provide on-website as well as email support.
The support system is fast and you get the best experts to solve your problems.
Pricing
Bluehost comes with four plans named Basic, Plus, Choice Plus, and Pro.
The Basic plan is best for beginners starting at ₹169/month which provides access to hosting 1 website, 50GB SSD, and unmetered bandwidth.
However, if you want to host more than 1 website, you can go with its Plus plan at ₹279/month which lets you host unlimited websites with unlimited SSD and bandwidth.
They also provide Indian payment options like net banking, credit/debit cards, UPI, e-wallets, and more.

What I Like/Dislike
Like:
It has a user-friendly interface making it best for beginners.
Free domain at the time of registration.
Inbuild website builder
The web host has a data centre in Mumbai, India. So you can achieve the best results for your Indian local business site.
Dislike:
The rate of renewal is high.
Bluehost indulges in a lot of upselling with add-ons.
How to Save the Most:
Plan– Basic at ₹169/month
Term– 36 months
Total at checkout– ₹6,084
Potential Savings– ₹4,680 (43% off)
3. Hostinger Review (Best Cheap Hosting For Startups)
Starts at (₹69/month)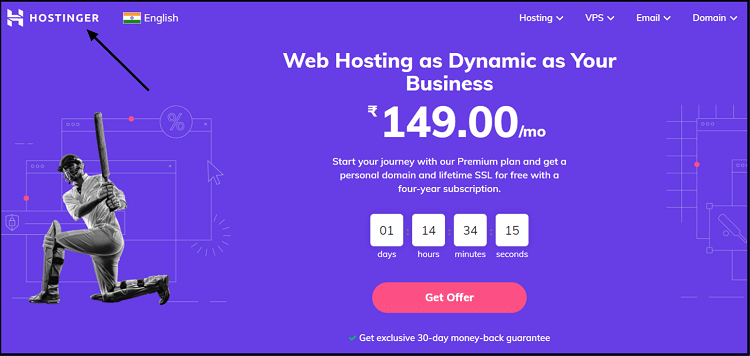 Hostinger is an excellent web hosting provider because of its high speed and low pricing, and it's ideal for people seeking budget-friendly shared hosting.
29 million people from over 178 countries trust their websites, domains, and emails with Hostinger.
You can start a website on Hostinger for as low as ₹69/month getting you a massive discount of 79%.
Being a highly affordable web hosting, it still has top-quality features like free SSL, great speed, free weekly backups, and 24/7 support, and also comes with a 30-day money-back guarantee.
Performance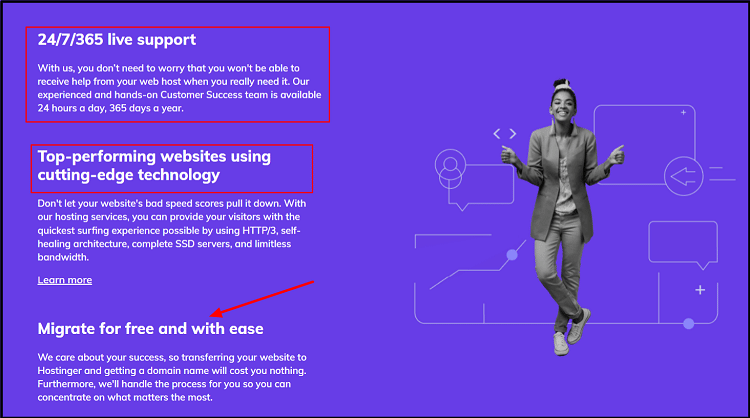 The performance of the web hosting is outstanding even at a cheap price.
It offers guaranteed uptime of 99.9% ensuring accessibility of your website at all times.
Its key features are:
Free SSL which ensures your site's protection.
Cloudflare CDN compatibility helps to prevent your site from DDoS attacks.
Free site migration facility from experts
Free weekly backups on all web hosting plans which further secures your site.
A managed WordPress facility is also available, which means that you don't need to focus on your settings or any technicalities related to WordPress.
In-built Lite Speed cache for WordPress.
Recently in 2024, they launched a new data center in Mumbai, India so that they could deliver better results for local businesses and startups in India.
Hostinger also offers the cheapest WordPress hosting in India with one-click WordPress installations and they also have a Zyro website builder which helps in designing your site without any coding knowledge.
Speed
Hostinger has managed to get its name as one of the fastest web hosting services in India with an average page loading speed of under 200ms.
Its Cloudflare integration and Lite Speed Cache helps in getting the desired host speed.
Its Premium plan can easily handle up to 25,000 visitors/per month while the business plan has a much higher capacity of 100,000 visitors per month.
Customer Support
Hosting includes 24/7/365 support as part of every subscription.
It has a customer service team that is multilingual (20+ languages) and the official average response time is 50 seconds.
Both email and chat with-us options are available.
Pricing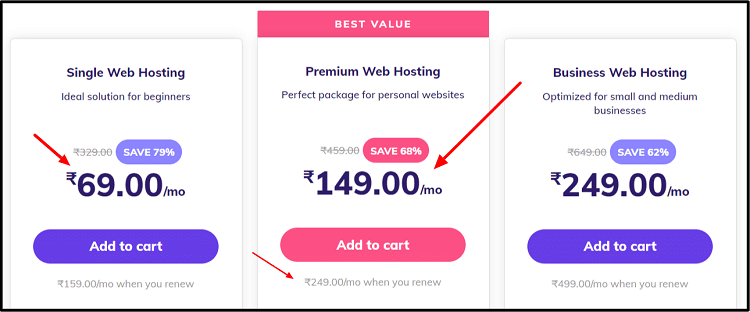 Hostinger's lowest plan costs ₹69/month and it gives you access to host one website with 50 GB SSD storage and 100 GB bandwidth.
I recommend that you go with the Premium web hosting plan, which costs ₹149/month if you order it for four years and gives you access to host up to 100 websites with a free domain for the first year.
Renewal prices are also cheap with Premium hosting renewing at only ₹249/month.
There are many Indian payment alternatives available such as UPI, GPay, PayTM, card payment, and net banking.
What I Like/Dislike
Like:
Highly affordable and cheap prices and also renewal cost is less.
Hostinger h-panel is very easy to use.
Easy-to-use interface and best suitable for beginners with no technical knowledge.
It has 8 data centers. So, you can choose the data centre of the desired country if you want to get better results there.
Dislike:
The support area has little space for enhancement.
There's a limit to the number of visitors per month. So, you need to upgrade your plan if your visitors exceed.
Free domain is not available with the Rs. 69 plan.
How to Save the Most:
Plan– Single web hosting at ₹69/month (if you only want to host one site)
Term– 48 months
Total at checkout– ₹3,908 (including tax)
Potential Savings– ₹12,480 i.e 79%
You will also get a web hosting renewal at less price with a high-term plan.
4. Cloudways Review (Best Managed Cloud Hosting In India)
Starts at ($10/month)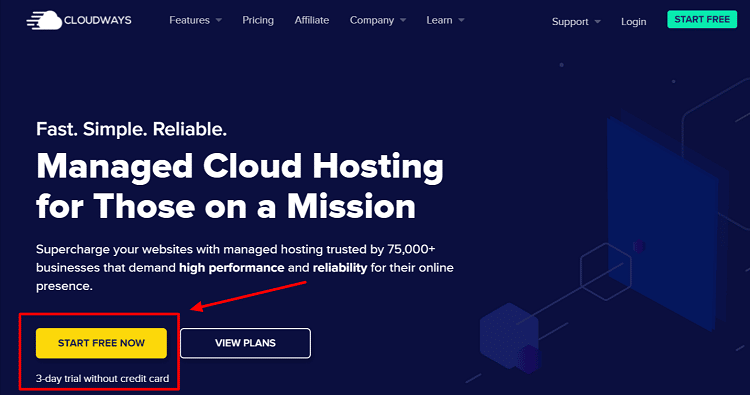 Most of the web hosting providers I have shared in this post are based on affordable shared hosting.
If you want to upgrade your site to the benefits of dedicated servers but, without spending a fortune then Cloudways is the best go-to hosting for you.
As it provides you with the benefits of dedicated web hosting with the ease of use of managed hosting too.
The cloud hosting is fully managed and includes automatic backups, caching, monitoring, and server upkeep.
This means that you don't need to get your hands dirty with difficult technical requirements.
Cloudways has servers all over the world with excellent performance and features like support for the most recent versions of PHP, Nginx, and MySQL.
Cloudways, with its exceptional pool of cloud resources, provides exceptional speed, uptime, and scalability.
Performance

Cloudways-managed servers can quickly load a website in a few milliseconds and maintain a rate of 99.9% uptime with renowned cloud providers like Digital Ocean, Google Cloud, Linode, AWS, and Vultr.
With cloud providers, your website can pull resources from wider locations around the world means if there's a problem with one, your site can easily pull data from other locations.
It provides great speed performance with built-in advanced cache and CDN.
Free SSL to secure your site from malware.
One-click staging, automated backups, free migration, and HTTP/2-enabled servers.
It also offers optimal server locations in India (Mumbai and Bangalore) making it an optimal choice for your local business in India.
Hence, it is the best cloud hosting in India with great speed, reliability, and a much easier interface.
Customer Support
Cloudways offers three tiers of support according to their plans, which are Standard, Advanced, and Premium.
Standard-level plans include 24/7/365 support with live chat with an expert Support team member and it's free.
Along with live chat, Advanced support speeds up your response times, deeper troubleshooting, and proactive monitoring.
In Premium, you'll receive a dedicated Account manager, personal slack channel, and direct phone support.
Cloudways itself says that the Standard support is more than enough for most users.
Pricing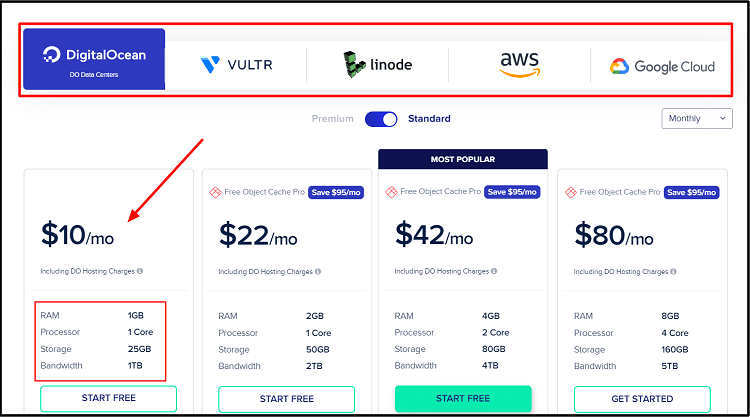 The cloud hosting plans comes at affordable prices and are tiered based on the cloud provider and the server specs like RAM, Processor, and storage.
Its Digital Ocean hosting starts for only $10/month (recommended for starters).
The best part is that you don't need to pay the huge cost upfront and break the bank, as it offers to Pay as you go service.
And you can easily upgrade anytime without any extra costs.
You can further opt for hourly rates if your website has occasional traffic peaks. It might save you a few bucks.
The hosting further provides a 3-day free trial without a credit card so that you can check the performance and functionality of the web hosting and make your decision.
What I Like/Dislike
Like:
A user-friendly UI with the ease of managed hosting.
Great loading times and performance helps in providing the best experience to visitors.
Monthly payment options are available.
They have been awarded the best small business web hosting on G2 in 2023
There are no extra renewal charges.
Dislike:
It doesn't offer free DNS support. So, you need to host your DNS outside.
There is no email hosting available but you can get an add-on for it.
They don't offer a money-back guarantee but the 3-day trial is great.
Best Offer
Our blog readers can get an additional 10% off for three months on any plan using coupon code DISCOVER10 at checkout.
5. GreenGeeks Review (Best Eco-Friendly Hosting)
Starts at ($2.95/month)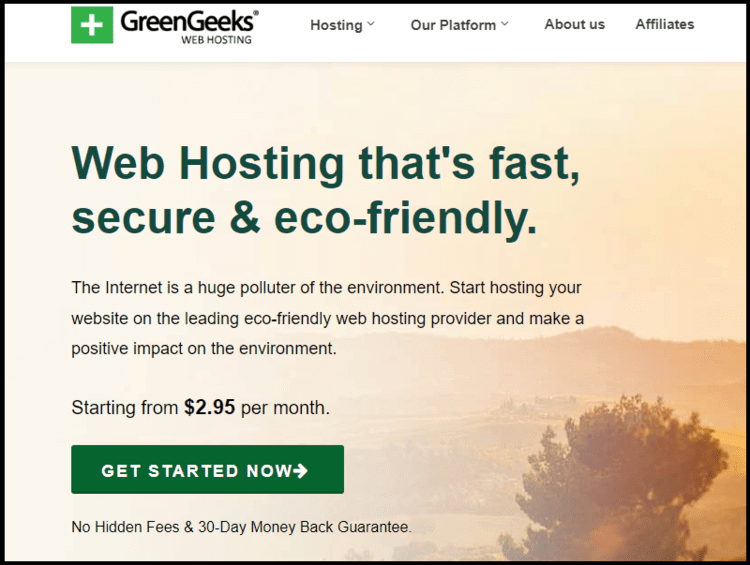 GreenkGeeks is an environmentally friendly web hosting with over 10 years of experience.
They provide a great uptime performance of about 99.95% with an average site loading speed under 500ms.
It is an ideal alternative for those who are concerned about the environment with its fast speed, robust uptime, and great support.
GreenGeeks confirms that they buy 3x the amount of wind energy credits to account for the energy used to power their platform.
You'll also get limitless file storage (50GB storage with Lite), unlimited bandwidth, and a free domain for the first year, all while enjoying their high performance.
They have a wide range of hosting options available like Basic and WordPress hosting, VPS hosting and Reseller host plans.
Performance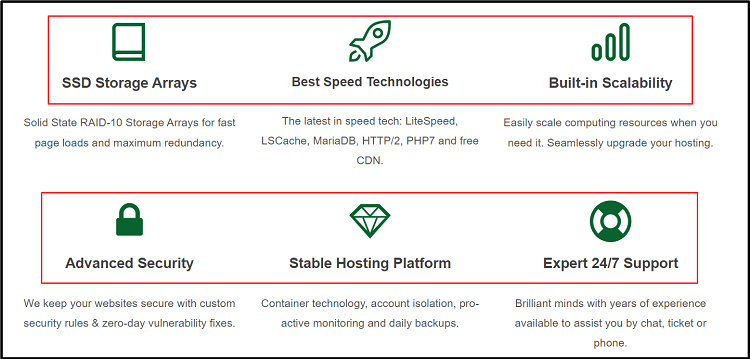 GreenGeeks hosting plans include Litespeed servers and LSCache which are fast and reliable.
All plans come with a free CDN to give your site an additional speed boost.
They have international data centres in three countries, including the United States, Canada, and Europe, with 99.95% uptime.
Free SSL certificate to keep your site secure.
Free Nightly backups with all plans and on-demand backups starting from Pro.
Unlimited databases with a managed WordPress option.
GreenGeeks support system is great and trustable with 24/7/365 live chat support, and email support which responds in a few minutes.
Phone support is also available and the support team is really helpful and solves the problems in the least time.
They also offer a 30-day money-back guarantee so that you can easily opt-out if you don't like their service.
Pricing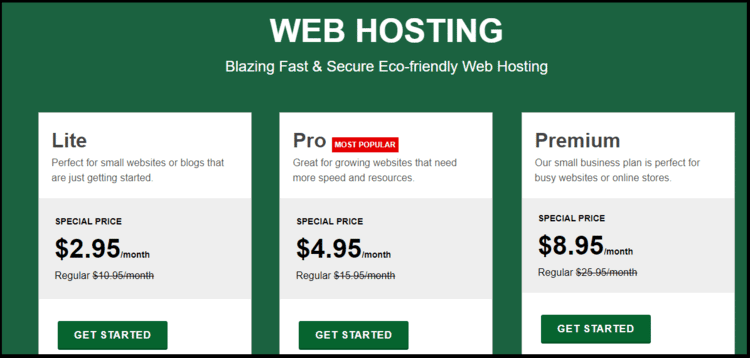 The web hosting comes at a special price of $2.95/month which enables you to host one website, making it the best fit for beginners.
You can also go for the Pro or Premium plan if you want to host unlimited websites.
Payment could be made by card. (Indian payment options like UPI are not available)
What I Like/Dislike
Like:
Great Support and Performance.
Free Domain for the first year.
The interface is very easy to use and you can get your site running in a few minutes.
Free site migration is available.
Dislike:
Renewal fees are high. The $2.95 plan renews at $10.95/month.
Monthly payment is not available (it would cost you more). So, you need to make an annual payment.
They don't have a data centre in India.
How to Save the Most
Plan– Lite at $2.95/month
Term– 12 months (go for more if available)
Remove any add-ons
Total at checkout– $35.40
Potential Savings– $113.95
6. Liquid Web Review (Best VPS Hosting In India)
Starts at ($25/month)

Liquid Web is one of the most outstanding VPS hosting providers with 25 years of experience and great performance.
The web hosting itself boasts that they are faster than AWS, Rackspace, and Digital Ocean (leading cloud services providers).
All Liquid Web hostings are fully managed, which means that you don't need any technical know-how for hardware and network setup.
It has 30,000+ customers worldwide with Fortune companies like Audi, FedEx, and Hitachi.

Its VPS servers are specialized in hosting small as well as large enterprises with cheap plans and can handle unlimited traffic and support tasks for the site.
Along with VPS, they also provide dedicated, cloud, and enterprise hosting solutions which are great.
Performance
These are the best features that make it different-

The web hosting provides a 100% uptime guarantee to its customers so that your customers never face any problems in assessing your site.
It has a robust support system with 24/7 phone support, live chat, and help tickets so that your problem gets resolved within seconds with the least difficulty.
They also provide a 59-second initial response time guarantee for the phone as well as live chat support.
Website migration facility is also available for free so that there's no difficulty for you to move to their hosting.
Moreover, if the Liquid web team is not able to provide you with their uptime guarantee, they will credit 10x the amount of free hosting time they missed it by.
It also provides proactive monitoring, off-server backups, multi-level DDoS protection, and much faster SSD storage making it the right fit for websites with a lot of images, videos, and dynamic elements.
These are the reasons that I recommend it as the best VPS hosting in India.
Pricing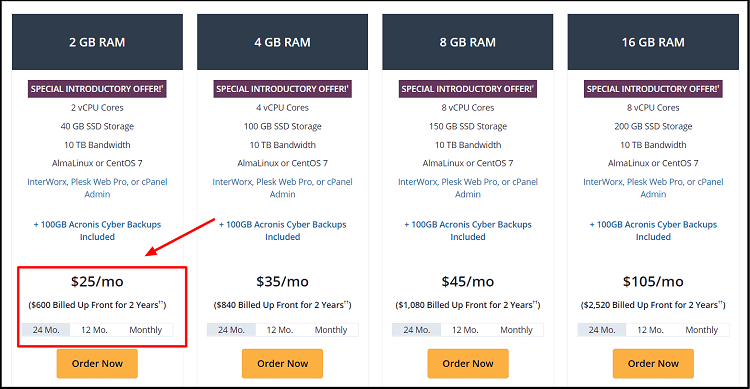 Liquid Web is suitable for those who have a scaling business and huge web traffic at peak hours.
The cheapest plan starts at $25/per month with 2GB RAM, 10 TB bandwidth, 40 GB SSD, and 2vCPU Cores.
The bandwidth is the most that we have seen across the web at such affordable prices.
They also give a 30-day money-back guarantee, so if you don't like it or it doesn't meet your needs, you can quickly get your money back.
What I Like/Dislike
Like:
Robust support system with 59 seconds response guarantee.
Site migration is entirely free.
Excellent assistance and Security.
Guaranteed uptime of 100%.
Dislike:
You need to opt for a minimum 2-year lock-in to get discounted pricing.
It has no data centres in India.
How to Save the Most:
Plan– $25/month (2GB RAM)
Term– 24 months
Total at checkout– $600
7. WP Engine Review (Best for Managed WordPress)
Starts at ($23/month)

If you want to take your blog or site to the next level, WP Engine could be a great option.
WP Engine is known for its blazing-fast speed, security, and reliability and is specially designed for WordPress.
Its managed WordPress hosting gives you the performance and speed of dedicated servers.
WP Engine powers over 1.5 Million+ websites across the world and is trusted by Fortune 500 companies like AMD and Pandora.

It comes with a 99.99% uptime guarantee and the sites hosted with WP Engine have an average loading speed of under 200ms.
WP Engine helps in achieving such fast speed with the help of its Proprietary Ever Cache Caching technology and free CDN.
They also provide several global data centres in partnership with Google Cloud, AWS, and Cloudflare to help you serve better to the global audience.
Making it the best-managed WordPress hosting on my list.
Its key features are:
WP Engine is SOC-2 compliant and has a live team of real people who maintain best-in-class monitoring standards and provide you the proactive security alerts.
It also offers Global Edge Security which includes managed Web Application Firewall (WAF), advanced DDOS Mitigation, Cloudflare CDN, and SSL.
It also provides you with a free site migration plugin with the best support.
It gives you access to 10 premium themes to build your site.
Other features include daily and on-demand backups and one-click staging.
24/7 phone and chat support are also available with a 97% satisfaction rate.
This means if you ever face any problem, it will be resolved in minutes.
At the best, they offer a hassle-free, 60-day Money back guarantee.
(This is great as all other web hostings only provide a 30-day guarantee)
Pricing
Their startup plan for managed WordPress starts at $23/month billed annually and includes 1 site, 25k visitors per month, 10 GB storage, and 50GB bandwidth.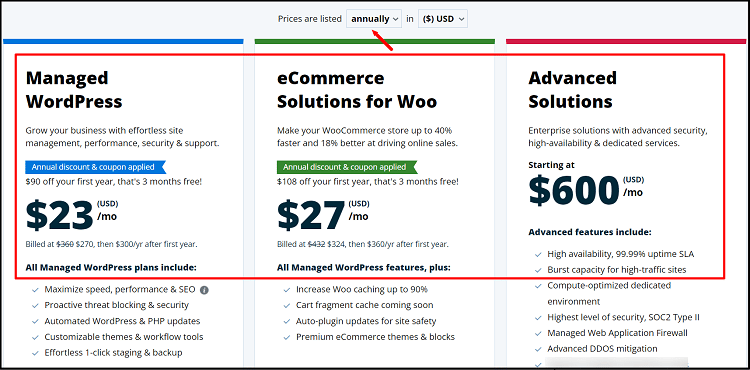 It also offers eCommerce solutions with advanced features for WooCommerce starting at $27/month.
Use my special code WPE4FREE to get 4 months of free hosting when you sign up with an annual plan.
What I Like/Dislike
Like:
WP Engine is best known for its great speed and performance.
You can easily build your own custom plan including the number of websites you want and other additional features.
If you want to scale your growing business with easy, it is the best option.
Monthly payment is available but costs more.
Dislike:
It does not provide free professional e-mail and DNS.
You don't get a free domain for the first year
Pricing is a bit high, but it comes equipped with the best quality.
They have an extensive range of data centres, but it doesn't have a data centre in India.
How to Save the Most:
Plan– Startup at $23/month
Term– 12 months i.e annual
Total at checkout– $240 (after using special code)
Potential Savings– $120
Starts at ($2.59/month)

Dreamhost is an industry leader with over 1.5 million users worldwide and has the best-shared hosting features.
It is best for beginners as it offers one-click WordPress installations, a website builder, and a free domain so that you can start your site with full ease, even if you have no coding knowledge.
They also offer 100% uptime and a 97-day money-back guarantee.
It also provides unlimited bandwidth, faster SSD storage (2x faster), and optimized servers to get the best loading speed.
Dreamhost is also officially WordPress-recommended hosting and offers free SSL and a free domain name to its users.
They offer an in-house expert support team that is available 24/7 to solve all your queries via email or live chat.
It is a great option if you want to get fast and secure shared hosting in India at affordable prices.
Pricing
Dreamhost offers two plans Shared Starter and Unlimited with the lowest plan starting at $2.59/month if you opt for 3 years lock-in period.
The Starter plan renews at $5.99/month.
The Starter plan can host one website and both plans come with the ability to host unlimited traffic.
Note– When you see web hosting specifications like unlimited traffic or unlimited bandwidth, it does not mean that you can literally get infinite visitors or storage.
The companies say unlimited as if users will use the servers with acceptable use policy which is most of the time, enough for your site to work perfectly.
How to Save the Most:
Plan– Shared Starter at $2.59/month
Term– 36 months
Total at checkout– $93.24
Potential Savings– 68% over monthly
9. A2 Hosting Review ( Fastest Web Host At Affordable Price)
Starts at $2.99/month (₹246/month)
A2 Hosting is the best affordable and fastest web host if you intend to launch a website with plenty of images, 3D rendering objects, and videos.
They offer 20x faster page load time than other web hosts at cheap prices and come with a commitment of 99.9% uptime.

A2 hosting plans come with big storage availability with a basic plan starting from 100 GB SSD storage, which is more than sufficient for most sites.
It has plenty of great features including a free SSL certificate, website staging, 1-click WordPress installations, and free site migration from experts.
Automatic backups are not available in the Startup plan.
Its Turbo Boost and Turbo Max plans also come with unlimited NVMe SSD storage, which makes your site even faster.
The support is also good offering 24/7 phone, email, and live chat to solve all your problems.
Pricing
A2 smallest plan starts at $2.99/month if purchased for 36 months and can host only 1 website.
A monthly plan is also available but it costs much more.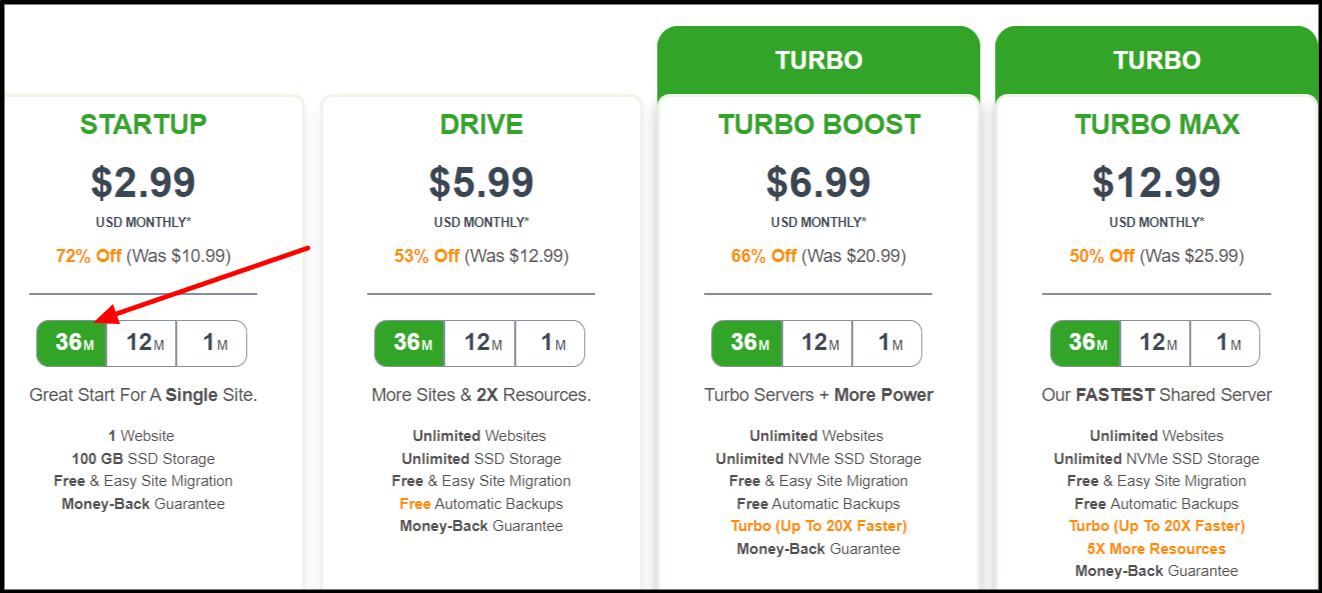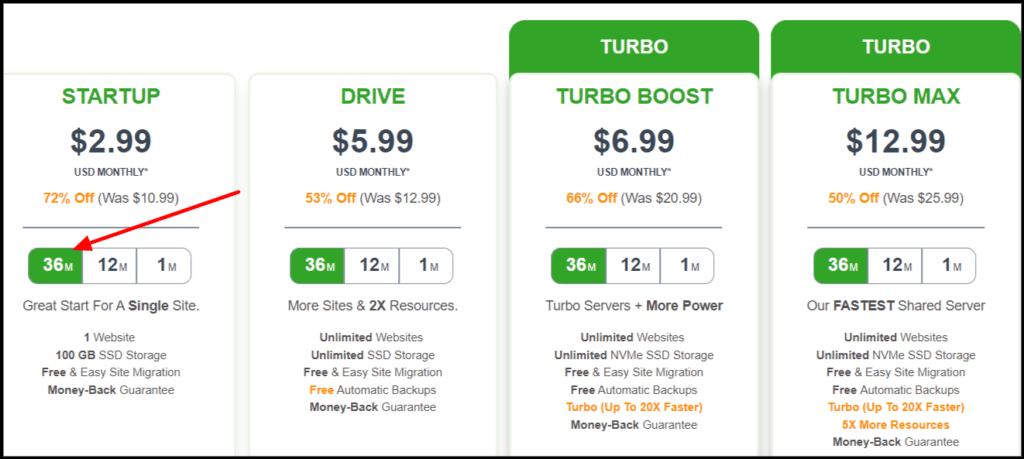 All other plans allow you to host an unlimited number of websites.
A 30-day money-back guarantee is also available.
India payment options like UPI are not available.
How to Save the Most:
Plan– Startup at $2.99/month (₹246/month)
Term– 36 months
Total at checkout-₹8876
Potential Savings– ₹17812 (at 72% off)
Best Web Hosting Providers In India FAQs
Which is the best cheap Web Hosting in India?
There are many best cheap web hosting providers in India with plans starting from a mere ₹69/month.
Hostinger and Bluehost are the best cheap web hosting with the best speed and uptime which also comes with at least 30-day money-back guarantee.
Which is the fastest Web Hosting In 2024?
If you're looking to get a fast website loading speed, my top picks for the fastest web hosting providers are WP Engine, Hostinger, A2 Hosting, Liquid Web, and CloudWays.
Which is the best hosting for Ecommerce websites in India?
If you're a complete beginner with no knowledge of coding, Shopify is a great option as it provides you with all your e-commerce needs on one platform.
But, if you want more control and to make your site unique, you can choose a CMS like WordPress and host your website with Nexcess, Bluehost, or Hostinger.
Which is the Best Reseller Hosting in India?
If you want to run a successful web hosting business without the hassle of server management and lots of other hard work, you can resell these trusted web hosts and earn money.
1. Reseller Club (especially for reseller hosting)
2. GoDaddy
3. Nexcess
Which is the best Web Hosting for your Local Business in India?
If you want to take your local business online, I recommend you choose managed hosting with great speed and reliability.
If your target audience is only in India, choose a web host with a data centre in India to get more speed and performance. My top picks are Bluehost, Cloudways, and Hostinger.
Which is the best WordPress Hosting in India?
If you are a beginner looking to start a WordPress blog or site, Bluehost and Dreamhost are officially recommended web hosting by WordPress.org itself.
Which is the Best Free Web hosting in India?
Some companies also provide free web hosting, but I don't recommend going with one as they offer zero performance with infinite issues.
You can go with quality providers like Hostinger starting at only ₹69/month.
However, if you just want to play around or do some test runs, these free web hostings might be of good use. Some of the free web hosts are 000webhost, InfinityFree, and Freehostia.
Conclusion- Best Web Hostings 2024
Whenever you are researching the best web hosts, evaluate them based on uptime, speed, user experience, security, and customer support.
So that you come up with the best web hosting suitable for your business and your future growth prospects.
To recap, my top picks for the best web hosting in India are Nexcess, Bluehost, and Hostinger.
You're most likely going to be in a long-term relationship with the web hosting you choose.
So, carefully evaluate the web hosting providers I have mentioned and choose wisely.
If you have worked with any web hosting providers before, let me know your experience.
---
Affiliate Disclosure– Some of the links in this post are affiliate links. It means if you click on my link and purchase an item, I will receive a small commission at no extra cost to you. We also tried our best to negotiate with the hosting providers and get you the highest discount possible.
---