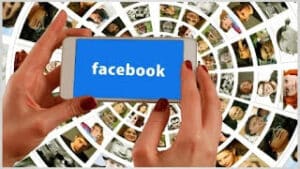 Nowadays, blogging is not only belonged to writing articles.
But, it has reached a professional approach and due to development in the field of marketing, users are now approaching these blogs in a number of ways, social platforms being one of them.
Over time many social platforms have originated such as twitter, telegram, Instagram and Facebook being the earliest comer of them.
However, Facebook is still the best having over 2 billion active monthly users.
About 94% of marketers prefer to use facebook over any other platform due to its large list of users and audiences.
11 Powerful Tips For Facebook Marketing
1. Create A Business Page
A Facebook page is very important for your brand marketing.
The most important step in creating a Facebook page is choosing a category for your blog such as local business, brand, or online blog.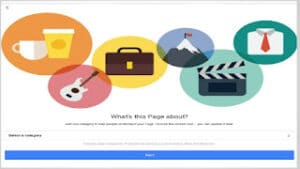 Select a specific category and subcategory related to your brand or business.
This will help the Facebook algorithm to describe your page in search results.
One more important part of creating a business page is it's title and profile picture.
You should choose such a name and profile picture which particularly reflects your brand name.
You have to choose such a cover picture which is something creative or display a cta.
One such example of representing a CTA in your page cover is of quick sprout.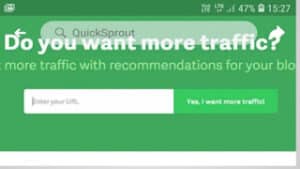 So, in quick sprout cover photo, they have added such a creative CTA which provokes the audience towards visiting their website.
2. Custom Tabs For Facebook Page
Using custom tabs for your Facebook page is another thing that adds to your brand authority and professionalism.
I myself have added custom tabs on my Facebook page to make my page professional and increase user engagement.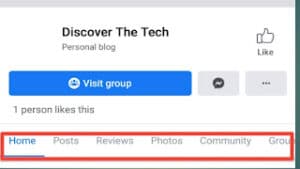 You can also add your own tab from your buttons tab in Facebook page settings.

One more benefit of using custom tabs is CTA. You can also create a CTA button for your Facebook page.

It is a good measure for marketers to increase their engagement with the audience.
3. Get A Vanity Url
There are many SEO settings that are made by marketers on a Facebook page, but getting a vanity is the first SEO which a marketer takes into action.
Facebook provides you the opportunity to choose your vanity URL.
So you should generate a well-branded vanity URL as it helps not only in Facebook SEO but also in Google SEO.
By the word branding, I mean that you should use a URL that is easy to be remembered and is close to your brand name.
For an instance, my vanity URL on Facebook is

–

We have made our vanity URL with our brand name only and it is very easy to remember.

However, making a custom vanity URL reveals a sort of professionalism and branding.

You can also use your vanity URL by linking it to your website as when users click on your link, they would be redirected to your Facebook page.
4. Add CTA Button
Using a CTA button on your Facebook page is a very good option for increasing user engagement.
There are many CTA buttons available for your Facebook page, which could help you generate website traffic, increase your Facebook group members, and many more.
Here is a list of CTA buttons which you can use-
Book now

Shop now

Call now

Contact us

Send mail

Sign up

Visit group

Use app

Learn more
The most effective method of using a CTA button is to use as such CTA buttons you could use and then use a button that gives you the most effective results.
For an instance, if you want to increase traffic to your website, you should use the learn more button.
And if you want to increase your sales you should use the shop now button.
5. Use Facebook Messenger Bot
As you know, in the new Facebook algorithm the exposure of Facebook ads has decreased in news feeds of people.
Nowadays Facebook messenger marketing has got a new place. It is now used very much than before.
The use of Facebook messenger for marketing has grown over time due to the development of Facebook messenger bots.
Facebook messenger is now much more used by marketers due to it's high CTR and conversion rates.
But, I know many of you would be worried about making a bot as it looks something very difficult task.
But trust me, it would only take you 5 minutes to make a basic bot structure.
I suggest you make a Facebook messenger bot using MobileMonkey.
Here are some notable facts which provoke a marketer to use facebook messenger-
There are over 1.2 billion monthly active users of the messenger.

It has a very high CTR and makes more sales.

It takes you very little energy in communicating your audience as all the work is done by a bot.
6. Optimize Photos
Optimizing your posts on your page by adding sharp and clear images is one another and the most successful Facebook marketing tip.
It has been manually analyzed that using high-resolution images in your Facebook posts increases engagement by over 60%.
Take a look at my Facebook page.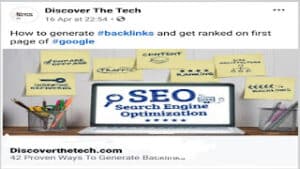 There is one more secret tip for optimizing your posts.
You should use hyperlink images in your posts so that to increase SEO of your Facebook page and get more shares on your posts.
You can create hyperlink images without any coding at anyimage.io.
7. Use Facebook Page Insights
Analytics are an important part of brand building.
So, you should also keep a check on your Facebook traffic using it's internal analytics tool Facebook Page insights.
It provides you deep information about your page likes, views, engagements, and post shares.
Now how to use this data?
It helps you to know about which content works well on your page and which is not so that you could publish your posts accordingly.
It helps you to analyze which type of content is mostly shared by users.
8.Use Facebook Audience Insights
The analysis of your audience is very much important for targeting your audience in Facebook ads and more.
You should keep a close check on the age group, work, education levels of the majority of your audience.
It helps you to configure your content according to their needs and specify the correct timings for your posts.
It also enables you to make your Facebook ads more targeted and user-oriented.
Users are an important part of one's brand authority.
You should also share the user content on your page to develop a feeling of belongingness and relation.
For example, if your audience tags you in their post, you should add a post thanking them for the favor.
There is one more benefit of sharing user content, it
adds to your content without wasting your time for free.
He will also start making you a favor in all ways he can, as a person in social place is only hungry for their social prosperity.
10. Use Facebook Ads

As noted earlier, Facebook has changed it's ads algorithm a far away.
It has now less effective in the user's news feed to make their sponsored content as smooth and natural as possible.
But don't worry, with over 2 billion monthly active users Facebook ads provide you a good audience at such a cheap rate.
Facebook ads algorithm is as such as Google Adwords but Facebook is many ways cheaper than Adwords.
For getting success in Facebook ads you should focus on one thing that is compressing your target audience by tags such as age, gender, job title, search keywords, and interests.
You can also add an additional CTA button in your post which is advertised.
You should add a button according to your needs such as use sign-up button if you want to increase your email list.
You can also use the visit group button if you want to increase the number of members in your Facebook group.
However, for making your ads campaign a success you should follow my above-given tricks of using a specific CTA button and target only a specific audience.
11. Promote Your Page with Influencers
Using Facebook ads is not the only way of getting traffic to your page other than organic search.

There's a very effective method of getting leads to your Facebook page is with the help of influencers.

You can share posts and links with them and set up a pyramid structure of link building.

But how to find influencers in your niche?
Almost all the other social platforms provide you the capability to find people of your niche.

LinkedIn helps to find niche influencers by typing a keyword related to a niche in which you are.

But facebook focuses more on the privacy of users, so it is difficult to find influencers.
The most useful solution to it is to get yourself registered in any Facebook group related to your niche, which is very easy to find out.

Then from there, you can get information about users of your niche.

One more point, if I have left out something let me know about it in the comments section.
Frequently Asked Questions
1. Why is Facebook Most Preferred Social Media Marketing Network?
This preference is based on such a large number of active users on Facebook as it has over 2 billion active monthly users.
The next important aspect towards it is that there are a number of channels by which you can promote your brand i.e by pages, groups, and personal profiles.
2. Which is better in terms of user engagement- page or a group?
Earlier, Facebook pages were given more importance than FB groups but these groups have now grown out due to their huge advantages over pages.
These are the differences which prove the above statement-
Groups are community-based and pages are not in that way, which is the reason for more engagement in groups.
Groups could grow on their own but pages are to be managed by only that brand.
Facebook groups help to receive immediate feedback from users by way of polls and take specific decisions.
Don't forget to share this post.
Affiliate Disclosure- This post may contain affiliate links means that if you buy a product or get a subscription by clicking on the link in my blog, I will earn a small commission at no extra cost to you.