Increasing your affiliate sales as a blogger is the most crucial part of your blogging journey.
But most bloggers complain that they are not earning money from it.
If you also think so, you are doing it wrong.
So in this post, I will provide you with the most excellent and straightforward tips to increase your affiliate sales quickly and earn from it.
But, before that, you have to know why affiliate marketing?
There are many other alternatives to earning money from blogging which are ads networks, native advertising, and sponsored posts.
The reason affiliate marketing is the best monetization method is that your earnings will be highest if done correctly, and it doesn't affect the user experience of your blog.
As in the case of many ads, the user gets frustrated and leaves your site.
Increasing your affiliate sales is not a luck system, and you have to work strategically to succeed in affiliate marketing.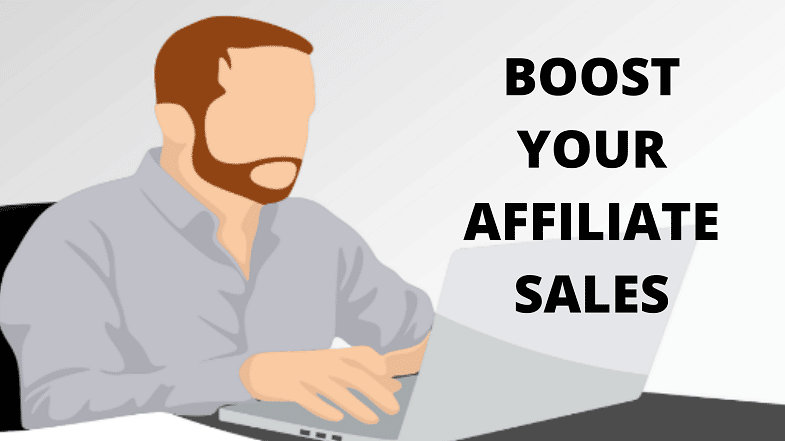 Wrong Things Bloggers Are Doing
Firstly before effectively applying my tips to increase affiliate sales, you should have to know the things you are doing wrong
And effectively correct them.


1. Sharing Products Not Related To Your Niche
Most digital marketers fail in getting affiliate sales because they are not sharing products related to their user's needs.
If you are sharing products not related to your niche, it would be an ultimate waste of time.
If you have a food blog and you are sharing products related to blogging and SEO in your blog,
it would have no meaning, and you will get no sales.
It would be a complete waste of time.
So always try to join the affiliate programs which are related to your niche and your affiliate income would increase.
2. Promoting Too Many Products In The Beginning
I know that everyone wants to earn more and more money.
But for the sake of that, most of the time new affiliate marketers are not able to get sales.
Because they start promoting too many products to their audience and drastically get no sales.
As if you would share too many products with your audience, they would get confused about what they should choose and lose potential sales.
In my opinion, you should only focus on

3-4 affiliate products

in the beginning, and later on, you can increase your list of affiliate products.
3. Not Using The Product Before Sharing It With Your Audience
New bloggers are so much eager to make sales that they do not even check if the product they are promoting is fair or not
Hence losing their trust in users and their brand value.
So if you are starting to share products with your audience, use it yourself and find if it suits well for your audience or not.
Because brand value is much more important than making some affiliate sales for the sake of money.
4. Poor Website Design
Flawed and messed-up website design has a significant effect on your affiliate sales.
So, you should use a clean and attractive one for your blog with a proper and adequate navigation system.
If you use

 an attractive theme for your blog, you will attract more visitors and hence more sales

.
So your website should have the following features to make it user friendly
Your website should have a responsive design.

Your website should be easy to navigate

It should be simple to make look professional.

It should have a good loading speed of under 2 seconds. 

You should use clear CTA's for your website.
5. Only Sharing Affiliate Products Having A Good Brand Name
Most bloggers always promote affiliate products that have a good brand name in the market and only stick to that.
This means they are not trying out new products and thus get fewer sales.
You should always hunt for new offers and use them, and then if you liked them, you have the chance to share them with your audience and get high sales(

due to less competition in that product

).
12 Smart Tips To Increase Your Affiliate Marketing Sales
As we have earlier discussed that you need to apply proven strategies and work according to them to increase your affiliate sales.
I guarantee that if you apply the below-written strategies as mentioned, your affiliate sales increase by over 60%.
1. Get The Most Out Of Your Popular Blogposts
It is the best method to increase your affiliate sales, even if you are

having less number of subscribers to your blog

.
Popular posts are the posts that are getting the highest traffic to your blog.
So you can add affiliate links and banners in your popular posts wherever possible to increase your affiliate sales.
To find your most popular blog posts, go to Google Analytics, and then after logging in go to behavior>site content>all pages and you will find your popular posts.
Adding affiliate banners in popular posts will increase the potential chances of clicks on affiliate links
and more

affiliate clicks=more sales



2. Use Buttons For Increasing CTA
Most bloggers write outstanding affiliate reviews but skip to adding buttons and affiliate images within posts.
Which makes their well-written posts useless.
Your readers will only click on your affiliate links if you provide sufficient CTA's in front of them.
If you are using WordPress, it has an inbuilt feature of adding buttons in posts that you can customize by color and fonts.
If you want to make your blog posts look more attractive, you can use
Thrive architect plugin
for that.
With it, you can develop attractive buttons for increasing your CTA and hence increase affiliate sales.
3. SEO To Get More Traffic
It is the most crucial tip for increasing affiliate sales as it would not only increase sales but also increase your user base.
SEO of the blog refers to it's ranking in the search engines, and if you want to get higher rankings, you have to follow on-page and off-page SEO tips for your blog.
So on-page SEO includes keyword research, page rankings, website speed, and more.
Whereas off-page SEO mainly includes getting quality backlinks to your site.
But these seem demanding to many bloggers.
If you want to make it easy, you can use an SEO tool, Semrush for that.
It has a great series of over

40 SEO tools

that help you with your competitor backlink analysis, site audit, on-page SEO, getting backlinks, disavowing bad links to keyword research, and many more.
However, it's basic plan costs $99.95 per month, which seems higher for many bloggers.
But as it provides a bundle of over 40 tools, each tool only costs approx $2.5 per month.
You have to add your card details, but you will not be charged until this trial.
You can cancel your subscription at any time.
There is one more important point that is both useful for SEO and user experience.
And that is not making grammatical errors as they are both hated by search engines and users.
To make the least grammatical mistakes, you can use a proofreading tool like Grammarly, which is

free of cost

.
It's the best tool out for free.
4. Write Descriptive Review Posts
Mostly all of the affiliates review posts, but few of them can make efficient sales from it.
If that's also the case with you, you are doing it wrong.
Your review posts should not be small paragraphs and all.
It should include a full description of your product with its pros and cons mentioned.
To get sales from your review posts, it should include the following things-
Must include keywords like cheap, best, cheap, discount, promo, and comparison in the post

Do proper keyword research for ranking your post in search engines and get more traffic

Write both pros and cons of a particular product so that your review looks fair

Use compelling CTA's in the post to increase the click-through rate

Must include product price in the post

Add affiliate links in images so that images get more CTR

Must provide a conclusion describing the best product if made comparison post

Publish review posts of affiliate products as soon as possible to get better rankings and more sales

Try to write 1500-2000+ words articles as they get more conversion

You can also share real user experiences from Twitter or Facebook like polls and more.
5. Cloak Your Affiliate Links
Cloaking your affiliate links before putting them before your audience is a necessity to
increase one's affiliate sales.
Firstly, what are the cloaked links?
When spammy looking affiliate links are converted into shorter and more professional links, they are said to be cloaked.
Now, you can yourself see that on which link would a user click?
Yes! Definitely on 2nd link as it looks more professional and genuine.
6. Add Affiliate Link In Menu
If you want to take your blog and affiliate earnings to the next level, you can apply a straightforward strategy that works well.
You have to do is to only add your best

affiliate products in the blog menu

like Semrush Tutorial or Siteground Discount.
If you want to get more clicks, you can try adding different affiliate products in the blog menu to get more sales.
7. Build Your Mailing list
Do you know what the real worth of a blogger is?
Most will say social media profiles, rankings, and more.
But beyond all these, a blogger's email list is most useful and has the highest worth.
It also can help you to increase your affiliate sales as when you make new posts, you will get traffic to your post without any promotion.
And the traffic you will get will be your email list, and they have more trust in your brand.
So as they have more trust, they would likely purchase the product offered by you.
So your primary focus should be on building your email list first.
You can create your email list using email building tools like Convertkit and get more conversions.
8. Exit Intent Pop-Up Banners
Nowadays, exit intent pop-up banners have got the right name in the market due to the conversion they provide.
Exit intent pop-up banners

are the forms that appear before the user when he is going to leave your website, i.e. why the name is exit intent…
Most of the bloggers are using it for building their email list, but in my opinion, it also has great potential in increasing your affiliate sales.
For Example, If you have written a post for best hostings with discount coupons.
And the user is about to leave your site without making a purchase.
As he tends to leave, a pop-up banner comes across him with the best hosting discount, and he eventually clicks on it making chances of sales.
So, it could provide significant help in increasing your affiliate sales.
9. Build Your Trust And Reputation
It's the most critical and crucial point for getting successful in affiliate marketing as well as in blogging career.
Building your trust is not a quick process. It builds over time as your audience grows, and your brand gets a name in niche.
It has a significant effect on affiliate sales
As

more trust=more sales

.
So should always be fair in your product reviews and not indulge in marketing wrong products for the sake of earning money.
So if you are reviewing a product, don't forget to tell both pros and cons of that product as it would make the user feel you as genuine.
If you are selling the wrong products for the sake of money and someone purchases it.
On knowing about its cons, he will build a negative approach for you, hence leaving your site forever.
10. Find New Products To Promote
Most of the newbie's bloggers try to promote the affiliate products promoted by well build bloggers.
No doubt, these products have a high brand name and get sales, but if you want to get more earnings from affiliate marketing, there is one secret tip for it.
You should try new products in the niche and if you find it useful, then share it with your audience

.
It will generate more income for you as you will be able to get better rankings in search engines due to less competition for new products and will get more commission.
You can find new offers by joining affiliate sites like CJ and ShareASale, as they have a big database of affiliate products.
11. Give Some Bonus And Offers
This single tip could increase your affiliate earnings by over 40%.
This tip will work 100% because people always like free things.
You can create a free ebook, a video course, or anything else you like, to give for free with your affiliate product.
You can write about the free product you will provide at the end of the review post.
For example, you can write that
If you purchase through my affiliate link, then I will provide you my ebook/course worth $10 for free. You can mail us for the free course after you make an affiliate purchase

.
12. Ask For Commission Increment From Affiliate Managers
This is the least used yet effective strategy for increasing your affiliate sales.
You should build good relations with your affiliate managers by making regular communications with them.
They have excellent knowledge about affiliate, and you can get many unique offers and tips from them.
If you are having a genuine blog and make 2-5 sales every month, you could ask your affiliate managers for commission increment.
And most likely, they would increase it.
Pro Tip

– Ask them for commission increment before writing review articles or product emails to get the most benefit.
Conclusion
So applying these above tips and strategies would help you to increase your affiliate earnings quickly for free.
The most important is that if you want to be successful in the affiliate marketing business for a long time, you should focus on building your authority by way of giving fair reviews.
And don't just force the audience to buy affiliate products for some commission.
Don't forget to share this post with your friends and subscribe to our blog.
Affiliate Disclosure- This post may contain affiliate links means that if you buy a product or get a subscription by clicking on link in my blog, I will earn a small commission at no extra cost to you.