Are you struggling to stay ahead in this digital age of copywriting?
Do you ever feel overwhelmed by the process of creating marketing content and find yourself running out of ideas?
If yes, Copy.ai is here to help you out.
Copy.ai is one of the most advanced AI writing tools available out there and it can be a game-changer if you're looking to produce high-quality content faster than ever before.
Copy.ai itself says that it can create awesome blog content 10x faster than a normal copywriter.
In this Copy.ai review, I will provide in-depth insights into its features, benefits, use cases, pricing and we'll also take a look at whether Copy.ai is the best AI writing tool to meet your needs or not.
Let's dive into it.
Copy.ai Review 2023- An Overview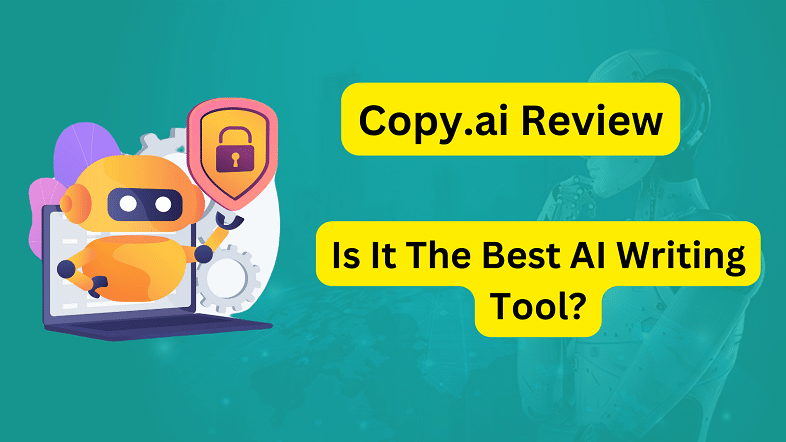 Copy.ai is an AI-powered copywriting tool that uses natural language processing and machine learning to generate high-quality content for businesses and individuals.
| Review Of | Copy.ai |
| --- | --- |
| Used For | Copywriting and Content Writing |
| Pricing | Free Version Available (Premium starts at $36/per month) |
| Best For | Digital Marketers, Bloggers, Copywriters and Freelancers |
| Best Feature | Blog Post Wizard |
| Our Rating | 4.9/5 |
What Is Copy.ai?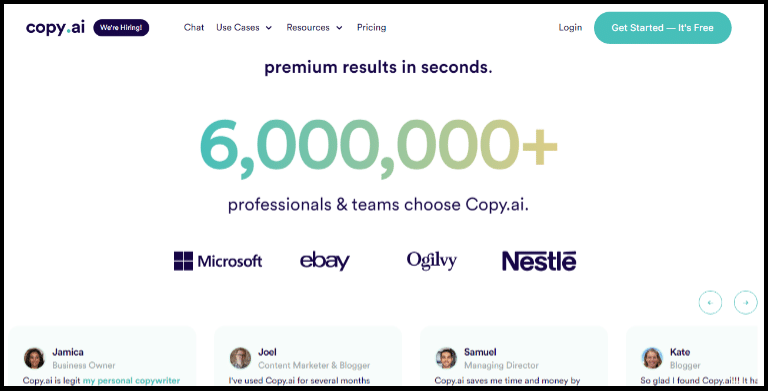 Copy.ai is an AI-driven content writing tool used by over 6,000,000+ professionals and teams to create engaging marketing copies in just a few clicks.
It helps freelance writers, marketers, business owners, and copywriters to automatically create quality content using natural language processing and deep learning algorithms.
It is compatible to create content in 29+ languages ranging from English, Chinese, Spanish, French, Japanese, Portuguese, etc. making it possible to be used in almost all regions of the world.
Copy.ai can write almost every type of content ranging from full blog posts and sales copies to personalized emails and video scripts.
With Copy.ai, you can save time and effort by creating content faster than ever and easily meet your content goals.
Key Features
Unlike other AI content writing tools out there, Copy.ai offers various impressive features, making it one of the best AI tools to use in 2023.
1. AI-Powered Copywriting
Copy.ai's AI-powered copywriting tool uses cutting-edge technology to generate high-quality, engaging copy for a variety of purposes, from social media posts to email newsletters, blogs, and beyond.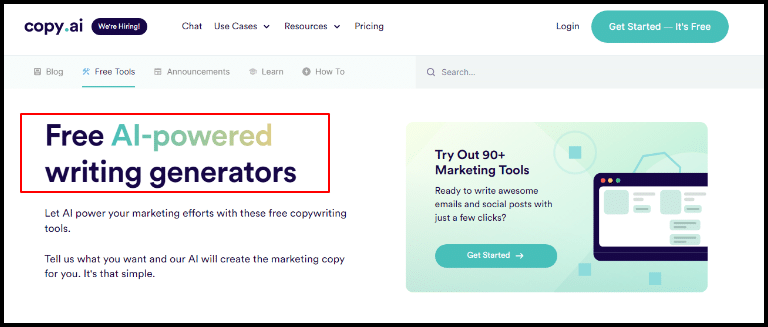 Copy.ai has now upgraded to the power of the GPT-4 (Generative Pre-trained Transformer) model to provide users with an interactive, conversational experience with the AI.
It uses natural language processing (NLP) algorithms and machine learning techniques to analyze vast amounts of data, including human-written copy and marketing materials.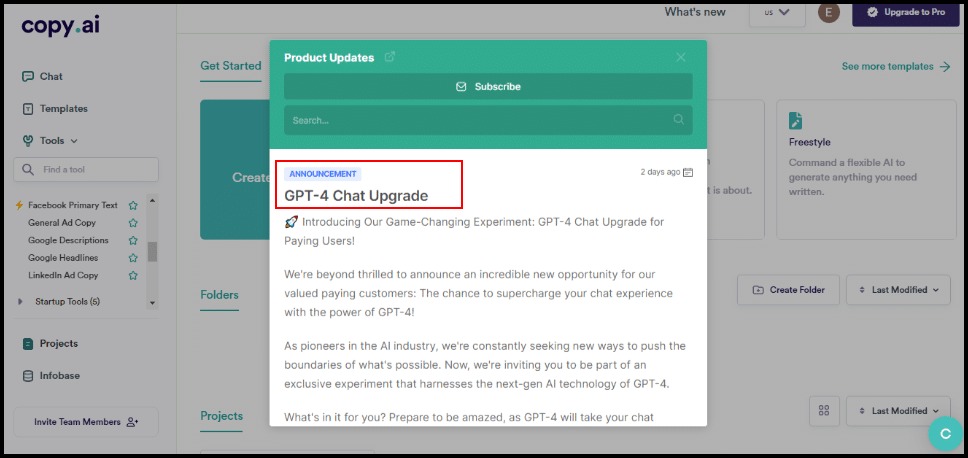 The AI writer generates text that's both unique and effective at engaging audiences and driving conversions.
2. 90+ Content Templates
With over 90+ content templates available to choose from, Copy.ai is designed to help businesses and content creators save time and effort by providing pre-designed templates that can be easily customized to fit their needs.
The templates cover a wide range of formats, from social media posts to product descriptions and email newsletters, making it easy to create high-quality content for different purposes.
You can easily access this feature by clicking on the templates tab on the Copy.ai dashboard and then choosing the template style that meets your needs.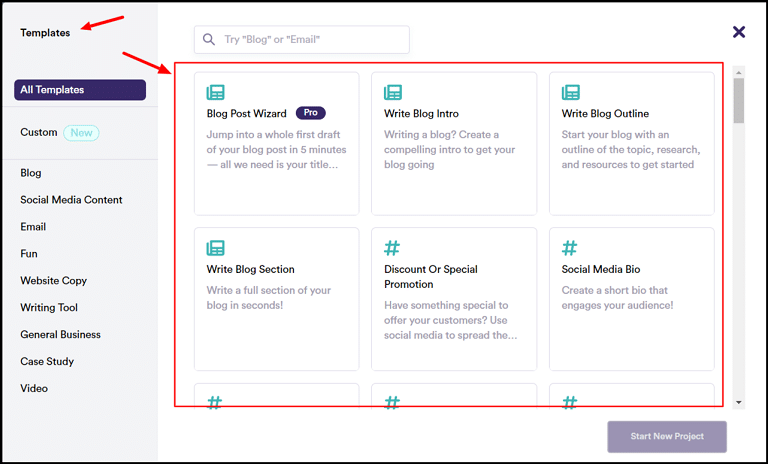 They are flexible and adaptable, allowing users to customize them to fit their brand's voice and messaging.
This helps ensure that the generated content is aligned with the user's overall marketing strategy and goals which can easily be optimized for different audiences, and platforms such as Facebook, Instagram, Twitter, etc.
3. Customize Your Content Tone
Customizing your content tone is a one-click work with Copy.ai's easy-to-use interface.
This feature enables businesses and content creators to easily customize their content's tone to match their brand's voice and messaging.
All you need to do is to choose any template and then choose a custom or preset tone like friendly, luxurious, relaxed, professional, adventurous, and more.
You can even choose a custom tone like the person's name you want to reflect or emotions like sadness, happiness, and more.
And the tool will start creating content right according to the tone you used.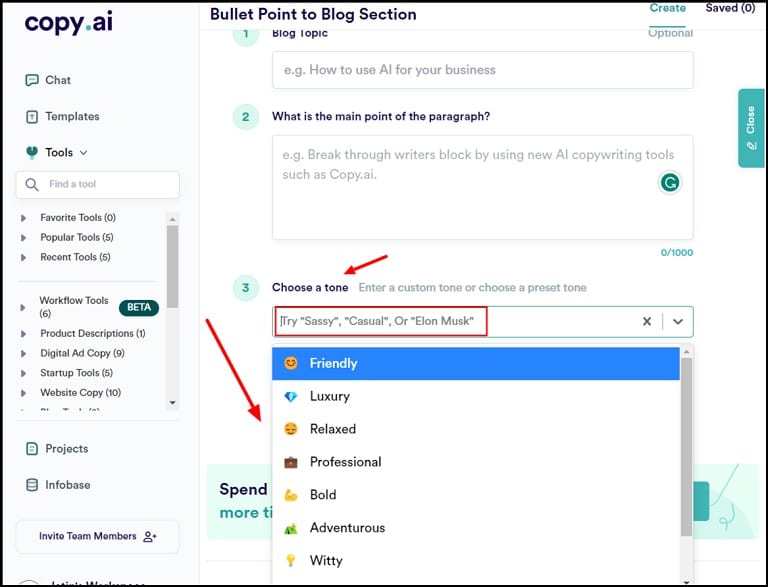 This feature by Copy.ai ensures that the tone and voice of the content remain consistent across all channels.
Additionally, the feature is highly adaptable, allowing users to modify the tone based on the specific audience or platforms, ensuring that the generated content is always appropriate and effective.
4. Write In 29+ Languages
With support for over 29 languages, including English, Spanish, French, Chinese, Japanese, German, and more, businesses can easily create content that's tailored to their audience's language and culture.
To use this feature, simply select the language in which you want to create content, and the AI will generate text that's optimized for that language.
You can select your language by clicking on the language tab in the upper right corner of the Copy.ai dashboard as in the screenshot below:

And a new tab will open asking for both your input language as well as output language.
This is very helpful as you can keep your input language as your native language or English and you can get the answers or content in any other language that you want.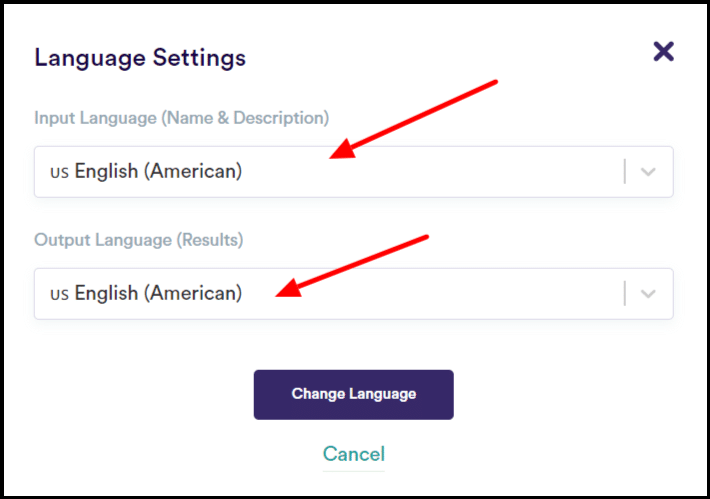 This feature is particularly useful for businesses with a global presence or those looking to expand into new markets.
It saves time and effort by providing accurate translations and ensuring that the generated content is appropriate for the target audience.
5. Blog Post Wizard
Blog post wizard is a game-changer for bloggers and content creators looking to create high-quality, and engaging full blog posts quickly with just a title and keywords.
The Wizard is powered by advanced AI technology and claims that it can generate SEO-friendly blog posts in just 5 minutes.
To use this feature, simply enter your title and keywords you want to rank for into the Blog Post Wizard and AI will do the rest from generating an outline for the post to writing a complete blog post in minutes.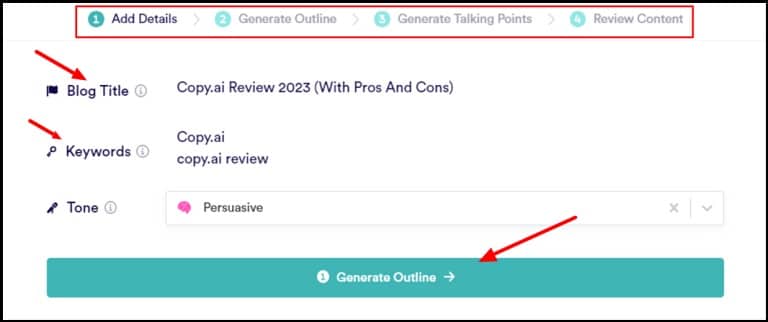 The AI will analyze your topic, generate a list of relevant keywords and phrases, and use them to craft a polished, professional blog post that's optimized for search engines and designed to engage your audience.
6. Chat By Copy.ai
Along with many tools and templates, Copy.ai has also built a chat feature where users can ask anything from the AI tool and it will provide the best possible answer as per your needs.
You can use it for anything like writing press releases or getting ideas for Instagram or LinkedIn posts and it also has the added benefit of real-time search.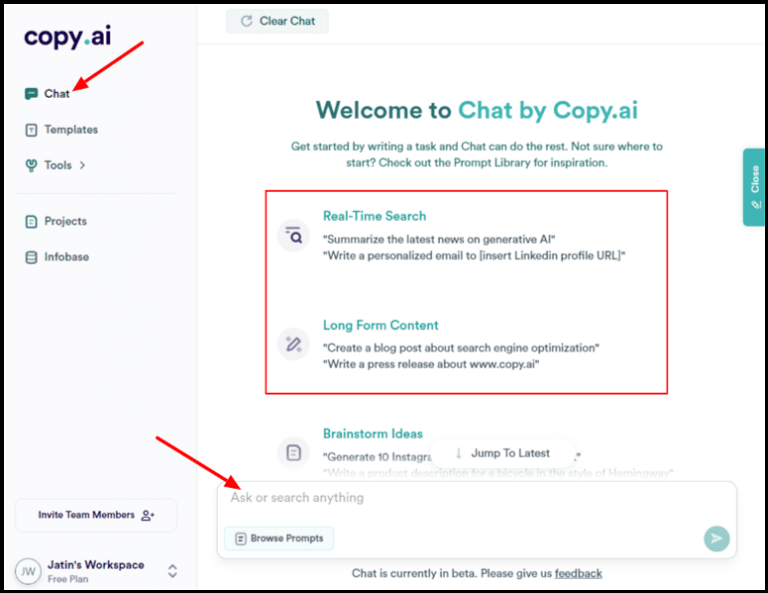 The real-time search function can provide real-time news and it can also read links you share and create content by getting the data from the link.
For an instance, you can ask like "Write a personalized email to [insert LinkedIn profile URL] and it will cleverly gather data from the profile and will create a personalized email as per the data it gathered like profile name, business description, and more.
You can also ask for subsequent edits in the content generated by the AI and it will generate a new copy for the content as per your needs.
7. Team Collaboration
It is clearly designed for team collaborations to help businesses and content creators work together on a project seamlessly.
This feature is particularly useful for teams working remotely or businesses with multiple team members collaborating on a single project.
There are tools available for every person on the team such as for the head of sales, head of marketing, content marketing teams, recruiting teams, and more.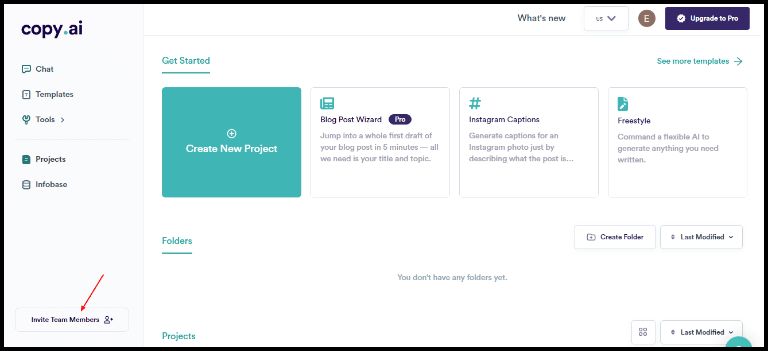 Once your team is connected, team members can easily share content, ideas, and feedback in real time, ensuring that everyone is on the same page and working towards the same goals.
Copy.ai also provides its open APIs to easily plug its AI into the current tech your team is using like CRM software or sales automation tech.
But, both team, as well as the API features are available in premium plans.
Copy.ai Content Templates Use Cases
Copy.ai offers a variety of writing tools to help businesses and individuals create high-quality content efficiently.
Here's a closer look at some of their best, and most used tools:
Blog Tools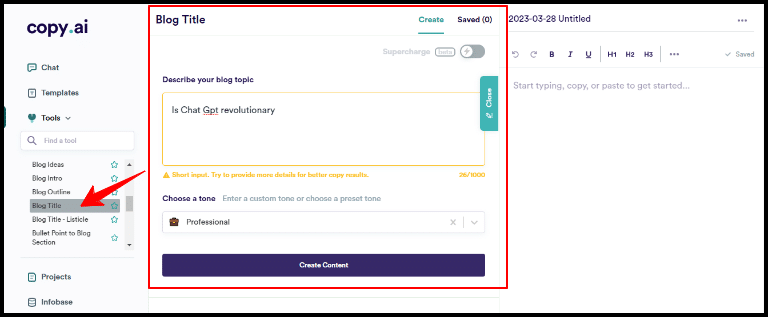 Thousands of bloggers have used Copy.ai's blog post intro templates to create engaging content quickly and easily.
These templates allow users to customize posts for their specific needs and can save a lot of time.
There are nine sub-tools under this use case:
Blog Conclusion: Writing a blog post summary can be overwhelming, especially when summarizing the entire content and breaking it down into an easy-to-read version. The copy.ai tool exists to help simplify this task.
Blog Ideas: With this tool, generating blog content ideas is made easy without too much stress and much thinking.
Blog Intro: This tool makes creating an engaging and meaningful intro that persuades the reader to read till the end of the article.
Other tools include Blog outline, Blog title, Bullet point to blog section, Keyword generator, and more.
Digital Ad Copy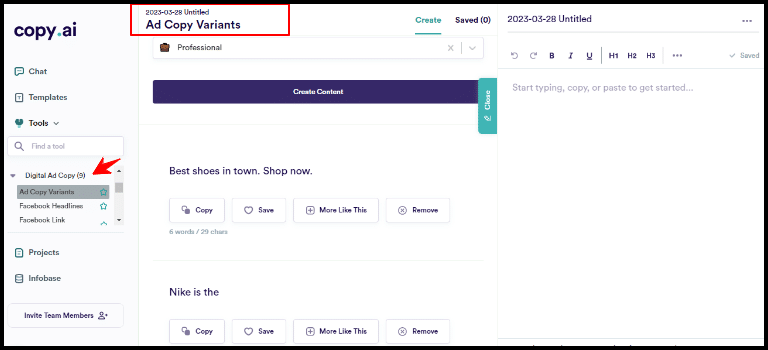 Copy.ai's ad copy templates for Google and LinkedIn ads have helped businesses generate 100,000+ ads.
These templates can be customized to fit each campaign's needs and help enterprises reach their target audience more effectively.
The tools under the Ad copies category are:
LinkedIn Ad Copy: This tool creates persuasive text for LinkedIn ads, highlighting the product's unique features and prompting the audience to take action.
General Ad Copy: This tool generates compelling text for various ad formats and platforms to attract and motivate the target audience.
Facebook Headlines: This tool analyzes the ad's context, audience, and objectives to generate attention-grabbing headlines that convey the key message and encourage engagement.
Other tools in this category include Ad copy variants, Facebook primary text, Google descriptions, and Google headlines.
Product Description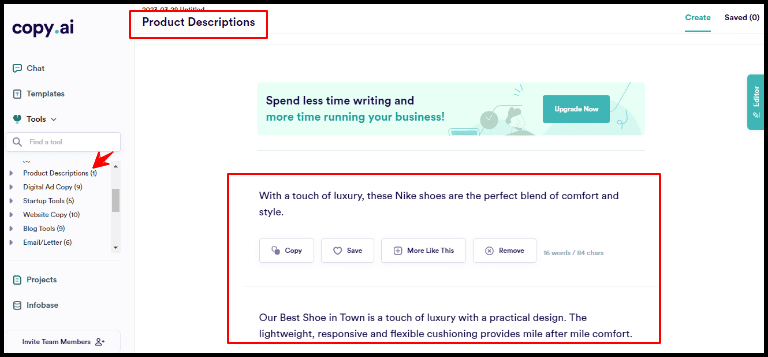 Copy.ai's product description templates have created millions of descriptions for various products and platforms like Amazon, Shopify, and more.
These templates can help businesses highlight the features and benefits of their products and increase sales.
Website Copy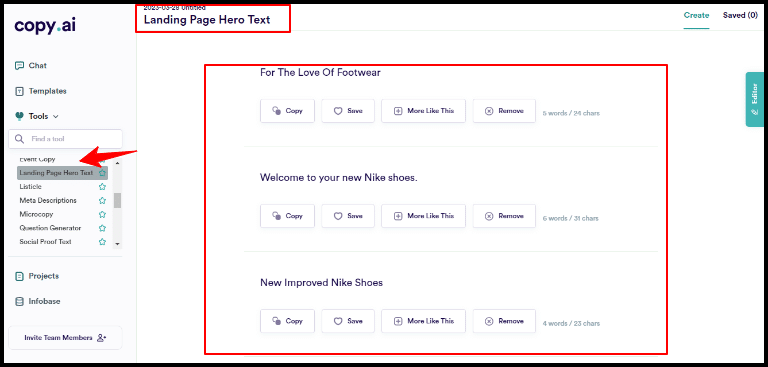 Copy.ai's website copy templates can be customized for any website and help companies convey their message clearly and effectively.
These tools include:
Call To Action: This tool creates persuasive statements that prompt specific actions. All you need to provide is the name of your product and a description of the product, and you'll get an engaging CTA.
Meta Descriptions: It generates concise and informative summaries of web page content for search engine results. It analyzes the page's content and creates descriptions that attract the target audience and encourages clicks to the website.
Testimonial Rewriter: This tool rewrites customer reviews to produce authentic and unique testimonials.
Question Generator– This template can generate interesting and helpful questions for adding to your website FAQs section.
Other tools include Event Copy, Landing page hero text, Listicle, Microcopy, and Social proof text.
Email/Letter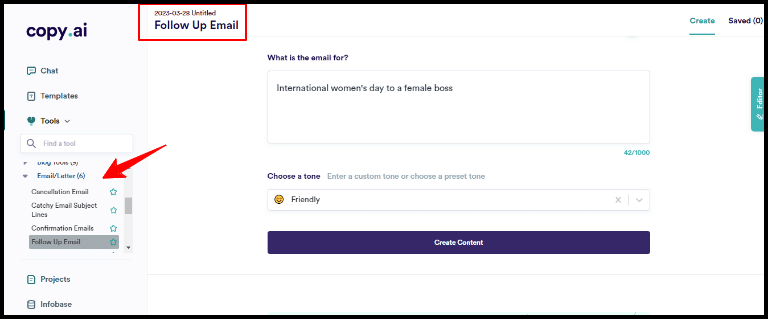 Copy.ai's email and letter tool can be used to communicate with peers including templates like welcome and follow-up emails.
Cancellation Email: Copy.ai provides persuasive emails to encourage customers who have canceled their subscription or service to reconsider their decision.
Confirmation Emails: It generates personalized and engaging automated emails to confirm customer orders or registrations and encourage them to take the following steps.
Follow-Up Email: This template helps in creating emails for converting those customers who have shown interest in a product or service but have yet to purchase it.
Other tools include Catchy email subject lines, Thank you notes, and Welcome emails.
Startup Tools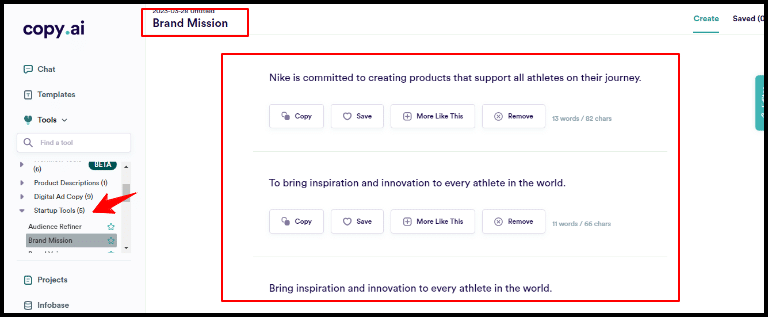 Copy.ai's startup tools, including business plan templates and pitch deck templates, have been used by many startups to grow their businesses.
These resources can help startups create a solid foundation and attract investors.
These tools include:
Audience Refiner: The audience refiner template helps businesses to understand the most important pain points of their customers.
Brand Mission: Helps the startups get an impressive one-line brand mission creating a solid brand identity and attracting customers who share the same values.
Motto Generator– This template helps generate a motto for your business based on the values and the brand identity of your business.
Other tools include Value proposition and Brand voice.
Sales Copy

Copy.ai's sales copy templates help businesses highlight the benefits of their products and services and increase conversions as per popular sales formats:
Attention-Interest-Desire-Action (AIDA): AIDA is a four-step model that starts by grabbing the audience's attention, generating interest, creating a desire for the product or service, and ending with a call to action that prompts the audience to take action.
Before-After-Bridge: BAB is a copywriting technique to create content that shares the need of your product with the audience. It starts by describing the audience's current situation (before), presenting a vision of the improved situation (after), and finally bridging the gap between the two by demonstrating how the product or service can help achieve the desired outcome.
Feature to Benefits: This copywriting strategy focuses on highlighting the benefits of a product or service rather than just listing its features. It involves identifying the unique features of the product and then explaining how those features can solve the customer's problems.
Other Tools are Feature-Advantage-Benefit, Marketing angles, Pain-Agitate-Solution, Problem-Promise-Proof-Proposal, and QUEST Copywriting.
Social Media Tools

Copy.ai's social media templates help write amazing captions and generate social media posts optimized for different platforms and they include:
Add Emoji to Lists– This template automatically adds related emojis according to the lists you provide and will save you a lot of time. Take a look at this example in which it has added great emojis for sharing on social media.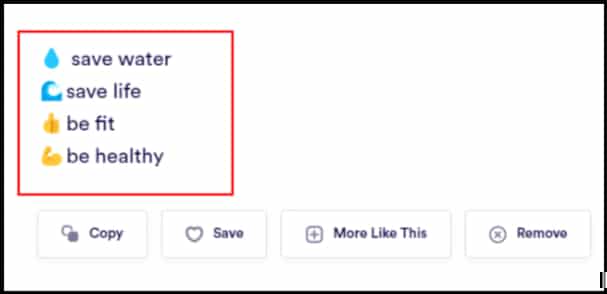 Carousel Post: It creates a carousel post with different text for different pages by just providing a small description of the topic.
YouTube Tools: It generates engaging video descriptions, crazy Youtube ideas, and engaging youtube video titles using AI.
Instagram Tools– Copy.ai can easily handle your Instagram marketing and generates captions, product showcases, and Instagram captions.
Other tools on the list include Launch your product, Relatable Experiences, Short text hook, TikTok Brainstorm topics, etc.
Writing Tools

Copy.ai's writing tools have been used by many writers to improve their writing skills and produce high-quality content more efficiently.
Here is a list of writing tools that could be explored:
Cliffhanger: Generates interesting story-like content from the description you provide, hooking readers and encouraging them to keep reading.
Essay Intro: Uses GPT-4 technology to generate opening statements that grab the reader's attention by analyzing the topic.
Essay Outline: Uses AI algorithms to generate comprehensive outlines for essays or articles by analyzing the topic and covering all major points. This tool helps users save time and organize their thoughts before starting the writing process.
Other helpful tools under this category include Bullet point to paragraph, Explain like I'm 5, Hero story intro, Hero story villain, Passive to active voice, Press release intros, Sentence rewrite, and Tone changer.
How To Use Copy.ai
Copy.ai is a simplified and easy-to-use tool with a seamless interface that aids in your writing experience.
To use Copy.ai effectively, follow the below steps:
Step-1: Sign Up for a Copy.ai Account
Go to the Copy.ai website and sign up for an account with your email.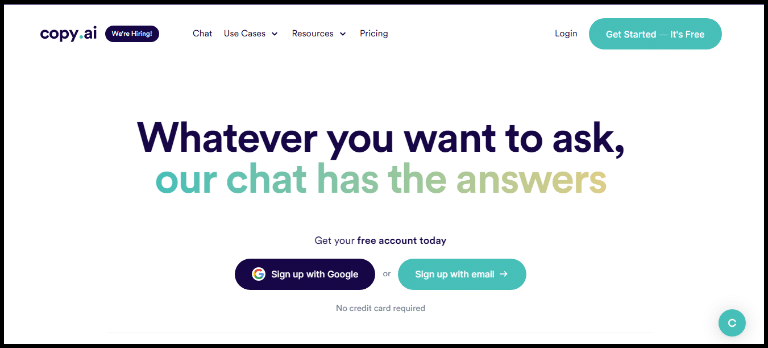 While signing up, it will ask for a 3-step survey asking what best represents you, what you need to make, and how you came to know about Copy.ai.
This wouldn't take much of your time as it is part of how copy.ai helps build your experience while engaging with the tool.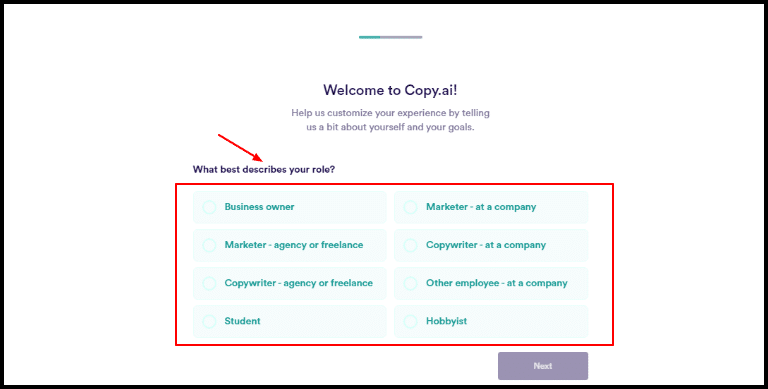 Step-2: Choose Your Templates
Once you've signed up, go to the left section of the Copy.ai dashboard and click on Templates.
A new screen with a templates option will open with different content formats like social media content, emails, sales copies, and more.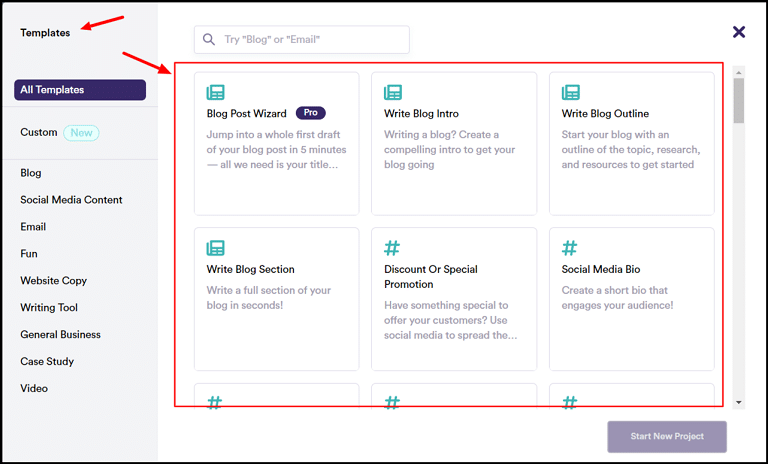 Step-3: Generate Content With Prompts
Now click on any prompt you want to use, and provide the description for your writing to the AI tool and it will generate different copies for the content that you can choose from.
For an instance, let's choose the Follow-up email template and fill in a small description for the content of the email.
You can also personalize the email by providing the email receiver's name and more and try to give as much description as possible to get the best email written.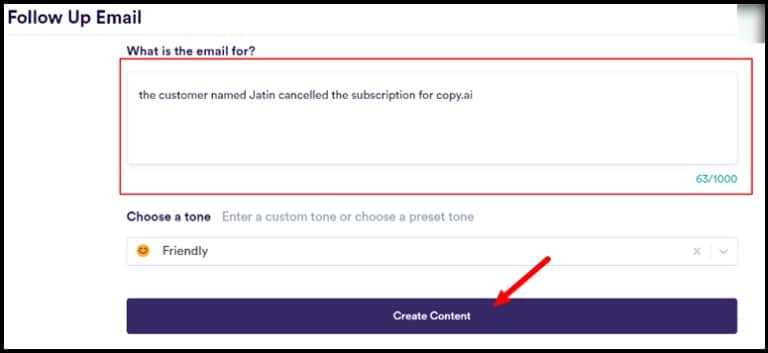 After you click on Create Content, it will generate a set of personalized copies as per your context and you can choose any copy you like.
Look at the interesting emails it generated for me.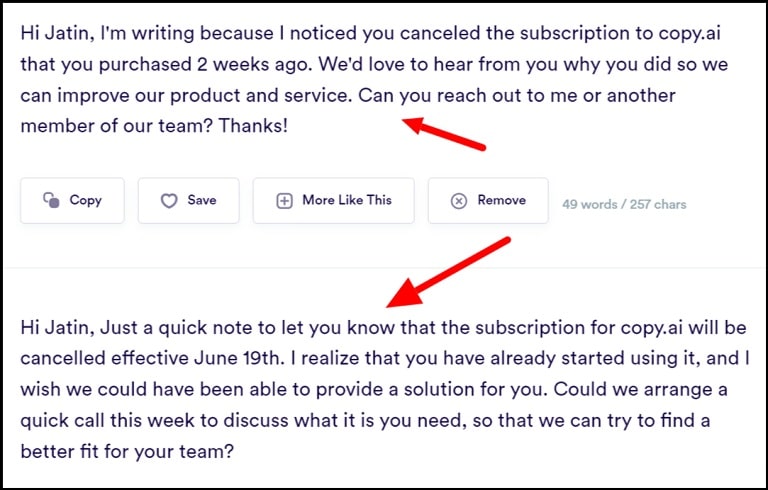 You can refine the output by adjusting the content's tone, style, and length.
You can also save your work and come back to it later.
And once you're satisfied with the copy, you can use it in your marketing campaigns.
Copy.ai Pros And Cons
Copy.ai has a lot of benefits as it saves time, helps get ideas, and more.
On the other hand, there are a few things that I think could be improved upon.
Let's discuss some pros and cons of Copy.ai-
Pros Of Copy.ai:
Copy ai. saves time in generating content quickly and efficiently even with a small input.
It offers 90+ templates, including full article writing, ad creation, social media post creation, and email writing.
Copy.ai offers real-time data in the content and can also write content by gathering data from links on the web.
Copy.ai interface is straightforward and beginner-friendly, making it easy to use.
Its content is accurate and relevant because of its vast database.
It is a great tool for brainstorming new ideas and topics in seconds.
The text is available in 29+ languages with a feature of different input and output languages.
Cons Of Copy.ai:
Copy.ai does not always match the quality of human-written content, necessitating a series of additions and revisions.
Copy.ai generated content can be detected by AI tools.
The free plan support is limited.
Copy.ai Pricing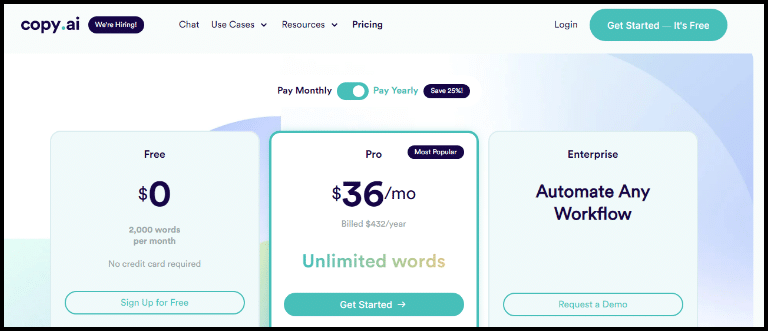 Copy.ai offers a free plan with no credit card required and along with it offers 2 premium plans.
The plans are as follows:
Free Plan:
The Free Plan is perfect for new users who want to test this software. Unlike other tools, you don't have to enter your credit card details to start using the tool.
Copy.ai provides access to write 2000 words/per month with the free plan and does not have access to features like 29+ languages support, and team invitation.
Pro Plan:
This Plan costs $36 per month when billed annually and provides additional access to unlimited words, 5 user seats, and priority email support.
Copy.ai is also constantly releasing new features, and with this plan, you'll be the first to use the latest tools.
Enterprise Plan:
If you're a big team or a growing business, you can get a demo for the Enterprise plan to automate your team workflow.
This plan has been used by large companies like Shopify, Linkedin, and Spotify.
It has custom pricing and provides access to advanced features like API access, prebuilt workflow libraries, and private company infobase.
Copy.ai Special Promo Code
Exclusively for DiscoverTheTech Readers!
Get 40% Off on All Copy.ai Premium Plans. Click the activate deal button now and apply the promo code "STARTCOPY" during checkout. (Limited Time Offer!)
Also, Read- Copy AI Promo Code 2023: Flat 40% Discount Coupon
Copy.Ai User Experience
Copy.ai's user interface is insightful, making it easy for users to create high-quality content quickly and efficiently.
The best unique feature of Copy.ai is the ability to choose your own custom tone so that you can create content as per your needs and values.
The interface is designed to be easy to navigate, with a variety of features and templates available at your fingertips.
Whether you're looking to generate product descriptions, headlines, or social media posts, Copy.ai's dashboard makes it easy to do so.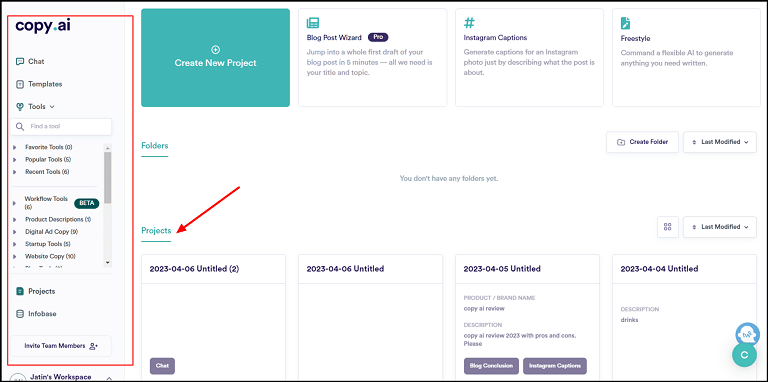 Copy.Ai Customer Support
Copy.ai has a robust customer support system in place.
It offers a dedicated help center with articles, FAQs, and tutorials to help users troubleshoot any issues they may encounter.
Further, it also has a training section where they train users with weekly live video demos on how to use Copy.ai.
They also offer support via Email where you can ask any query and they will reply as soon as possible, but it's not 24×7.
In addition, Copy.ai has a very excellent customer satisfaction rating, indicating that their customers are generally happy with the support they receive.
Copy.ai Reviews And Ratings From Customers
Let's look out for reviews and thoughts about Copy.ai from its customers.
Are they satisfied or not?
Let's find out.
On Trustpilot, Copy.ai has an outstanding rating of 4.1/5 with more than 73% of users giving 5 stars to the tool.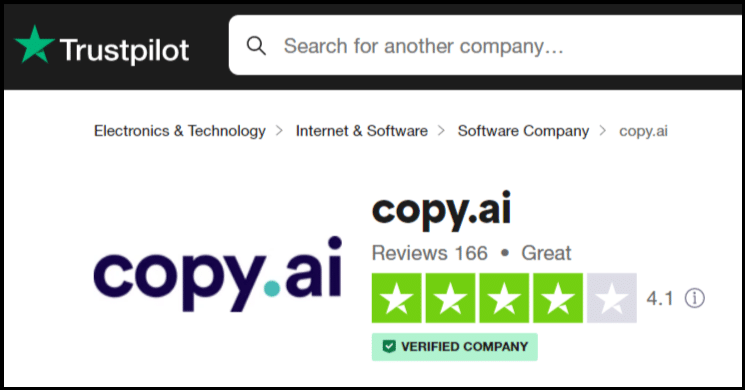 On G2, Copy.ai has an outstanding rating of 4.8/5 from around 166 users.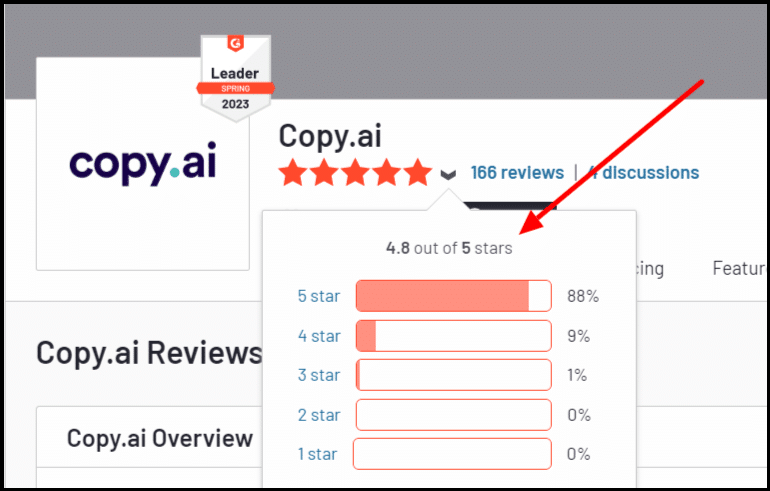 So, the overall customer rating is great which means that the tool is successfully fulfilling the customers' needs.
Copy.ai Alternatives
If, for any reason, you don't like Copy.ai, there are some other AI tools that you can use-
1. Jasper.ai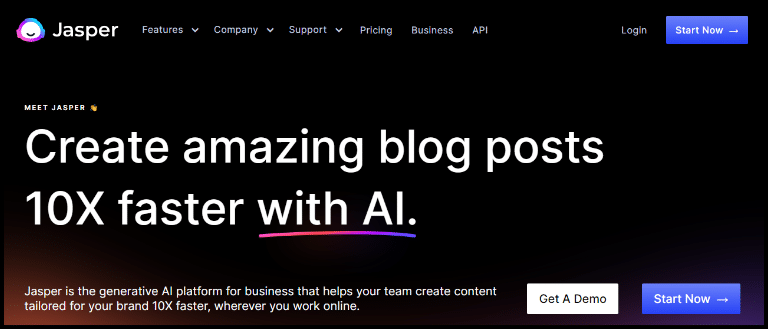 Jasper.ai went through some branding issues—changing its name from Conversion.ai to Jarvis.ai and finally settling on Jasper.ai.
Ever since then, Jasper has been competitive and consistently provides solutions for various individuals ranging from freelancers, marketers, business executives, and personal assistants with their writing needs without hassles.
Where Copy.ai is better than Jasper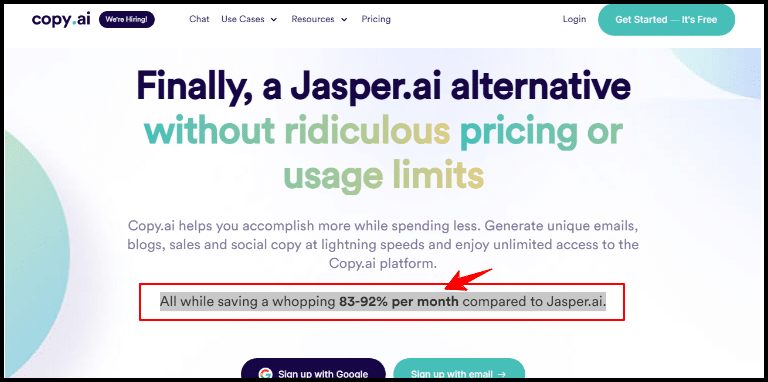 Copy.ai helps you accomplish more while spending less. All while saving a whopping 83-92% per month compared to Jasper.ai.
Citation Finder is only available on copy.ai and absent on Jasper.
Copy.ai has a broader range of tools and templates, including templates for ad copy, product descriptions, and social media posts.
Copy.ai's interface is more user-friendly and easier to navigate, making it best for beginners.
Copy.ai has good customer support than Jasper.ai
Where Jasper is better than Copy.ai
Grammar, Sentence Formatting, and Tone Checks are only available on Jasper.
Jasper offers plagiarism checks, while Copy.Ai does not.
Jasper offers more customization options, allowing users to adjust the tone and style of their writing to better fit their brand or project.
Jasper offers more integrations with other tools and platforms like suffer SEO, which can help streamline workflows for users.
Rytr. me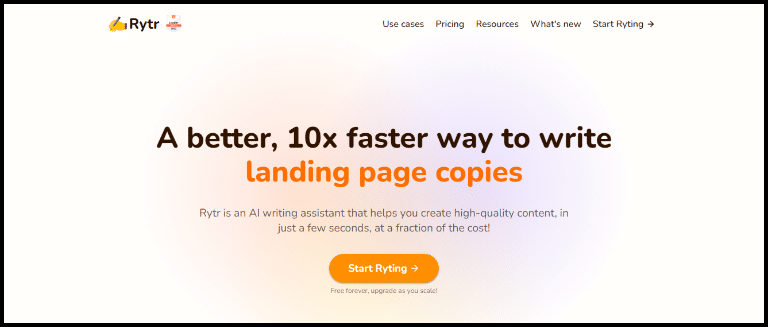 Rytr AI is an artificial intelligence-powered writing tool that uses advanced natural language processing (NLP) and machine learning algorithms to assist businesses and individuals in generating high-quality written content in minutes.
With Rytr.ai, users can save time and effort in content creation and offer features like AI image generation, 30+ languages, and more.
Where Copy.ai is better than Rytr
Copy.ai has a more extensive database of 90+ pre-existing templates and models, making it easier and quicker to generate content.
Copy.ai offers more customization options, allowing users to fine-tune their generated content to fit their needs better.
Copy.ai provides much better support.
Where Rytr is better than Copy.ai
Rytr.ai can write in 30+ languages, while Copy.ai can only write in 29+ languages.
It has a built-in plagiarism checker, which is not available in Copy.ai.
It also has an additional feature, AI image generation.
While some of the features are not available in Copy.ai at this time, but it is constantly adding new features to the website.
FAQs For Copy.ai Review
What is Copy.ai?
Copy.ai is an AI-powered writing tool that helps you create high-quality content in minutes. It uses advanced algorithms to generate copies for social media, ads, blogs, and more.
Is Copy.AI free?
Yes, copy.ai offers a completely free plan with no credit card required and has a limitation of writing only 2000 words per month.
How does Copy.AI work?
Copy AI is built on the GPT-4 algorithm, a revolutionary innovation that utilizes machine learning and neural networks to generate lengthy content with minimal input.
Is Copy.ai content plagiarism free?
The content generated by Copy.ai is 100% plagiarism free and original.
What is the word limit of Copy.ai?
Copy.ai free plan offers 2000 words generation limit, while premium plans come with the ability to write unlimited words.
Is there any Copy.ai Promo Code available?
Yes, you can avail 40% discount on Copy.ai premium plans. Use this link and use promo code "STARTCOPY" at the time of checkout to get a discount.
Conclusion on Copy.ai Review
So, Copy.ai is a powerful AI-powered writing tool, and it is an excellent tool for bloggers and businesses to streamline their content creation process without sacrificing quality.
While some may argue that Copy.ai is taking jobs away from writers or making people lazy, it is essential to remember that it is a tool to assist writers and help them generate content faster.
Copy.ai can help writers generate interesting ideas and save time in content creation by creating basic content 10x faster than human writers.
Overall, Copy.ai is a revolutionary tool that has the potential to ease the workload and reduce marketing costs for businesses and individuals while improving the quality of content creation.
I recommend you to signup for Copy.ai free plan to find that if it's a good fit for you or not.
What are your thoughts about the Copy.ai tool? Are you planning to choose other AI writing tools other than those mentioned in the post?
Please let me know in the comments.