Effective time management is crucial for maintaining productivity and coping with distractions in this digital age and busy schedules.
There are various methods, both traditional and technological, that can be used to achieve this, including advanced technologies like Artificial Intelligence (AI).
In the past, various apps and tools have been created to integrate your calendar and aid in planning your schedules.
However, the introduction of Motion represents a significant shift with its advanced AI integration, making it a game changer in time management.
Recently ranked as the fastest-growing product in 2022 by Amplitude's Product Report, Motion uses advanced automation and AI to plan your day, schedule meetings, and create the ideal to-do list.
In this Motion App review, we'll look closely at its features and benefits to see if it can help you stay more organized and get more done.
Motion Review 2023: An Overview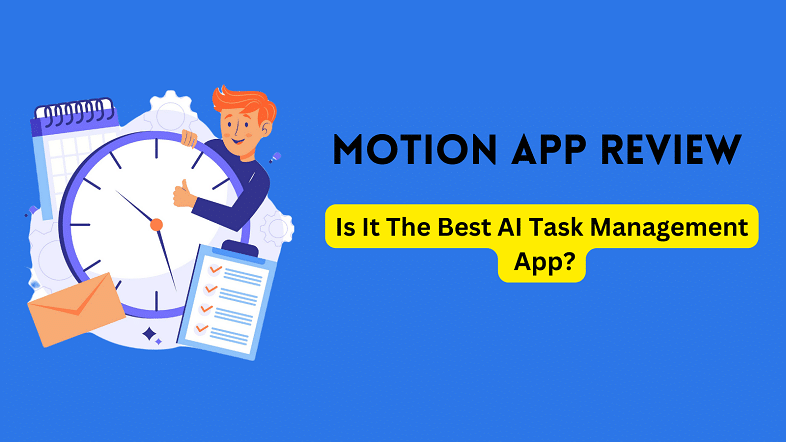 Motion is the first App of its kind, and not many apps have AI built in to help you plan your whole day while you're using them.
| Review Of | Motion App |
| --- | --- |
| Used For | Effective Time Management And Task Scheduling |
| Pricing | Starts at $19/month when billed annually |
| Best For | Busy Businessman, Marketers, Productive Teams And Managers |
| Best Feature | Intelligent AI Calendar |
| Our Rating | 4.85/5 |
What Is Motion App?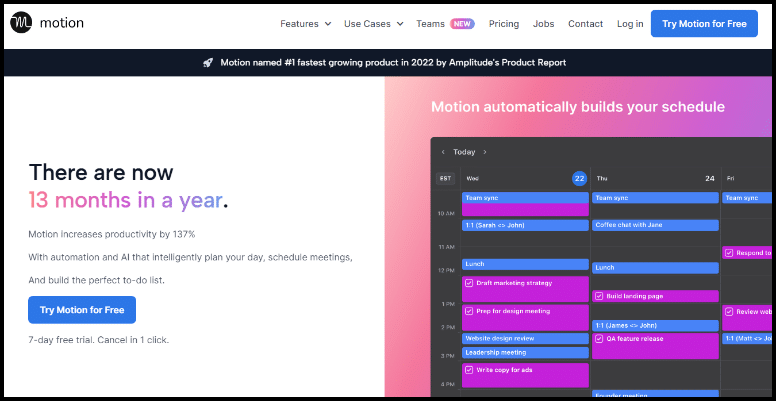 Motion, also called UseMotion, is an artificial intelligence (AI) integrated App for managing tasks, setting up meetings, and using an advanced calendar for managing your precious time.
It is made for people who have a lot going on and need to be more productive at work and get more done in less time.
This App might be what you need if you ever feel frustrated in work or if you feel like your time gets passed without your work being accomplished.
Motion is used by big teams like Copper, YCombinator, On Deck and other well-known tech and media companies.
Over 20,000 people and teams use Motion to keep track of their plans.

It also helps you reach your goals by giving you an easy-to-use tool for planning ahead that lets you add jobs and events right to your calendar.
Motion App Key Features
Motion is a cutting-edge productivity tool offering various innovative features designed to enhance time management and increase productivity.
With these few key features, life has been made more accessible.
Motion Calendar For Intelligent Time Management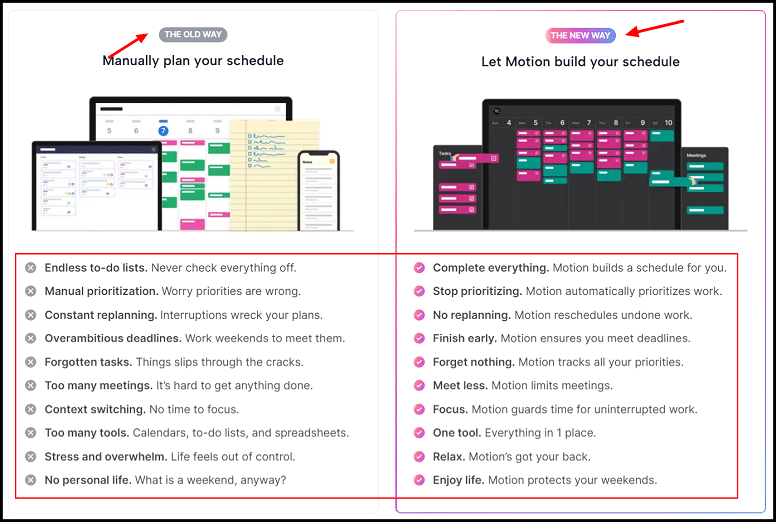 Motion's Intelligent Calendar consolidates all your meetings, tasks, to-do lists, and activities into an optimized schedule that enables you to be highly productive without spending hours manually planning your schedule every week.
With Motion, you can ensure that you never miss a deadline as it prioritizes and schedules tasks on the appropriate day and time, allowing you to complete them well in advance of the deadlines.
Motion sends alerts when you overcommit, and completing all your tasks by the deadline is impossible.
Motion helps you avoid working extra hours by allowing you to set your working hours and calculate your weekly tasks, meetings, and total working hours. It then creates a customized schedule that lets you complete your work without working late.
This feature is designed to provide users with a streamlined and personalized scheduling experience.
With the Motion Calendar, users can easily manage their schedules and prioritize tasks to maximize their productivity.
AI Project Management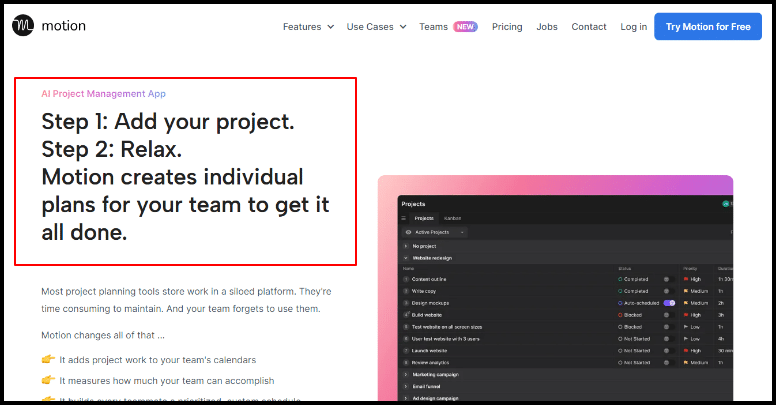 Most project planning tools store work data in a spoiled manner, they're time-consuming to maintain, and your team may regularly forget to use them.
But with Motion, you can now plan less and do work more efficiently.
Motion's game-changing AI system has changed all of that and made time management easier than ever.
You can now easily schedule your hectic work with Motion and do the following:
Automatically add project work to your team's calendars.
It measures how much your team can accomplish.
It builds every teammate a prioritized, custom schedule.
It automates 90% of your project planning.
Motion can use advanced algorithms and data analysis techniques to help users identify and prioritize tasks, set deadlines, and track progress toward key objectives.
This makes it an ideal tool for individuals and teams working on complex projects that require careful planning and management.
Effective Task Management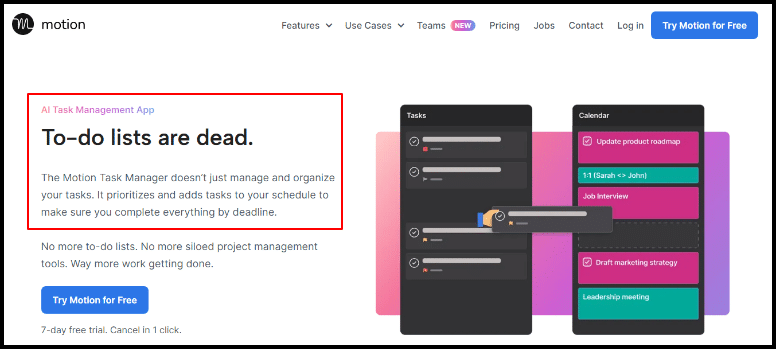 Motion task manager offers a more advanced approach to task management than simply organizing tasks on a list.
It prioritizes and schedules tasks on your calendar to ensure they are completed on time, eliminating the need for traditional to-do lists and separate project management tools.
This approach can result in increased productivity and a more efficient use of time.
Motion offers a faster and better way to create tasks:
Quickly access the task window with just one click without interrupting your work on any website window.
Create recurring tasks, such as daily or weekly tasks, and Motion will schedule dedicated time on your calendar to ensure completion.
Keep detailed notes about your tasks for easy reference and accessibility.
With its intuitive interface and customizable task lists, users can easily organize and prioritize their daily tasks, ensuring that nothing falls through the cracks.
Advanced Meeting Scheduler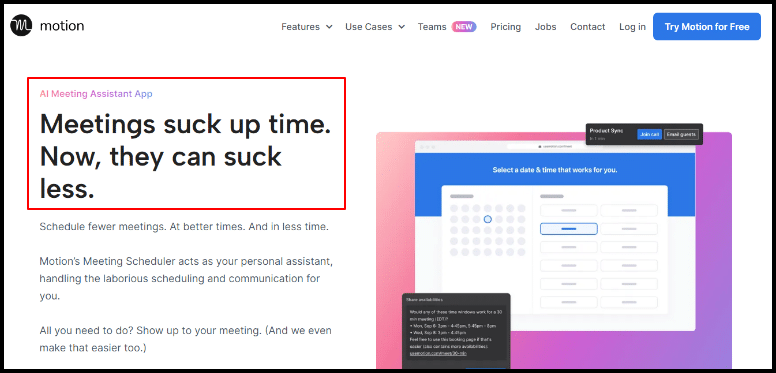 Run your meetings. Don't let them run you. Schedule fewer meetings. At better times. And in less time.
Motion's meeting scheduler acts as your personal assistant, handling the laborious scheduling and communication for you.
Here is a step-by-step guide to schedule the meetings on Motion:
Schedule meetings at the ideal time: Whatever type of meeting schedule you prefer, either Morning or No sessions on Fridays. All you need to do is select your preferences, and Motion will display preferred meeting times to invitees.
Limit your meetings: Never again fill your entire day with appointments. Set a daily meeting limit within Motion. Once you reach the limit, others won't be able to schedule meetings on your calendar.
You can also share your availability by personalizing your booking landing page, displaying your preferred times, displaying your desired times, and adding survey questions when necessary.
With features like automatic scheduling and real-time availability tracking, Motion helps to eliminate the time-consuming and often frustrating process of scheduling meetings.
Individual as well as Team Management
Motion is designed to be an all-in-one solution for both individual and team management.
With features like team collaboration and shared task lists, Motion makes it easy for teams to work together effectively and stay on top of their projects.
At the same time, its powerful individual task management features making it an ideal tool for anyone looking to improve their personal productivity.
Integrations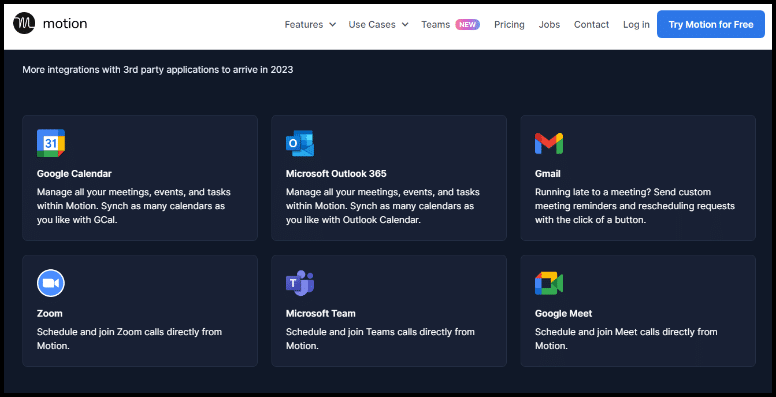 You can now connect to your favorite tools quickly and without much trouble.
Through API and connections, Motion can connect to the tools you and your team use every day.
The API is open to all users, and thousands of teams use it to organize their schedules and activities.
Here's a list of third-party apps that work well with Motion and make it easier to keep track of your plans, meetings, and projects:
Zoom: Use Motion to keep track of all your meetings, events, and tasks. GCal lets you sync as many dates as you want.
Microsoft Outlook 365: Use Motion to keep track of all your meetings, events, and chores. Outlook Calendar lets you sync as many calendars as you want.
Gmail: whenever you feel late to a meeting, you don't need to panic; you only need to send bespoke meeting reminders and reschedule with a click.
Microsoft Team: Schedule and join Team calls directly from Motion.
Google Meet: Schedule and join Meet calls directly from Motion.
Who is Motion App For?
Motion App is a versatile productivity tool suitable for:
Individuals who struggle with managing their time and tasks.
Freelancers, Marketers, entrepreneurs, Bloggers and small business owners looking to stay organized.
Teams and organizations, including remote and distributed teams, needing powerful project management and collaboration tools.
Motion Pros and Cons
As with any productivity tool, Motion App has its own pros and cons.
On the one hand, it offers a range of powerful features designed to enhance time management and increase productivity.
On the other hand, there may be better fits for some, and some users prefer more specialized tools for specific tasks.
So, it is crucial to weigh the pros and cons of Motion Apps to determine if it's the right tool for your particular needs.
Pros
Powerful and intuitive productivity tool for individuals and teams.
Advanced AI capabilities for personalized scheduling and project management.
Intuitive interface and customizable task lists
Team collaboration and shared task lists.
Advanced meeting scheduler for managing your meetings like a pro.
Suitable for individuals, small businesses, and teams
Highly suitable for remote and distributed teams.
Cons
Motion requires a paid subscription, however, you can try the tool with 7 day free trial.
May have a learning curve for some users.
Some features may not be relevant or valuable for all users.
Motion Pricing and Plans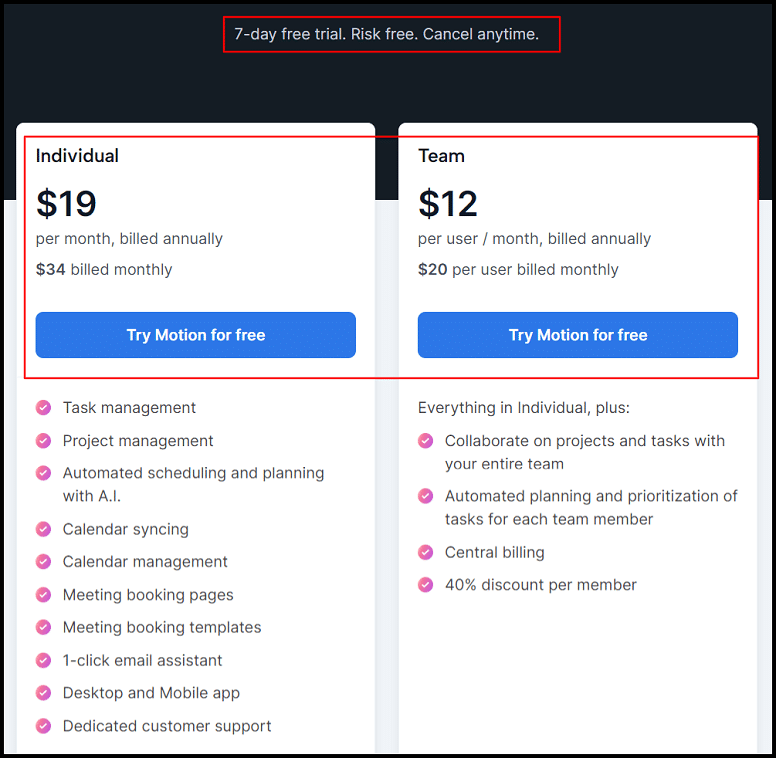 Motion offers two different pricing plans that cater to different user needs.
However, there is no free plan, but Motions provide a 7-day free trial on all its premium plans:
Individual Plan
Starting at $19 per month when billed annually, the individual plan offers all the features that a user needs.
It does not give access to team collaboration tools.
Here are the features available on this plan:
Task management
Project management and automated AI scheduling.
Calendar syncing and management.
Meeting booking pages and booking templates.
1-click email assistant
Desktop and Mobile app
Dedicated customer support
Motion For Teams
The team plan comes with a 40% discount for each user costing only $12 per user per month when billed annually.
The exclusive features include everything in Individual plan, plus:
Collaborate on projects and tasks with your entire team.
Automated planning and prioritization of tasks for each team member.
40% discount per member.
Refund Policy
Motion's trial period begins when you click "Start 7-day trial" at checkout and fill in your card details.
And you can cancel your subscription anytime within the trial period and you will not bear any charges.
The trial lasts for 7 days and automatically converts to a paid subscription at the end of the trial period.
Anyway, Motion does not have a 100% refund policy after the paid subscription starts.
However, users can also contact the support team for assistance regarding issues like:
You deleted the subscription but even after the money got deducted.
If you feel that you were frauded.
Motion's support team will review refund requests on a case-by-case basis within a couple of business days and inform users if a refund can be issued or not.
How to Set Up Your Motion
To get started with this tool, you can follow these steps:
1. Visit the official usemotion.com website on your laptop, tablet, or phone. You can also choose to download the App on the Google play store or the App Store for IOS.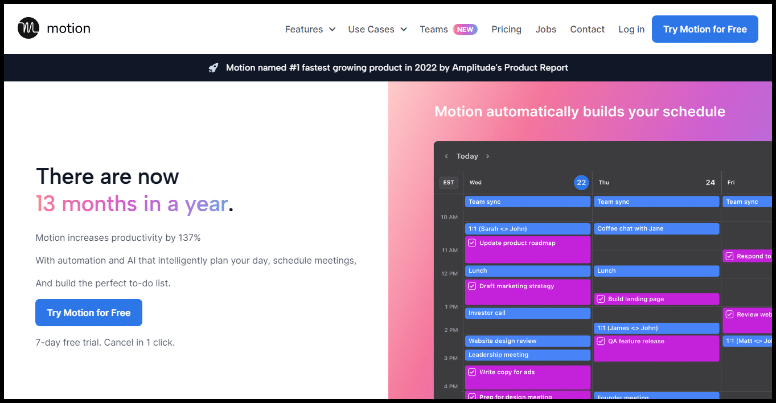 2. Continue by login or signup to Motion for free if you are a new user and trying to get started with the 7-day free trial.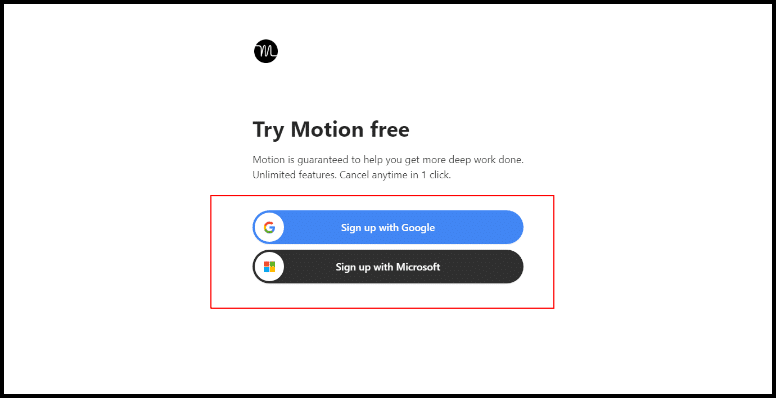 3. Now, continue by signing up with either your Google account or Microsoft account and choose whether you want to opt for individual plan or team plan.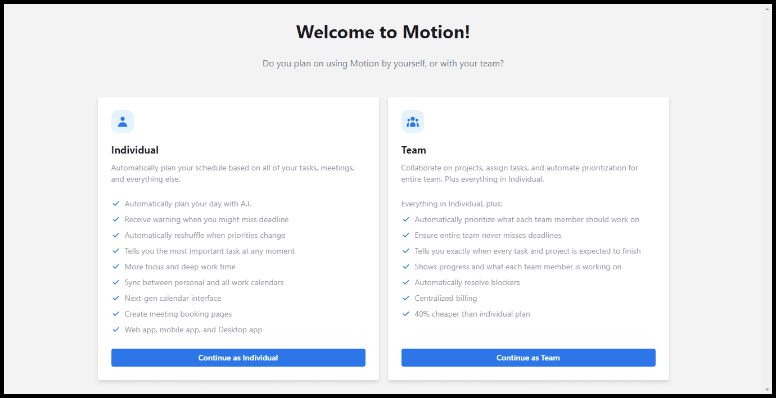 4. Now, a new window asking for billing cycle and card details will pop out.
You can choose either a monthly billing plan or a yearly billing plan and then fill in your card details.
Pro Tip: I recommend you to go with yearly billing as it will cost you $19/month and you'll save a whooping 44% than the cost of monthly plan ($34/month).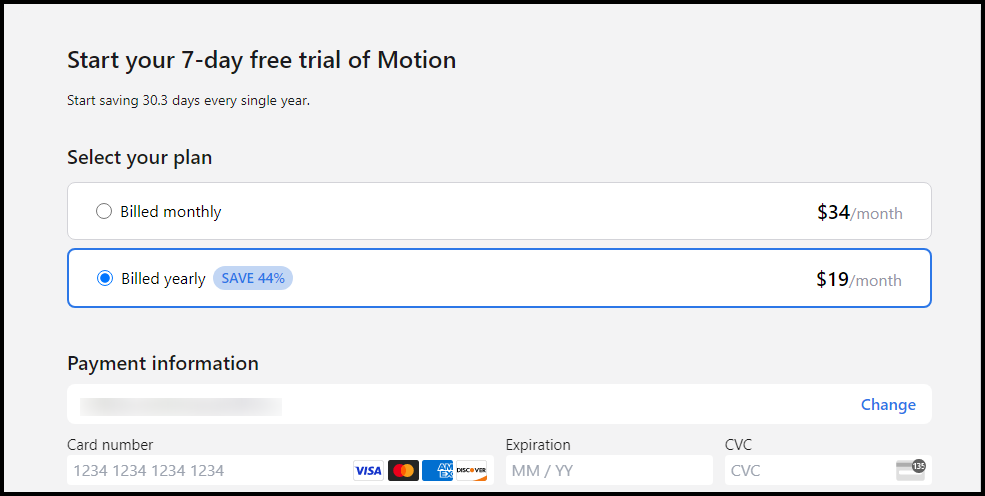 5. After inputting your card details, proceed to check out.
Viola!
You can now enjoy your account for 7 days free trial on the go and cancel aytime if you think that the tool is not suitable for you.
How Does Motion Work?
With Motion, you can coordinate several tasks of your day in one go.
To do this, Motion utilizes a clever AI algorithm.
Creating a Motion account is the first step as explained earlier.
Getting started with the Motion interface, you will be given options to pick about 3-4 recurring tasks (tasks you regularly engage in on a daily basis) to start scheduling your day.
Step 1: Picking Your Recurring Tasks
Start by clicking on the recurring (regular and daily) tasks you want to add to your calendar schedule or you can also create custom recurring tasks as per your needs.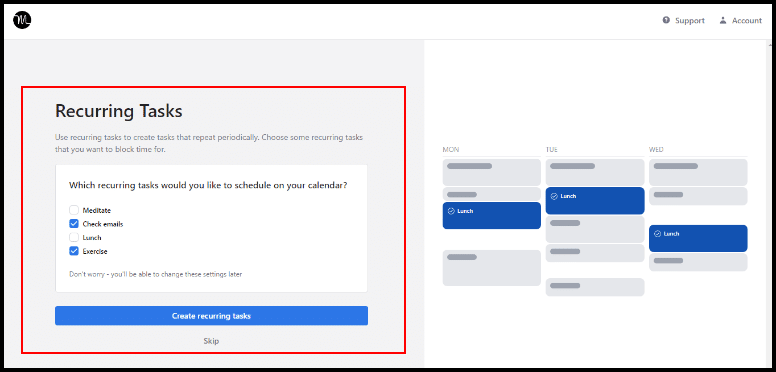 Step 2: Create Your Workspace
After the, Motion will ask to create and personlize your workspace where you can type in the desired name you want your workspace to be.
Workspace is a place where you can organise all your tasks and projects individually or with a team.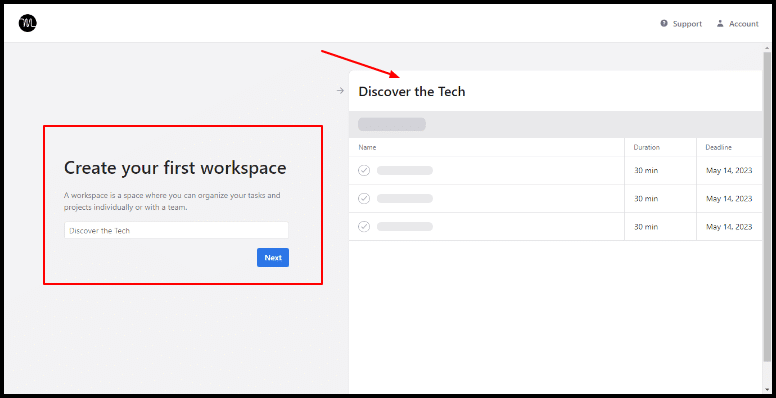 Step 3: Creating Your First Project
Now, proceed to creating your first project under your workspace.
You can easily create a project you or your team is currently working on and divide your project in a series of tasks that will help to create milestones for your project.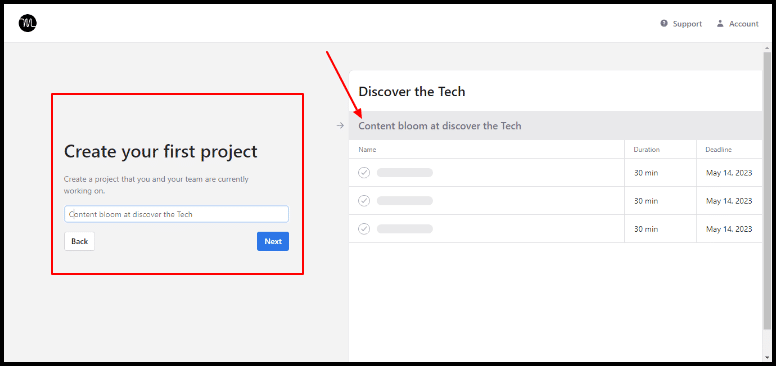 Step 4: Adding First Few Tasks
You can then continue by creating 3 or more tasks as needed to fill up your calendar.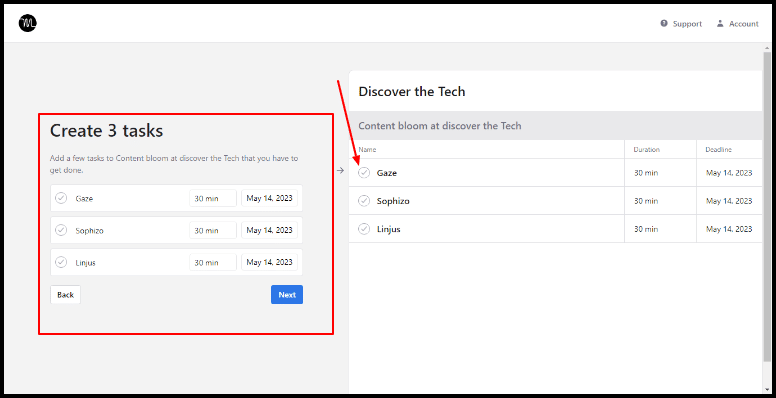 Step 5: Create Your Team
You can also create a team if you are working with others or simply ignore it by clicking the "I don't have a team" button at the bottom.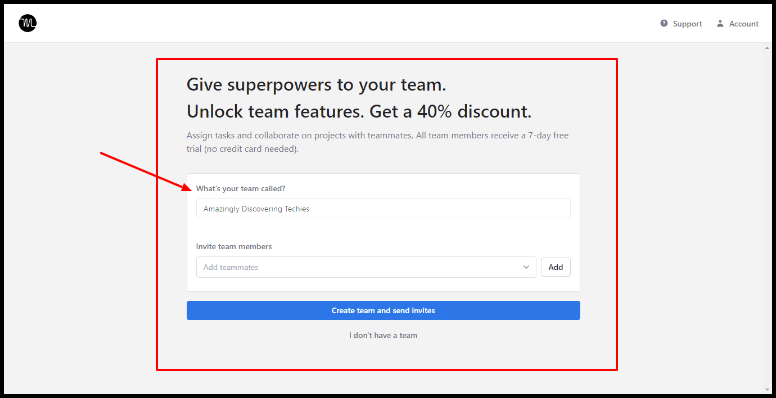 Step 6: Choose The Theme
Now, you can choose any display theme i.e dark or light as you feel comfortable with.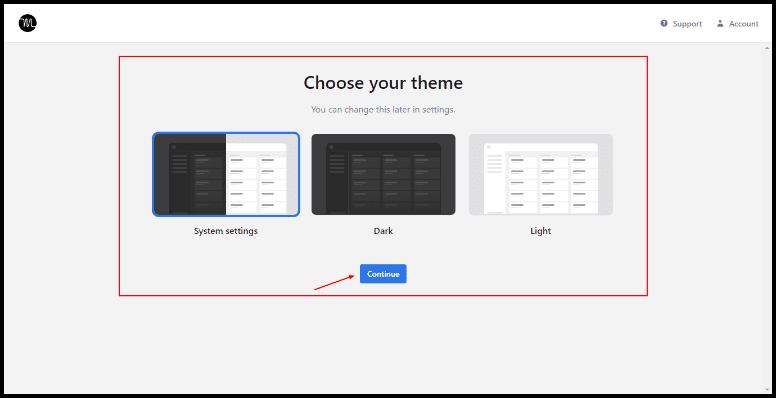 Step 7: Exploring Motion Interface
At this phase, you are now finally within the ecosystem of the motion app.
You can now start to explore all the features of Motion app and arrange your calendar here.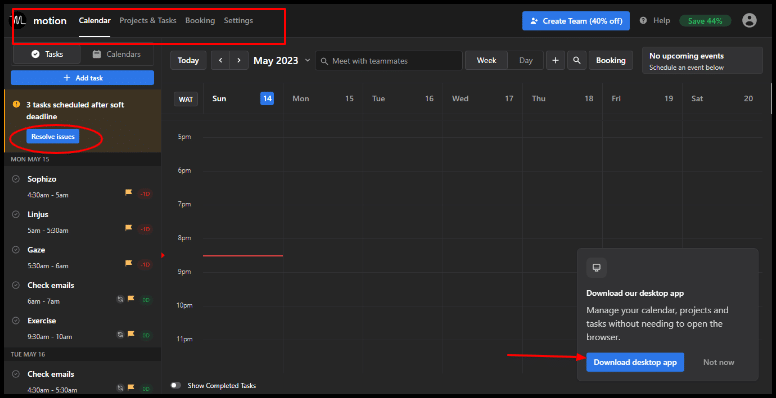 This is where all the activities happen on this app from calendar, project and tasks, bookings and even setting your recurring tasks.
You will also see "download desktop app" at the bottom right corner.
I also recommend you to download the desktop app as it will make Motion management more easily accessible with no need to open the website for setting up tasks.
Step 8: Project And Task Management
You can then start managing your projects and tasks easily from here by adding new tasks and projects.
For first time users, you'll also get a pop-up youtube video walking you through how to use this project management feature.
You can easily start scheduling your tasks by clicking on Projects and Tasks on top menu and then click on Add Project/ Add Task as needed.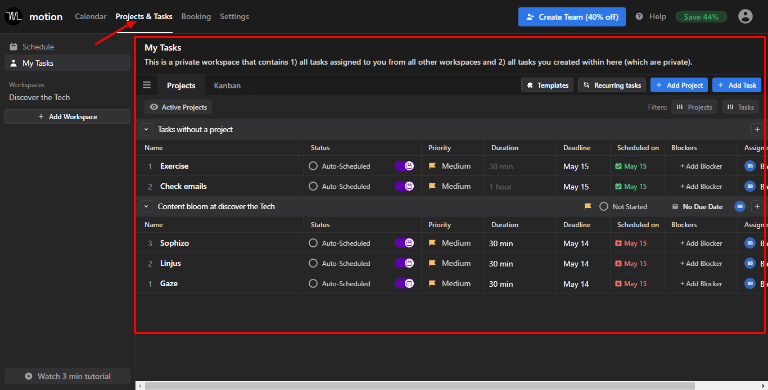 Click on Template to create a custom style for your tasks and projects so that you can easily schedule your tasks in one click.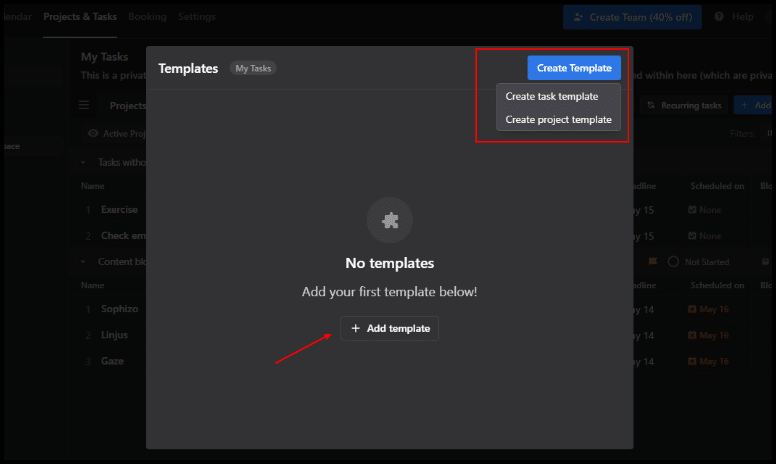 A new page will pop up where you can create your own task template and project template.
You can then proceed to adding the task name, add important notes to the task and fill in the necessary timeline and document type, so it's easy to follow and set up.
You can also choose customizations from a number of features on the right side including priority setting, duration, deadline, and frequency of task if it's recurring.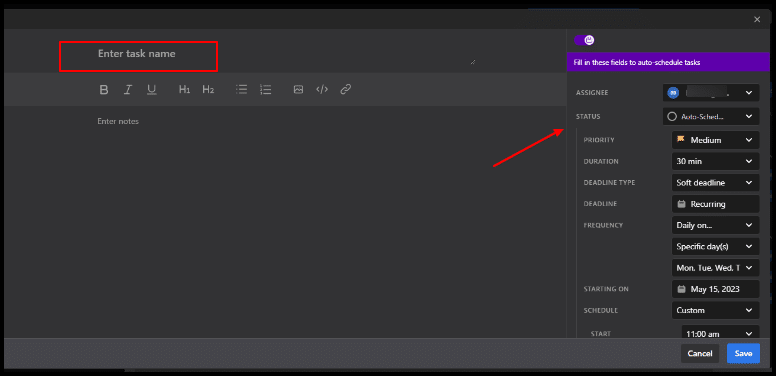 Similarly, to add a project, you will enter the project name, date and a comprehensive note describing the projects with priority, status and other labels.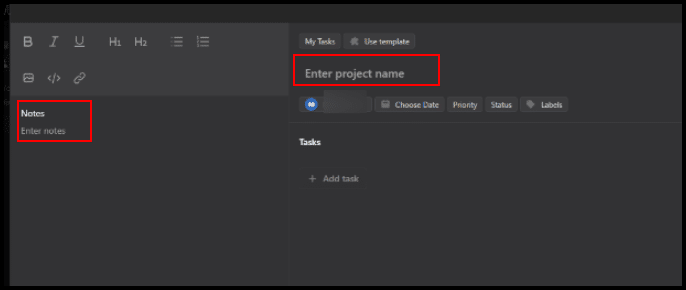 After setting up your projects and tasks here is how it would look like, showing each day and pointing priority to differentiate between important and non-important tasks.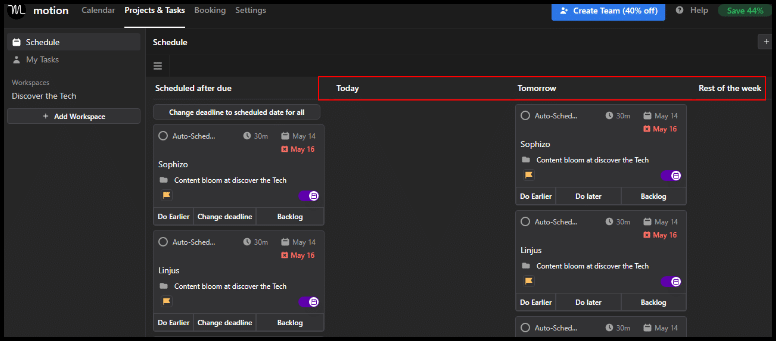 Step 9: Setting Up Bookings
To get started with the booking feature, click on "Booking" on the top menu and then click on "set up my booking links" to continue.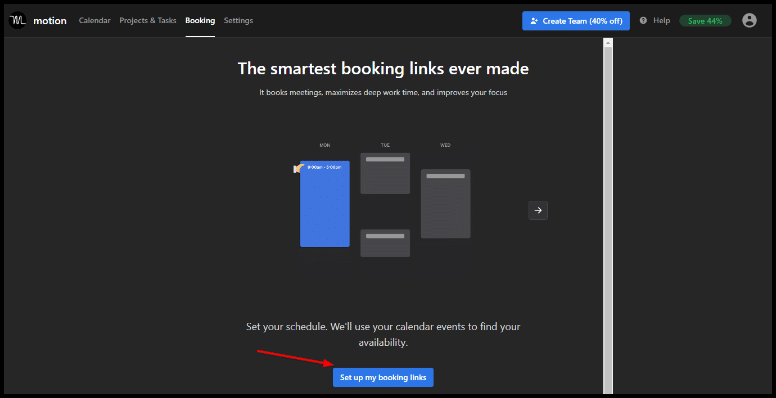 Then, you need to fill the necessary things for customizing your bookings like your desired schedule for meetings, buffer time (i.e the time between each meeting to prevent back-to-back meetings), attendance requirements, maximum meeting duration, reminder emails and then copy the link to complete the booking.
Now, you can share the booking link with anyone and Motion will automatically reming you about the meeting at the right time and will also schedule the meeting time in the calendar so that you don't occupy some other work for that time period.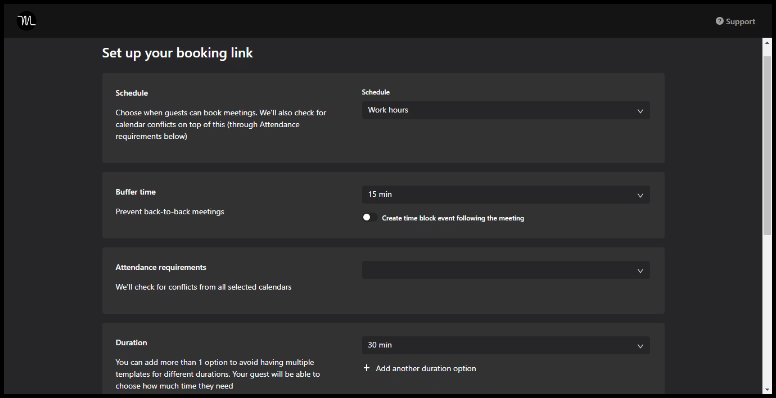 Motion User Interface
Motion's user interface is designed to be clean, intuitive, and user-friendly.
The App has a modern design with a simple layout that allows users to navigate the App with ease.
The App's dashboard displays all of your tasks and meetings for the day, and you can easily access your calendar and task list with a single click.
Motion Customer Support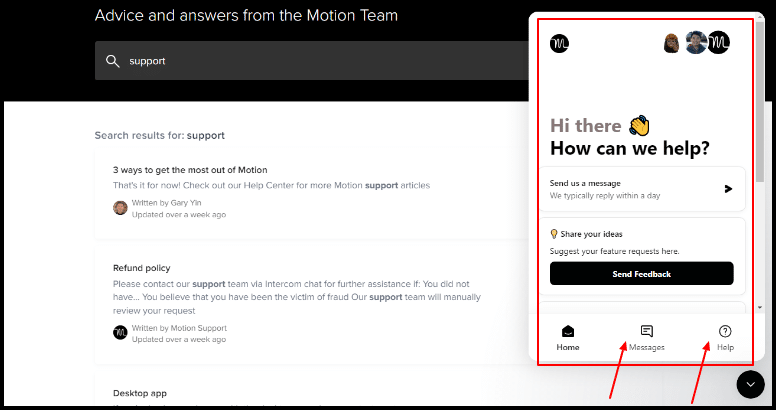 Motion provides adequate customer service via message support which provides reasonable help and they promise to reply within a day.
But, their customer support usually gets a solution within few hours.
There is also a get help section on the official website where you can find articles and FAQs for most common problems.
Overall the customer support system is good as they respond promptly with solutions.
Motion Rating and Reviews
Motion has a rating of 4.4/5 out of the top 67 reviews.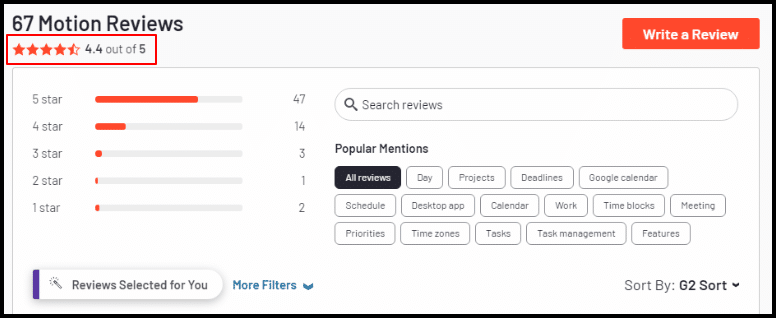 On Google Play store, the Motion app has a rating of 1.8 from 381 reviews.
But it still has a massive download of over 50k+ users.

On the App store, motion has a rating of 2.2 from 304 users.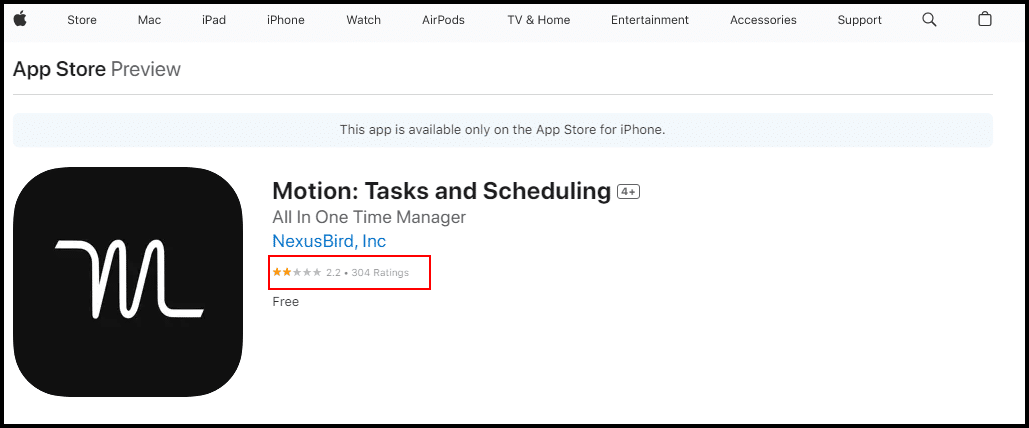 Exploring Motion Apps
Aside from being a web app, Motion also has mobile and tablet apps optimized for android and iOS ecosystem on Google play store and App store respectively.
Motion Mobile App
Motion is an AI-powered executive assistant designed to manage your tasks and events.
Having this tool on mobile phones on the go makes life easier with its multiple purposes as a personal assistant.
Motion mobile app is available on both play store as well as Apple store.
It has around 50k+ downloads on the play store and still adding.
Motion Chrome Extension
Motion does not offer extension is not readily available on the official Chrome extension.
Although the Desktop app is readily available for download on the official website and easily accessible for desktop usage.
Motion Alternatives
There are two prominent and popular alternatives to the Motion app readily accessible for scheduling and task management: Calendly and Reclaim.
These tools also have their advantages and disadvantages of Motion, but overall, they can be a substitute if you don't want to go with Motion due to any reason.
Calendly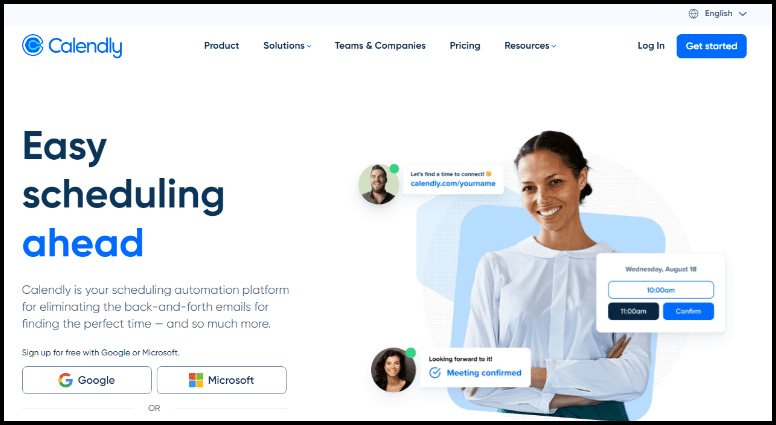 Calendly is a popular scheduling tool that helps users schedule meetings and appointments without the need for back-and-forth emails.
However, it does not have the same AI-driven automation level as Motion.
With Motion, tasks are automatically scheduled based on priority and deadlines, while Calendly only focuses on scheduling meetings.
Reclaim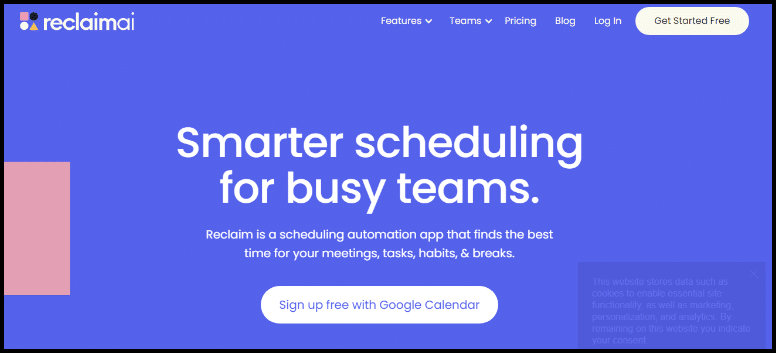 Reclaim is another tool that helps users manage their schedules by automatically blocking off time for tasks and meetings.
However, it has a different customization and flexibility level than Motion.
With Motion, users can set custom time windows for tasks and meetings, while Reclaim only blocks off time-based on preset categories.
One advantage of Reclaim AI over Motion is that it offers a free version, unlike Motion which only gives its users a free seven days trial on its premium plans.
But, free version is not much useful as it's only an attractor to buy paid plan.
Overall, while Calendly and Reclaim are useful tools for scheduling and task management, they offer a different level of automation and customization than Motion.
For those who need a more advanced solution for managing their busy schedules and tasks, Motion may be the better option.
FAQs on Motion App Review
Is the Motion app worth it?
Motion claims that using the Motion app can boost productivity by 137% means you can get more done in less time. Ultimately, the decision to use Motion depends on how much you value your time.
How much does Motion cost?
Motion offers 2 premium plans and does not provide any free plan. The individual plan costs $19/per month when billed yearly, and the team plan costs $12/per month/per user.
How many users does Motion have?
Over 20,000+ teams manage their busy schedules with Motion and this number is drastically increasing, with over 50k+ total downloads of the App on the play store.
Is the Motion app free?
No, the motion app is not free to use and it offers two premium plans for individuals and teams starting at only $19/per month.
Does Motion have a desktop app?
Yes, Motion has a desktop app available where you can use it to full capacity like scheduling your tasks, meetings and more.
Does Motion integrate with Outlook?
Yes, Motion integrated Outlook alongside other third-party tools such as Gmail, Teams by Microsoft, Zoom, and Google Meet.
Conclusion on Motion App Review 2023
After a thorough review of the Motion app, it turns out to be a highly useful tool for monitoring and easing out your busy schedule.
The Motion scheduling app is a game-changer when it comes to optimizing time management and increasing productivity.
What sets the Motion app apart is its data-driven insights and analytics. By analyzing patterns and identifying time-wasting activities, the app provides valuable information to enhance productivity.
So, Are you going to start using Motion to schedule your day?
Which feature of Motion you like the most?
Let me know in the comments below.