AI writers are being massively used nowadays, considering how great it is to ease the workflow for content creators, writers, and managers in this fast-paced digital world.
AI writers are helpful in making your content creation easier and save you countless hours that would otherwise be spent on writing.
But, most of them like Copy AI or Jasper are at high prices with monthly subscriptions, which makes them difficult to use for low-budget marketers.
Here is the catch!
Imagine purchasing an AI content writer and enjoying its benefits for a lifetime without paying any monthly renewal.
So, in this list, we have chosen the best AI writers providing lifetime deals for its users.
This means you have to pay only once, and you can use the tool whenever you like.
Let's begin this list.
About AI Writer Lifetime Deals
With lifetime deals, you can access AI writing tools and services at a one-time cost, eliminating the need for ongoing subscriptions.
By opting for AI writer lifetime deals, you only need to pay a one-time fee and you can use the product as long as you want without paying anything extra.
While these deals offer cost savings, it's essential to consider potential limitations such as less customer support and feature upgrades.
But, if you are on a low budget, these limitations can be ignored.
There are many popular platforms to get lifetime deals and one popular website is AppSumo
They offer great discounts on lifetime deals ranging from 50% to 95% off regular pricing.
So, let's begin finding the best AI writer lifetime deal for you.
Note- All Appsumo deals come with a 60-day money-back guarantee. So, it's an opportunity to try it out for two months for free to ensure it's right for you!
Best AI Writer Lifetime Deals in 2024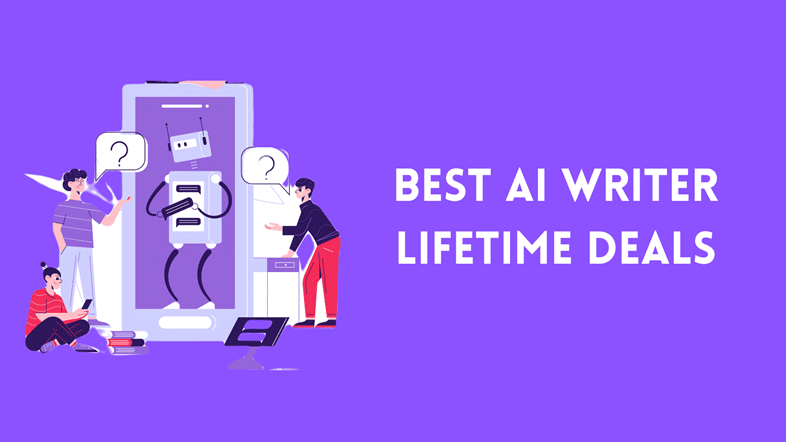 Based on detailed research and the popularity in the usage of these AI tools, we have gathered the 11 best AI tools that offer lifetime deals.
| Tool Name | Words Usage Per Month | Lifetime Deal Pricing | Secret Deal Link |
| --- | --- | --- | --- |
| WordHero | 20k+ Words | $89 | Get It |
| WriteCream | 400,000 characters | $59 | Get It |
| Neuron | 15k+ Words | $89 | Get It |
| ClosersCopy | Unlimited Words | $297 | Get It |
| Nichesss | Unlimited Words | $59 | Get It |
| Blog Assistant | Unlimited Words | $59 | Deal Not Live |
| Texta AI | 10k+ Words | $69 | Get It |
| WordPlay | 7.5k Words | $99 | Get It |
| Katteb | 15k Words | $39 | Deal Not Live |
| Yaara | 30k+ Words | $39 | Deal Not Live |
Important Note: These are limited-time offers and must be grabbed as fast as you can.
1. WordHero Lifetime Deal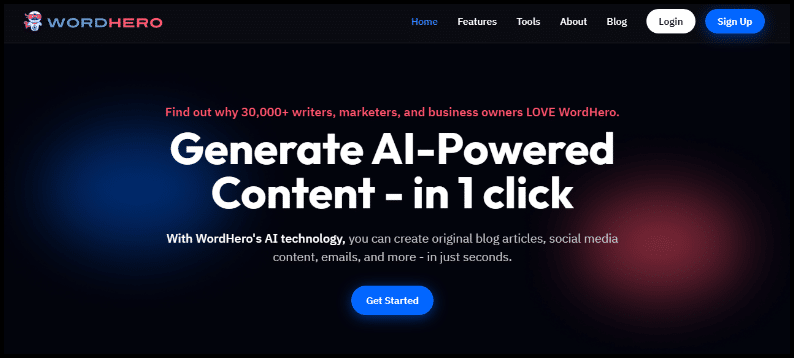 WordHero is an advanced content-writing platform that harnesses the power of GPT-3.
With its extensive capabilities, WordHero supports over 70+ use cases and is proficient in over 100 languages.
It caters to various content creation needs, including blog posts, sales copies, advertisements, social media posts, and product descriptions.
Setting itself apart from other platforms, WordHero prides itself on delivering exceptional quality content and boasts a robust long-form editor.
This makes it an essential tool for content creators, marketers, copywriters, and business owners alike.
With WordHero, users can elevate their content creation process and achieve impressive results.
Key Features and Pro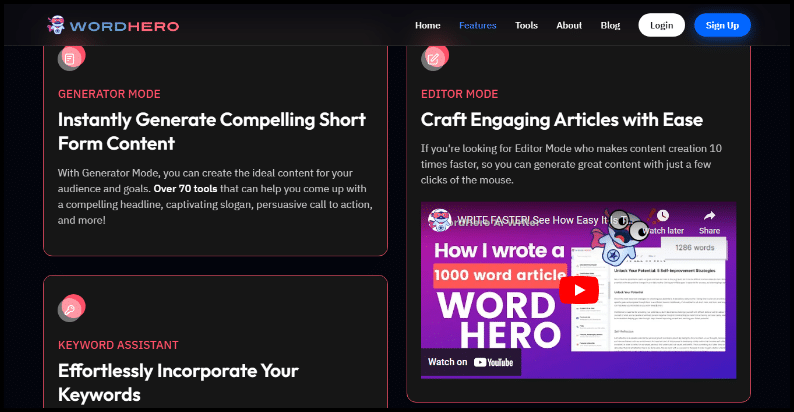 The AppSumo Lifetime Deal offers the capacity to generate a maximum of 20,000 words every month, catering to the needs of both novice and experienced individuals in the field.
The Lifetime deal provides you with access to over 70 use cases and supports more than 100 languages. This allows you the freedom to create content tailored to your specific needs across various categories, such as blogging, social media, marketing, and business.
This powerful AI tool enables you to effortlessly generate long-form content like blog posts on any given topic in a matter of minutes. Check out this image where I created a blog post on VPNs with only keywords in minutes.
WordHero has exciting upcoming features in store, including an in-built plagiarism checker, additional tones and social media tools, dark mode, and sub-accounts.
Powered by the cutting-edge language prediction model, GPT-4, WordHero excels at generating fantastic content that is refined, precise, and helpful.
Created Keyword Optimised Content
With WordHero's intelligence capabilities, your keywords will be seamlessly incorporated into your content for optimal SEO impact.
Cons
Currently, WordHero AI does not provide predefined tones. Users are required to manually input their desired tones, which can lead to inconsistent outputs.
WordHero's social media tools are currently limited to YouTube, focusing on providing AI-powered assistance for video-related tasks. Other social media platforms are not added yet.
WordHero lacks the ability to specify the number of words in content, limiting control over the word limit utilization. This feature will also be introduced soon.
WordHero Lifetime Pricing
Here are the pricing plans available for Wordhero lifetime deals:
| Pricing | Words | Additional Features |
| --- | --- | --- |
| $89 | 20k/month | 50+ Tools; 100+ Languages |
| $178 | 50k/month | Long-form Editor |
| $267 | Unlimited | WordHero Chat |
I recommend you to go for Plan 2 which costs $178 lifetime if you want to write long-form content with the AI tool and if you want to create unlimited words per month, go for the $267 lifetime plan.
Conclusion
WordHero AI offers excellent AI tools, high-quality outputs, and an efficient long-form editor.
The long-form editor is available with 2nd plan costing $178 per lifetime, not included in the Starter WordHero AppSumo plan.
So, WordHero's $178 plan is an excellent choice for a lifetime subscription AI writer.
2. Writecream Lifetime Deal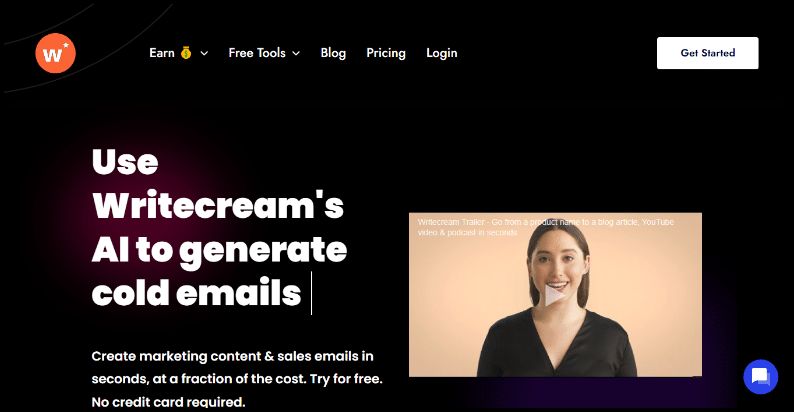 Writecream is an AI writing platform powered by GPT-4.
It provides more than 40+ AI tools and the capability to create content in over 75 languages while ensuring zero plagiarism.
With Writecream, you can effortlessly generate content for various platforms such as blogs, emails, ads, and social media.
This versatile tool enables you to create content swiftly and efficiently, saving you valuable time across multiple platforms.
Key Features and Pros
Writecream offers a Lifetime Deal priced at $59, granting users access to 200 credits (i.e. 4,00,000 characters) per month and over 40+ AI tools.
Writecream boasts a lot of features including digital ads copy creator, podcast, video script writer, cold emailing, LinkedIn messaging, backlink outreach, articles, blogs and social media post tools.
Writecream excels at generating high-quality, long-form content with minimal input requirements, streamlining your workflow.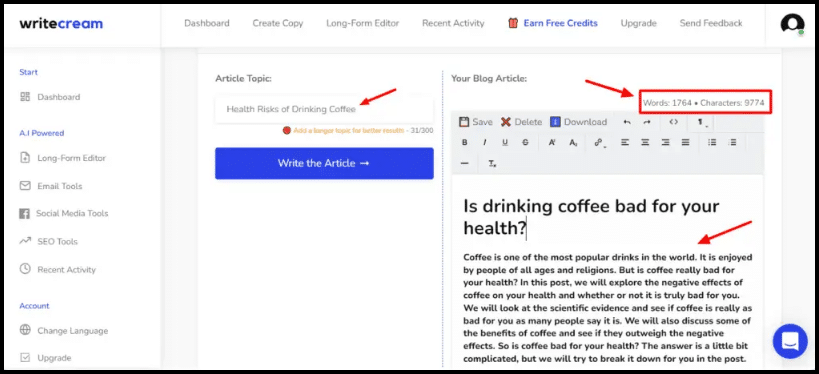 From AI image generator to voiceover creator and a convenient Chrome extension, these additional tools complement the platform seamlessly and deliver exceptional performance.
Cons
One area where Writecream needs to improve is the absence of essential output settings, such as the ability to specify the desired quantity of writing.
Writecream currently needs more varied tones in most of its AI use cases, except for the long-form generator, which provides better tone diversity.
While the long-form content produced by Writecream showcases good quality, the outputs generated for other AI use cases tend to be more average in terms of quality.
Writecream Lifetime Pricing
Here are the lifetime deal pricing plans available for the Writescram AI writing tool:
| Pricing | Words | Additional Features |
| --- | --- | --- |
| $59 | 200 credits/month | Long Form Editor |
| $118 | 400 credits/month | No |
| $177 | 600 credits/month | No |
Conclusion
Writecream proves to be a valuable tool for generating marketing content, including ads and product descriptions.
It also performs well in drafting blog posts and articles.
So, the Writecream lifetime deal, priced at $59, offers great value, particularly if you require a long-form content generator at low pricing.
3. Neuron Writer Lifetime Deal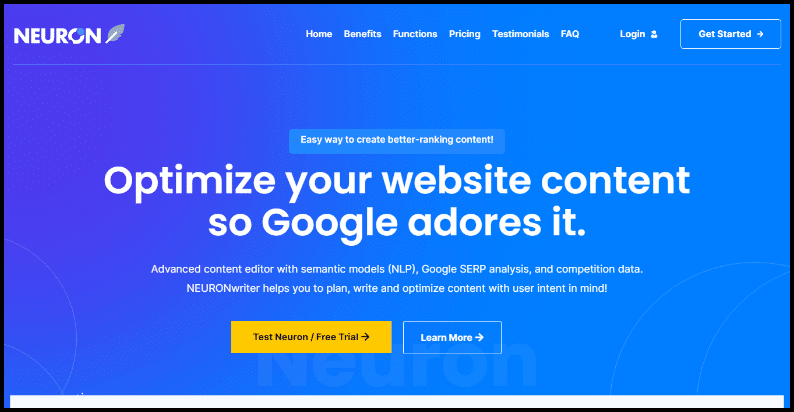 NeuronWriter is a remarkable AI writing and SEO optimization tool launched in 2019 and stands out with its excellent content analysis capabilities.
What sets NeuronWriter apart is its unique ability to research niche-based content and generate high-quality content, accompanied by advanced competitor analysis.
This winning combination makes it an invaluable tool for content creators, enabling them to produce top-notch content while gaining insights into their competitors' strategies.
Key Features and Pro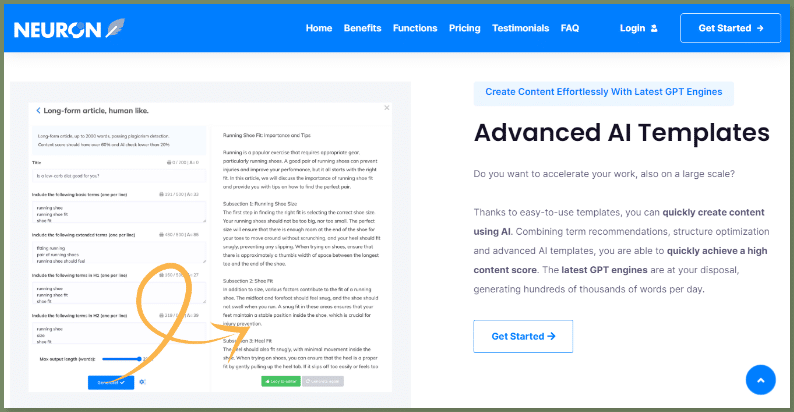 NeuronWriter provides comprehensive content analysis features that assess your competitors and SERPs' top pages and then generate content based on the results, thereby helping to improve your search engine rankings.
NeuronWriter supports an extensive range of languages, offering the flexibility to create content in over 170 languages and also provides 20+ content templates.
With NeuronWriter, you can also check the score for the content generated by the AI tool.
The content score is given by comparing your content with the top 30 URLs on the web and an improved score significantly helps in improved web rankings.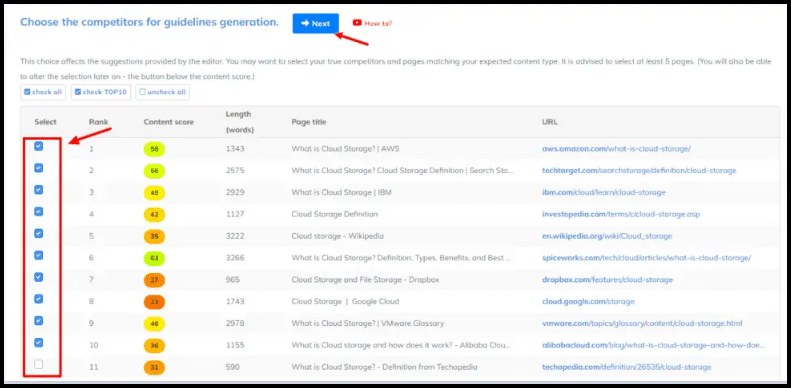 NeuronWriter is continuously progressing with new features coming every day.
It has added excellent features like an advanced plagiarism checker, internal linking suggestions, NLP content optimization, content planner and more along with its core AI writer.
But all these additional features are not available with all the plans.
Cons
NeuronWriter boasts a modern and visually appealing interface. However, a lot of features within the interface can make it appear cluttered and overwhelming.
One drawback of NeuronWriter is the need for a credit consumption warning before executing a query.
Instead, it only displays the total number of credits used after the question has been processed, which can be inconvenient for users seeking greater visibility and control over their credit usage.
Neuron Writer Lifetime Pricing
Here are the amazingly lifetime offers for Neuronwriter:
| Pricing | Words | Additional Features |
| --- | --- | --- |
| $89 | 15k credits /month | 25 content analysis/month, standard AI templates |
| $178 | 30k credits /month | 50 content analysis/month, content planner |
| $267 | 45k credits /month | 75 content analysis/month, advanced AI Templates, Plagiarism Checker |
Conclusion
It excels in content idea generation, advanced competitor analysis, and high-quality AI content creation.
This tool is a good fit for content creators, SEO agencies, entrepreneurs, email marketers, and more at a whooping discounted pricing of $59 for a lifetime deal offer.
4. ClosersCopy Lifetime Deal
Closerscopy has been generating significant buzz since 2022.
What sets it apart from other AI writing tools is its unique algorithm for content creation, deviating from the commonly used GPT-3 model.
Although it is more expensive than other tools, it remains an excellent choice for bloggers, copywriters, marketers, and business owners.
Key Features and Pro

ClosersCopy's lifetime deal provides you with the ability to generate an unlimited amount of content each month.
ClosersCopy's social media tools generate unique and captivating results, perfect for catching attention and engagement on various social media platforms.
Additionally, ClosersCopy offers three different tools for generating blog posts, allowing you to choose between direct or freestyle generation based on your preferences and needs.
All lifetime plans of ClosersCopy come with SEO auditing functionality.
ClosersCopy offers distinct algorithms for various content generation needs.
With specialized options like Blog AI, Sales AI, and Story AI, you can generate more relevant outputs aligned with your preferred use case.
Cons
ClosersCopy's user interface tends to be slow and sluggish, leading to a less-than-optimal user experience.
While the Lifetime deal of ClosersCopy offers unlimited content generation, the price of $297 is considered on the expensive side.
ClosersCopy Lifetime Pricing
ClosersCopy offers three-lifetime plans on its website, providing users with unlimited content generation and a long-form editor.
The plans differ based on the number of users allowed per account, with pricing increasing accordingly.
| Pricing | Words | Additional Features |
| --- | --- | --- |
| $297 | Unlimited | 1 seat access |
| $497 | Unlimited | 3 seat access |
| $697 | Unlimited | 5 seat access |
All the plans of Closerscopy provide unlimited AI writing, unlimited SEO audits, SEO planning, long-form, unlimited AI drawings, frameworks (800+) and more.
Conclusion
ClosersCopy is a reliable AI writing tool that provides unlimited content generation, supports 800+ frameworks and use cases and over 120 languages, and includes SEO audit functionality.
Except for its high price, if your primary focus is on unlimited content generation and SEO audits, ClosersCopy could be worth exploring.
5. Nichesss Lifetime Deal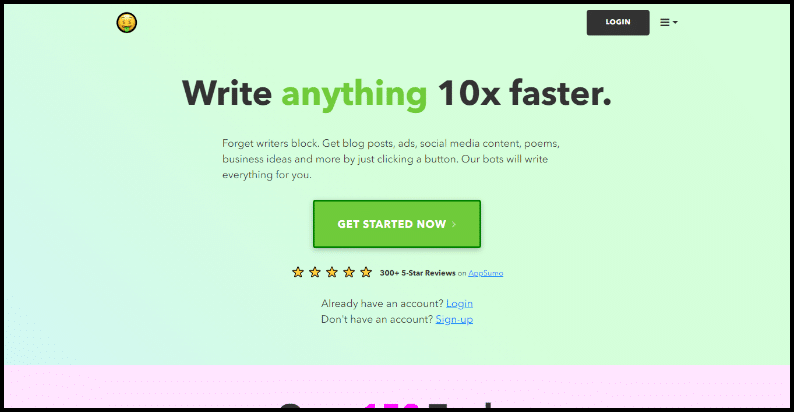 Nichesss leverages cutting-edge GPT-3 technology as an AI content writing tool.
With a broad spectrum of applications, it provides users with over 150 AI use cases, enabling the generation of diverse content types.
From crafting compelling marketing email copies to generating niche-specific content ideas and engaging social media copies, Nichesss offers a versatile platform for content creation across various domains.
Whether you're looking to enhance your business content or create captivating marketing materials, Nichesss AI tool has you covered.
Key Features and Pro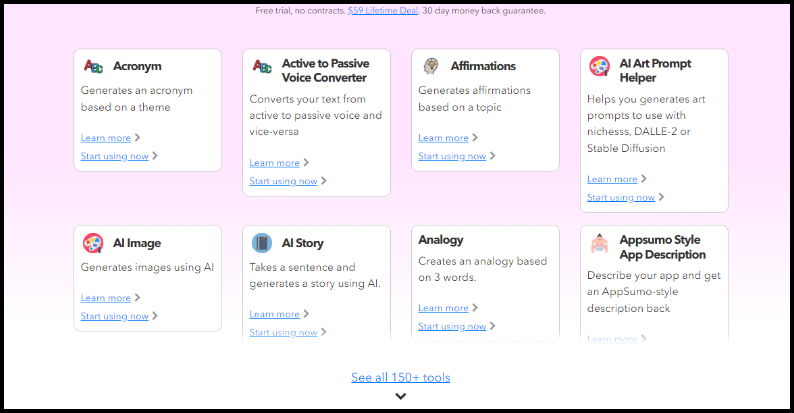 Access to their extensive collection of 150+ AI tools allows you to generate endless words each month, empowering your creativity and productivity.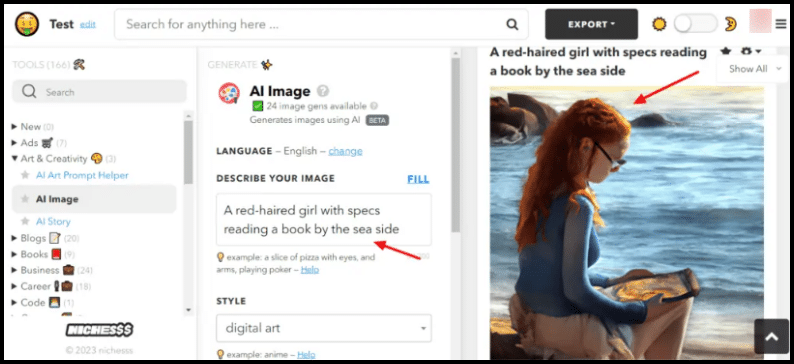 Enhance your visual content with Nichesss' AI Image Generator, powered by DALLE-2. As part of the lifetime plan, you can effortlessly create up to 15 AI-generated images per month.
Discover a treasure of innovative business ideas and related content through the powerful Reddit Search feature offered by Nichesss.
Seamlessly explore Reddits and subreddits to unlock fresh insights and inspiration for your own endeavours.
Cons
While using Nichesss, users have reported that the generated results often need more creativity. The outputs may appear dull and fail to make a lasting impact.
Nichesss needs an updated and visually appealing user interface.
It is essential to exercise caution when using Nichesss, as there have been instances where the generated content has signs of plagiarism.
Nichesss Lifetime Pricing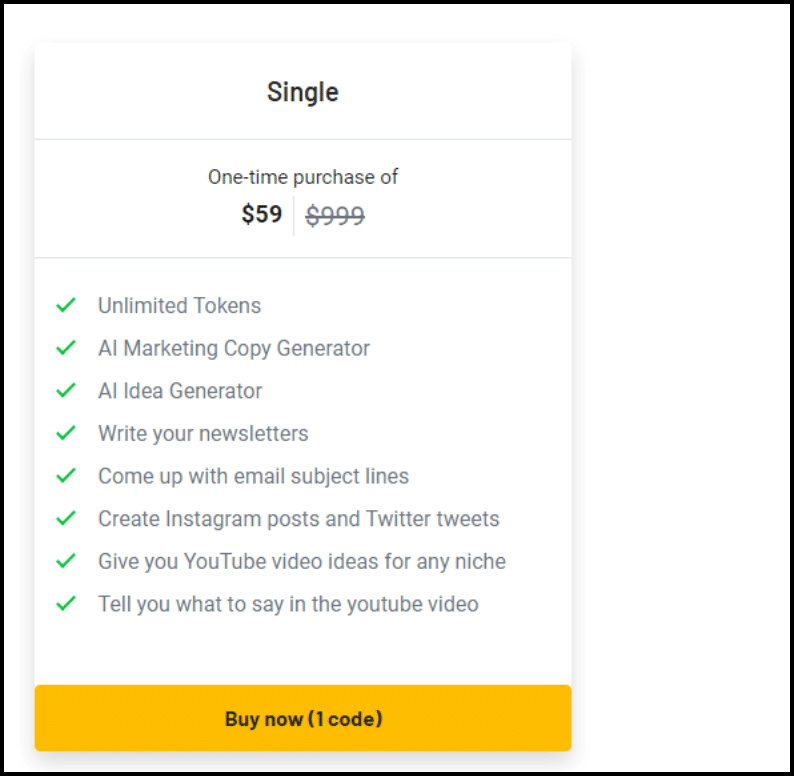 You can get Nichesss at a lifetime price of $59 which provides unlimited monthly tokens and access to various AI use cases.
Conclusion
Overall, Nichesss provides a satisfactory AI writing experience focusing on marketing and business content.
Although the interface and output quality are average, it can still be a good tool for new marketers and small businesses in need of content generation support.
6. Blog Assistant Lifetime Deal
Oops! This lifetime deal price has expired. Grab other tools before they expire too.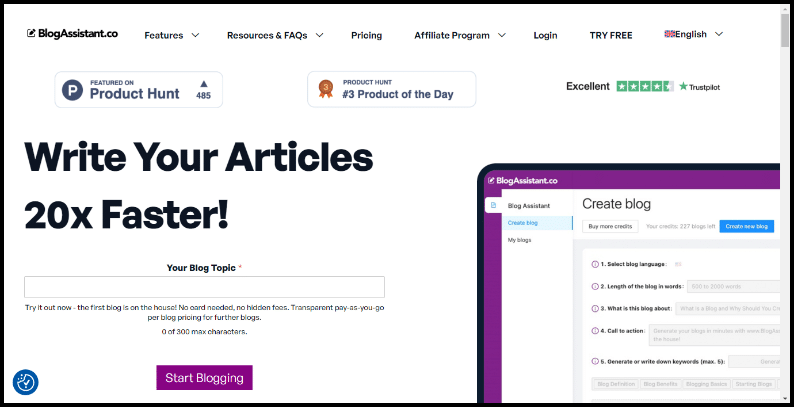 Blog Assistant is a revolutionary AI writing tool that now operates on the GPT-4 model.
This tool effectively reduces AI content flags, allowing you to create engaging articles in more than 30 languages while avoiding any robotic undertones.
BlogAssistant is a powerful tool that generates well-structured outlines for blogs and articles, giving you the flexibility to customize, expand, and regenerate them as needed.
Key Features and Pro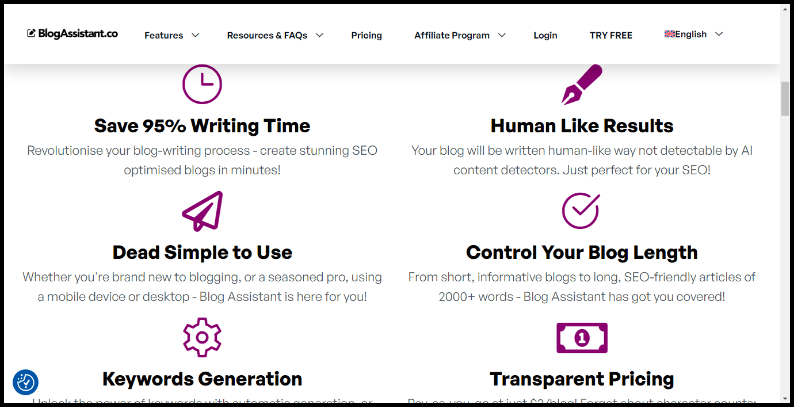 BlogAssistant leverages advanced AI technologies such as GPT-4 and the Nostradamus Cloud Engine to generate high-quality and accurate content that goes undetected by AI Content Detection Tools.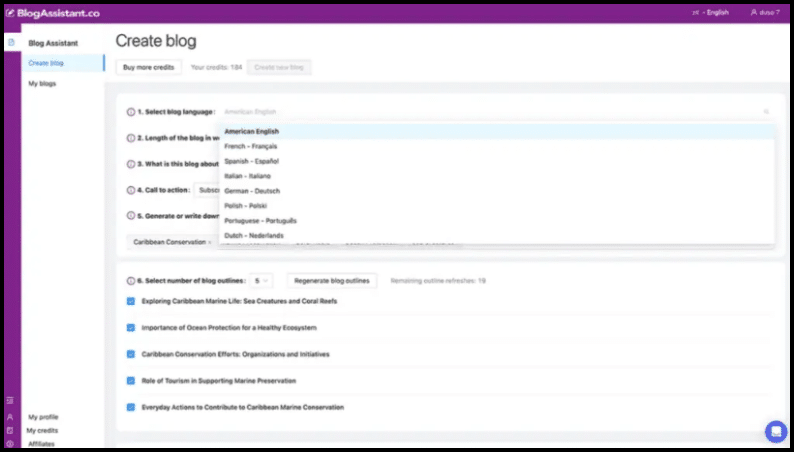 With BlogAssistant, you can effortlessly create full-length blog articles tailored to specific keywords.
Generating up to 4,000 words at a time, manual SEO optimization has become a thing of the past.

During content generation, BlogAssistant offers the flexibility to input custom keywords.
Its AI seamlessly incorporates these keywords to optimize your content naturally.
Another notable feature of BlogAssistant is its AI Image Generation tool, which enables the automatic generation of relevant images for your blog posts.
It also integrates with popular libraries like Pexels, Unsplash, and Pixabay, providing access to a vast collection of royalty-free images.
Cons
The user interface of BlogAssistant appears outdated and lacks modern design elements.
While the overall content quality produced by BlogAssistant is satisfactory, it is prone to grammatical errors.
Blog Assistant Lifetime Pricing (Deal Not Live)
The lifetime pricing plans of the BlogAssistant AI writer are as follows:
| Pricing | Words | Additional Features |
| --- | --- | --- |
| $59 | 10 blog credits/month | Title suggestions, AI image generator |
| $159 | 25 blog credits/month | _ |
| $259 | 60 blog credits/month | _ |
Conclusion
In conclusion, BlogAssistant is a valuable AI-powered writing assistant that facilitates the creation of high-quality content for blog posts and various projects.
7. Texta AI Lifetime Deal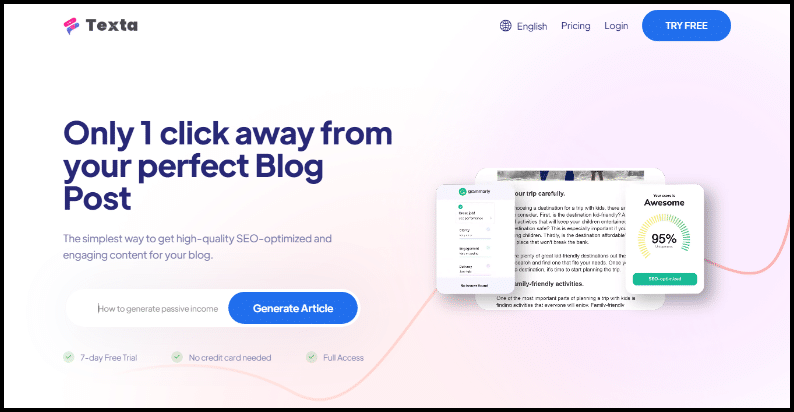 Texta is widely recognized as the top article writer, capable of generating exceptional articles in a matter of seconds.
It has proven instrumental in helping companies increase their traffic and sales.
Texta offers 31+ languages and 60+ content generation tools, including keyword research, topic analysis, and content optimization.
Key Features and Pro
Texta AI Writer offers support for over 31+ languages, allowing users to create content in a wide range of languages and cater to a global audience.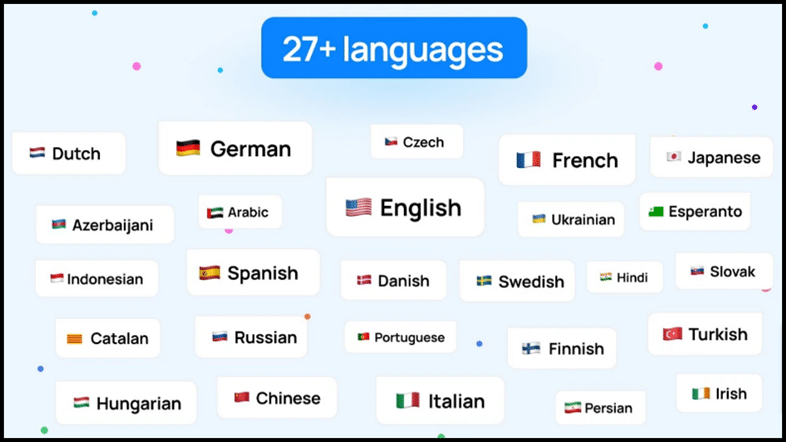 With over 60 content generation tools, Texta AI Writer provides a suite of features, including keyword research, topic analysis, and content optimization, empowering users to create high-quality, engaging content.
Whether you are a beginner or an experienced content creator, Texta AI Writer can be easily adopted into your workflow due to its beginner-friendly interface.
The tool offers unlimited word usage and comes with Grammarly integration, infographics auto mode, Twitter quotes auto mode and more.
Cons
Some users have complained about the quality of content generated by the tool, but overall at this price, it's a good tool if you've a low budget.
Texta AI Pricing
Texta AI lifetime deal comes at a one-time purchase fee of $69 which includes unlimited words per month and all premium features.
8. WordPlay Lifetime Deal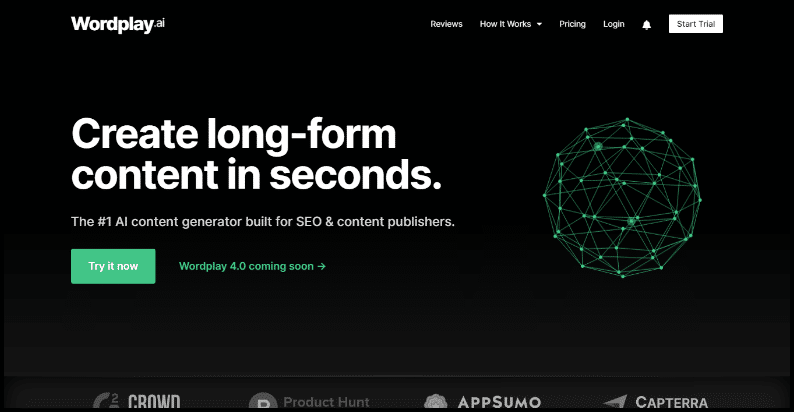 Wordplay is an AI content creator that generates about 2,000+ word drafts in 15 seconds, saves you time by creating content in bulk, and simplifies scheduling and publishing with its WordPress plugin.
Wordplay has integration with Chrome, Google, and WordPress; it's an excellent tool for bloggers and marketers.
Key Features and Pro
Wordplay lets you quickly generate 2,000+ word long-form drafts in just 15 seconds, saving you valuable time and effort.
Wordplay offers a WordPress plugin that simplifies the scheduling and publishing process, making managing and distributing your content convenient.
Google-Friendly Content Generation
It helps in improving content SEO by providing Google-friendly features like FAQs and making content structure that Google's algorithms promote.
Cons
Wordplay $99-lifetime deal only offers 7500 words usage per month which is too low compared to what other tools are providing.
WordPlay Lifetime Pricing
Here is the pricing plan available for this AI tool:
| Pricing | Words | Additional Features |
| --- | --- | --- |
| $99 | 7500 words/month | all features |
| $198 | 15000 words/month | all features |
| $297 | 22500 words/month | all features |
9. Katteb Lifetime Deal
Oops! This lifetime deal price has expired. Grab other tools before they expire too.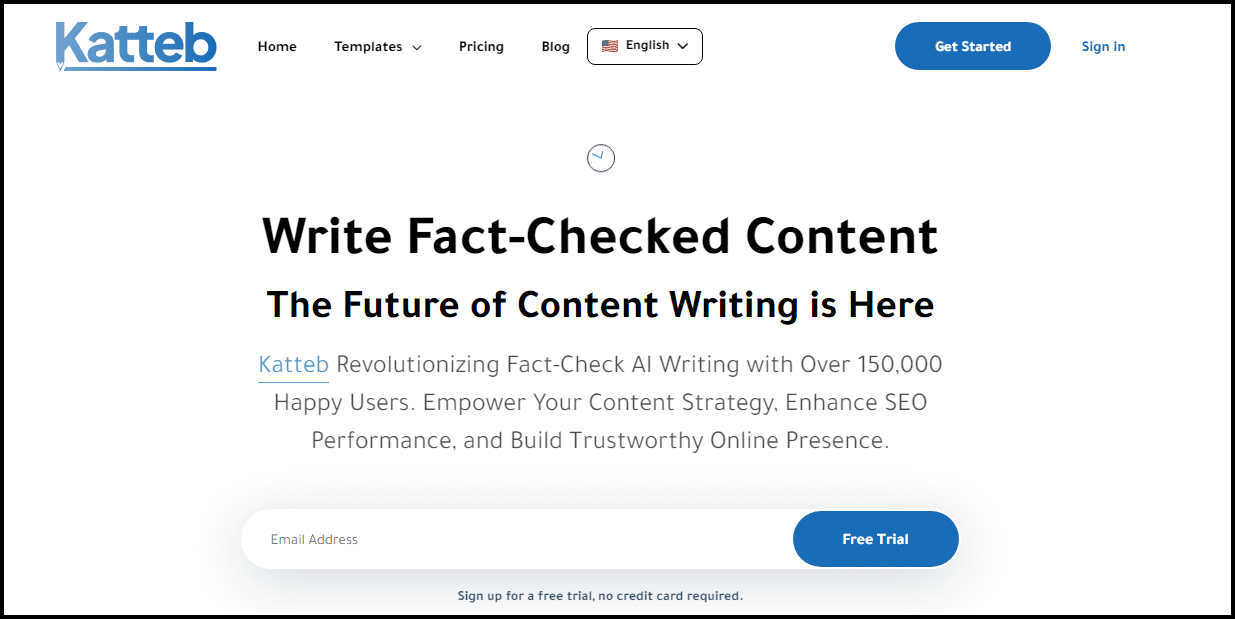 Katteb is an advanced AI copywriting platform that utilizes cutting-edge technologies such as GPT3 and J1 Jumbo.
With a user base of over 2,00,000 worldwide, Katteb provides a diverse range of content generation options, offering 30+ AI templates, additional tools, and support for more than 60 languages.
Key Features and Pro
Katteb seamlessly integrates with WordPress, allowing you to conveniently schedule and publish your generated content directly on your WordPress website.
It also provides Facebook and Google ads generators.
It offers an inbuilt plagiarism checker tool with the ability to add in-text citations.
Katteb offers a wide range of valuable tools, including the Long Form Article Writer, a Proofreading Engine, Related Image Suggestions etc.
Cons
While Katteb excels in generating content quickly, it may need more human touch and creativity than human writers can provide.
Katteb Lifetime Pricing
Katteb offers a Lifetime access plan starting at $39, allowing users to generate up to 15k words per month.
| Pricing | Words | Additional Features |
| --- | --- | --- |
| $39 | 15000 words/month | all features |
| $78 | 30000 words/month | all features |
| _ | 45000 words/month | all features |
10. Yaara Lifetime Deal
Oops! This lifetime deal price has expired. Grab other tools before they expire too.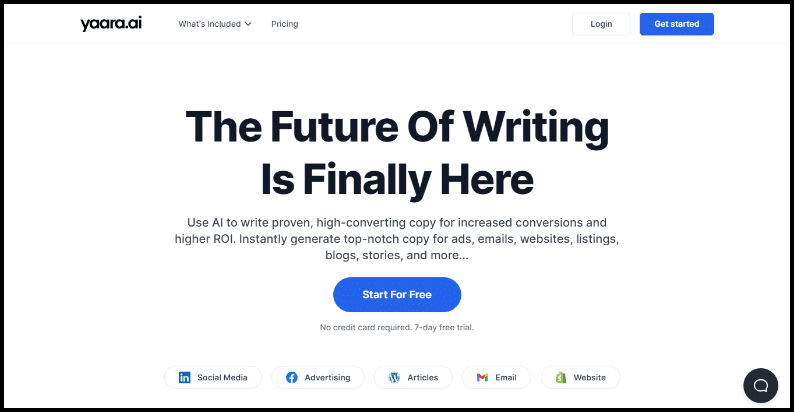 Yaara is a game-changing AI platform for businesses worldwide.
Effortlessly create engaging content for blogs, social media, and marketing.
Key Features and Pro
It provides access to over 90+ pre-designed content templates in various categories.
It offers 10+ tones and customizations for greater control.
It offers writing in 25+ languages.
With Yaara, businesses can create SEO-optimized content, improving their online visibility and attracting more organic traffic to their websites.
It also offers Grammarly, long-form content generation and paraphrasing.
Yaara Lifetime Pricing
Here are the available lifetime plans:
| Pricing | Words | Additional Features |
| --- | --- | --- |
| $39 | 30000 words/month | 2 user access |
| $89 | 100000 words/month | 5 users |
| $189 | 250000 words/month | 10 users |
How to Choose the Right AI Writer Lifetime Deal
There are many AI writing tools offering lifetime deals.
So, you need to check the below things while choosing AI tools for yourself so that you don't waste money on the wrong tools.
Assess your needs and goals: Determine your specific requirements for an AI writer and identify your goals in using the tool.
Evaluate features and capabilities: Look for AI writers that offer the features and capabilities that align with your needs, such as content generation, SEO optimization, language support, etc.
Consider pricing and lifetime deal benefits: Compare the pricing of different AI writers and evaluate the benefits offered in their lifetime deals. Assess if the cost aligns with the value you expect to receive.
Read user reviews and testimonials: Take the time to read reviews and testimonials from users who have experience with the AI writers you are considering.
FAQs On Best AI Writer Lifetime Deals 2024
1. Are AI writer lifetime deals worth the investment in the long run?
AI writer lifetime deals can be a valuable investment in the long run, offering cost savings and access to powerful AI writing tools escaping monthly payments.
2. Do lifetime free AI copywriting tools support multiple languages?
Absolutely! These AI writing tools are designed to support a wide range of languages globally. In addition to English, they offer compatibility with languages such as Spanish, German, French, Italian, Polish, and Japanese.
3 How legitimate is AI writing?
AI writers helps reduce the time needed to write content. Content writer can generate content from AI tools and then make changes to fit the needs of the users.
4. Is it possible to replace human content writers with AI-powered copywriting tools?
AI copywriting tools provide efficiency and scalability but can't replicate human perspectives or unique writing styles. AI cannot replace human writers.
Conclusion On Best AI Writer Lifetime Deals
AI writers are indeed gaining momentum and are becoming increasingly popular.
These AI writing tools have the potential to enhance the quality of content and boost the success of blogs, businesses, and ad campaigns.
Regarding lifetime deals, I haven't used all these tools, but made this listing based on features provided and reviews of users.
Moreover, these lifetime deals are for limited times. So, act fast!
So, which AI writer lifetime deal are you going to grab?
Let me know in the comments section.