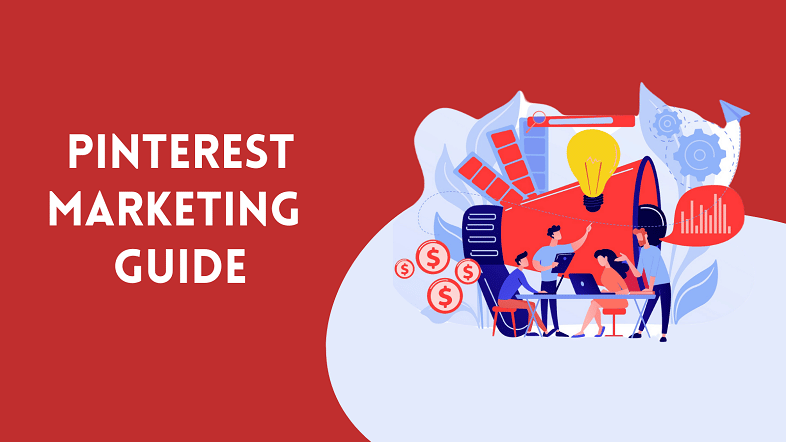 Are you trying to get success with your Pinterest marketing in 2023, but not getting the results you desire?
Or
You're new to Pinterest and don't know how it could help to get more visitors to your business or blog.
Don't worry.
This ultimate Pinterest marketing guide includes the exact strategies and tips that I personally used to skyrocket my website traffic from Pinterest in only a few months.
Let's dive into it.
Is Pinterest Marketing Worth Your Efforts?
With over 445 million monthly users in 2023 and being the 15th largest social media platform in the world beating Twitter, Pinterest could help reach your business goals and get traffic to your website or online store.

In other words, Pinterest can help grow your online presence and make money.
Here are some of the reasons why you should use Pinterest for your business success:
1. Pinterest is Not Just a Social Media Platform
Pinterest is not just a typical social media platform like Facebook or Instagram.
Actually, it's more than that.
Pinterest is a visual search engine.
People don't come to Pinterest just for passing free time and scroll through.
Instead, they come to Pinterest to find new ideas, and inspirations and for making buying decisions.
So, unlike in cases of social media like Facebook or Instagram where people come to connect with others without any intention of learning…
This makes it much easier to get people to click and visit your website through Pinterest as they are more focused on learning and taking action.
So, it's easy to make Pinterest marketing work for your business as all you have to do is follow the Pinterest marketing best practices and get your pins ranked at the top.
2. Pinterest Pins Are Evergreen
You normally need to post new content on social media like Instagram every day due to the very short life of posts.
An Instagram post has a life span of only 21-48 hours.
Facebook post has a lifespan of only 5 hours and Twitter even less (only 15 minutes!).
Luckily! That's not the case with Pinterest.
Once you post a new Pinterest pin, it could keep getting potential saves and clicks for a long period.
Pinterest pins have a longer life span of around 6 months or even more than a year.
Even some of my best-performing pins were posted months ago and still generate great clicks for my website.

So, you need to get successful with your Pinterest marketing once and it could make you money for a lot of upcoming years.
3. Pinterest Users Spend More Money
It has been found that 83% of Pinterest users are always willing to buy something or spend money based on what they search for or see on Pinterest.
Hence, it has highly conversion-focused traffic that could help you achieve more sales or more affiliate income for your blog or business.
More than that, 97% of top Pinterest searches are unbranded.

For example, when a user wants to buy shoes, he will not search for "Nike shoes".
However, they search for unbranded keywords like "best shoes for men" or "good leather shoes" etc.
This means small business owners even get more opportunities to sell their products online than ever.
So, it proves that Pinterest can be beneficial for your business and could get you a lot of website visitors for a long time.
Let's now see the best Pinterest marketing practices and strategies that I personally used to make it work for my blog.
Best Pinterest Marketing Strategy For 2023 (That Actually Works!)
If you want to succeed with Pinterest marketing, you would need to consider its feature of being a search engine.
Along with creating unique images, you need to work on Pinterest SEO, keyword research, and more.
One more thing!
As Pinterest's a search engine, it takes time to rank your pins in search and start getting initial traffic and results for your pins.
So, don't get disappointed if you are not getting traction on Pinterest for the first few months.
Earlier, when I just started on Pinterest, I got close to zero results for the first three months.
But, I kept working on Pinterest and now, it is generating good clicks for my blog.

So, keep pinning strategically and Pinterest will eventually pay off.
These are the best Pinterest marketing strategies for 2023 that you need to follow from the start to rock your Pinterest-
1. Set Up Your Pinterest Business Account
The first step for starting promoting your business on Pinterest is to set up your Pinterest business account.
You can sign up for a business account for free by providing basic details like name, age, country, website, and more.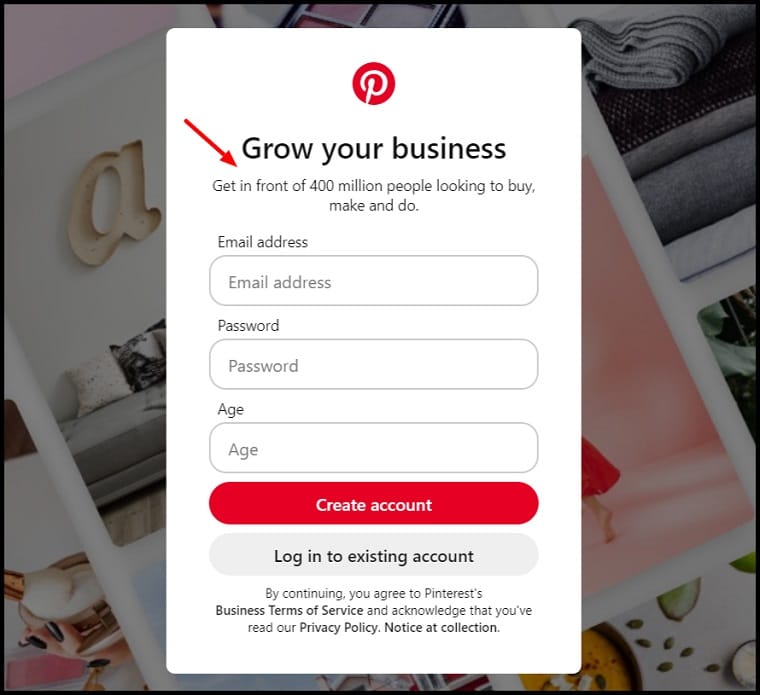 If you currently have a personal Pinterest account, you can also convert it into a business account by clicking on "Convert to business account" in settings and filling up your website URL.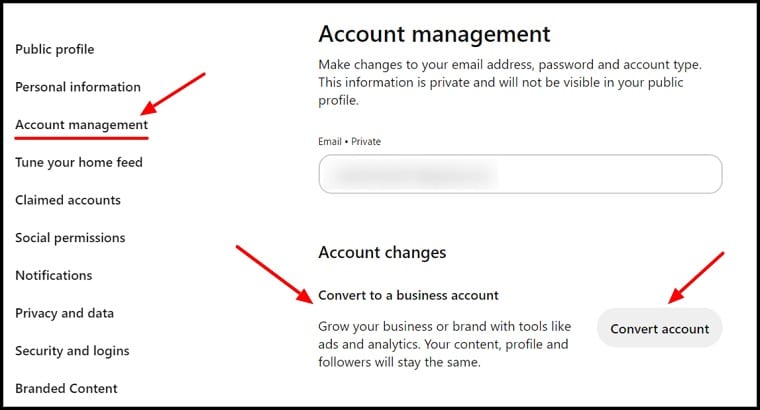 Having a business account provides you additional access to advanced analytics and Pinterest Ads tools.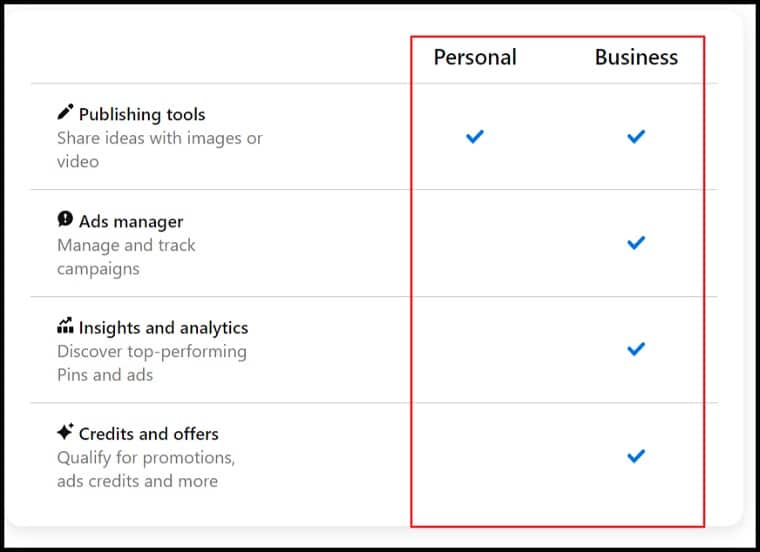 2. Claim Your Website
Once you set up your business account, it's time to claim your site on Pinterest.
As it helps Pinterest verify whether you're the real owner of the website or not.
This helps Pinterest to rely on your ownership, provides access to advanced site analytics, and a tick before your website URL on your profile like this: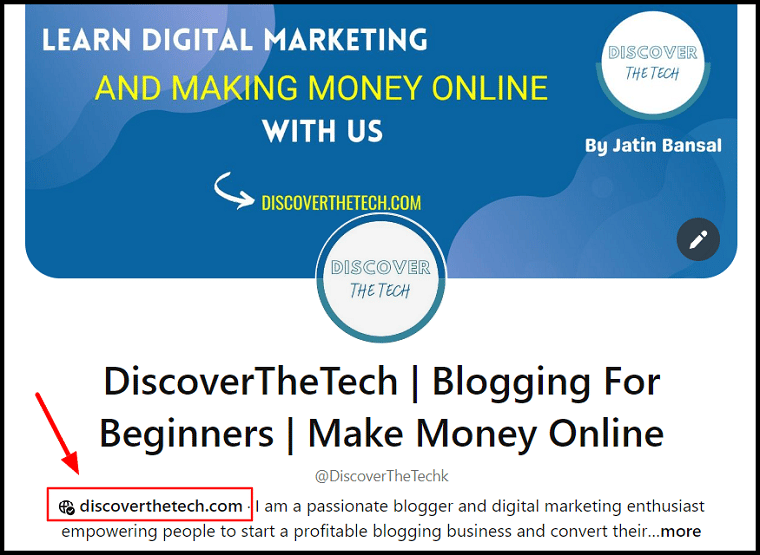 You can easily claim your website by going to Settings>Claimed Accounts>your website URL and then clicking on Claim.


For verifying ownership, you can either upload an HTML file, an HTML tag, or a TXT record.
Check more on the steps of claiming your website here.
3. Optimize Your Pinterest Profile
Now, it's time to optimize your profile so that it could help Pinterest know what your profile is about.
So that it could show your profile to users when they search for related terms and topics.
Adding the right Pinterest keywords to your profile will help you reach your target audience.
For example, I blog about starting a blog, tips, and making money online.
So, I have included these keywords in my display name and profile description. (to make it SEO friendly)

For editing your profile, head over to Settings>Public Profile and make the desired changes, and hit on the Save button.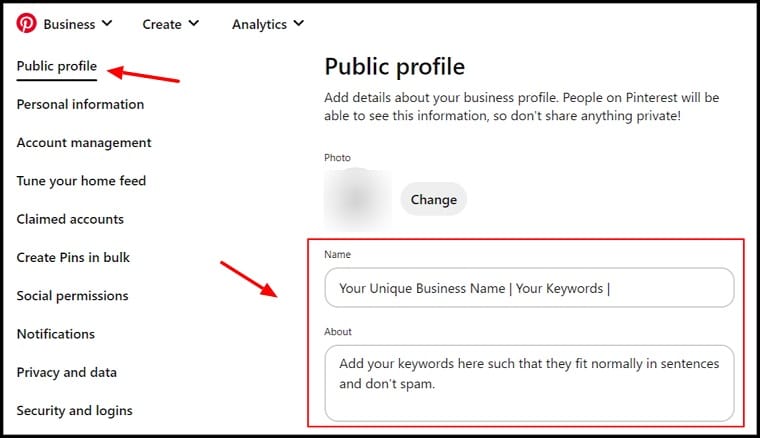 4. Apply For Rich Pins
Rich pins are a free Pinterest SEO feature and help in providing more context to your product, recipe, or page pins.
What are Rich Pins?
Rich pins are organic pins that include extra information from the content to which it is linked.
This information is automatically synced from the pins landing page and whenever you make a change in your landing page, the information on all your pins linked to that page also changes.
So, rich pins help in keeping your pins updated on Pinterest as well as provide more information to Pinterest users on what your page is about.
There are three types of rich pins that you can use for free-
Product Pins– includes real-time pricing, stock availability, and where to buy products.
Recipe Pins– provides cooking information, ingredients, and serving sizes.
Article Pins– shows author, story description, and article headline.
And there is one more type of pin i.e App pins, but it's only available for promoted pins.
They show an install app option on your pins so that people can install your app without leaving Pinterest.
Benefits Of Rich Pins
These are the best benefits of using rich pins over simple pins:
Extra information provides more context to users and to Pinterest as a search engine.
They feature your logo and website name along with the pin.
Pinterest users will get to see a follow button along with your pin that helps in gaining reach.
They update automatically. For example, if you change the product price on your landing page, the price will be updated for all your linked pins.
Bold title in the feed to make your pins stand out.
Let's see an example of the extras you'll get in the rich pins over simple pins.
This is a simple pin with no extra info.

But, the rich pins provide much more brand power as in this pin by Adidas.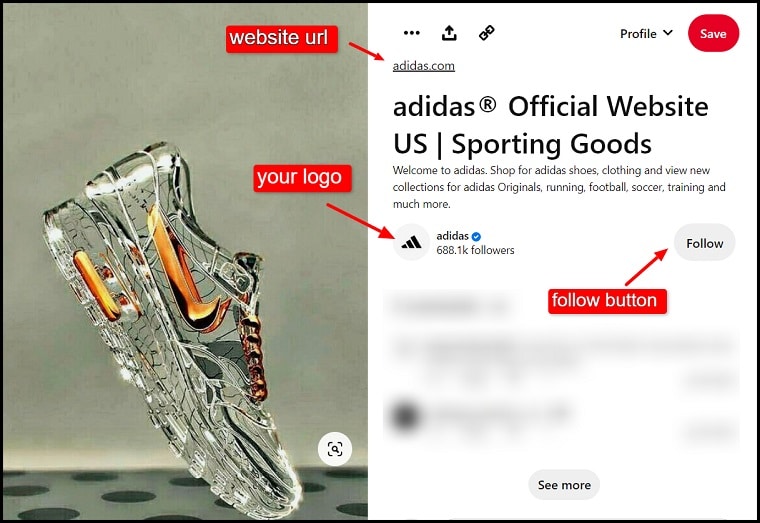 If you use WordPress for your website, then you can check this quick guide by Yoast to set it up for your account.
5. Set Up And Optimize Your Pinterest Boards
Your Pinterest profile consists of multiple boards related to different sub-topics of your niche.
For example, if you have a recipe blog, you may have boards like vegan recipe boards, gluten-free meal boards, and more.
So, Pinterest boards are where you'll save your pins into like top categories.
If you're just starting out on Pinterest, I recommend you create 5-10 Pinterest boards that are highly relevant to your niche.
And how you could find it out?
That's easy.
You just have to ask yourself a few questions and you'll come up with the best board ideas.
Here they are-
What is your blog or website niche?
What are the biggest problems of your target audience?
What your posts are about?
And what are the things that your target audience is always searching for?
Once you figure that out, you'd definitely come out with some great ideas for your Pinterest boards.
You can easily create new Pinterest boards by going to the Saved tab, then clicking on the plus icon, and then on Board.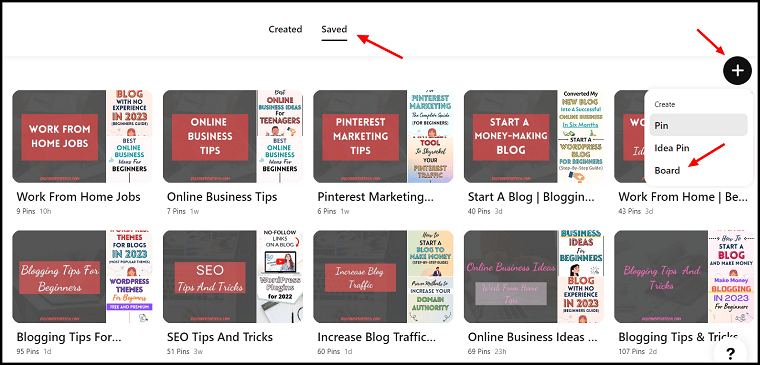 One important thing!
You should also optimize your Pinterest boards for SEO so that it could help figure out Pinterest what your boards are about and get them to rank at the top when someone searches about your topic.
So, you must use keywords in your board title and description that your audience is searching for. (more on keywords later)
For example, you can name your breakfast recipes board "Tasty Breakfast Recipes" instead of using a cute name like "Tasty Mornings".
Because the first board name is clearly SEO-friendly and includes the exact keywords that your target audience would be searching for.
After you do your Pinterest board SEO, you should make sure that you add only relevant pins to your board as it helps Pinterest get a better idea of your board's topic.
6. Find Potential Pinterest Keywords To Rank For
As we keep talking that Pinterest is a search engine…
It collects as much content (i.e pins) as possible, then sorts all the data based on the relevance of keywords and other things, and at the end, it delivers the best possible content for the search queries made.
So, your keywords play an important role in helping Pinterest know what your pin is about and where and to whom to display it to.
Hence, you should use highly searched keywords in your Pinterest strategy to get potential eyeballs to your pins.
How To Find Highly Searched Pinterest Keywords?
You should not work on your instinct in terms of using keywords.
Because every person searches for the same content in different ways.
The most beginner-friendly technique to find Pinterest keywords is with the Pinterest Search Bar i.e Pinterest Autocomplete.
You just need to search for a broad topic in your niche, let's say in this case "Pinterest marketing" and the tool will automatically start suggesting more specific keywords for your search as in this image.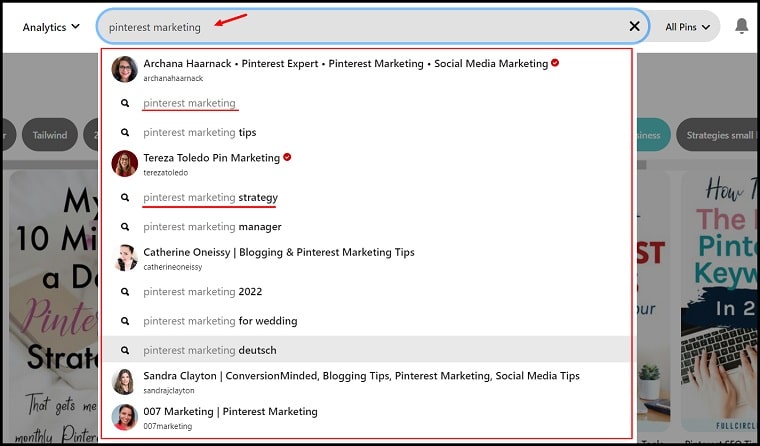 Further, when you will hit enter with your search keywords, some boxes will appear at the top of Pinterest search results as Guided Search.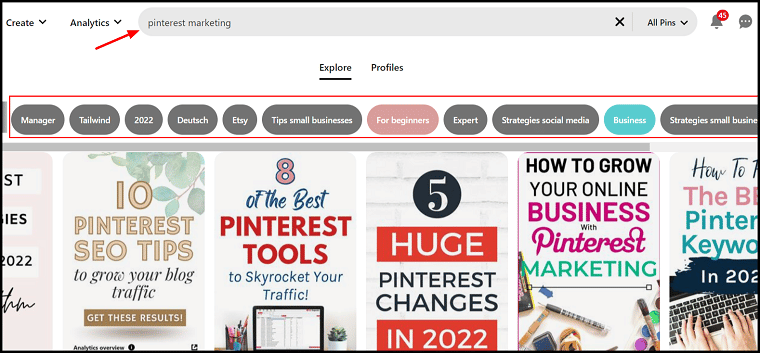 And these are the exact keywords that are in trend and that users are currently searching for to find helpful content and discover new ideas.
There are many further advanced methods to do keyword research on Pinterest that you can learn here.
Now that you found some keywords to rank for, this is the time to know exactly where to use them.
7. Leverage Your Pinterest Keywords
You must use your target Pinterest keywords at as many places as you can.
But, you should not harm your Pinterest marketing strategy by spamming and doing keyword stuffing.
You need to use appropriate keywords in the sense that you're writing it for people.
So, you can use keywords in sentences such that they make some sense and not try to fool the search algorithms.
Because Pinterest has now become more and more strict with spammers and also excludes spam pins from being shown to users.
For example, if you have a pin about "chocolate cake recipes", you should not write a description like this-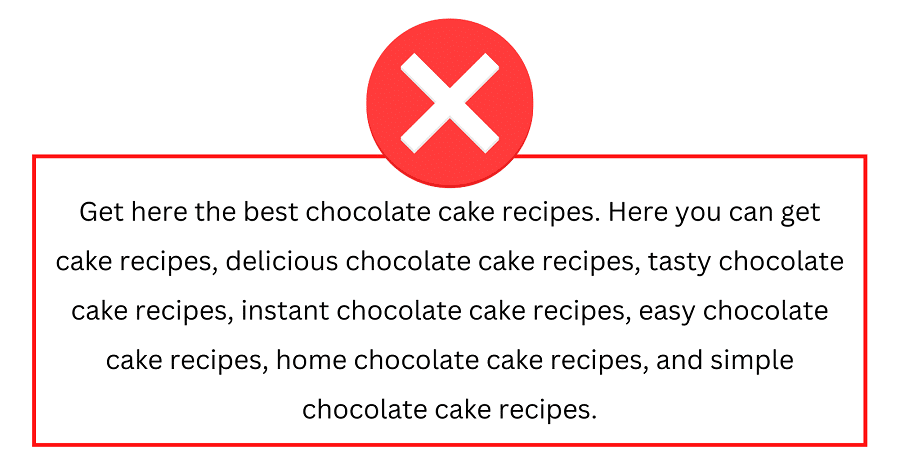 Instead, write in an understandable and more helpful context like this: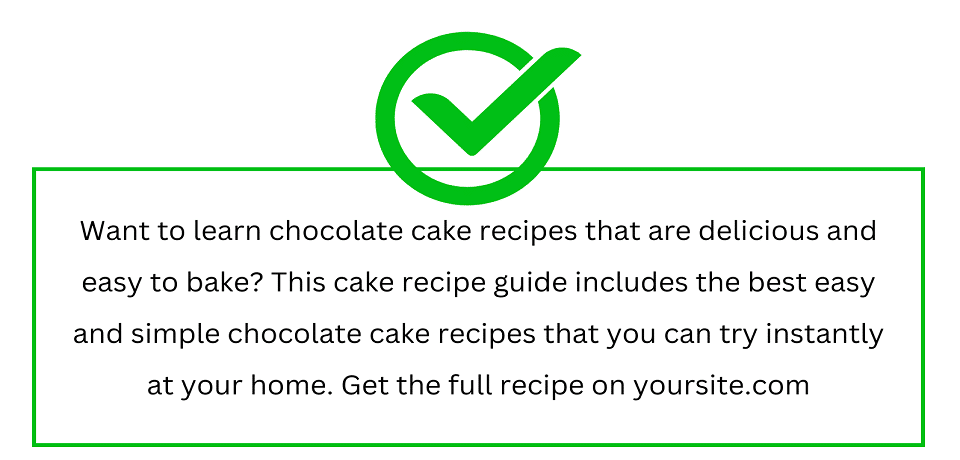 This simple thing alone could increase the chances of your rankings on search results.
And also guides Pinterest that you're a trustable source.
Some tips for writing great descriptions:
Keep your pin description 200-400 words long as keyword-rich descriptions are valuable for your pin to be found in search.
Don't use hashtags (they're outdated).
The descriptions should be actionable so that it provokes them to go to your site.
Don't use words like "Click to pin" as it is seen to reduce your pin reach.
No sales CTA's like "Buy Now"
Best Locations to Insert Your Pinterest Keywords
Below are the smart places where you can insert your keywords:
Your bio and profile
Pin titles and descriptions
Board titles and descriptions
Text overlay i.e the text you write on your pin images. (Pinterest can actually read it)
Your image file names. Instead of using a file name like dj37.jpg, use a keyword-rich file name like your-keyword.jpg
Pinterest image alt texts
Using relevant keywords in these places will help Pinterest understand your content and rank it accordingly.
And don't hesitate to use related long-tail keywords therein.
Although, they have fewer monthly searches…
…but these are also the keywords that are less competitive and easy to rank for.
8. Create Unique and Clickworthy Images
As Pinterest is a visual search engine, people come to Pinterest and check the content with the help of images.
And then click on the pin image, that looks attractive to them.
So, you need to create unique pins so that your pins stand out from the rest.
You should focus on quality rather than quantity.
Earlier we used to post 10-15 simple pins every day with only text and not-so-great designs.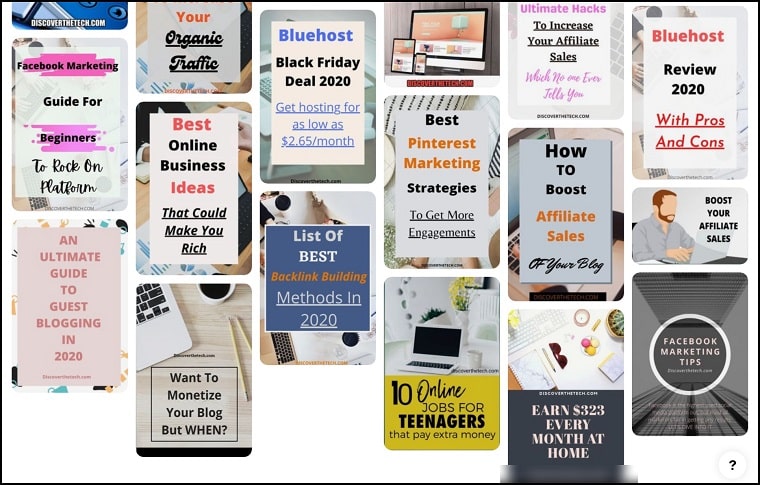 But, now I have reduced my pins and started working on good designs like these.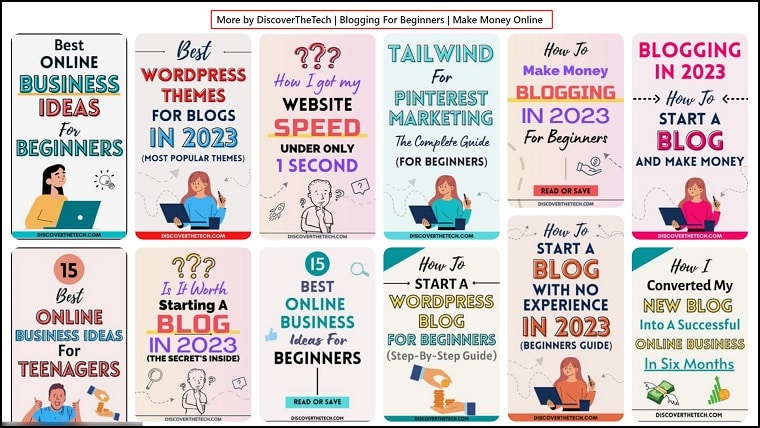 So, which pins you are more likely to click on?
The obvious answer would be the latter one.
Creating good design pins is important because you don't only want users to watch your pins.
Your main focus should be on getting link clicks and that could be done by making unique and eye-catching pin designs.
I recommend using Canva for creating compelling pin designs and the best part is that it's free.
These are a few powerful tips to create click-worthy pin images:
Use the right size– Vertical images dominate on Pinterest. The best pin aspect ratio for the highest visibility is 2:3 (recommended by Pinterest) and 9:16
Image Width– Pinterest says 1000×1500 is the optimal image size so that it doesn't get pixelated in people's feeds.
Text Overlay– Catch people's attention by adding text in the pin image. It also helps with SEO.
Brand your pins– Try placing your logo or website name in each of your pins to showcase your brand.
Use compelling elements– Use great visuals, and attractive color combinations to make your images stand out.
Use related images– Use images that are somehow related to your pin content. For example, if the pin is about a "food recipe", there's no relation if you are using "car image" in it.
Also, check your competitor's best-performing pins because if that worked for them, will work for you too. So, you can get inspired by their designs and reinvent the wheel.
Moreover, 82% of Pinterest users are mobile users.
So, create pin designs optimized for mobile screens.
You can optimize your designs for mobile by keeping text overlay sizes that are readable on mobile.
For more design tips, check out this resource by Pinterest on creative best practices.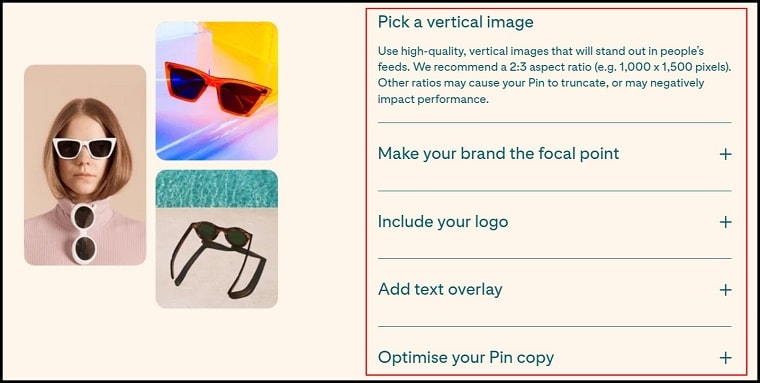 9. Pin More Often and Space Out Your Pins
There is no magic formula for how many pins you should post to Pinterest every day.
You need to make sure that you don't pin too often that you start compromising your pin quality.
But, you also want to be active enough that you gain the highest reach on Pinterest.
As per Pinterest's best practices for 2023, you should pin around 5-25 pins a day to get the highest reach.

If you have less content, you can post 5 pins a day and if you have more content, you can go on the higher end.
Tailwind, a Pinterest-recommended social media scheduling tool recommends that if you pin more than 50 pins/day, it could be risky and hurt your Pinterest reach.
Moreover, don't just post your pins all at once.
Don't do like you post 30 pins today and don't post anything for a week.
You need to be consistent with your Pinterest marketing.
It is recommended to space out your pins throughout the day.
So that your activity does not look spammy and you reach most of your audience, who is active at different intervals of the day.
But, there's a problem.
It could be a difficult process to manually post pins to your Pinterest account at different times of the day.
Sometimes you could skip posting as you could be sleeping, be with friends, or simply forget to post.
There's a simple solution to this problem i.e Tailwind.
It's a free Pinterest scheduling tool that you can use to schedule your pins ahead of time and automate your pinning process.
(More on Tailwind later!)
10. Focus More on Fresh Pins
Pinterest is increasingly prioritizing fresh content over old pins as users want to see new pins every day.
And what users want is the top priority of Pinterest.
Now, what exactly are fresh pins?
Fresh pins are defined by Pinterest as images or videos that haven't been posted on Pinterest before.
This means they are completely new to search engines.
You can create several pin images for the same blog post or page and each of those would be fresh whenever posted on Pinterest for the first time.
But, keep in mind that the following changes will not make your pins "Fresh Pins"-
Pinning the same image with a different title or description.
Repeating old pins with different Pinterest URLs i.e posting old pins without repinning them. Back in 2018, they were considered fresh, but now they're not.
Making negligible changes to the images that you have pinned before like moving your image background slightly to fool out Pinterest algorithms)
For example, check out these pins.
Both images are the same, but the different text overlays make them unique.
But, I don't recommend overdoing it as this may appear spammy on a big scale.
Using unique designs is a good option.
Hence, posting fresh pins would get you more reach and your pins will be shown to a larger set of audience.
11. Save To The Most Relevant Boards First
You need to make sure that Pinterest best understands what your pin is about.
And one of the factors that Pinterest uses is the boards you are saving your pins to.
So, you should save your pin to the most relevant board first.
How to find out which boards are most relevant?
No big task! These questions would help you find a way-
Which board's title and description best match your pin content?
Which board has the most related pins like the new one?
This way, you'll find the best Pinterest board to pin your content to.
For example, if have a pin about "Chocolate Cakes", you would pin it first to "Chocolate Cakes Board", then to "Cake Recipes", then "Desserts" and so on.
If you don't find a good board option for your pin going through these questions, you can also create a new board ahead.
After your pin is posted, you should not post the pin to other most relevant boards right away.
I like to keep an interval of 4-5 days between posting the same pin over to some other board.
Back then when I was new to Pinterest, I kept track of pinning intervals manually.
But that is really a time waste as I needed to keep track of my pins and boards along with timings.
This problem also has the same solution i.e Tailwind.
With Tailwind smart scheduler, you can easily schedule your pin to different boards with your desired interval timings in one go.
Pro Tip– Earlier, Pinterest experts recommended saving your pins to as many Pinterest boards as you can. But, this is no longer the case.
Now, it's best to save your pins to 10 or fewer relevant boards to get the most benefit.
12. Explore Different Pin Formats
As we know, Pinterest is a visual search platform, but it's not only confined to images.
You can also try other pin formats like video pins for guiding your users with a tutorial, idea pins showcasing a small recipe on Pinterest, carousel pins for showing different colors of the same e-commerce product, and more.
For example, this is a video pin by Nike.
Pinterest has also started a new pin format i.e Try on Product Pins.
And this is best useful to fashion and lifestyle blogs.
It is a feature that lets people virtually try on products they find on Pinterest using Pinterest Lens.
If you have a product pin and someone clicks on try on, Pinterest would visually get a person to try out that thing like an example of "lipstick" here.
This feature once enabled will ultimately help you to improve your sales because it helps users take the best buying decisions.
You need to reach out to your Pinterest account manager to enable try-on for your products because it's not available for all users.
13. Add Pinterest Sharing Button to Your Website
You should encourage your blog or website visitors to share your content across Pinterest.
And this can be done by adding Pinterest sharing buttons to your website.
Like I did on my website.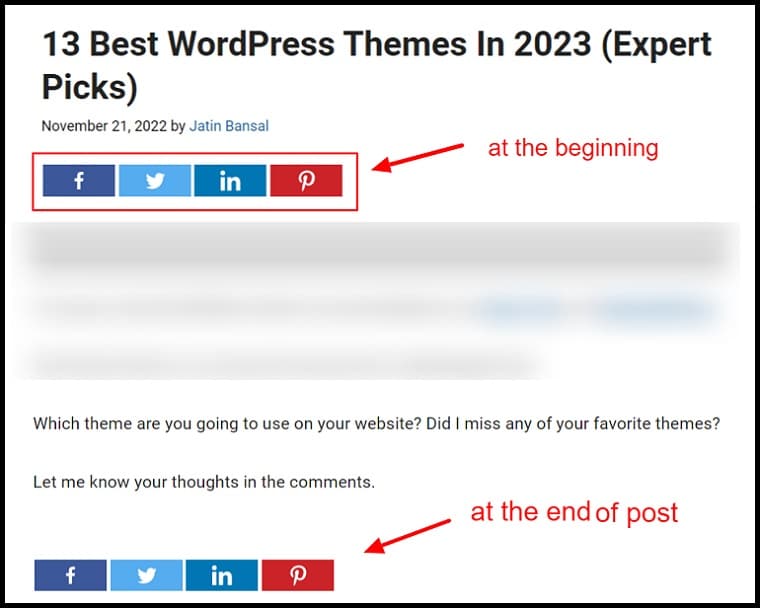 If you are running a website with lots of images like in fashion or photography sites, you can also add a pin-it button to each image for increasing your social shares even more.
Adding Pinterest sharing and follow buttons helped me increase my Pinterest engagement by huge numbers.
However, I took it to next level by adding Pinterest-optimized images in my posts for being shared.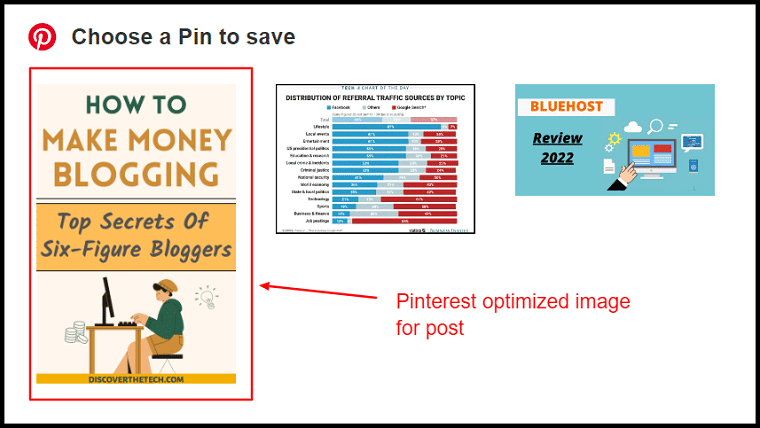 But the problem is that Pinterest prefers long images (2:3 aspect ratio) that don't fit blog layouts.
And images being high-resolution are larger in size, hence, reducing website speed.
The simple solution to this problem is using Pinterest hidden images in your posts and pages.
This means the image will not be shown on your page.
But, as soon as the user clicks on the share button, the optimized image will be available to be pinned.
You can use Pinterest hidden images either by using a social plugin like Grow by Mediavine or by using some lines of code.
Learn more about the free and paid methods for hidden images here.
14. Analyze Your Pinterest Marketing Strategy
As you draft your own Pinterest strategy for your website, it's important to know if you're getting optimal results from it or not.
And you can do it using Pinterest Analytics.
On your profile, click on Analytics> Overview and you'll get to see your profile performance reports.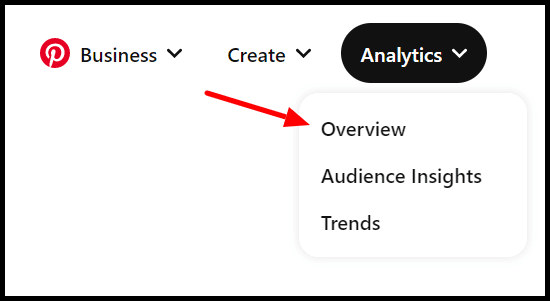 Pinterest Analytics provides you with a lot of valuable insights that you can use for optimizing your Pinterest marketing efforts-
Your overall profile performance.
Audience insights like their gender, age, country, and devices used by users like mobile or PC.
Information about saves, repins, and outbound clicks to your website.
Data about your top-performing pins.
You can use these insights to make changes to your marketing strategy so that it remains top-notch.
For example, you can learn from your top pins and use similar designs and images while creating new pins in the future.
You can also check audience insights for their gender, age, and from which country you get the most traffic.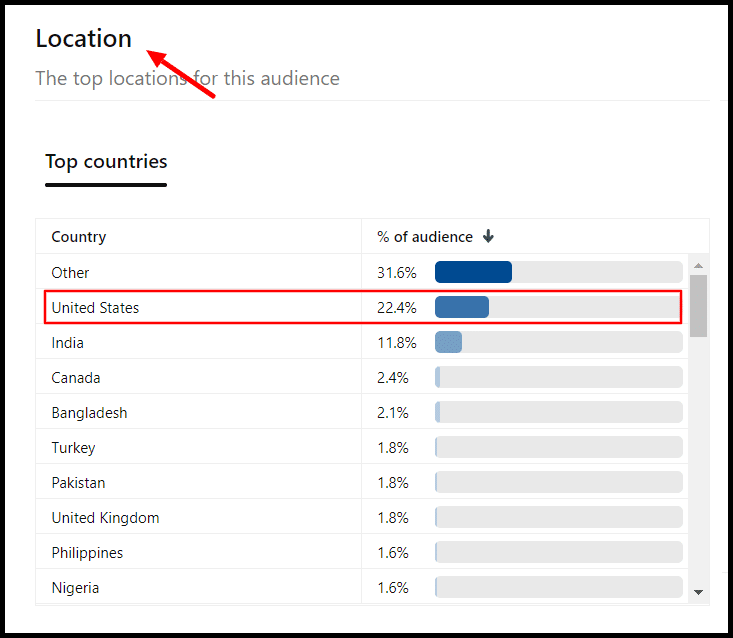 Like in this image, most of my traffic is from the U.S.
So, I have optimized my pinning schedules according to the timezone of the United States i.e EST for the highest reach.
15. Automate Your Pinterest Marketing
You need to post your pins to different boards at different times of the day.
This makes Pinterest marketing a lot of time-consuming.
As business owners, we have a lot of work to concentrate on like creating content, email marketing, social campaigns, sales pages, working on SEO, and so on.
And I know that you don't want to increase your stress by additional work of posting on Pinterest in it.
So, what if you can automate this boring work of posting pins to Pinterest in just a few clicks?
Yes!
All of us would be more than happy to hand off this work from our busy schedules.
So, you can use a Pinterest scheduler to automate and schedule your pinning process ahead of time.
When talking about Pinterest scheduler, the only thing that comes to my mind is Tailwind.
Tailwind claims that you can plan and schedule an entire week of pins in just 20 minutes with their smart scheduler.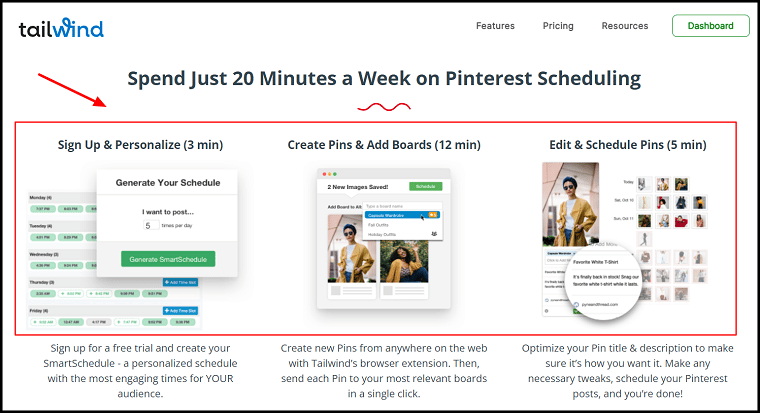 It will help you to stay at the top of your marketing plan and increase your website traffic by providing smart schedules for your pins.
Tailwind is the best scheduler in 2023 and is an official Pinterest partner, making it 100% safe to use.
Also Read– Tailwind Review For Pinterest In 2023 (Best Free Scheduler)
The average Tailwind member gets 6.9x more repins and 3.7x more followers on Pinterest.
These are some Tailwind features that make it best-
1. Create a Smart Schedule– You just need to tell Tailwind how many times you want to pin in a day. Tailwind will then create a personalized schedule with the best time slots when your pins will get maximum reach.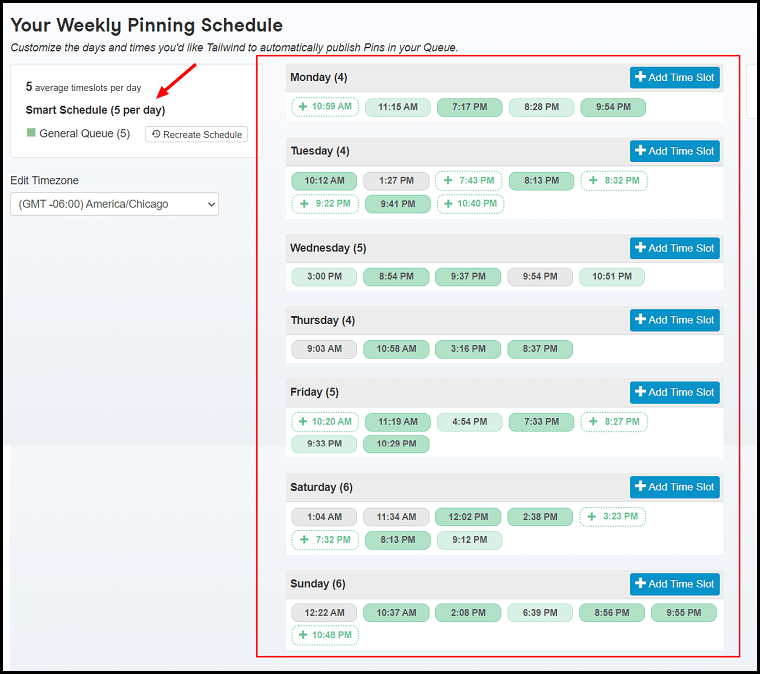 2. Multi-Board Pinning– It enables you to schedule your pins to multiple boards at desired time intervals in one go.
3. Smart guide– Its smart guide features give recommendations and fixes to keep your pinning as per recommended best practices and will alert you if it spots risky behavior.
4. Schedule and Forget– After you schedule your pins, Tailwind will get your pins published at the best times without needing even a single click from you.
5. Create Designs Fast– You can design great pins much faster using Tailwind Create.
6. Tailwind Communities– In communities, you can share your pins to be pinned by other members for higher reach.
Tailwind has all those features that are needed for a successful Pinterest strategy.
And above all that, you can start using Tailwind for free.
You don't even need to enter your card details to start using it.
Bonus Pinterest Marketing Tips
These are some of the extra Pinterest marketing tips that could add to your growth.
The best time to post on Pinterest is 2 pm to 4 pm and from 8 pm to 1 am and use a timezone from where most of your audience is.
Create multiple pins for your posts– Create different pin images for the same linking page as Pinterest considers it as a fresh pin.
The 80/20 rule doesn't work now– You don't need to limit your own pins to only 20% and use 80% of your schedule for others' pins. Pinterest loves users who share fresh content with the audience.
Pinterest Group Boards– Only join quality group boards and focus more on your own boards.
Pin Relevance– Only save relevant pins to your profile so that Pinterest has a clear idea about what you're an expert in.
Pinterest Trends– You can use the Pinterest trends tool to compare different topics over time. Adding it to your keyword research strategy would help you a lot.
Final Thoughts For a Perfect Pinterest Marketing Strategy
All the above tips that I mentioned are proven to provide results, as I used them myself on my blog.
Pinterest could help you achieve great results and sales, once set up correctly.
You need to work on your Pinterest strategy keeping in mind that it's more of a search engine than a social media.
Hence, you need to use keywords and optimized boards for ranking on Pinterest.
You need to stay patient with your strategy as it could take some time for results to take off.
Further, you can even speed up your results using an automation tool like Tailwind.
Don't think too much.
Take your first step towards your Pinterest success by creating a Pinterest business account now.
Do you think that Pinterest marketing could help achieve results for your business?
Which strategies are you going to try and have you achieved any results so far?
Let me know in the comments.