Are you not getting the desired traffic results from SERPs?
If your competition always outrun you despite your every effort?
Then I assure you that after reading this post and sticking to these strategies, you will surely start getting a decent amount of traffic from search engine results.
And the solution is Long-Tail Keywords
.Yes, you heard it right.
If you are having a beginner or an average blog with less authority in the niche, long-tail keywords are going to work best to rank in search results because they have low competition.
Moreover, they also have great and much higher conversion rates than short-tail keywords.
So it becomes a win-win situation for you if you use long-tail keywords the right way.
Let's dive in to know more about it.
What are Long-Tail Keywords?

Before getting deep into the topic of long-tail keywords, you firstly need to know what is a keyword.
So a keyword is a word or phrase which a user searches for while getting to know about a particular topic or subject.
They are also categorized into three different types-
Short-Tail Keywords: have one or two words as body; highly competitive; high search traffic; example- "food recipes".
Medium-Tail Keywords: have 3 words as body; medium competition; average search traffic; example- "healthy food recipes".
Long-Tail Keywords: have 3+ words as body; low competition; low search traffic; example- "healthy food recipes for reducing fat".
Now, let's see in detail what are long-tail keywords?
Long-Tail Keywords are the search queries made by users on search engines with 'more than 3 words' in the body.
Although they have low traffic volume, it's easy to rank for these keywords due to low competition.
Since these keywords are more specific in nature, the search traffic you will get would have a high conversion rate leading to an increase in sales of your blog.
There's another piece of data about long-tail keywords that would blow out your mind.
According to Hitwise, about 70% of organic search traffic comes from long-tail search queries.
So there's a huge scope that you could get plenty of targeted traffic by focusing on long-tail keywords.
Let's know more about it with the help of an example.
Assume that you are thinking to buy a smart tv of Sony under rs. 10k, what will be your search query?
Smart T.V 

Best smart T.V

Buy smart T.V
Rather, you will search for the following terms in Google-
Sony smart tv under 15k

Buy Sony LED with price 10k to 15k

Best Sony smart tv under 15000
And below search terms are all long-tail keywords.
So, it also becomes clear that long-tail keywords have much more CTR than short-tail keywords.
It also helps in reducing the bounce rate of your blog as users will get more specific and interest-based posts.
It's also easier to rank your website for long-tail keywords as competition seems to be low.
On the other hand, the generic short-tail keywords have huge competition and the top industry leaders have accumulated the first page.
It's also very difficult to get them behind because of their high Domain authority and backlinks.
Let's get back to our old example of the Sony smart tv.
Below is the image of the results, if we search Google for "smart tv"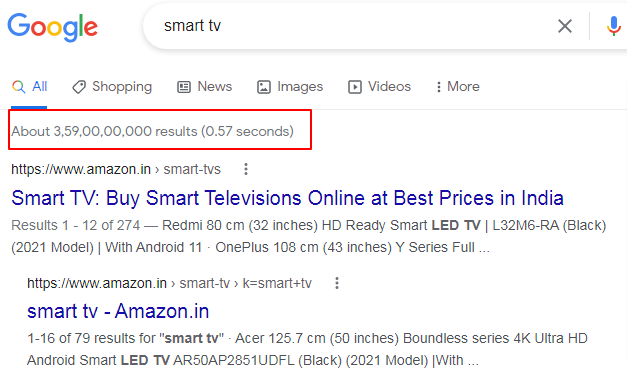 Smart tv being a seed word has extremely high competition with about 

3,59,00,00,000

results.
And our long-tail keyword "Sony smart tv under 15k" has low competition

1,33,00,000

and results are more favorable to searcher's intent as in the below image.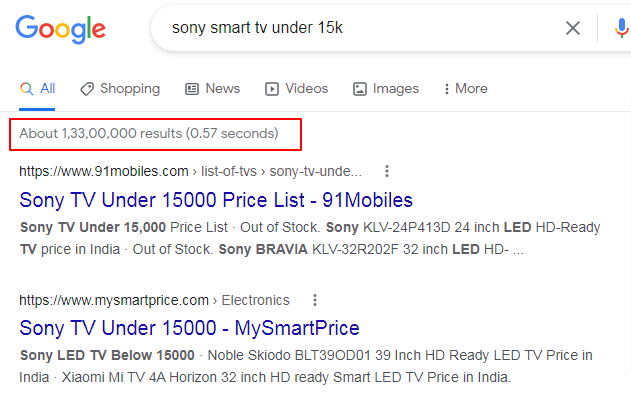 If your blog posts are of commercial intent, as in this example, it would also increase your leads and hence income.
Why Are Long-Tail Keywords Important?
These are the few points that will help you know about the importance of long-tail keywords for SEO.
1. Get Organic Traffic To Your Blog
Getting a good amount of organic search traffic to your blog is still a dream for many bloggers.
As they try to rank for seed keywords for which big brands and authority sites are ranking and it's almost impossible to outrank them because they have many towering resources.
But you can make this dream come true by working on long-tail keywords as they have much low competition because very few people are working on them.
2. Works Great With New Trend Of Voice Search
Google's voice search being introduced back in 2011, has now got a great trend.
According to Dbswebsite, 41% of adults use voice search at least once per day.
At a glance along with search assistants like Siri and Ok Google, usages of smart devices like Alexa and Echo dot has also grown a lot.
Even mobile users are also moving towards voice search over the traditional way of typing.
S
o, search engines like Google and Bing always try to make changes to their algorithms so they can provide better results to users.
And most of the voice searches made out are usually long-tail keywords, as most of the users who use voice search want to see more specific results to their query.
I
t's possible that your blog gets listed in voice search results if you use long-tail words as your keywords strategy.
3. Long-Tail Keywords Have High Conversion Rates
If your posts are of commercial intent and are sales-driven, long-tail keywords could help you get more income through sales.
As the users who are searching for long-tail words in search engines are more specific to their needs and have a strong thought of purchasing the product, which they are searching for.
From the previous example of "Sony smart tv," it has been clear that a user is more probably to make a purchase when he searches for a long-tail keyword.
Because when we searched for " buy Sony smart tv under 15k", Google got to know that a user wants to buy a sony tv and its price should be under 15000, and then it showed the desired results.
4. Long-Tail Keywords Have Double Effect On SEO
Long-Tail keywords can also help you rank for short-tail keywords.
If you pay attention, long-tail words always include seed keywords in them.
So, it helps you achieve two goals at a time.
Let's open the Semrush keyword research tool and enter "on-page SEO" as your seed keyword. Now, go to keyword variations. It will show you a list of long-tail words and all of them contain headwords in them as in the image.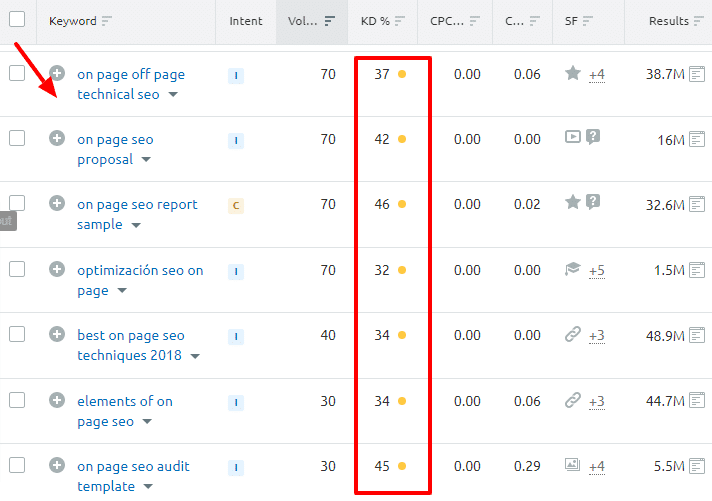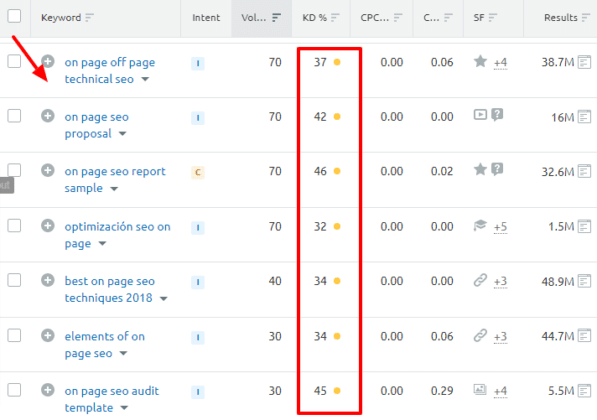 So, it helps us to focus on both the seed keyword as well as the long tail keyword, thus helping in increasing the possibilities of ranking.
5. Win Over Your Competition
Do you know?
Around 70 million posts are made daily on WordPress alone.
So, there's huge competition in every niche. And it's almost impossible for new and small blogs to outrank high authority players with the same old ways.
Because they are using those techniques and tricks at a really advanced level.
Most of the time, those big blogs don't waste their time on ranking for long-tail keywords due to low search volume.
And that's a plus point for you. It can provide you with a simple way to showcase your website in the SERPs.
Pro Tip– You can also rank your old posts by using long-tail keywords.
Find your old posts from Google Search Console which are ranking in between the Search pages like 20th to 30th page.
Now find long-tail words related to that topic and assist those words within your post like subheadings and wherever it looks genuine. It's likely to get you positive results.
How To Find Long-Tail Keywords For Free
There are many tools and methods to find long-tail keywords for free.
1. Ubersuggest's Free Keyword Tool
Ubersuggest is a free keyword research tool by Neil Patel. However, its paid version is also available but the free version provides you good starter access.
Firstly head over to Ubersuggest and enter your keyword like "vegan food" in the field, as in the below image.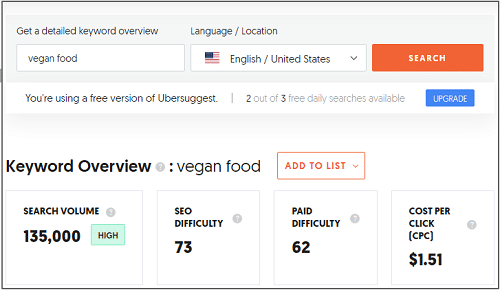 It will show you an overview of your seed keyword. Then click on the option of keyword ideas under keywords appearing on the left of the screen. It will display a list of all the keyword suggestions by default along with search volume, CPC, and search difficulty.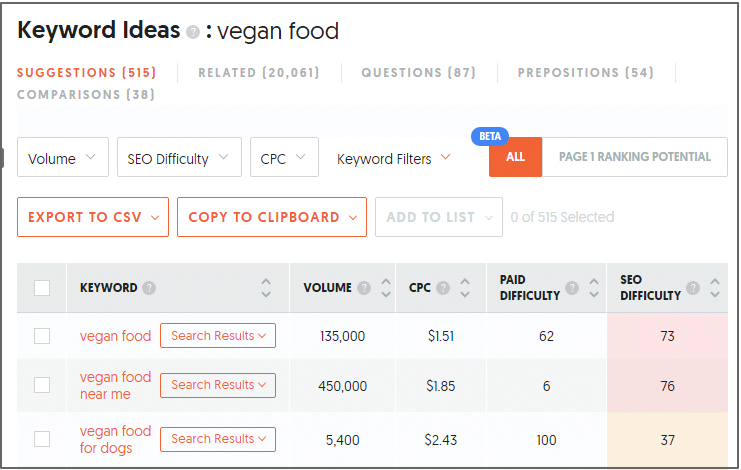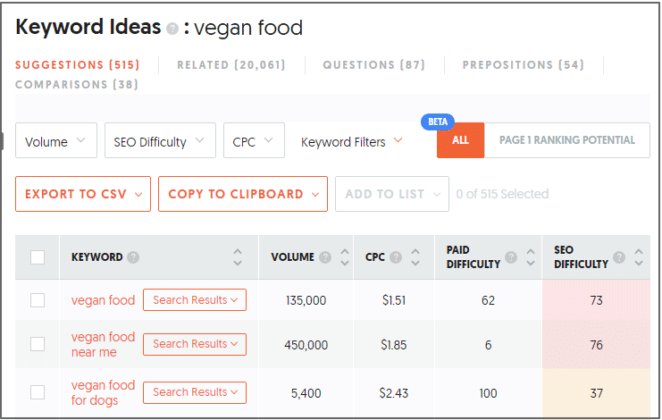 For getting into advanced research, put the filters of volume, SEO difficulty, CPC, and additional keywords filters which help in excluding or including a specific keyword.
In this example, we will set search volume for a minimum of 500 and search difficulty to a maximum of 17. While setting up the search volume there are two boxes "from" and "to".
So, according to the example, we will fill minimum search volume i.e. 500 in "from" and the "to" box will be blank. In keyword difficulty, we will keep the "from" column empty and add the maximum limit in the "to" column.
This will show you all the keyword ideas for your head term within your assigned perimeters as follows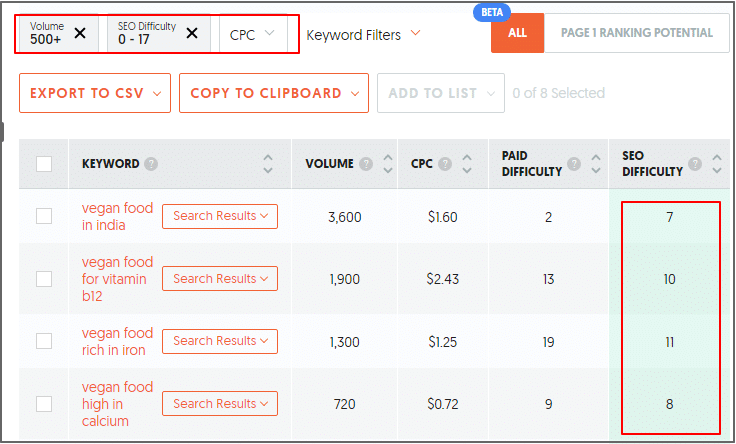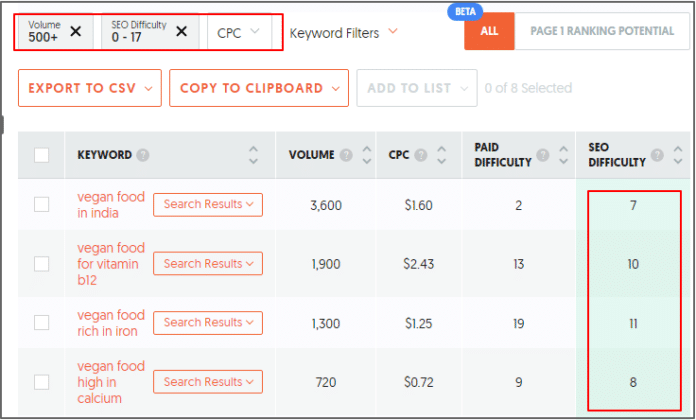 You can also change keywords in relation to questions, comparisons, prepositions, and more which further helps in finding highly specific and low competition keywords for your posts.
2. Google Autocomplete
Google Autocomplete is a feature of Google that provides descriptions for your search term.
When you are typing in a search term on Google, it keeps on showing further related predictions of your seed keyword until you hit the search. It's a very useful feature of Google to find long-tail keywords even without using any keyword tool.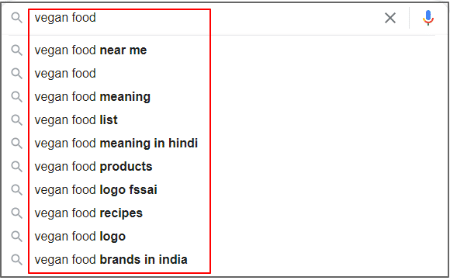 As in the above image, when we entered "vegan food" into the search box, it showed a set of long-tail keywords which could be used in posts for ranking your blog. One more thing, the keywords Google autocomplete provides, are popular to the search query.
It's the best method to find long-tail words for your post as the keyword suggestions come from Google itself.
3. Google Related Search
When we search Google for a particular keyword, it shows a variety of results for your query.
Along with that, at the end of the page, it also shows a set of related search queries which can be a good addition to your keyword list.
Bonus Tip – You can add related search keywords In your posts to directly get traffic when someone clicks on the specific query.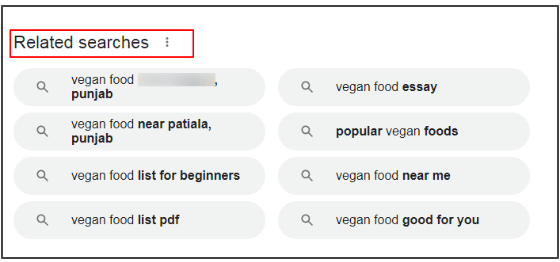 As Google also gives a great focus on showing results based on searchers' intent, it also helps you to know the searcher's intent behind their query so that you can create your quality content around that.
4. Quora
Quora is the most popular Q&A site right now on the web.
Have you ever thought that you can also use it to know about trending topics for a particular niche?
You can find trending questions and long-tail keywords by following the spaces related to your niche. For the keyword vegan food, one can join many spaces like vegan food recipes, healthy vegan foods, Indian vegetarian, and more.
Here's one more way to dig deeper.
When you open a question in Quora it shows a variety of related questions which can be used as long-tail keywords in your posts.
This way you can also create powerful backlinks for your blog. The questions you are using on Quora as post keywords, save them to answer later.
So, after you publish your post on the blog, get back to Quora and answer those questions with a link to your post. So, it is a win-win situation. It could be very helpful as Quora have a domain ranking of 93, which is great.
5. Answer The Public
AnswerThePublic is the best free keyword research tool if you want to take your blog content to next level.
When we search for a head term on the site, it shows a variety of long-tail keywords in the form of questions, comparisons, prepositions, and more. You will get a long list of long-tail words for free.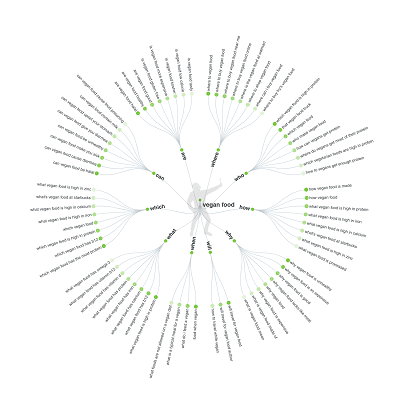 Pro Tip
– You can create a FAQ section in your posts and add related questions to it.
This will get you additional ranking opportunities for your related questions as long-tail keywords.
6. Google's People Also Ask
People Also Ask is an informative feature of Google SERPs.
Most of the searches appear with PAA(People Also Ask) box in the results.
It shows the questions and queries which are related to your seed term and are highly trending.

It is the best free technique to find long-tail keywords for your posts.
Conclusion
So, using long-tail keywords in your posts could help you to rank in Google search results even if you are in a competitive niche.
It's important that you spread long-tail keywords within your posts genuinely so that your website doesn't get penalized for keyword stuffing.
I have tried to cover every aspect of long-tail keywords SEO and hope that you find this post interesting and informative.
Please share this post with your friends and let me know about your opinions and queries in the comments section.