In today's fast-paced business landscape, achieving success has become quite impossible without using e-commerce and marketing automation tools.
Other businesses are incorporating AI in their day-to-day work, and if, you are not taking advantage of AI in your business, then you are certainly going to lose.
In this pursuit of success, brands, and businesses are turning to Tailwind.
With their ghostwriter and social automation tools, Tailwind simplifies and accelerates business processes with automation, propelling businesses into the fast lane of success.
In this post, we will discuss the significant impact of Tailwind, a robust automation tool, in achieving success with automated content marketing for social media, writing blog posts in seconds, AI marketing chatbots, e-commerce product descriptions, and social post scheduling.
Let's start the journey.
---
Affiliate Disclosure– This post is sponsored by Tailwind and some of the links in this post are affiliate links. It means if you click on my link and purchase an item, I will receive a small commission at no extra cost to you.
---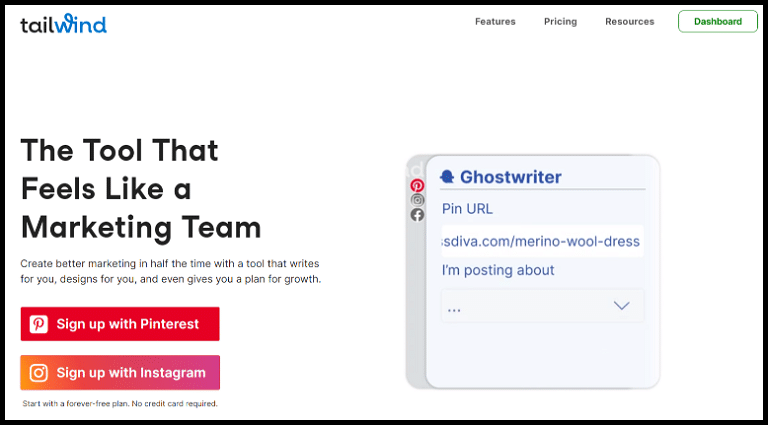 Tailwind is a marketing app that saves time by scheduling social posts for Instagram, Twitter, Facebook, and Pinterest in one place scheduled in advance for weeks or months so that your social marketing is up to best practices.
Aside from being a social media scheduling app, it is a great tool for AI automation in which it provides content writing tools, social posts, marketing advisors, youtube script writers, ads tools, and product description writers for e-commerce owners.
This tool is helpful for content creators, bloggers, influencers, business owners, and social media experts.
This tool has also been helpful to thousands of marketers with its easy-to-use interface and its most efficient AI ghostwriter features that make content generation, promotion, and marketing seem less leading to massive sales and great customer retention.
In recap here are some of the numerous lists of what you can achieve with tailwind:
Tailwind Create: Design awesome images in minutes.
Tailwind AI Ghostwriter: Generate engaging content in seconds.
Tailwind Social Scheduler: Schedule Instagram and Pinterest posts beforehand for weeks or months.
Others: get hashtag suggestions, Tailwind communities, Tailwind Copilot, and more.
How Tailwind Supercharged My Friend's E-commerce Business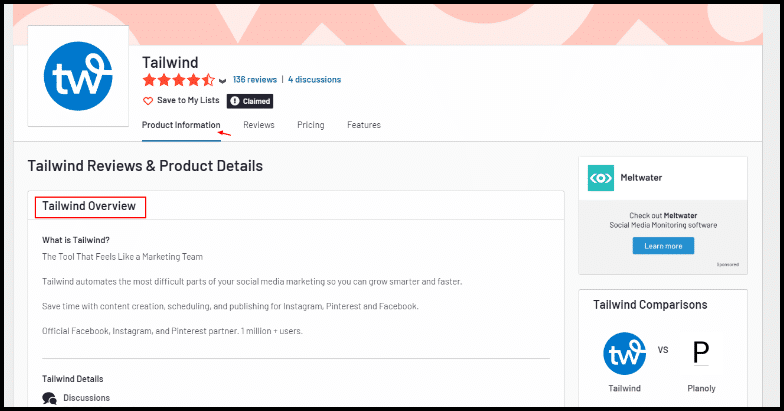 Tailwind made a remarkable impact on my friend, Himanshu's e-commerce business and increased his e-commerce sales by over 115%.
Earlier, he used to write blog posts, social posts, and most importantly product descriptions on his own.
But, after he got to know about Tailwind, the AI tool helped him do the same work in one-fourth time with greater success and accuracy.
It is a significant reason for writing this blog as a means to reveal the secret to brand owners for using Tailwind for business automation and profits.
With Tailwind Ghostwriter, he effortlessly creates captivating blog post drafts, and awesome sales-focused product descriptions, youtube video content, social media content in a matter of few clicks, saving time and effort.

According to Himanshu, the main magic of Tailwind's AI tool i.e. Tailwind Ghostwriter is its speed and special product description tools, especially for different platforms like Amazon, Etsy, and Shopify listings attracting more customers and boosting sales.
With Tailwind's social media powers, he created an engaging strategy, utilizing content optimization suggestions and social scheduling to enhance audience engagement and increase brand recognition.
Best Tailwind GhostWriter Use Cases For Ecommerce And Marketing Automation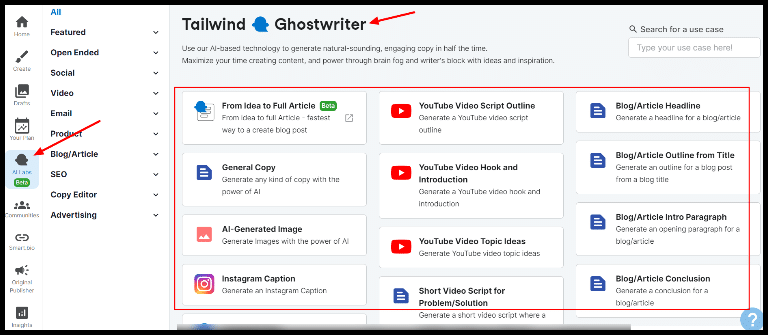 Tailwind GhostWriter offers a range of use cases that streamline e-commerce content creation and marketing automation.
Some notable use cases for Tailwind Ghostwriter include:
1. Blog Post Writer (From Idea To Full Article):
This particular tool is designed to write any form of content or article from start to finish for your blog post and websites.
Tailwind GhostWriter can write full blog posts only from a brief description of what your article talks about.
All you need to do is write what your article is about and click on "Generate Title".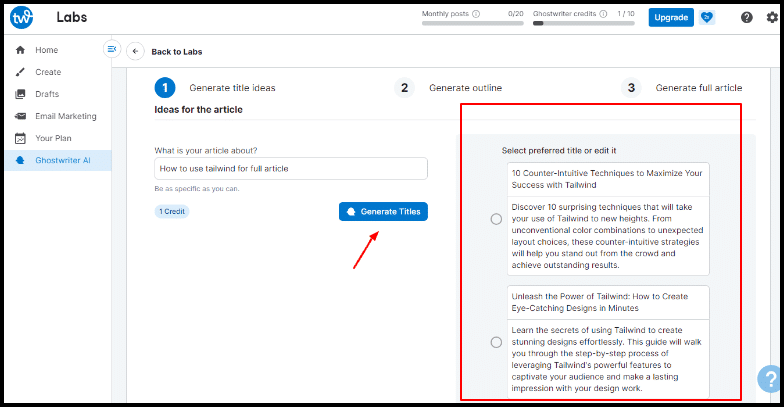 Then, it starts by suggesting title ideas and meta descriptions while giving you a complete charge to select your preference for outline ideas and editing before going to write the content in full.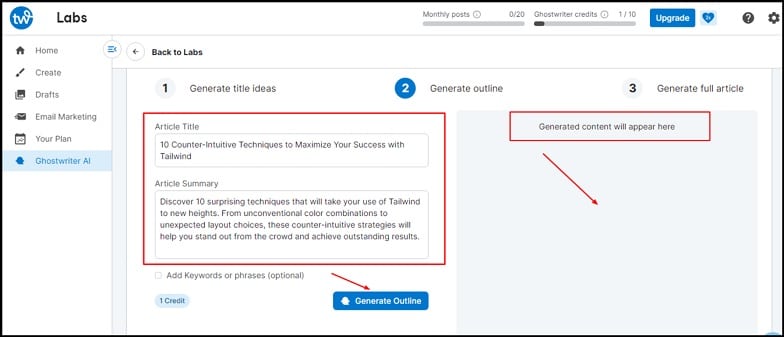 And after generating the outline for your post and finalizing it after editing, you just need to click on "Generate Full Article" and see the magic happening.
It will write a full plagiarism-free and natural-sounding article for you in a few minutes and by adding your personal touch to the content, you can use it for website posts.
It is such a powerful tool to ease writer's block.
2. E-commerce Product Listing:
Tailwind Ghostwriter also acts as a great tool for e-commerce owners by helping them generate awesome and converting product descriptions in seconds by providing just the product name, keywords, and target audience.
The most important thing that makes Tailwind more useful to e-commerce owners is that it has specific listing generators optimized for different platforms like Amazon, Etsy, and Shopify.
This helps in such a way that business owners need not make changes to descriptions according to different platforms and they just need to copy-paste product descriptions according to the needs and algorithms of different e-commerce platforms.
It helps optimize your listings for better visibility and sales.
Let's see the product listing tools provided by Tailwind Ghostwriter-
Amazon listing– By using this tool, sellers can refine their product descriptions to be more focused on Amazon for rankings and more visibility. All you need to fill in is the Product name, your target audience, desired keywords, and the unique value of your product, and it will create an Amazon-focused product description for filling every space of info that Amazon needs.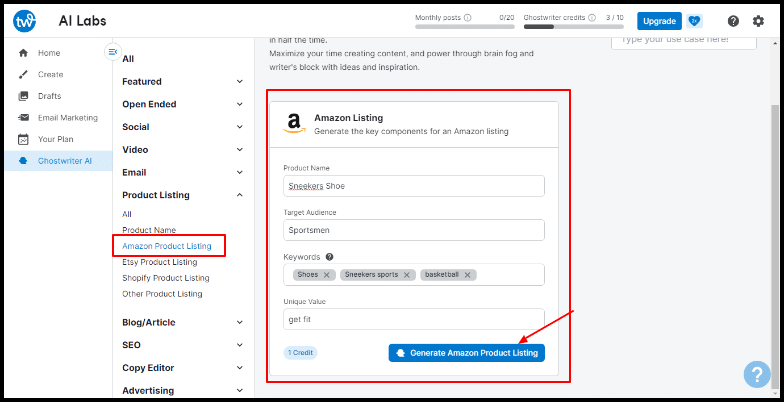 Etsy Listing: Similarly, it also helps create product descriptions for Etsy, but what makes it different from Amazon listing is that this listing will be focused on Etsy's platform and algorithm for higher product ranking.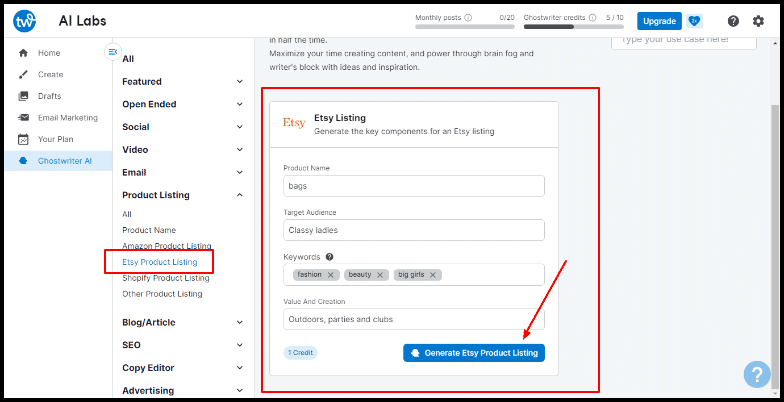 Shopify Listing: Tailwind also optimizes your Shopify product pages with Tailwind GhostWriter's assistance by generating unique and SEO-friendly descriptions, driving more organic traffic.
Product Name Writer: Sometimes, e-commerce owners get into a mind block while thinking of an exciting yet acceptable name for their products. It's where the product name writer helps by generating catchy and unique product name ideas with Tailwind by providing product descriptions, company values, target audience, and more.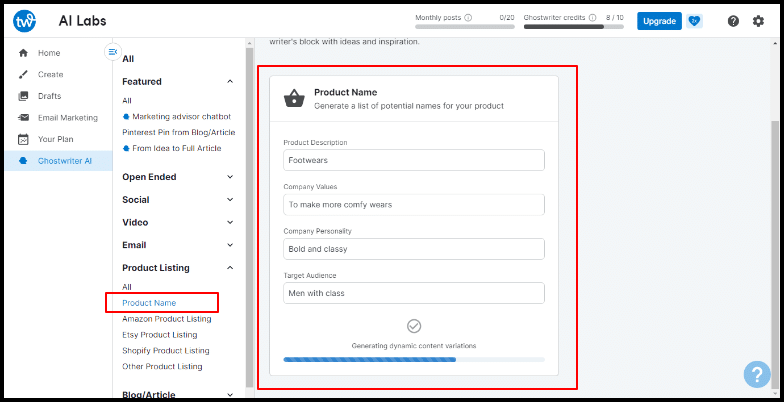 3. Social Content Idea Generator:
Most content writers will agree that they always get stuck while thinking about topics for their social posts.
And it becomes the number one reason for not being consistent in social media marketing.
And Tailwind's social content idea generator helps generate creative ideas for social media content tailored to your business whether it's an e-commerce business, blog, or service provider.
The best part is that it gives content ideas based on different platforms. For example, when asked about a LinkedIn post idea, it says to write a success story with a customer, employees stories and more, i.e. the content that would work well on LinkedIn.
And when selecting Instagram, it suggested creating videos of manufacturing and more as interest-provoking content tends to work great on Instagram.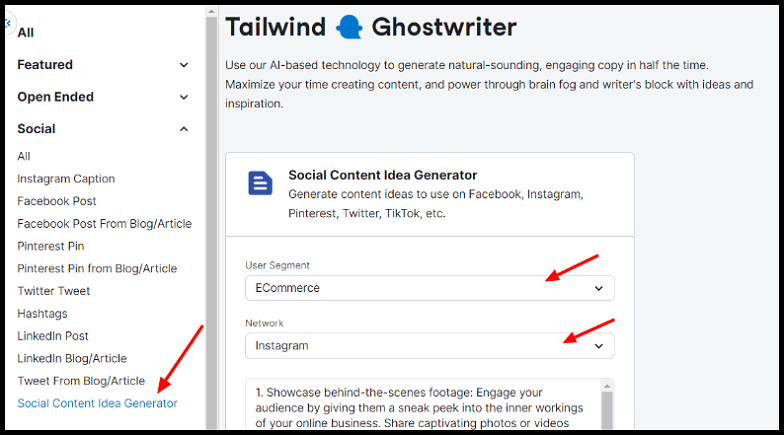 4. Social Post Generator:
Tailwind GhostWriter can write social media posts for various platforms, including LinkedIn, Instagram, Twitter, and Facebook, based on post titles, keywords, and a short description.
The best thing I like about it is the AI tool writes posts for every social media in accordance with the best practices of such social media platforms so that the user achieves maximum results.
More than that, now, Tailwind Ghostwriter has started using emojis to make the social posts look more natural and emotional sounding.
Let's see each post generation with an example:
Instagram: It has an Instagram caption tool that generates catchy and Instagram-optimized captions in seconds. You need to fill in your content type, then write some description like we have written a promotion for Nike shoes, add target keywords, and a call to action to create a catchy Instagram caption.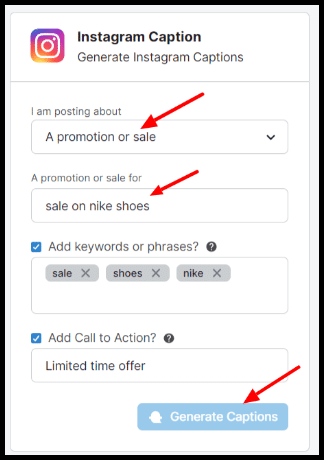 Pinterest: It also has a different tool for writing Pinterest-optimized pin descriptions. Similarly, you need to provide the same info as provided by you in the Instagram caption tool, but it will create a fully optimized description for Pinterest by keeping in mind the best practices of Tailwind.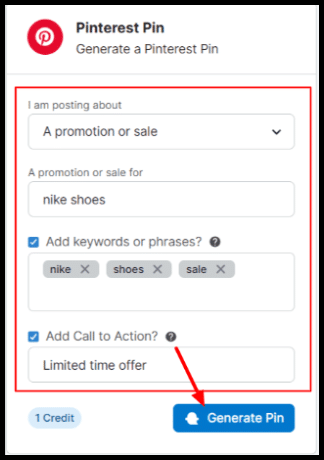 Twitter And LinkedIn Posts: Tailwind Ghostwriter also has different options for creating Twitter and LinkedIn-specific content posts.
5. Other Helpful Use Cases
In addition to the above use cases, Tailwind offers various other helpful tools to streamline other marketing tasks, including:
Product Page SEO Title/Meta Description: Tailwind also offers a tool that writes awesome product SEO titles and meta descriptions with product names and target SEO keywords and it will provide a SEO-friendly title and meta description.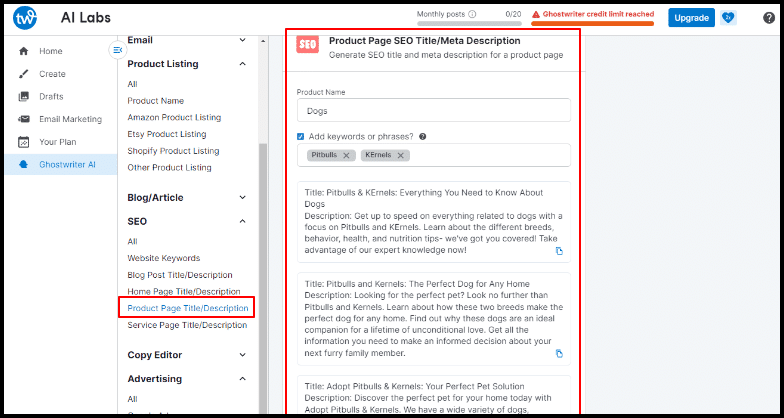 Google ads And Facebook ads: You can create compelling and actionable Google ads and Facebook ads using Tailwind. You need to give the product name, product description, target audience, and keywords and the tool will provide catchy headline and description ideas that you can use in your paid marketing campaigns.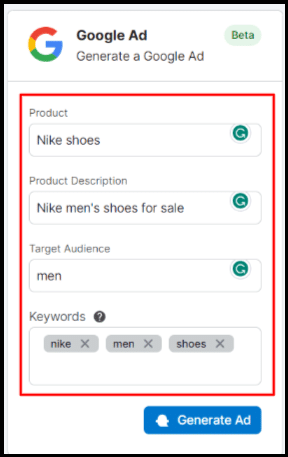 Marketing Advisor Chatbot: Tailwind chatbot advisor provides a personalized marketing plan for your business problems. You just need to tell your problem and it will give a detailed solution with an action plan for solving the problem.
For example, when asked the question "Give 10 creative ways to grow an e-commerce business", the tool gives a personalized and helpful plan for growing e-commerce sales.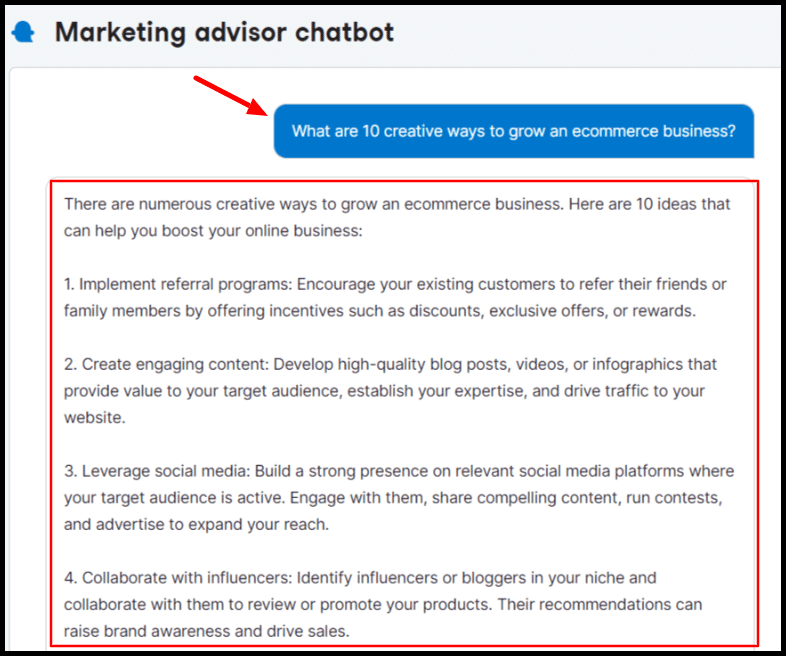 Automating Social Media Publishing with Tailwind
Scheduling social media posts can be time-consuming, but with Tailwind, it becomes very easy.
Tailwind's social media publishing feature allows you to schedule posts in advance, ensuring a consistent and engaging online presence.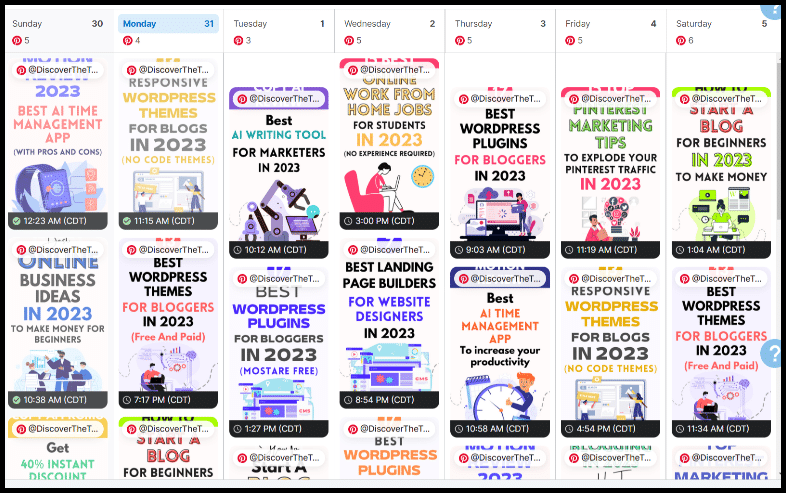 Tailwind is best as it's easy to use and it simplifies social media management by scheduling posts in advance.
Here's a step-by-step process on how to schedule social posts with Tailwind:
Connect your social media accounts: Link your social media profiles to Pinterest and Instagram to streamline the publishing process.
Plan your content calendar: Map out your social media content strategy and schedule posts in advance using Tailwind's scheduling interface.
Customize post settings: Tailwind allows you to tailor each post by adding captions and hashtags and even optimizing them for specific platforms.
Scheduling In Advance: Once the post is set for publishing, you can schedule a week's or month's social posts to be published on your social accounts at scheduled optimized times.
Amazing Tailwind Features for Social Media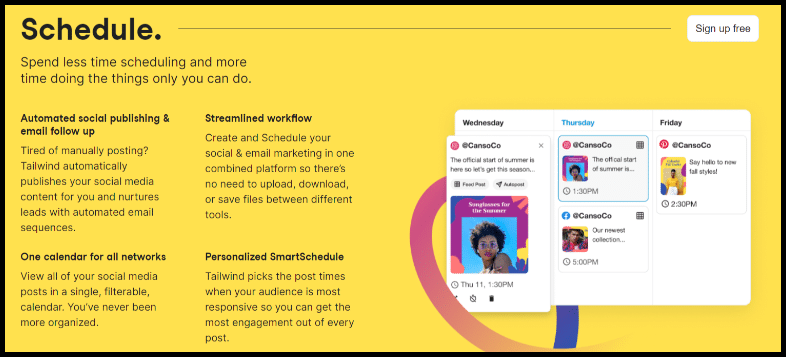 Content optimization suggestions: Tailwind helps you enhance your social media posts for maximum impact and engagement along with making your publishing process fast. The tool will write captions and descriptions for social posts with AI in seconds
Hashtag recommendations: Discover relevant hashtags to amplify your reach and connect with your target audience.
Easy-To-Use Interface: Tailwind's user-friendly interface makes scheduling and managing social media posts a breeze.
Powerful analytics: Gain insights into the performance of your social media content, track engagement, and refine your strategy for better results.
Tailwind Pricing And Plans
There are four pricing options available for Tailwind which include one lifetime free plan and other paid options.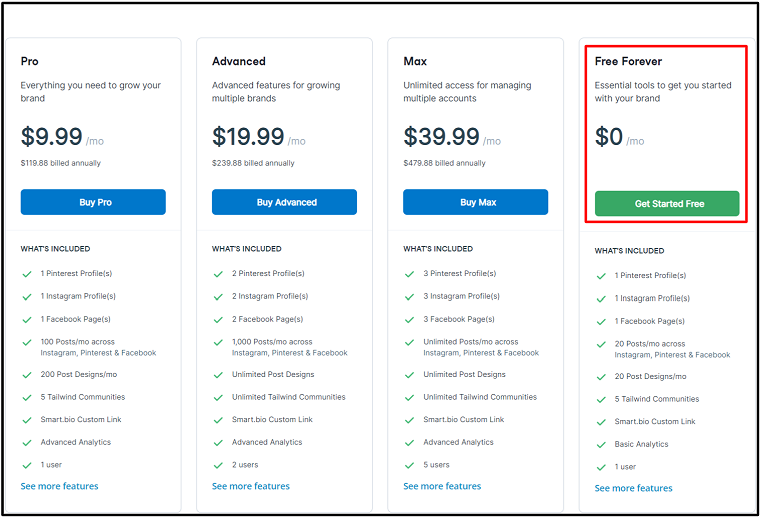 Lifetime Free Plan: This plan is the most basic that covers 1 Pinterest, Instagram, and Facebook profile, 20 posts scheduling per month, 20 Tailwind create post designs, 10 ghostwriter credits, 5 Tailwind communities, and a smart bio custom link.
Pro plan: At $9.99 per month, this plan provides access to 100 post scheduling per month, 200 post designs, 50 ghostwriter credits, and advanced analytics for measuring growth.
Advanced plan: This plan is priced at $19.99 per month and provides access to add 2 social profiles for each platform, 1000 posts per month across social media, 250 ghostwriter credits, 2 users, and unlimited post designs and communities.
Max plan: At $39.99 per month, you can add up to 3 social profiles for each social platform, 500 ghostwriter credits per month, 5 users, unlimited posts, post designs, and Tailwind communities.
FAQs On Tailwind For E-commerce
Does Tailwind Ghostwriter help in E-commerce growth?
Absolutely! Tailwind Ghostwriter streamlines content creation, optimizing product listings, and enhancing social media engagement, contributing to e-commerce growth.
Yes, Tailwind offers robust social media scheduling features that make managing and publishing content across various social platforms easier.
What sets Tailwind Ghostwriter apart from other AI writing tools in the market?
Tailwind Ghostwriter stands out as it has 50+ AI tools that make it tailored for every business be it e-commerce or blog. And the next best thing about the tool is Speed, as users can generate automated content within just a snap of seconds.
Conclusion
Tailwind's power lies in its ability to save time and automate e-commerce and marketing work.
It enhances content creation, streamlines social media management, and allows businesses to focus on strategic marketing initiatives.
Tailwind Ghostwriter is a game-changer for e-commerce businesses seeking efficiency and success.
Ready to experience the time-saving power of Tailwind?
Start using Tailwind today and discover how it can transform your e-commerce content creation and social media scheduling.