Want to take your Pinterest marketing to the next level?
Want to drive traffic and leads from Pinterest effectively with a minimal investment of time and money?
Pinterest is the 14th largest social media network in the world-beating Twitter and Quora.
So you need to focus on your Pinterest strategy more seriously than ever.
Tailwind is a tool that could help you in getting success in your Pinterest marketing.
The Tailwind app has nearly one million users, and more interestingly they now do offer a forever free plan with no questions asked!
But is Tailwind a useful Pinterest marketing tool?
Let's check out.
---
Affiliate Disclosure– Some of the links in this post are affiliate links. It means if you click on my link and purchase an item, I will receive a small commission at no extra cost to you.
---
What is Tailwind?
Tailwind App is a social media scheduling application that helps content creators, bloggers, and marketers drive plenty of traffic and get increased sales and conversions.
You can use it for Pinterest, Instagram, and Facebook making it easy for you to organize your social marketing schedules, all in one place.
Though, it saves me a lot of time.
Tailwind helps you grow more intelligent and faster by automating the most time-eating aspects of your social marketing campaign.
It has assisted thousands of marketers in the most efficient manner possible, and it's perfect for small as well as large businesses.
I like it the most for scheduling my Pinterest pins.
Tailwind is how we keep track of our website's Pinterest activity.
By using Tailwind, managing several social media accounts, remaining active on the platform, promoting your content in the Tailwind communities, and getting a good chunk of leads and sales is easy.
Here are some of the great features of Tailwind which I think I could not have thrived on Pinterest without-
Designing great pins using Tailwind Create.
Smart scheduling pins in advance in a few clicks.
Post your pins automatically at the best engaging times be it midnight or early mornings.
SmartLoop i.e Posting your evergreen content after set intervals.
Get more Pinterest reach by sharing your pins in Tailwind Communities.
Analyzing your results using an inbuilt Analytics tool.
Lastly, an admirable support system.
Is It Legit to Use Tailwind For Pinterest?
You might probably be wondering if Tailwind is worth trying out.
To clear your mind, Tailwind is 100% legit and safe to use as stated by Pinterest itself. It's a popular social marketing tool built especially for Pinterest marketing.
Scheduling pins in only a few clicks, analytics, and scalable Pinterest activity are just a few of the features it offers.
Before I started using Tailwind, scheduling my pins on Pinterest was a lot of hard work and required a lot of time investment, which wasn't working out.
So, I finally decided to shift using the Tailwind App, which made it easy to schedule lots of pins throughout the day with minimal time investment.
Why Use Tailwind For Pinterest?
Pinterest had almost 433 million monthly active users in the first quarter of 2022, an increase of about 2 million users from the previous quarter.
This is the reason that you should be focused on your Pinterest approach with best practices.
Tailwind is a powerful super tool for business owners and creative entrepreneurs, and it's an official partner of Pinterest; this is the one reason why you should consider opting for it.
Not only does it make your work smarter and easier to schedule your pins, but it comes in handy with many other features like the Tailwind community ( where you can share your own content so others can re-pin it)
And great analytics, which can provide information about the type of content that works best for your niche.
Tailwind has been my favorite social media marketing tool for business.
There is no doubt that with Tailwind, you can easily achieve your Pinterest marketing goals.
Using it has boosted my Pinterest traffic and grown my account almost three times its reach than when I was manually pinning.

The above image clearly shows my Pinterest account growth after I started using Tailwind a time ago.
Tailwind helped me increase my total audience by about 774% and account engagement by 141%.
You can also see the typical results for Tailwind members here.
So, Tailwind helped me in achieving my Pinterest goals and it could help you too!
Click on the image below and get it for free.
Is Tailwind Worth It In 2022?
Tailwind is definitely worth it in 2022 and beyond if you're ready to take your blog from a hobby to a professional money-making business.
Growth and exposure are more than possible when using a carefully optimized strategy that takes into account the most recent Pinterest algorithm changes.
Tailwind is well worth the investment.
Tailwind for Pinterest is a superior alternative to Pinterest's built-in scheduler. It's faster and easier to use, and it gives you a tool to make sure you're always working best on the platform.
This is necessary for traffic and the growth of your Pinterest account.
You might be wondering if you or your blog will benefit from it and whether you will be able to grow traffic from it in 2022?
Tailwind app has been used by many marketers and bloggers to increase traffic to their websites, but if you want to get the best benefit from it, stick to the end of this post.
These are reasons why you should try Tailwind for Pinterest:
This social media tool includes a lot of capabilities that can assist you in achieving Pinterest success.
Marketers may post pins on Pinterest at the best times for better engagement rates in one go to save your time.
To raise brand recognition, you may employ Tailwind Communities, which could get you a great deal of repins.
Tailwind app has proven to be effective in increasing your blog traffic, especially from Pinterest and Instagram.
Tailwind app for Pinterest doesn't require a large expenditure, to begin with.
However, it has also started offering a forever free plan with all basic functions, which you can upgrade any time you want.
Because of its easy-to-use scheduling and sharing tools like Communities and SmartLoop, this App is highly recommended by many top social media marketers.
The best feature is its appreciable and fast chat support system.
Tailwind Pricing (Including New Forever Free Plan)
For social media managers, and bloggers, Tailwind is a useful tool. You might be wondering about Tailwind pricing.
There are a few options available, but before we get started on different Tailwind pricing plans, let's talk about the forever-free plan.
You're in for a treat if you're new to Tailwind. Tailwind has everything you need to be successful on Pinterest.
Tailwind no longer offers a free trial, but instead an option to use their services free forever!
And also no credit card info is required!
You'll be instantly enrolled in the Free Forever plan when you sign up for Tailwind.
The Free Forever plan comes with all of the tools you'll need to get started building your brand.
With the Free Forever plan, you can add one profile set to your Tailwind account (one Facebook, Instagram, and Pinterest account) and publish 20 posts every month across all of your social accounts right from your homepage.
You can join up to 5 Tailwind Communities with the Free Forever plan. With Tailwind Communities, you can collaborate and share content with other like-minded marketers.
According to me, the only con for Tailwind was its pricing for beginners, but now its forever-free plan has resolved that also.
Tailwind also offers Pro, Advanced, and Max plans with access to more posts and Tailwind communities as in this image.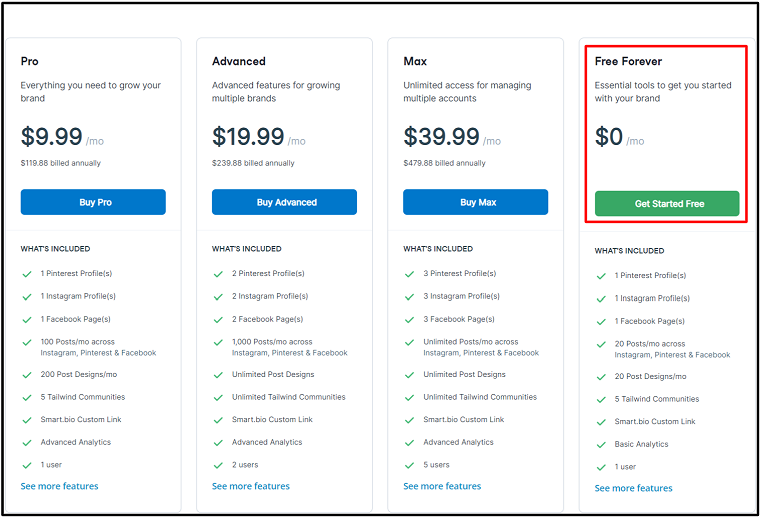 If you find its forever free plan limited and not suitable for you, you can go for its Pro Plan which is used by most bloggers priced at $9.99/per month if billed annually.
If billed monthly, it costs $19.99/per month. In my opinion, it is best to go for the annual plan.
The Tailwind Pro plan contains the following features:
Publish up to 100 posts/per month across social media.
Create 200 post designs every month using Tailwind Create.
Join up to 5 Tailwind Communities for sharing your content with 30 post submissions.
Advanced analytics system for evaluating your pins and board performance.
Smart.bio custom link for Instagram.
Most bloggers and marketers find this plan useful and effective.
If you want more posts limit, you can buy an advance plan for $19.99/per month with which you can publish up to 1000 posts/per month, with no limit on creating designs and unlimited Tailwind Communities and add 2 Pinterest profiles.
Further, the Max plan gives access to unlimited posts per month with 3 Pinterest profiles which will cost you $39.99 per month.
How to Use Tailwind Effectively?
No doubt, Tailwind is the best tool for Pinterest growth which helps in creating great designs, scheduling and posting pins at different times, and provides superb analytics to keep a check on your growth.
Since Tailwind is easy to use, there are some smart tips that could make it even more effective.
Firstly Create a Tailwind Account
First and foremost, you'll need to register a Tailwind account in order to get started.
Go to tailwindapp.com on your computer or laptop and sign up for an account using your Pinterest account.

Once you click Sign Up using Pinterest, it will ask you for access to your Pinterest account.
(Make sure you're logged into the Pinterest account you'd like to connect to Tailwind on your computer.)
Once you've verified that you're connected to the Pinterest account you want to add to Tailwind, establish a new Tailwind account by providing an email address and password, and voila! Tailwind account created.
Scheduling Your Pinterest Pins On Tailwind
Now you will need to set up your scheduling options after you've completed the sign-up process.
Tailwind helps to make your pinning schedule for a whole week or whole month or more in only a few clicks which saves you a lot of time as you need not stick to your PC for posting Pinterest pins manually.
You can schedule pins either directly on Tailwind or directly from Pinterest or your website.
If you want to schedule pins directly from Pinterest or any website, you will need to add Tailwind Extension to your browser.

After you set up, the tailwind extension on your PC, you will get an extra button for scheduling pins on Tailwind.
However, if you want to schedule your pins from the Tailwind dashboard itself, you can follow these steps-
Go to Tailwind dashboard and click on the original publisher.
Now, head over to the "Create New Pin" option, and you can add an image from your computer or create a new design.
After choosing an image, fill in the pin title, and description, and add a link to your post. If you are scheduling it for more than one board, use the interval option to gap your pin.
Now, click add to queue and it will be published automatically at a custom time as in the image below
Pro Tip – If you post your pins to 5-10 group boards, the interval option of scheduling pins would work great for you. Using the interval option, you can pin your same pin to different boards after a set time interval. (Pinterest recommends a minimum interval of at least 4 days for posting the same pin)
Amazing Tailwind Features
Surely, Tailwind is the best Pinterest marketing tool out there with more than 1 million happy users.
It is a perfectly built tool including every type of assistance you need in your marketing plan.
It provides plenty of features including smart scheduling, Smartloop, designing tool, board lists, advanced analytics, and more.
1. Pinning To Multiple Boards
According to the Pinterest best practices, you should save a pin to multiple boards. However, the recommended number is 10.
So, you can save your pin in up to 10 Pinterest boards so that you get enough views for your pins, and also abide by Pinterest best practices.
As an average tailwind user, you will do it as follows-
Save the pin as a draft, then go over there and enter all the boards you want to save it to, then click "Add to Queue". Your posts will be successfully uploaded.
On account of pinning to multiple boards, Pinterest has a great feature "Board Lists" which enables you to categorize your Pinterest boards.
So that whenever you are scheduling pins related to that specific category, you can just click on that list and the pin will be scheduled to all Pinterest boards under that list.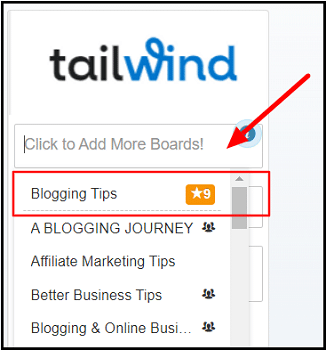 As in the above image, click on the list "Blogging Tips", and nine boards would be selected.
This feature saves me a lot of time.
For an instance, I have made many board lists for topics such as Blogging, Affiliate Marketing, and more.
Whenever I post pins relating to this topic, it just becomes a work of one click as in an image.
2. Tailwind Smart Scheduling
Tailwind's Smart scheduling allows you to save time in your day while ensuring that your pins are published at the most optimal times on Pinterest.
Tailwind's Smart Scheduler allows you to get the most out of your Pinterest account, as it provides a personalized smart schedule of the best times to post on Pinterest when most of your audience is online.
Tailwind helps you to know your most productive times to post on Pinterest on the basis of its advanced analytics which definitely helps you in getting more monthly views.
Generating your own smart schedule is easier than you think and you can do it as below.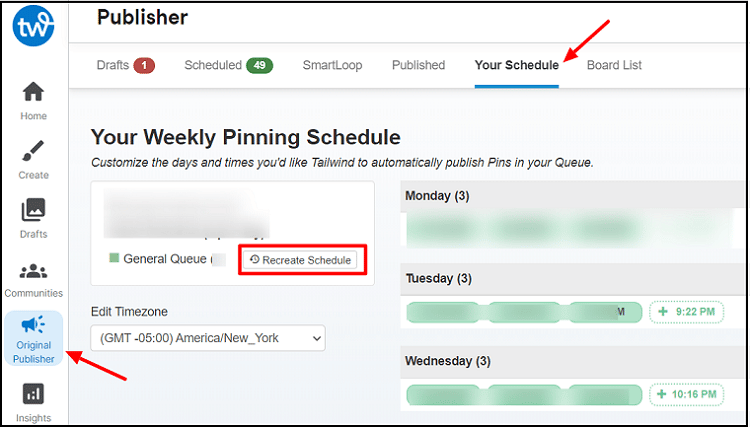 Firstly head over to Dashboard> Original Publisher > Your Schedule and then click on Generate New Smart Schedule (recreate schedule).
It will ask you for the number of times you want to pin per day and create the best schedule for your pins accordingly.
Bonus Tip– We recommend pinning at least 4 pins per day with a maximum of 25 pins. But, nowadays Pinterest has started giving more priority to fresh content. So, your main focus should be on pinning fresh content.
We recommend clicking Generate New Smart Schedule once a month for the first few months so that you could find a pinning schedule that will maximize the amount of engagement and repins your content receives on Pinterest.
To create a new Smart Schedule, you'll need to specify how many pins you'd like to publish per day.
Click Generate New Schedule after you've determined how many pins per day you want to publish.
The scheduler will itself create the list of best pinning times for which you can queue your pins.
3. Use Tailwind Create To Save Time On Designing
Tailwind Create is an image designing tool made specifically for Pinterest.
As for now, Pinterest has updated its policy saying that its algorithms are going to prioritize new fresh content.
Fresh content does not mean that you need to link new posts in pin images. However, it comes out that even a small considerable change in your Pinterest image could be regarded as fresh.
This is a situation where Tailwind Create blows its magic.
It automatically creates hundreds of pin designs for you with small changes in color, font, positioning of font, and more giving you a lot of fresh content in minutes, even if you know nothing about designing.
The problem with other designing tools like Canva is that they are not specifically built for Pinterest and make the process more time-consuming.
Moreover, you don't have to pay anything extra for getting Tailwind Create as it comes in handy with your subscription plan.
It can help you save much time when it comes to designing. With Tailwind Create you can create as many pins as you want in less than 10 minutes, this has been a game-changer for most Pinterest marketers.
It's also very easy to use.
You need to only add an image in Tailwind Create and it will then generate a selection of designs for you to choose from.
Then, simply choose the ones you want to schedule and go!
Want to know more about Tailwind Create, check out this amazing post by Neal.
4. Tailwind Mobile Scheduling
Scheduling content is easy with Tailwind's Mobile Scheduling App.
You can use the app to schedule Pins from your mobile web browser as well as directly from the Pinterest mobile app.
So, someday if you are out and do not have a PC or laptop, you can easily carry on your Pinterest strategy using your Tailwind Mobile app.
In the mobile app, you can add new posts to the schedule and also alter the pinning times.
So, these are the main features of Tailwind that help you in growing your Pinterest reach. But, it offers a lot more important features which are given below-
Pinterest Smartloop feature is a great function made by the Tailwind team. Suppose you post pins on topics that are evergreen(like new year content). In that case, you may set up a Smartloop on Tailwind in just a few clicks so that your pins are being posted to Pinterest after a time period as specified in the smart loop, according to the Pinterest best practices.
The Smartloop feature helps in getting eyes on your old content and giving it a new life.
Moreover, with the help of Tailwind's browser extension, you can schedule directly from Pinterest or any site with just one click.
Choosing the interval time between posting a pin to different boards is the best Tailwind feature which makes it worth trying. You should choose an interval time of a minimum of 4 days for posting your pin to different boards to carry on your work with Pinterest best practices.
Tailwind communities act as a great way of connecting with the Pinterest creators and help in growing your Pinterest reach by getting more repins from community members. (for free)
Special Offer– Tailwind recently started offering a free personalized social and email marketing plan to its users. You will be enrolled in a one-to-one video call with a marketing expert who will guide you in making a prominent marketing strategy for your business. This tailwind plan has helped me to achieve higher results in my marketing strategies. Get Tailwind Now
Tailwind Communities: A Bonus For Pinterest Reach
With Tailwind communities you can share your amazing pins with other pinners in your niche using the Tailwind Communities feature. They share your pins with their audiences, exposing your pins to a larger number of new followers.
Below are the statistics of the results I got from Tailwind Community alone, and it determines the real power of communities.
I got a reach of about 235.5k! Isn't it great?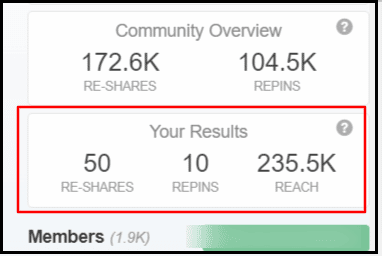 The most beneficial part of Tailwind communities is that when you re-share a pin with Tailwind Communities, Pinterest treats it as a new pin, not a repin.
This tells Pinterest that people are pinning your material even when they're not on the platform, indicating that you make content that people want to share.
This will help to enhance your account and increase traffic.
The tailwind communities work on the basis of shared benefits where you share other people's content and in return, they reshare your pins which helps in getting wider reach.
It's a simple approach to boost your Pinterest reach with no extra work as you just have to click the "Add to Communities" button and your pins would be shared.
Some Communities are open to the general public, while others are only accessible by invitation or request.
To find the best communities for you, you begin by going to your Tailwind dashboard's 'Communities' section.
Then, choose 'Find a Community' and type a keyword relating to your industry category into the search box.
For example, if you are running a blog related to "home decor", then search for the word home decor and you will get a list of related communities which you can join as in this image-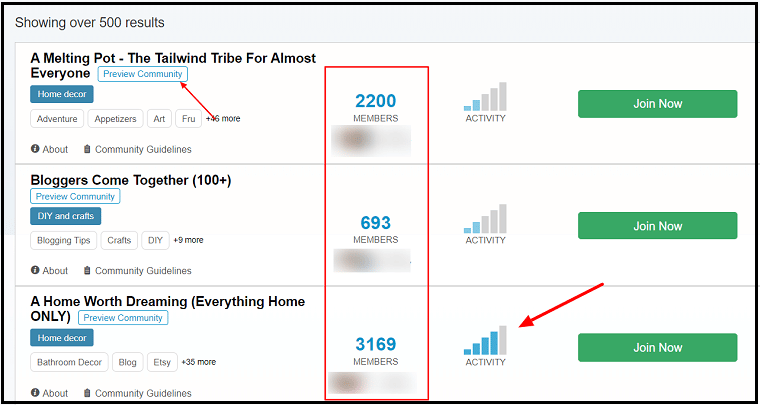 The amount of activity is shown by the blue bars next to the Community's name. You must join the community with more green bars (representing high engagement) and a moderate number of members.
Want to skip finding Tailwind communities in your niche, check out this list of 100+ best communities for different niches.
When a community gets drowned by many members like 5k+ or more, the pins you share seem to get lost in the huge number of pins submitted by each member.
You can also Preview the Community and check if it is active and if its re-share and re-pin numbers are comparable to those of other communities in your niche.
Consider your niche and target market while determining which Communities to join. Does the description of the Community match the type of pins and material you share?
It's often preferable to join a smaller, more specific Community than a larger, more general one.
Analyze Your Growth With Tailwind Analytics
Monitoring the performance of your Pinterest profile using Tailwind Analytics is the best effective method to get the most out of your Tailwind investment.
Tailwind for Pinterest helps you to know exactly how your strategies and Pinterest marketing plans are working
Tailwind's analytics provide more valuable information than Pinterest analytics as it provides in-depth knowledge about your overall profile performance, your board insights, and pin inspector and also provides a great lot of statistics about your Pinterest organic reach.
The following is a summary of the best and the most helpful analytics provided by Tailwind.
Profile Performance
This section provides the overall performance of the user's profile.
You can find information about your follower growth and comments in this section.
Aside from that, you'll find data on how many times your pins are repinned (virality score) and how engaged your audience is. (engagement score)
You may also view how many pins you've added and how your repins appear at a glance.
Tailwind Board Insights
Board insights help you to know which boards are working well with your Pinterest strategies and which aren't.
So, board insight is a useful tool that provides you the specific performance data for each of your Pinterest boards as in the below image.
Board Insights provides you with the following data for each board-
The number of pins on each board
The number of people who follow each board.
Number of repins for different boards.
The virality and engagement score for each board.
Pin Inspector
Everything you've ever pinned will be stored in this box. These pins can be sorted by the number of repins, the number of comments received, or the date they were pinned.
They have a search tool, so you can discover a pin you've shared and see the performance of each pin.
These figures, when combined with your Pinterest and Google statistics, make Pinterest marketing much easier.
Website Insights
This shows you trends on what people are pinning from your site.
You will also discover the number of potential impressions the pins are generating and the potential reach of your pins.
It also provides important statistics on times of the day when your organic pins are reaching the most people so that you can schedule your pins accordingly for maximum reach.
Tailwind Analytics further provides analytics relating to organic activity and referral traffic which allows you to interact with your site's most recent pins in real-time and see pinning patterns related to your brand.
My Personal Opinion For Tailwind
Tailwind has not only made it easy to schedule pins at the best times, but it has also offered social media statistics to assist me to make better decisions that will help me grow my online presence faster.
Tailwind has taken the pain out of posting regular content on Pinterest, as Tailwind Create has helped me in making new content for Pinterest, a really easy task.
So, in my opinion, Tailwind is the best Pinterest marketing tool which helped me to drive tons of traffic from Pinterest and helped me reach my marketing goals.
What are you thinking about now? Get Tailwind now and succeed in your Pinterest strategy.
If you liked this post, don't forget to share this post with your friends and let me know your views in the comments section.
Sharing Is Caring