Are you looking for ways to get a discount on Copy AI premium plans?
If yes, then I have the best discount offer exclusively available for DiscoverTheTech readers.
Using my promo code, you'll get a flat 40% discount coupon on all Copy ai premium plans.
Copy.ai Special Promo Code
Exclusively for DiscoverTheTech Readers!
Get 40% Off on All Copy ai Premium Plans. Click the activate deal button now and apply the promo code "STARTCOPY" during checkout. (Limited Time Offer!)
Along with the Copy ai promo code, I have also shared my thoughts on its features, use cases, which pricing plan to choose and how to use the promo code to avail the discount.
What Is Copy AI?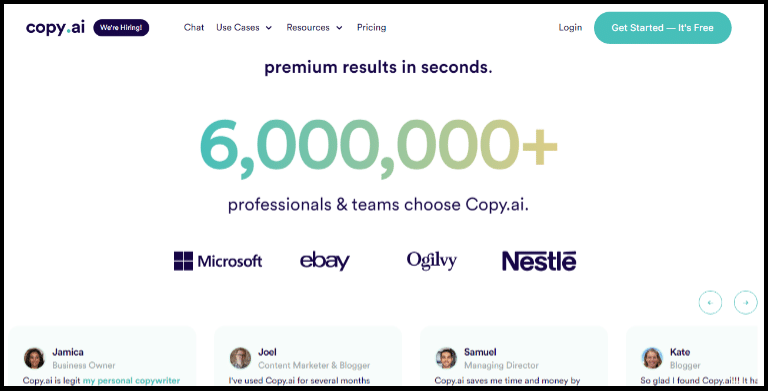 Copy AI is a writing tool that uses AI technology (GPT-4 model) to create high-quality content in more than 29 languages.
8,000,000+ businesses and individuals worldwide use it, including big names like Microsoft, eBay and Nestle.
Its user-friendly interface makes it easy to use for even those with no prior writing experience to boost their writing up to 10X while saving time for productive work.
With over 90 content marketing templates and tools, businesses can create various types of content, including product descriptions, blog posts, ad copy, and more, in a matter of minutes.
Copy AI is offering a flat 40% discount coupon on all its plans using the latest Copy AI promo code STARTCOPY for 2023.
This coupon is only available for a limited time and can expire anytime.
It's better to take hold of this great opportunity if you seek to leverage this AI tool for your business or brand.
Customers can use this discount code to purchase plans on the Copy.ai website for a 40% instant discount.
Below is a summary of the regular and discounted prices for Copy AI.
| Copy AI Plan | Normal Price | Discount | Discounted Price |
| --- | --- | --- | --- |
| Pro Plan | $36/month | 40% | $21.6/month |
How To Use Copy AI Promo Code For an Instant 40% Discount
To use the Copy ai promo code, customers need to follow these simple steps:
Step 1: Click on this exclusive discount link provided, and you will be redirected to the official Copy ai website to get started.
Step 2: Login if you have an existing free account or create a new account using your email or Google account.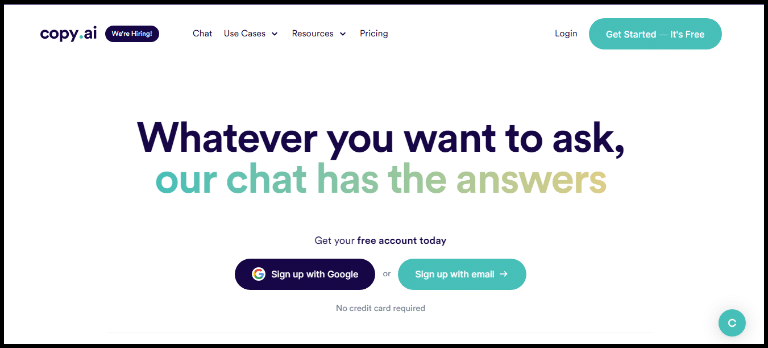 Step 3: After being redirected to your free trial dashboard, locate the "Upgrade to Pro" button in the top right corner and click on it.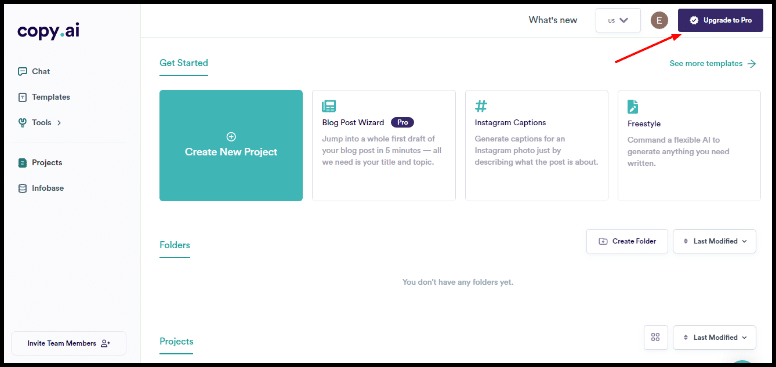 Step 4: Now, choose whether to opt for monthly or annual billing and click Upgrade Now.
I recommend you choose a yearly plan for an extra 25% discount on Copy ai at $36/month.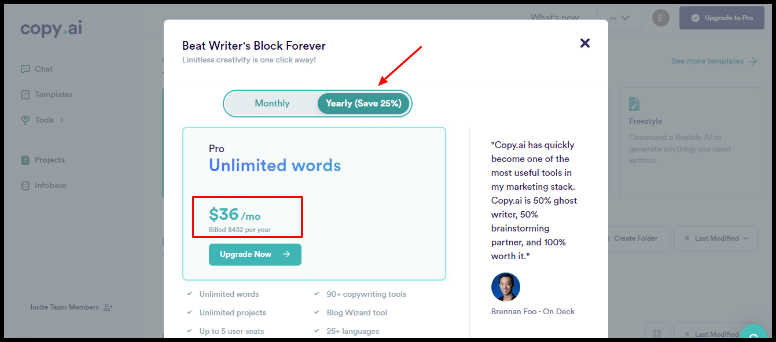 Step 5: Now use our promo code STARTCOPY to get an extra 40% discount at checkout.
Using the coupon code, you'll get an instant discount of $172.80.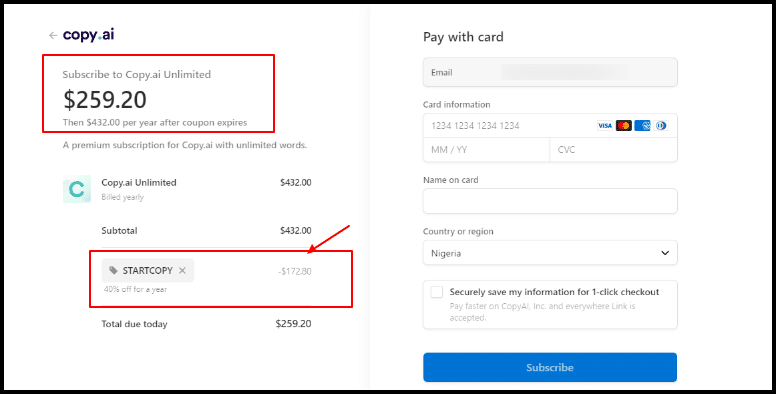 Congratulations! You have effectively utilized the Copy AI coupon code to receive the highest possible discount.
Copy AI Plans and Pricing in 2023
Copy.ai offers a limited usage lifetime free plan along with 2 premium plans.
Here is the pricing in detail: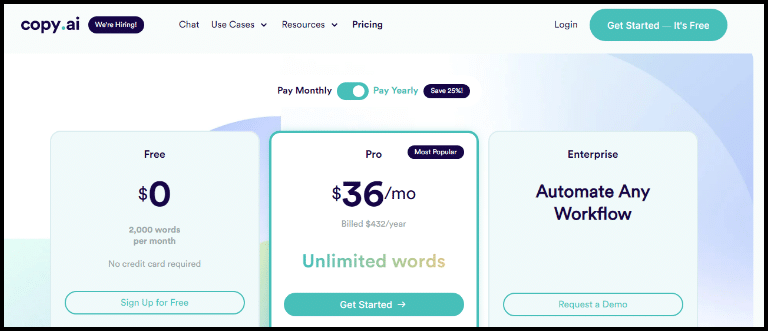 Free Plan
With a lifetime free plan, users can access 2,000 words per month, and no credit card is required to get this option.
The free plan only has these basic features:
Only one user seat
Chat by Copy.ai
90+ copywriting tools
Unlimited projects
Blog Wizard tool
It does not provide access to use of 29+ languages feature along with a usage limit of 2000 words.
Pro Plan
This is the most popular plan with access to unlimited words costing $36/month when billed annually.
However, at monthly billing, it will cost you $49/month.
So, purchasing the yearly plan can save you as much as $156.
More than that, the pro plan is super affordable and the most recommended premium plan with an additional 40% discount when you use the limited-time Copy ai promo code STARTCOPY.
These are other premium features offered under this plan:
Five user seats
Priority email support
29+ languages
Access to the newest features
Enterprise Plan
If you are a growing business with a big team, you can get its enterprise plan and take a custom demo.
Big companies like Microsoft, Linkedin and Shopify use this plan.
It has a custom pricing plan with no fixed price.
You can easily automate your employees workflow with this plan.
Here are other additional features:
API Access
Chat interface
Prebuilt workflows library
Private company Infobase
SOC 2 compliant
Why Choose Copy AI in 2023?
Copy ai is one of the best AI writing tools available in 2023.
Its user-friendly interface, availability in multiple languages, and wide range of content templates make it stand out from its competitors.
Copy.ai also offers a blog post wizard, making creating engaging blog posts in minutes easy.
Here are some of the reasons why copy.ai is considered above other tools:
Write Content 10X faster than a human writer.
Write engaging content without hassles.
The pro plan offers priority email support.
Its Blog wizard tool allows to generate full blog posts with only a blog title and focus keyword.
Chat by Copy.ai is a GPT-4 incorporated model and also provides chat functionality.
It allows translations to up to 29 languages.
It also provides unique features for teamwork and collaboration.
90+ Copy AI Content Templates And Use Cases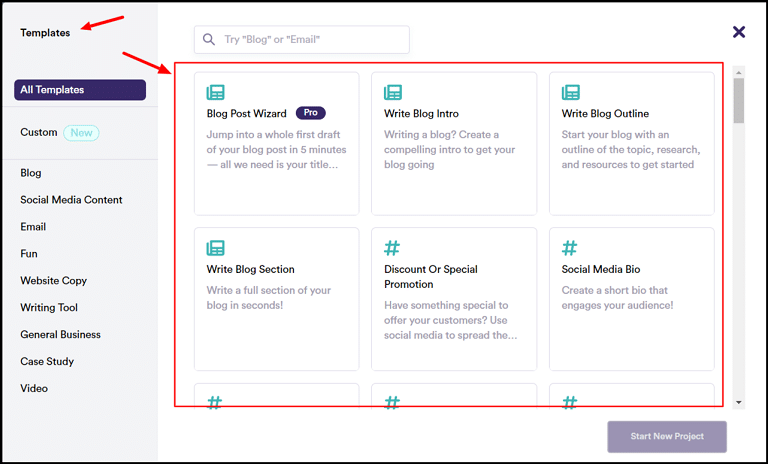 Since its inception, copy ai as a content writing tool has made life easy for writers, content creators, and even business owners.
With its 90+ use cases, the efficiency of marketers and content writers has gone to a much higher level.
Here is a detailed list of different types of content that you can create with the Copy ai tool.
1. Product Descriptions
Product owners, sales representatives, and business owners can now quickly write engaging product descriptions for their review articles and other descriptions of their products and services with Copy ai.
2. Digital Ad Copy
Digital marketers can now write scalable FB and Google ads copy that easily converts and resonates with their target audience without much stress.
Here are different templates under the digital ad category:
Ad Copy Variants
Facebook Headlines
Facebook Link Descriptions
Facebook Listicle
Facebook Primary Text
General Ad Copy
Google Descriptions
Google Headlines
LinkedIn Ad Copy
3. Startup Tools
These tools are basically designed for startups and entrepreneurs.
Below are some best tools for startups:
Audience Refiner
Brand Mission
Brand Voice
Motto Generator
Value Proposition
4. Website Copy
This tool has been specifically curated to help bloggers and website owners to take their blogs and websites to the next level by writing high-level web copy.
These include:
Call To Action
Event Copy
Landing Page Hero Text
Listicle
Meta Descriptions
Microcopy
Question Generator
Social Proof Text
Subheader
Testimonial Rewriter
5. Blog Tools
These tools help curate blog posts with the best quality content.
Blog Conclusion
Blog Ideas
Blog Intro
Blog Outline
Blog Title
Blog Title – Listicle
Bullet Point to Blog Section
Freestyle
Keyword Generator
6. Email/Letter
Are you an email marketer?
If yes, below are the copy ai tools that are great for email marketing:
Cancellation Email
Catchy Email Subject Lines
Confirmation Emails
Follow Up Email
Thank You Note
Welcome Email
7. Social Media Tools
Below are the social media tools provided by Copy.ai to boost your sales and conversion.
Add Emoji To List
Bullet Points
Carousel Post
Crazy Youtube Ideas
Hashtag Generator
Hook Generator
Instagram Captions
Instagram Product Showcase
Keyword Generator
Launch Your Product
Relatable Experiences
Short Text Hook
TikTok Brainstorm Topics
Video Call To Action
YouTube Description Intro
YouTube Video Title
8. Sales Copy
This remarkable tool has helped many copywriters find their path when writing sales copy for brands and businesses.
Attention-Interest-Desire-Action
Before-After-Bridge
Feature to Benefits
Feature-Advantage-Benefit
Marketing Angles
Pain-Agitate-Solution
Problem-Promise-Proof-Proposal
QUEST Copywriting
9. Writing Tools
Copy ai's writing tools are designed to help writers create the best content without much stress.
Here are the types of content curated using copy ai
Adjective Accelerator
Analogy Generator
Bullet Point to Blog Section
Bullet Point to Paragraph
CliffhangerEssay Intro
Essay Outline
Explain Like I'm 5
Freestyle
Hero Story Intro
Hero Story Villain
Passive To Active Voice
Press Release Intros
Rewrite With Keywords
Sentence Rewriter
Simplify Sentences
Tone Changer
Two Sentence Stories
Verb Booster
Copy AI Pros And Cons
Despite being one of the best AI writing tools, it also has its downsides.
Here are the pros and cons of using Copy ai.
Pros:
Available in 29+ languages.
Extensive customization is available as users can choose the tone of the content to be written.
Offers a wide range of 90+ content templates
Saves time and effort in creating high-quality content
Helps in generating SEO-friendly content
Copy ai chrome extension is also available.
Access to premium community
Dedicated support through email
It also offers a lifetime free plan.
Cons:
It does not offer integrations with third-party tools like Google Docs and Zapier.
It can be expensive for individual writers.
The free plan is limited to 2000 words/ per month and does not offer priority support.
Want to learn more about Copy ai?
Check out this Copy ai review to find out if it's a good option for you or not.
Does Copy AI Offer Any Lifetime Deals?
Copy ai does not offer any lifetime deals or offers.
However, the best offer to leverage as a business owner, freelancer or content creator is to get started with the 40% discount offer on all the premium plans either as an individual or team.
To get started with this time-limited and valuable offer, follow this link to log in to your account or create a new one, then apply the unique 40% discount promo code STARTCOPY before checkout.
FAQs | Copy AI Promo Code 2023
Is there any live Copy AI coupon code available?
Yes, you can avail instant 40% discount on Copy ai's premium plans by applying our exclusive coupon code STARTCOPY. This coupon code is only applicable for a limited time.
Does Copy ai offer any free plan?
Yes, Copy AI provides a forever free plan to all users, which is limited to generating 2000 words/per month.
Does Copy AI offer any lifetime deals?
No! Currently, there is no lifetime deal being offered by Copy ai. Copy AI plans are available for purchase with either monthly or annual billing options.
Which is the best Copy ai alternative?
The best alternative for AI writing tools besides Copy AI is Jasper and Rytr. Both of these tools have their advantages and downsides over Copy ai.
Does Copy ai offer any free trial?
Copy AI does not offer any free trial for its premium plans, but it offers a free plan to try out the tool with limited usage.
Conclusion on Copy AI Coupon Code 2023
So, Copy AI is one of the best AI-powered writing assistants that can help businesses save time and effort in creating high-quality content.
With the latest promo code for 2023, you can get a flat 40% discount on Copy ai.
If you want to incorporate this awesome tool to grow your productivity, I recommend you to go with its Pro plan, which will only cost you around $21.6/ per month when you use this exclusive link and apply promo code STARTCOPY on yearly billing.
If you want to try it out, you can always use its free plan and upgrade to a premium one anytime.
Are you going to take this offer and purchase Copy.ai premium to grow your business?
Let me know in the comments below.