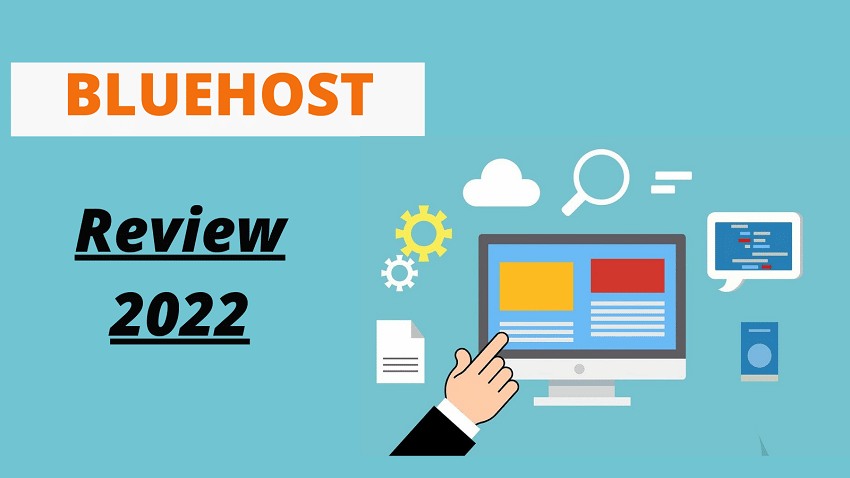 Web hosting is the most crucial factor in the performance of your website.
Good web hosting could help you in making your website load fast and more secure.
However, on the other hand, bad hosting could severely affect your website performance and ranking.
Bluehost is one such hosting company with great hosting services at affordable prices.
It's one of the best hosting services for a WordPress blog, and it is also a hosting company suggested on WordPress's official site since 2006.
Being officially recommended by WordPress, there's no reason in doubting its reliability and performance.
Bluehost Brief Overview
Bluehost is a hosting company that was formed in 1996 providing a wide range of hosting solutions such as shared hosting, WordPress hosting, woo-commerce, VPS hosting, and dedicated hosting.
It is one of the largest hosting companies in the industry and is currently used by over 2 million websites on the web.
They have successfully established themselves as one of the best hostings for a WordPress blog and have great performance in uptime, reliability, and pricing.
Want to learn more about blogging? Check this out.
So, in this post, I will share a detailed review of Bluehost with a complete overview of its pros and cons, which will help you to decide if it's right for you or not.
Note

– Want to skip this and get a brief conclusion from us. So, it's the best hosting service for new bloggers with such great performance at an affordable price.
Click on the below link and grab this special Black Friday deal for a limited time
Essentials Of A Good Hosting 
There are many hosting plans available in the market by different companies.
But you need to choose the best hosting plan with all the essential and must-have features that are needed to run a website efficiently.
Below are some of the most important hosting features that are needed to be taken care of when purchasing a hosting-
Speed of the hosting should be optimal

Security so that you never need to worry about your website being hacked

Optimal bandwidth and disk space

Uptime of the website

Automatic backups are also a thing that you can measure

Hosting should have optimal 24/7 support

It should be easy to use

The hosting should be affordable and get into your budget.
Thankfully, Bluehost complies with most of the essential features and also comes at very cheap prices.
Bluehost Pricing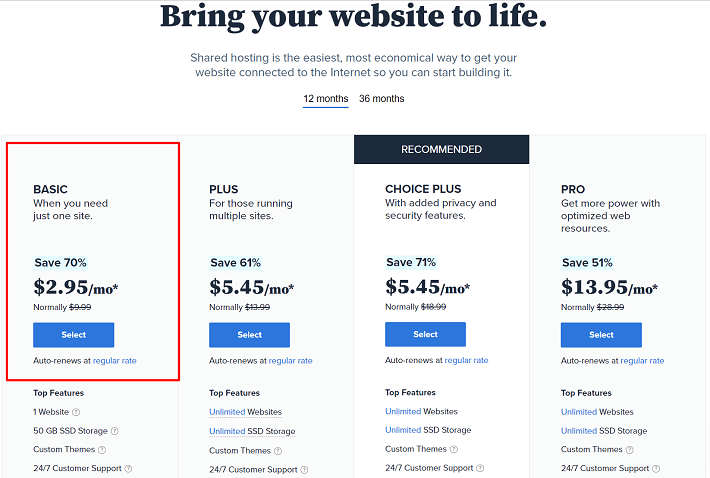 As you know, Bluehost offers a variety of hosting services such as shared hosting, VPS, and dedicated hostings.
But, if you are a new blogger, I would recommend you to use their shared hosting plan.
It's the best fit for new blogs and blogs with average traffic.
There are four plans available in the shared hosting category of Bluehost, which are priced as follows:
If you are just starting blogging, I recommend you to use the basic plan for $2.65/month.
Want to host more than one website, go for a plus package for $5.95/month where you can host unlimited websites. (it's the best package I recommend to my users)
If you further need domain privacy and automatic backups facility, a choice plus plan for $4.95/month is the best suited for you, but you can always get back up for free from WordPress plugins.
Want the service of dedicated IP for a website, choose a pro plan for $13.95/month.
Most of you would be thinking of going for a choice plus plan rather than a plus plan as the choice plus plan has a more discounted price.
But, you need to focus on the renewal price also.
The renewal price for the plus plan is $11.99/month and for the choice plus plan is $16.99/month

.
So, you need to keep a check on these marketing tactics so that you never bear the loss.
Moreover, all these discounted prices starting with a basic plan($2.65) to a pro plan($13.95) are valid if you purchase hosting for 36 months.
For example, if you purchase a hosting package for 24 months term, you will get the basic plan for $4.95/month.
So, I recommend you to purchase hosting for 2 or 3 years as it is only a one-time discounted price on the hosting.
Hosting Time Deals
Bluehost provides hosting deals for terms of 12 months, 24 months, and 36 months only.
Unfortunately, Bluehost does not offer a monthly billing option for its hosting services.
Pros And Cons Of Bluehost
Now, let's take a look at the most important part which is the pros and cons of Bluehost hosting.
This will help you to conclude whether it's the right choice for you or not.
 

Pros Of Bluehost
You will get a free SSL certificate for your website that helps in security

You can host unlimited websites except in the case of a basic plan

Unlimited storage(50 GB for the basic plan which is plenty for a website ) and  unlimited bandwidth

Free domain name for 1 year

Unlimited parked domains and subdomains. (except in the basic plan where you get 5 parked domains and 25 subdomains)

Free automatic daily malware scans

Free AdWords credit for marketing your site

Easy one-click WordPress installation

Great 24/7 customer support by phone, email, and chat

Bluehost comes with an advanced cpanel which makes it easy to handle and customize

You will get free custom email accounts with hosting, which you can manage in CPanel

It enables automatic WordPress updates, so you need not worry about checking for updates

It provides you access to custom themes for WordPress

Now, Bluehost also provides a free website migration service for 1 website and provides you with the ability to review the website before it goes live

A good hosting always tries that your website never goes down when users search for it and Bluehost has succeeded in that with an amazing uptime of 99.99%

It offers free Cloudflare CDN integration which further helps in increasing your blog speed and makes it load many times faster.

Bluehost doesn't offer a free trial for their hosting, but they do offer a 30-day money-back guarantee.
Note– 
If you also get a free domain with the plan and further ask for a refund, there is a non-refundable cost for the domain registration which they would deduct.
Cons of Bluehost
Like other hosting companies, Bluehost also uses a one-time special price policy. So, the renewal charges are very high compared to the discounted price. ( For instance, the special price for the basic plan is $2.65/month and renewal is $8.99/month i.e is roughly three times the discounted price.

Bluehost also offers a lot of add-ons while purchasing hosting like site lock security and more. So you need to untick all the addons which are not required before making payment so that you save maximum money.
Conclusion
So, it's a detailed review of Bluehost hosting with a complete list of pros and cons.
Bluehost has been in this hosting business for over 16 years now and they provide optimal hosting features to customers at affordable prices.
If you are a new blogger, then Bluehost is the best hosting service for you and I recommend you to go for the 'plus' package, which enables you to host unlimited websites.
So what are you waiting for?
Grab this special Black Friday deal where you can get hosting for only $2.65/month if you purchase a basic plan for 3 years term along with a free domain.
Affiliate Disclosure- This post may contain affiliate links means that if you buy a product or get a subscription by clicking on the
link in my blog, I will earn a small commission at no extra cost to you.