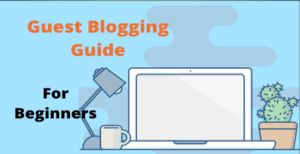 Do you want to get targeted traffic to your blog and become an expert in the niche?
Yes! Whoever doesn't want to.
A guest blogging campaign, if done strategically could help a lot.
Earlier, most of the guest bloggers used to write low-quality posts only for sake of getting backlinks.
But Google becoming smart every single day a lot has changed now.
Now authority websites only accept quality posts and have tightened their guest posting guidelines.
And writing informational and quality posts is very time-consuming. So, for getting full value from your efforts, you need to follow proven tips and strategies.
This guide will help you to create an effective guest blogging campaign with pro tips and techniques specially updated for 2021 and beyond.
Meaning Of Guest Posting
'Guest posting' the name itself identifies the meaning.
It means writing a blog post for other's websites in return for which you get targeted traffic to your blog and an authoritative backlink from their site.
Guest blogging has been extremely popular until now due to the benefits it provides to the host and the guest blogger himself.
The bloggers who publish a guest post for their site get amazing content for free which helps them attract new readers and develop their audience.
On the other side, the guest blogger gets quality backlinks, develop a good relationship with the blog owner, get traffic to their blog, and also build their brand authority
.
Benefits Of Guest Posting
Guest posting has plenty of more benefits-
1. Build Authority And Brand Awareness
Nowadays, building your brand authority is the topmost goal of every online venture.
If you are not having authority in your niche, no doubt how many visitors are you getting, they all will be a waste as they would come once and then go away.
But guest posting for some authoritative sites would make their as well as your audience believe that you are a trustworthy person with some authority in the niche.
So you should post your guest post on trustworthy sites with quality traffic so that your brand name becomes familiar to people.
2. Generates Backlinks For Your Blog
As you know backlinks are very much important for SEO and ranking of your blog.
But it seems very difficult to get quality links from authoritative sites.
So pitching a great guest post could help you get quality backlinks even if your blog is not much popular.
This could develop your site's SEO structure and earn you a great profit.
3. Get Targeted Traffic To Your Blog
If you manage to write an amazing and engaging guest post in a blog with a lot of traffic, your blog could be bombarded with visitors.
As if someone read your guest post and found it good, he will certainly go through your links in that post and visit your blog.
This traffic could also convert into potential sales or subscribers as this traffic is targeted and related to your niche. 
You can also optimize your website's landing pages and CTA buttons to convert your targeted traffic into leads.
4. Develop Influencer Relations
Guest blogging also helps you to build relations with influencers in your niche.
Moreover, making good relations with big influencers in your niche could be very useful also.
You could not only get backlinks from their site but they can provide you with trending ideas in the niche, help you grow your brand, review your work, and share it with their huge follower base.
Earlier influencer outreach seemed very difficult, but now you could impress influencers in your niche by writing guest posts for their site.
5. Increase Your Social Reach
Guest blogging also helps in expanding your social shares and increase your social media following.
If you manage to write a really great guest post on an authoritative site, the users are more likely to share your post and follow you on social media to get more stuff like that.
It also boosts lead generation and prospers your social reach.
Most of the web owners allow you to add desired social media accounts in the author bio section.
How To Find Guest Posting Opportunities?
If you want to get the most benefit from your guest post, you should start right by finding the best guest posting opportunity.
Now, how to choose a website for writing a guest post.
You should choose a website for writing a guest post that has the following criteria-
The website must be relevant to your niche or industry.

It should have a good brand name and a significant amount of traffic.

The blog owner should be active on social media platforms so that your guest post should be shareable.

Try to guest post on blogs having a high number of comments as these blogs have high engagement rates.
For example, if I am managing a blog in which I blog about blogging, WordPress, and SEO.
And I submitted a guest post in a food blog with the title 'How To Make A Pancake'.
Even if I am able to drive traffic to my website from there, would it be beneficial for me?
So you should find a website related to your industry for guest posting.
There are a number of ways that you can find a perfect website for guest posting-
1. Google Search String
Google is the biggest search engine is the best way to find guest post opportunities.
You have to only post a search query like ' your keyword' + guest post and you will get detailed data with top websites accepting guest posts related to your industry.
You can make a certain search query as :
keyword + "write for us"
Keyword + "guest post"
Keyword + "guest posting guidelines"
Keyword + "contributing writer"
Keyword + "submit guest post"
Keyword + "submit content"

Keyword + "submit an article"
Here's how your search query may look like-
This way you can find plenty of authority guest post sites related to your niche.
2. Social Search
Due to such a wide reach and development of social media, you can also find guest post opportunities by a social search.
If you also want to find post opportunities from social media, you can use Twitter search feature by posting the same search query as you have put on Google.
Then you will get tweets of guest posts by the users. You can find guest post opportunities by scrolling through those links.
3. Competitor Backlinks
You can also get to know about guest post opportunities by keeping a check on your competitors backlinks.
You can use backlink checker tools like Ahrefs to check about your competitor backlinks which would further tell about the sites which they are guest posting in.
The best part of this method is that you also get the opportunity to find a website that does not directly accept guest posts.
4. Manual Outreach
While you are blogging, you could have an eye on some of the top bloggers in your niche.
You could also guest post on their blog even if they are not directly accepting guest posts i.e by way of manual outreach by sending them emails.
You could draft one such email like this- 
I have been reading your amazing content on your blog for a great time and you could have also found my comments on your blog.
 I am writing to you because I want to contribute a guest post to your website(website name)
  I have some topics for a guest post that will be useful for your blog
It would be a great pleasure for me if you provide me with the opportunity to write on your blog.
These are the top ways you could find guest posting opportunities related to your industry.
Pro Tip– If you want to take your outreach campaign to next level, firstly try to become a familiar face to the blog owner.
Leaving deep comments on their recent posts and sharing their posts on social media platforms could help a lot.
Write A Great Guest Post
Before starting to write a great post, you should take a look at the blog's content and notice their way of writing, what type of audience they are writing for(beginners, intermediate or advanced), and what type of content they write.
This will make your post loved by their regular audience as they are fond of the blog owner's way of writing.
You should write on by keeping in mind that every word you write would display your brand image to the audience.
However, for winning the heart of the blog owner as well as their audience, you should write an article of optimal size with appropriate images in it.
Below are some tricks that can make your guest post look more beautiful and helpful
1. Use Images and Graphics In Your Post
Adding quality images, infographics or short animation videos can make your guest post look more qualitative and user friendly.
So you should always try to use pictures, infographics, or videos related to your post wherever possible as it could develop a good brand image of yours towards the blog owner as well as his audience.
You can use Canva for creating quality images, infographics, and social media posts.
2. Add Internal Links And Source Links
Internal links are basically hyperlinks to a piece of content from the same website.
You should add internal links wherever applicable as they had been proved as the SEO best practices by top Seo companies like Moz.
However internal links also help to keep readers engaged in the website content.
If you want to find internal linking opportunities then you can make a simple search on google like site: domain.com "your keyword"
 It will help you to find the best posts of the blog related to that specific keyword.
You can practice it as follows-
If you have also taken some of the data or photos from some other blog, always mention the source link below that as it would be better for the SEO of a website.
3. Use A CTA For Comments
To get better results and increase user engagement, you can also use a CTA for comments at the end of your post.
And if user engagement will increase, readers would also engage with your brand.
So, this way you can write an amazing guest post having a high approval rate.
You can also use tools like Grammarly for checking grammatical mistakes for your post and tools like Ahrefs or Semrush for finding SEO keywords and so on.
Write A Great Guest Author Bio
A guest author bio is the most important part of your guest blogging campaign as it's the place, where you can do self-promotion and leave links to your blog and social media profiles.
You should keep it short and simple describing what you do and your technical and work-related specialties with a valuable link to your blog, service/product page, custom landing pages, and more according to your requirements.
Adding validation to your authority and success could help users to believe you as an authority in the niche. You can share your recent success or an award you got to supplement your credibility.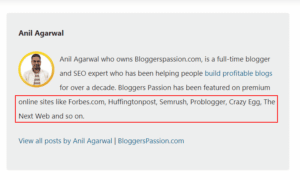 Like as in the above image, Anil Aggarwal from bloggers passion mentioned that he has been featured in great websites like Forbes and more to provide credibility.
Keep in mind to only share the truth and don't try to overpower your author bio by providing false information to users.
Tracking Your Results
After your guest post has been published, you have to track your results to know that if your strategy worked or not?
You can track your results by simply using an analytics tool like Google Analytics.
You can use Google Analytics Advanced segment feature in which you can find out referral traffic from your guest post.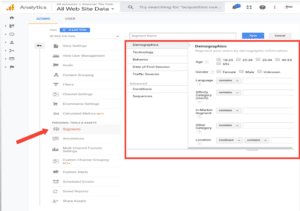 For creating a special advanced segment go to admin settings> then click on segments and then create one by filling all the info like traffic sources and more.
You can place traffic sources as the link of the guest post or social media handles of the blog owner where he would eventually share your post.
However, if you want to get better results from your guest post, you can kindly ask the blog owner a favor to share your guest post with his email subscribers and his social media handles.
Sharing your guest post on your social media as well as your email list could get your guest post success to the next level.
Respond To Comments
If you want to get your guest post to achieve outstanding results, you have to engage with the audience through comments.
If the readers ask questions or provide some insightful thoughts regarding the post, you will have to address them by answering their questions and thanking them to show interest.
Your brand image will also glorify with it as when the reader's queries are answered by you, it would create a great impression on them.
Conclusion
So this was my whole guide to guest blogging.
This proves that guest blogging is still the best content marketing and backlink building strategy.
Always guest post in the sites related to your niche or industry and use your own tone of voice with the readers so that people can come to know about your brand authority.
Crafting a great author bio can increase your results and provide your blog address, your social media handles, products, or other links you want to promote through your guest post.
Don't forget to share this post.
Affiliate Disclosure- This post may contain affiliate links means that if you buy a product or get a subscription by clicking on
 a link in my blog, I will earn a small commission at no extra cost to you.