Are you still not using Pinterest, and only relying on Facebook and Instagram for marketing.

Then you are losing a lot.

Pinterest has a total of 335+ million monthly active users and is still increasing.

A case study has also shown that Pinterest engagement rates are much more than any other platform such as Facebook and Twitter.

Not only that, but Pinterest also generates much more sales transformation than any other network.

So you can't afford to keep your business away from Pinterest.

It has been stated that there are more than 200 billion pins on Pinterest.

So as a beginner you may face a lot of issues in getting your first 1000 Pinterest followers and getting considerable engagements.
Moreover, you can also use Tailwind(for free), a great Pinterest Marketing tool to develop your Pinterest profile like a pro and get tons of traffic from it. We will talk about it further in the post.

This cheat sheet will help you to learn about several Pinterest strategies that you could use to increase your followers and reach.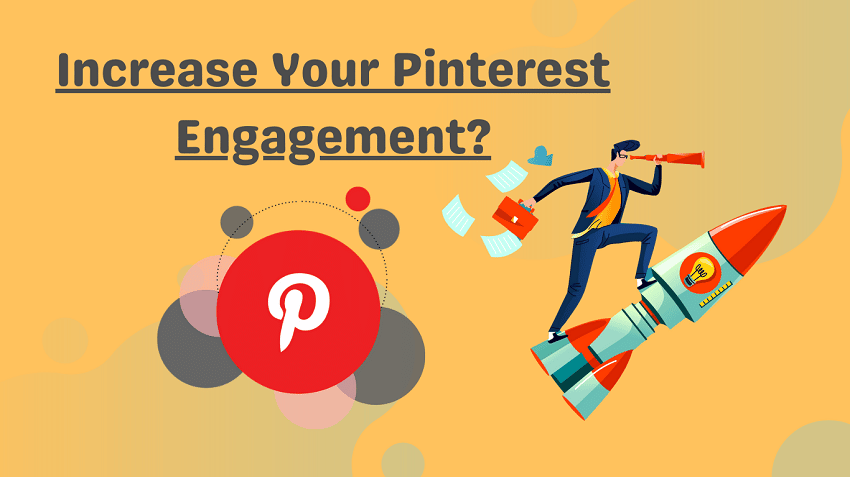 Set Up Your Pinterest Business Account
Setting up a business account on Pinterest is very easy and the added benefit is that it's free.
There are many perks of having a business account on Pinterest which are listed below:
A business account on Pinterest allows you to add a business name to your profile rather than a personal name.

It also makes seem your profile professional and adds a CTA button to your pins and increases engagement rates.

Pinterest Analytics is one of the best tools provided by Pinterest, which we would study later on.

You can also create rich pins that provide 80% better results than a simple pin.
Rich Pins
Rich pins are subsequent pins with much more added SEO functionality features in them.
According to Pinterest, there are four types of pin categories classified as app, recipe, product, and article.
Each pin category has different CTA buttons such as for the article, your pins get a brief description onto it with the author name and favicon of your linked blog.
In my experience, I manually have found that Pinterest-rich pins generate 80% more leads.
You can learn more about rich pins here.
Creating popular Pins
Pinterest has recently developed more as a search engine than as a social platform like Facebook and Instagram.
Moreover, Pinterest pins have a long-lasting life than that in the case of Facebook.
If you add a pin today, it could also appear in search even after a year.
So, creating the most beautiful and engaging pins is a must prefix to stand out from the crowd.
For ranking your pins at the top, you should spend some time in keyword research.

You should find keywords with high search traffic and less competition. 

After completing your research you should add those keywords in your pin title, description, and image file name.

Bonus Tip– The images with written keywords on pins have much more engagement rates and reach.
Optimize Your Pins For More repins
Before posting your images as pins, you should optimize your images by image size, quality, and many more.
You should post images with titles written on them and the preferred Pinterest pin size is 1000×1500 pixels.
Below are the best tips which will help your pins in getting full traction from Pinterest users, hence making your pins viral.
Find Images That Work
Before organizing your new Pinterest profile, you should keep in mind that it should have at least 4 boards with 20 pins each.
But, as an individual, it will be impossible for you to create such a number of pins and schedule them.
Here's the time to share a secret with you all.
Pinterest allows you to repin other people's posts and increase your Pinterest monthly viewers.
By repinning other's posts you can also find out which images and pin ideas work and which don't, so you could save your time and post accordingly.
You can also join the group boards related to your niche so that you can reach out to a large user base.
Here's the list of group boards that you can join.
Use Infographics
Infographics could be a great way to develop your Pinterest engagement and provide the users with new ideas, hence increasing repining and increasing traffic to your website.
No doubt, infographics are difficult to make and are time-consuming but they are not only useful for Pinterest however, but you can also use them for getting backlinks to your blog.
Choose Best Time To Post Your Pins
According to a study, the best times to post on Pinterest are between 2 and 4 pm EST and 8 pm and 1 am EST.
However, for every individual, the time to post could be different.
So you should analyze your results by posting your content at different times and choose the best results.
Post Frequently
A case study by Pinterest has shown that posting frequently increases the engagement rate by 200%.
But why this is?
Earlier I have told you of Pinterest more as a search engine, and search engines love new content.
This makes your pins appear at the top in the search results.
Now, how many pins should you post?
However, in my view, you should post a minimum of 5-20 posts every day and the maximum number is about 40 pins per day.
Otherwise, your pins would be less effective as they would appear like something spam.
If you have worked hard to make a list of your blog or website followers, so why not you are leveraging it to increase your Pinterest reach.
So, don't feel shy to share your pins and boards in your newsletter.
You can share some of your best pins with subscribers and provide a direct link to your profiles.
I myself have used it and got outstanding results.
Engage With Your Audience And Gaining Followers
Engaging with your audience is a must-have on any social platform.
As we know more engagement=more reach=more success.
So, you should spend time crawling your follower's posts and engaging with them in the form of repinning their content, commenting on their pins, and liking it.
But what benefits you would get from it?
Making relations with top influencers alone could increase your blog productivity by over 300%.
For instance, if you provide value to others, almost all of them would return back to you.
However, if you are able to connect with 10 influencers with 1000 followers each, your posts could get a reach of up to 10,000 people.
Followers Secret
Getting more followers means getting more engagements.
But, on Pinterest, it sometimes becomes more difficult to get new followers.
But, here's a secret!
You have to only follow some simple tips and I guarantee that your follow rate would increase by over 90%.
But first, you need to know about users with whom you want to engage.
So you should find out what most people think when making a decision about following a person or not.
If you are not able to make a survey out, I have made a specific poll which gave me the following results-
So, when deciding about following on Pinterest, a user takes the following results into action-
Number of followers
Number of pins
Number of boards
And there are many more reasons behind it which you can see in the graph.
So you should have at least 5 boards with 15-20 pins each to gain more followers and audience to your profile.
Spend Time Engaging With Your Followers
Social media engagement is a two-way process.
So you should also expend some time liking, commenting, and repinning your follower's pins so that you could build a tribe out.
Engage With Popular Boards
You should follow and regularly engage with some of the popular boards of your niche to learn the reason behind their success i.e their pinning strategies, visuals, and more.
Not only that you can also get your brand awareness from these boards by regularly commenting and engaging with their pins, as your brand name would be seen by large numbers of people.
Once you get out some brand awareness on that, now is the perfect time to ask for collaborating on the board from the creators.
Now, they would eventually have no reason to avoid making you a collaborator on the board.
And you will get such a huge audience for your pins to be seen.
Note- Don't start spamming the group once you become a collaborator, otherwise you would be kicked out from the group without any notice.
Add Pinterest Buttons To Your Blog
You can also use a Pinterest pin and follow buttons to your blog to increase your blog as well as Pinterest engagement.
Moreover, it will also make your website look more attractive and professional.
You can embed Pinterest buttons to your website by widely two methods i.e Pinterest follow button and the Pinterest share button.
Check out how I use my Pinterest buttons to increase engagement.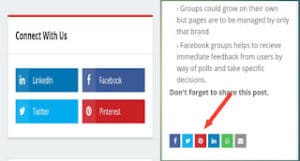 Put Your Best Boards On Top
You can also reorder your boards according to your results and achievements.
Once you have set up your profile, you will come to know about which of your boards are getting more engagements and which are not.
So, you can accordingly reorder your boards so that your profile looks more engaging and professional.
You can do it by changing board settings to custom in account settings and then dragging them accordingly.
Make A Board Only For Blog Posts
As we know, Pinterest is the most liked platform as you can also leverage others' pins to get engagements with your profile.
But you should also have your own unique content.
And if you are struggling to get engagements with your own content, making a board out of your blog posts only could help a lot.
Here's one more benefit. You would not need to spend time making new content as you will need to save it to your board.
Track Your Success Using Pinterest Analytics
Moreover, their analytics not only provide an overview but you can achieve detailed notes of specific pins and make your strategies accordingly.
This feature allows you to see the following:
Which boards and pins from your profile do people like the most.
The device from which they are hovering your profile(mobile, desktop, or tablet).
Pins that are liked and saved by users.
Your audience insights.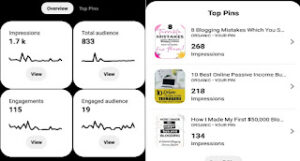 But, what's the benefit behind it.
This will help you in finding what works and what doesn't so that you do not waste time on unproductive work and succeed in your results.
But, you will need to verify your website first.
You can verify your website by adding a meta tag provided by Pinterest in your website's HTML.
Need to know more about how to verify your website, check it out
here
.
There are also many other benefits of verifying your website.
It gives your profile a loyal and legit outlook with a tick right behind your website name, just like in the image.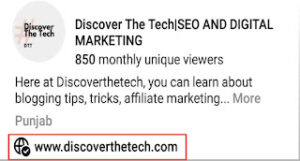 It helps your brand grow its reach and build trust, making your business perform outstanding.
Leverage The Power Of Tailwind
Are you also tired of pinning new content day and night to your Pinterest account and still not getting results?
Here comes the best tool for Pinterest Marketing i.e Tailwind which also offers a free plan in which you can pin 20 pins per month and submit pins to 5 Tailwind communities to get repins from Tailwind community groups.
And you can anytime go for premium plans which provide more pins and tailwind community submissions  per month which are as in the following image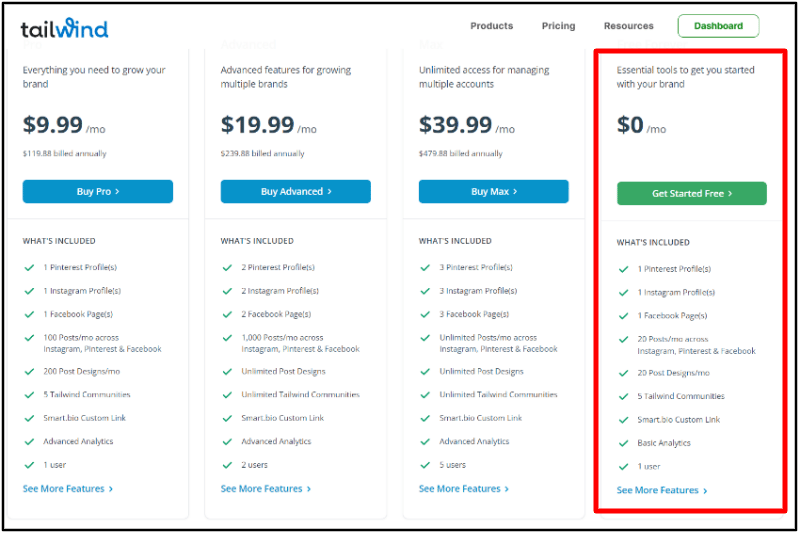 Tailwind app
is basically a Pinterest scheduling tool directly partnered with Pinterest to schedule all of your pins to different group boards earlier in one go.
Tailwind then publishes your scheduled pins to specific boards at the exact time, hence providing you better results in return.
It also has a special feature called Tailwind Smart Schedule which checks out your Pinterest profile and tells which time of the day your followers are active and gets your pins better engagement and increases the chances of your pin being viral.
Pro Tip- Tailwind has also started a new feature called Tailwind create in which you can create great designs for your Pinterest pins in no time and directly post them on Pinterest.
Conclusion
So, Pinterest is a very helpful social media marketing tool if used correctly.
Let's get a complete sketch of how you can grow your Pinterest reach using the above Pinterest marketing methods.
Firstly you should create a Pinterest business profile which is a must for making your brand.
You can also use rich pins to showcase your brand and save time while posting.
You should create pins with popular topics and bright and high-quality images together with using infographics and high-resolution images.
Optimize your pins by adding metatags, pin titles, and descriptions with popular SEO keywords, so that they could rank on Pinterest.
At last, you should engage with your audience and build influencer relationships so that you could get the most benefit out of your Pinterest.
Don't forget to share this post.