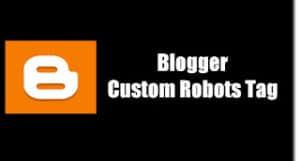 Blogger is the best free platform out here for newbie bloggers.
But most of them end up their blogging due to limited SEO access and low rankings.
So if you are also a newbie and have no knowledge about HTML, this article would help you to sort out your problem.
As you know, Google bots crawl your site for providing results to the users.
So you should always make an accurate path for these search bots and crawlers to crawl your site systematically.
As if you have not made that path, the search bots would end up crawling your personal and unrelevant information, kicking your site out from results.
Creating a specific path for search robots is called a sitemap.
But creating a sitemap requires some basic HTML learning.
So, I would provide you a way to customize your sitemap using custom robots headers tag settings in blogger.
Custom Robots Headers Tag?
First of all, what are custom robots header tags?
These are the custom tabs that help you to direct search robots to a specific path using nofollow, noindex, and other such tags.
Before directly going towards settings, you should first know the meaning and purpose of each and every tag related to it.
1. All– This tag allows search engine bots to collect all the information from your blog pages. If you don't make any changes to header tags, the page settings are set to all by default.

2. Noindex– There are some pages on your blog which you don't want to be indexed such as the admin access page and archive pages. This tag blocks search bots to crawl the page that you have noindexed.

3. Nofollow– As you know there are two types of links nofollow and dofollow. Dofollow links carry out link juice to other blogs. If you enable nofollow tag from robots header tag, all the outbound links on that page would be automated as nofollow.

4. None– It is a good feature in robots tag. It is a combination of both noindex and nofollow tags. It prevents the search engines from crawling your page and following your outbound links.

5. Noodp– This tag may seem to many of you as alien, but this tag is very useful for your website's SEO.

Noodp stands for No Open Directory Project. It prevents search engine bots from taking post titles and meta descriptions from open directories in organic search.

This tag is useful as if it is not enabled, the users may be displayed meta descriptions chosen by default, which may not seem catchy for searchers.

6. Nosnippet– If this tag is enabled from robots header tags, search bots can't display your posts and pages of your blog as snippets in organic search results.

7. Notranslate– However this tag is not of certain use, but you can enable this tag if you don't want your blog posts to be translated and seen in other languages.

8. Noimageindex– Images are also a vital element of on-page SEO. Images are also indexed by search engine bots. But, if you don't want your images to be indexed by bots, you can turn on this meta tag.

9. Unavailable_after– You will also find this tag in blogger which enables you to decide how much time a blog page could be indexed by bots and after that bots can't crawl your page.

So, that's all about meaning and basic purpose of robots meta tag settings in blogger.


How To Set Up Custom Robots Header Tags Settings In Blogger
Step1– Log into your blogger account and open the blog for which you want to customize the headers tag.
Step2– Now, from the side menu, click on settings and then click on search preferences from the drop-down menu that opens.
Now under crawlers and indexing, click edit on custom robots headers tag as follows

Step3– Then after you click on edit, click on yes under the robots headers tag.
Step4– After you click yes, a menu will open with all the tags for alternate pages such as homepage, archives, and posts.
You can also choose tags after reading the above meaning and purpose of each tag.
If you want to skip that part, you can follow my directives on the settings of the robots tag.
As you can see in the above picture, settings for
Homepage- tick on all and noodp

Archive and search pages- tick noindex and noodp

Default posts and pages- tick all and noodp

So these are all the settings for custom robots header tags in blogger.


Conclusion
So these robots tags help search engines to crawl your website as needed and increase your domain ranking.
I have used these settings in one of my blogs and got good results.
But you should not put no index tag in your robots tags settings unless you are clear about it, otherwise, your website may vanish out from
SERP's.
Don't forget to share this post.